How Celebrities Started On Their Careers
Mel Gibson | Mad Max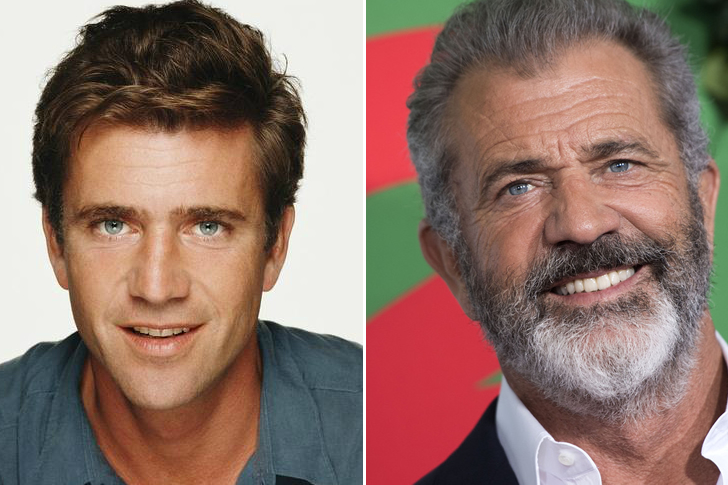 Before becoming a highly successful actor and director, Mel Gibson, like many other celebrities, had a humble beginning. At 12 years old, he and his family moved from New York to Australia for economic reasons. The aspiring actor later attended Sydney's National Institute of Dramatic Art, working on theater before branching into the film scene. His major break came after he gave his friend a ride to an audition for Mad Max.
Director George Miller thought of him as a good fit for the villainous role but later decided to cast him as the hero/ lead actor instead. The star went on to spend the 1990s appearing in blockbuster action films like Braveheart, Ransom, and Payback. Around this time, he debuted as a director with The Man Without a Face. Besides making it big in Hollywood, Gibson also has a portfolio of real estate investments in many countries.
Matthew McConaughey | Commercial Model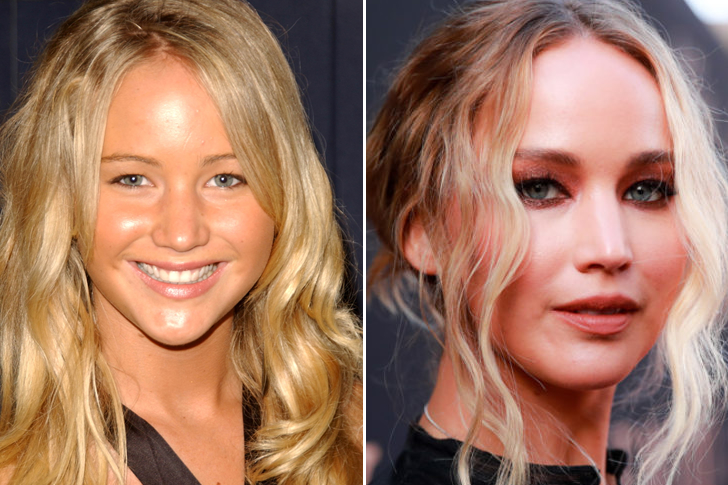 Matthew McConaughey had his fair share of Hollywood start-up stories. Born and raised in Texas, he openly admitted that he didn't want to embark, nor was he interested in his father's oil business. McConaughey wanted to become an attorney but ultimately pursued his passion for acting instead. He first appeared on television commercials and a few student films until he met Richard Linklater, who cast him for the high school comedy Dazed and Confused.
The show was his big break, and he immediately became a fan-favorite, so much so that he was iconic for his catchphrase in the show, "All right, all right, all right." McConaughey followed up with supporting roles in movies until he was capable of carrying lead roles. His work in the 2000s was dominated mostly by romantic comedies, and he appeared in the blockbusters, How to Lose a Guy in 10 Days, Ghosts of Girlfriends Past, and The Wedding Planner.
Johnny Depp | Nightmare on Elm Street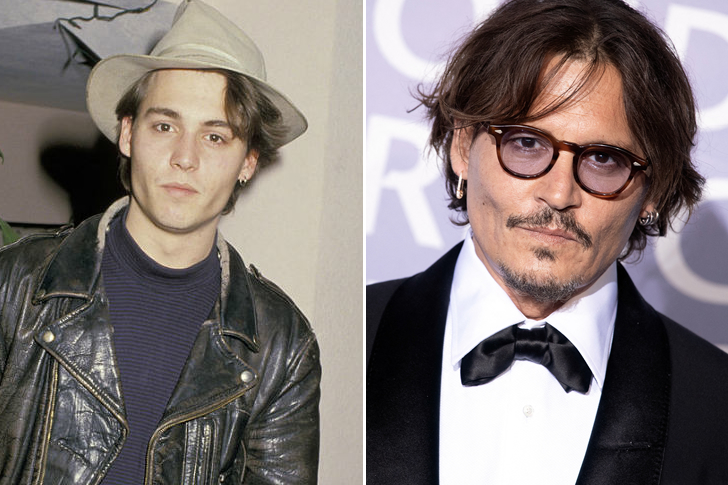 Here's a man who dreamed of becoming a rock star but ultimately set off as a world-famous actor instead. The actor we're talking about is none other than Johnny Depp, who just accompanied his friend to an audition for Nightmare on Elm Street, but ended up bagging the lead role. He was seen by director Wes Craven hanging around the set and asked him to audition for the part. Of course, he made the cut and later worked on 21 Jump Street, where he gained prominence as a teen idol.
From there, Depp would go on to land the A-list ranks. He is renowned for portraying fantasy characters, including Captain Jack Sparrow in the Pirates of the Caribbean film franchise and various Tim Burton productions. Even though he has achieved acclaim and a high credit score in Hollywood, he still pursued music and formed the band Hollywood Vampires in 2015.
Peter Dinklage | Living in Oblivion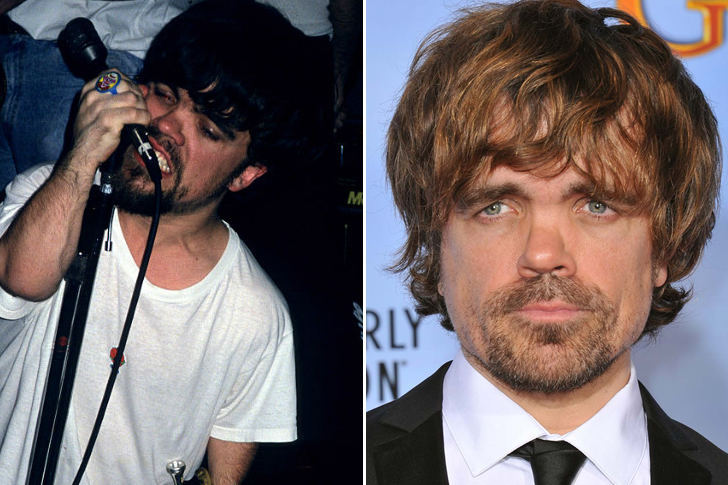 Before landing the much-beloved, award-winning role of Tyrion Lannister in the hit TV series Game of Thrones, Peter Dinklage worked an office job. You might also find it interesting that he used to perform in a punk-rap band called Whizzy! Dinklage's first foray into acting came in fifth-grade when he portrayed the lead role in a school production of The Velveteen Rabbit. From there, he studied at Bennington College and earned a degree in drama.
Dinklage struggled to find work as an actor after graduating from college in 1991. It took him four years to finally make his debut in a low-budget independent film Living in Oblivion. He portrayed several supporting roles until he was cast in HBO's Game of Thrones. Did you know he was the first actor to be picked for the show? Yes, the producers and showrunners were impressed with his prior performances.
Jennifer Lawrence | Monk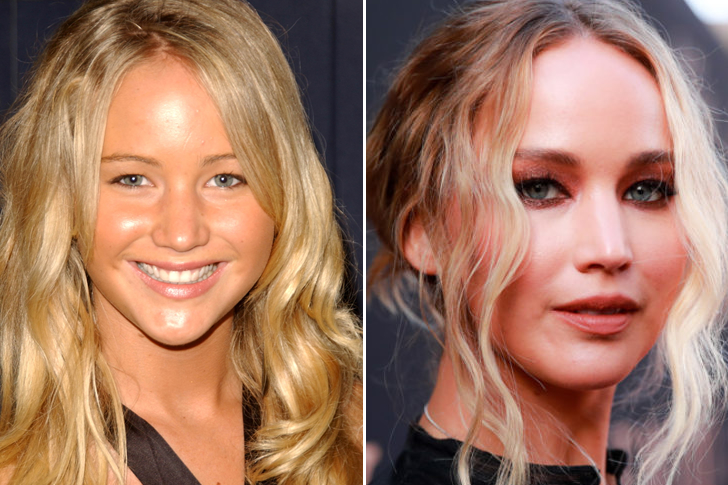 Jennifer Lawrence is undeniably one of the most talented actresses in the entertainment industry. She was only 22 when she bagged the Academy Award for Best Actress for her performance in the 2012 Silver Linings Playbook, making her the second-youngest winner of the award. In 2013, she was included in Time's list of 100 most influential people and the 2014 Forbes Celebrity 100 list.
How did she start acting, you ask? Well, she was on a family vacation in New York City when a talent scout spotted her and arranged for an audition. After her first audition, the talent agents were so impressed with her acting skills to the degree that they immediately signed her on with the CESD Talent Agency, and interestingly enough, she was only 14 at the time. Not long after, she debuted in the 2006 TV series Monk and later went on to star in her biggest breakthrough, The Hunger Games.
Pamela Anderson | Labatt Model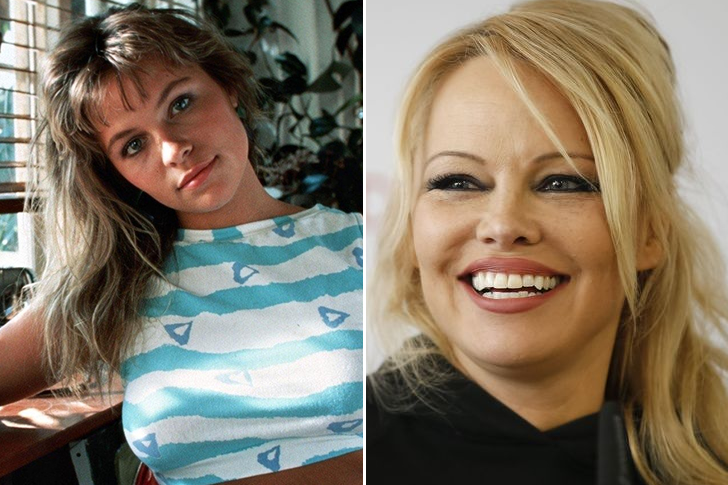 Pamela Anderson worked as a fitness instructor in the late '80s before making waves in show business. She was discovered as a model by chance when she attended a football game in Vancouver wearing a Labatt's t-shirt. A photo of her appeared on the big screen, and the crowd was enamored by her beauty that they called her down to the field. Even the brewing company later hired her as a spokesmodel.
After gaining nationwide popularity, she employed the help of a moving company and moved from Canada to Los Angeles to work as a model. She appeared on magazines and newsstand specials before embarking on a much wider audience on television. She was cast as Lisa on Home Improvement and as C. J. Parker on Baywatch — a role she is best known for. In recent years, Anderson released two novels and four autobiographical books.
Marilyn Monroe | Magazine Model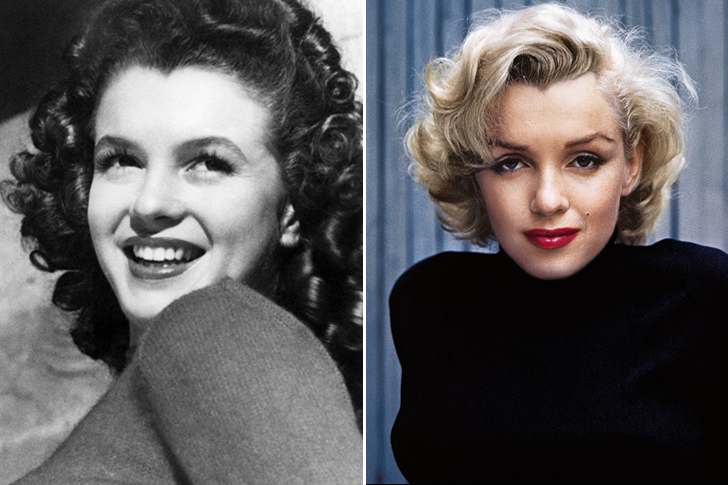 Not only was Marilyn Monroe born a brunette, but she was also born as Norma Jeane Mortenson. In the 1940s, she worked at a U.S. military factory when a photographer, David Conover, happened to shoot a picture of her and put it in Yank magazine. From there, she began modeling and signed with the Blue Book Model Agency. To make herself more employable, she dyed her hair blonde.
Monroe quickly became popular. In less than a year, she had already appeared on 33 magazine covers. It was not difficult for Hollywood to open its doors for her, as she easily became a household name after starring in her first film in the 1947 Dangerous Years. Fans and critics labeled Monroe as a "blonde bombshell," and her films ultimately grossed $200 million. Until today, she is given credit as a major icon of pop culture.
Eva Mendes | Children of the Corn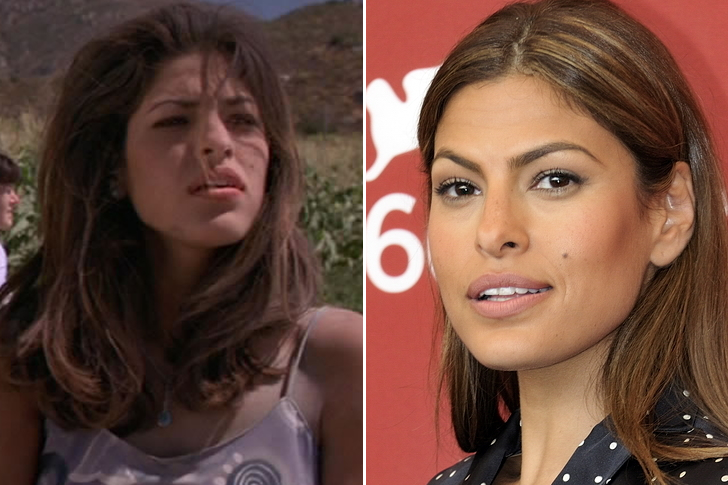 Eva Mendes would have made it as a model during her youth; however, she wanted to earn a degree in marketing at the time. By a happy chance, a talent agent saw her photo while scanning a friend's portfolio. The agent instantly became enamored with her, and they met. The opportunity propelled Mendes into small roles in films, and her first film role was in the 1998 Children of the Corn. From there, she got her big break in Training Day, Ghost Rider, and 2 Fast 2 Furious.
With her stunning beauty, she eventually became a model and was named Revlon's international spokesperson. She was also a brand ambassador for Calvin Klein, Pantene, and Cartier. Mendes then ventured into businesses and launched her eponymous clothing and dinnerware lines. Since 2011, the 47-year-old actress has been in a relationship with actor Ryan Gosling, though it's not clear as to when they are planning to tie the knot.
Harrison Ford | American Graffiti

Truth be told, we can never dictate a man's destiny. Even Harrison Ford can attest to that. Sure, he loved acting ever since he was young, but he made ends meet as a carpenter. Little did he know he would make it to the silver screen one day. He did some carpentry work for renowned filmmakers Francis Ford Coppola and George Lucas. Through Coppola, he met producer Fred Roos, who secured him an audition for American Graffiti. The feature film would go on to become one of the most profitable films of all time.
It was Lucas's space opera film that would turn Ford into an international megastar. That movie, as you may have thought of, was Star Wars. Fast forward to a few years, he further solidified his leading actor status and brought electricity to the entertainment industry when he portrayed the titular character in the Indiana Jones film franchise.
Wilford Brimley | True Grit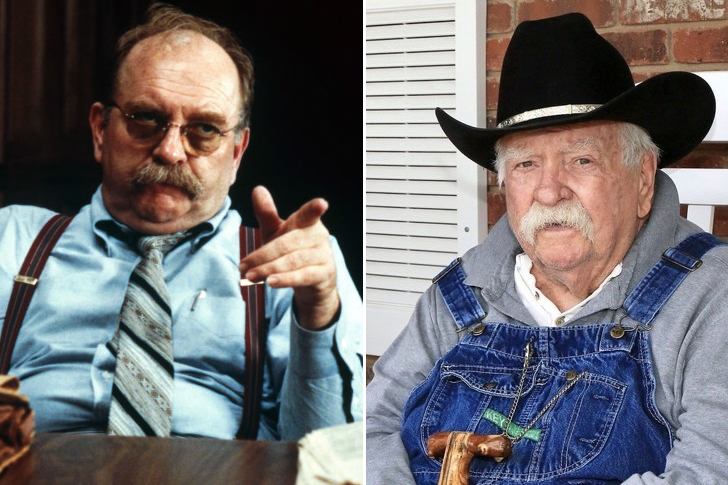 Wilford Brimley worked multiple jobs and was good at all of them. He labored as a ranch hand, blacksmith, wrangler, and even as a bodyguard for business magnate Howard Hughes. His first exposure to Hollywood was shoeing horses for stables for TV and movie Westerns. Due to his skills as a real-life cowboy, he started working as a riding extra for Western films until he met actor Robert Duvall, who convinced him to pursue a career in the acting industry. Brimley eventually landed non-speaking roles and stunt work which eventually budded into a respectable career in the industry.
Slowly but surely, he was cast in an uncredited role in 1969's True Grit,  portrayed as Horace on the CBS classic The Waltons, and appeared as a character actor in several films. He was also given credit as a brand spokesman for Quaker Oats, a gig that has kept him in the public eye for decades.
Ashton Kutcher | Calvin Klein Model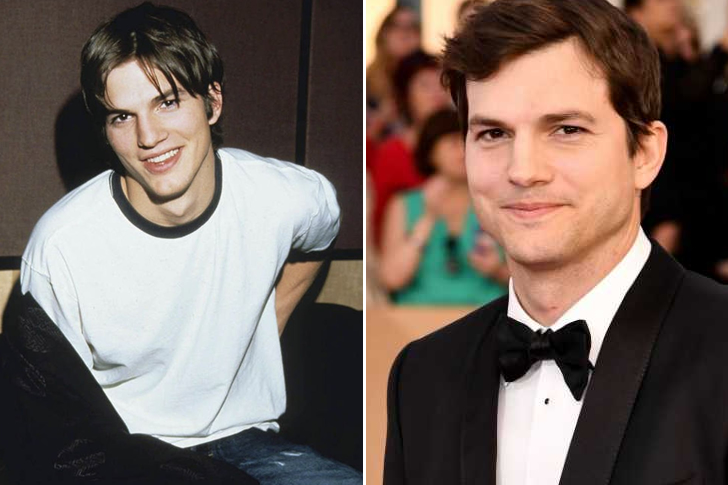 With someone as intelligent as Ashton Kutcher (has an IQ score of 160), we could easily picture him being a college professor, a scientist, or whatnot. Indeed, there's so much more to him than just being a biochemical engineering student. While studying at the University of Iowa, a model scout approached him and suggested that he join a modeling competition. Kutcher ended up winning first place, relocated to New York to sign with a modeling agency, and eventually appeared in commercials for Calvin Klein.
Following his accomplishments in modeling, he auditioned for That '70s Show and won the role of Michael Kelso. He then starred in several comedy films until he branched out into drama. Outside entertainment, Kutcher found luck as a venture capitalist. He became a co-founder of the venture capital firm A-Grade Investments. As of writing, he has invested in over 60 companies.
Charlize Theron | Children of the Corn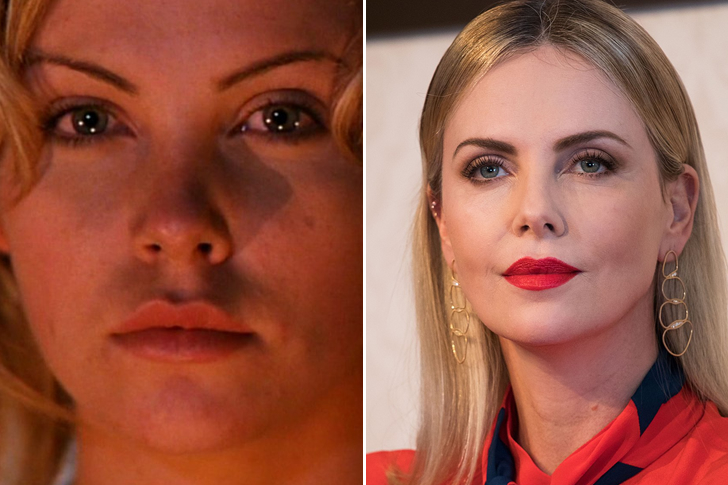 Charlize Theron's story teaches us that when we dream big, the results will be big also. Starting out as a model and trying her luck in Hollywood, the young Theron struggled as her initial meetings with talent agents didn't bear any fruit. One day, the South African native got into a spat with a bank teller who refused to cash her check, and as luck would have it, a talent agent stepped over to help her. That talent agent was John Crosby, who sent her to acting classes and represented her.
Within eight months, Theron landed a non-speaking role in the 1995 movie Children of the Corn. A few other talent agents noticed her, and more significant roles slowly followed, including a starring role opposite Al Pacino and Keanu Reeves in 1997 The Devil's Advocate. To her credit, her persistence eventually led her to gain worldwide recognition.
Rosario Dawson | Kids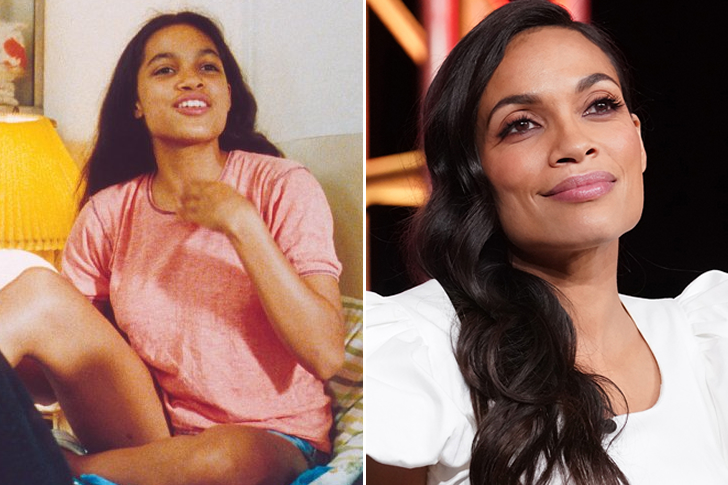 Talk about being lucky— Rosario Dawson didn't even have to line up for auditions or hire a talent agent to be discovered in show business. She was simply sitting outside her house on the porch when a screenwriter spotted her. He asked her to try a screen test for Kids and landed the role of Ruby as if it was really meant for her. She followed her debut role with a series of music videos, independent films, and blockbusters.
A few years later, Dawson received voice roles in comic book adaptations, such as Batgirl in The Lego Batman Movie and Wonder Woman in the DC Animated Movie Universe. Television and movie roles have been rolling in for the flooring actress ever since. As for her latest projects, she is set to portray the titular character in the new Disney series Ahsoka.
Jason Statham | French Connection Model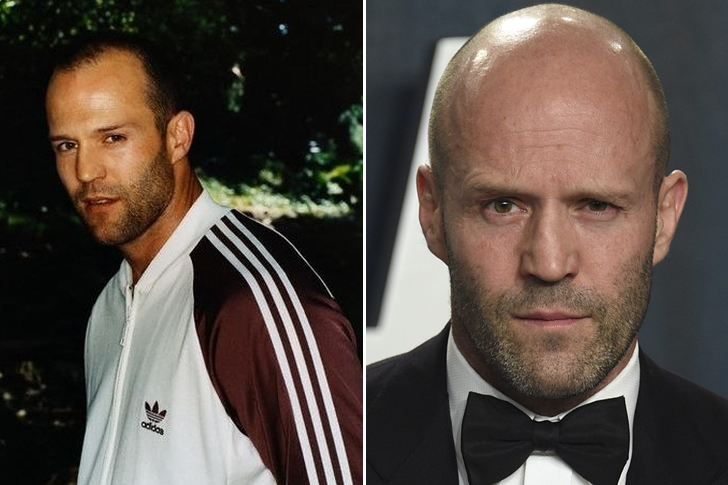 Jason Statham is unarguably a man of many talents. He practiced martial arts, played football, and trained as a member of Britain's national diving team. While practicing at a sports center in London, he was spotted by a model scout who signed him into his agency. He modeled for French Connection, Tommy Hilfiger, and Levis while also making ends meet as a street vendor like his father.
Who would have thought that selling fake perfume and jewelry would help him land a role in a film directed by Guy Richie? The director asked Statham to impersonate a street vendor for the film Lock, Stock and Two Smoking Barrels. Of course, it's the actor's personal experience, so he wouldn't even have to strive that much. After the movie, he continued to gas up his film career and collaborated with Ritchie on a few more films.
Meryl Streep | Miss Julie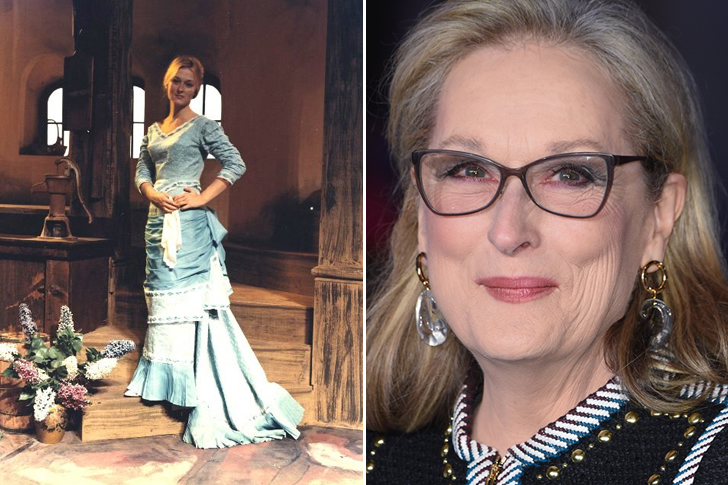 Born in a family of artists, Meryl Streep must have inherited her natural talent in the art of acting. Her mom was a commercial artist, while her two brothers, Harry William and Dana David, are also actors. Streep performed in various school plays during her youth and took opera lessons from the renowned Estelle Liebling. She became seriously interested in theater when she performed in the play Miss Julie while studying at Vassar College.
In the '70s, the actress performed in countless stage productions around New York City while making ends meet. Actor Robert de Niro saw her performance in The Cherry Orchard and suggested she audition as his lover in the movie The Deer Hunter. Since her first feature film, she would go on to carve out a highly acclaimed acting career, garner many acting awards, and amass high credit reports in Hollywood.
John Wayne | The Big Trail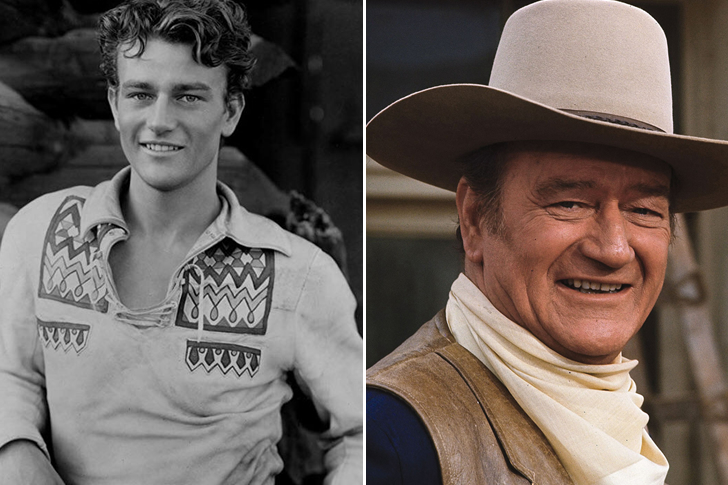 Western movies would not be complete without John Wayne in it. Over the years, the actor had become the epitome of the sub-genre. He did not just happen to be an icon without working hard. When he was growing up, he sold newspapers, and while earning a degree at the University of Southern California in Los Angeles, the actor received a football scholarship. It is his football coach who introduced him to the world of entertainment.
Wayne was recommended for a job as an assistant prop man in a movie directed by John Ford. The director, Ford, then used Wayne as an extra and after some time gave him much bigger roles. By 1930, Ford suggested Wayne take on a role in the American pre-Code early widescreen movie The Big Trail. Of course, as we all know, he landed the role. While the movie did poorly, it played a big role in launching Wayne's career, as he starred in many more movies after that.
Estella Warren | Broadbelt & Fonte Models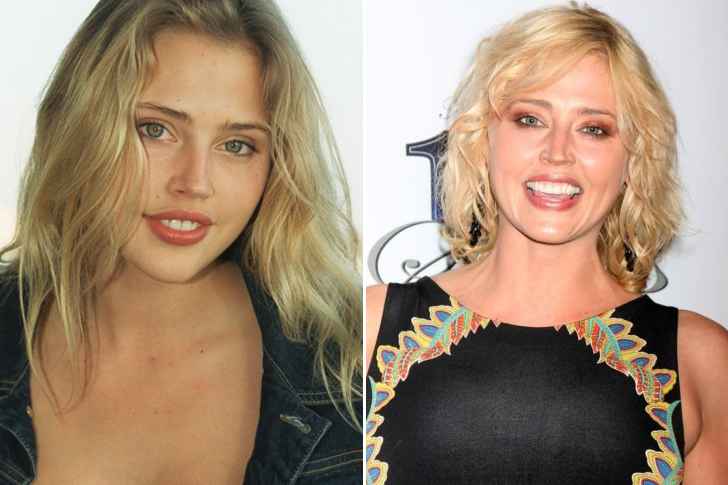 The brands Perry Ellis and Victoria's Secret would not be the same without the beautiful Estrella Warren in them. In 1990, Warren moved to Toronto so she could train for the national synchronized swimming team. She later joined the 1996 Summer Olympics, and won three national championships and a solo bronze medal at the 1995 Junior World Championships.
Warren was discovered to be a model by Rhoda Broadbelt Fonte, who owns Broadbelt & Fonte Models. In 1994, she was seen walking down a runway at a high school fashion show, and the future model was eventually introduced to George Gallier, owner of American Models, who made investments in her career. She started having test photos taken by Ellen Von Unwerth, who saw Warren's huge potential right away. Not wasting a chance, Von Unwerth booked her a photoshoot with the Italian Vogue right away.
Danny Trejo | Runaway Train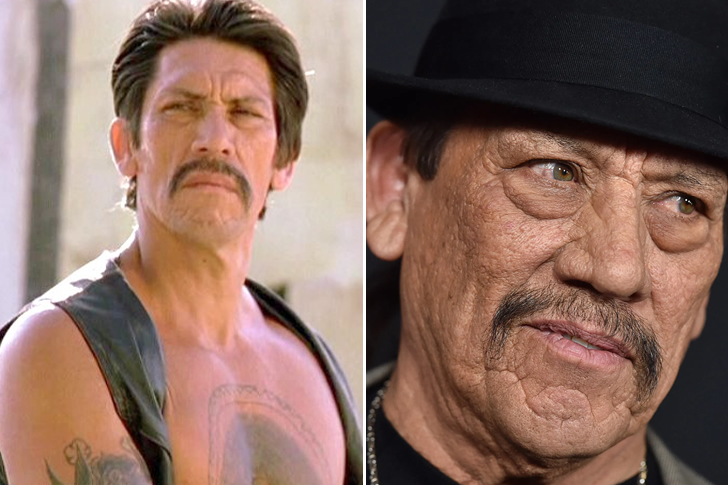 If you were with Danny Trejo when he was growing up, you would have very little hope that he would amount to someone significant. He had been a constant user of the state's legal system, frequently conferring with lawyers for his various legal troubles. He eventually shaped up, though, after undergoing a 12-step program that helped him clean up his act.
In a twist of events, it is his life experience that pivoted him to acting. While acting as a youth counselor, a teenage patient asked Trejo for assistance on how to deal with substance abuse on the set of Runaway Train. While helping out and giving advice on the costume and acting of a particular group of people, he was eventually offered a job and to be paid $320 to train one of the actors, Eric Roberts, for a boxing scene. His work was exceptional in that he was given a credit role as a boxer in the movie.
Christoph Waltz | Inglourious Basterds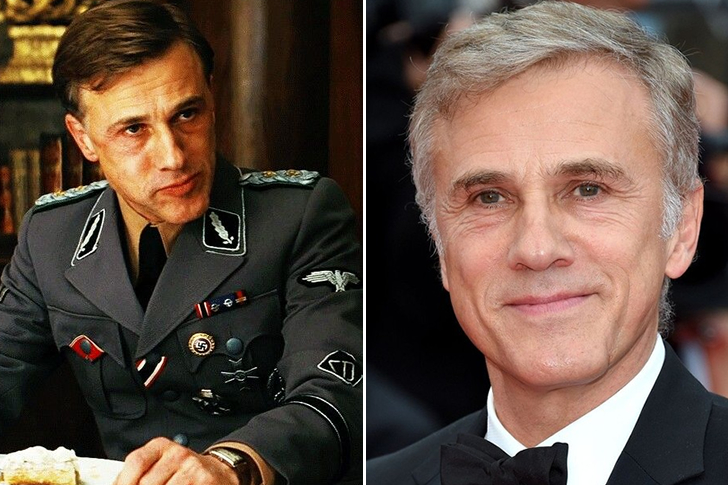 If the famed Quentin Tarantino comes knocking at your door, you simply cannot say no. The story of Christoph Waltz' success in Hollywood is incomplete without Tarantino, and he even made sure that he acknowledged the film director for discovering him. Long before Tarantino offered him a role, Waltz was already an actor in Europe, as he has appeared in multiple TV series, including the British TV show The Gravy Train and doing behind-the-scenes work.
Tarantino's Inglourious Basterds, however, was Waltz' breakthrough in the American film industry. This was then followed by Django Unchained, The Green Hornet and Water for Elephants. So does he consider himself a star yet? To a degree, no, as he feels he still has a lot to learn, but he has always been grateful for his friendship with the person who discovered him. Waltz has now expanded his reach by being a director in the production of an opera.
Alexis Bledel | Gilmore Girls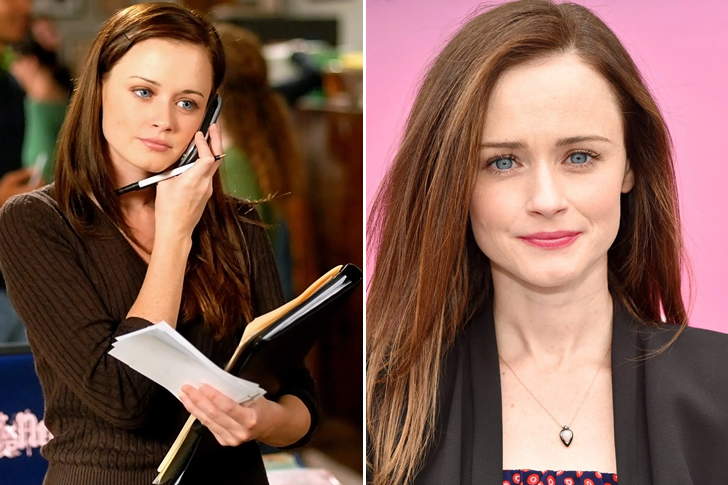 The series Gilmore Girls let fans see how Alexis Bledel, who played Rory Gilmore, matured from when she started in 2000 to the end of the seven-season run in 2007. She was also a guest cast of Handmaid's Tale, for which she received the Primetime Emmy Award for Outstanding Guest Actress in a Drama Series. This was on top of her other role in movies like Sin City and The Sisterhood of the Traveling Pants.
What is interesting is that being an actress was not even Bledel's first career option. She initially wanted to be a model, and she was even discovered back then. Finances were tough, though, and even if she had good money management skills, the cash flow was just not sufficient, so she tried applying for other jobs from waitress to actress. Luckily, Jill Anthony, casting director for Gilmore Girls, saw her potential and offered her the part.
Alden Ehrenreich | Solo: A Star Wars Story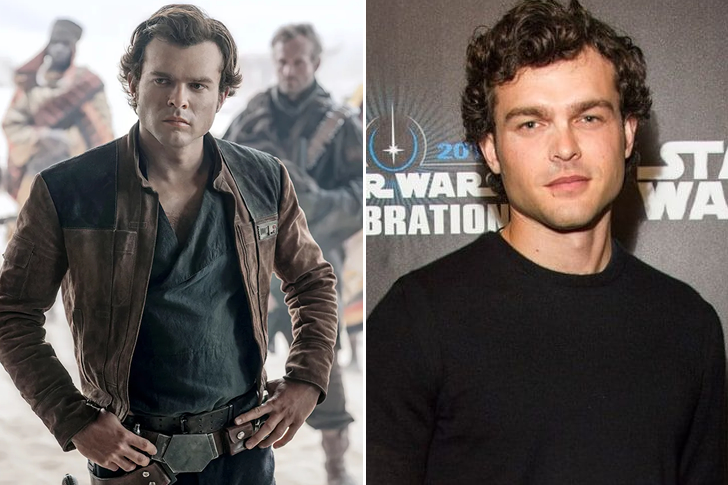 We have always associated the role of Han Solo with Harrison Ford, but with the new generation of actors, it is not totally unexpected for younger celebrities to take on these iconic roles moving forward. Such is the case of Alden Ehrenreich, who played the character in Solo: A Star Wars Story. This was not his first gig, however, as he had projects prior to this such as Stoker, Blue Jasmine, and Hail, Caesar!
What is the story behind Ehrenreich's discovery though? Well, Steven Spielberg saw him in a Bat Mitzvah video at the age of 14 and talked to his parents about it. Spielberg and Francis Ford Coppola recommended the actor to be Han Solo, after he acted magnificently in his first two movies, Twixt and Tetro. Did the two regret putting their names on the line? Certainly, not! They actually made a brilliant investment in the budding celebrity. Fans are already looking forward to more film appearances.
Chris Pratt | Cursed Part 3

Now an established leading man, Chris Pratt did not always have $60 million to his name. At one point, he was serving people at Bubba Gump restaurant in Hawaii. During that period, he did not have a home and only had a bit more after gas money. With luck and charm on his side, Pratt got the role in Cursed Part 3. The story goes that he served director and actress Rae Dawn Chong at one time, and she was impressed by him.
After his debut role, Pratt went on to star or lend his voice in other high-budget films like Jurassic World, The Lego Movie, and of course, Guardians of the Galaxy as Star-Lord. It is this role that catapulted him to international stardom. He was also awarded the CinemaCon Award for Breakthrough Performer in 2014 and a star on the Hollywood Walk of Fame in 2017.
Evangeline Lilly | Ford Modelling Agency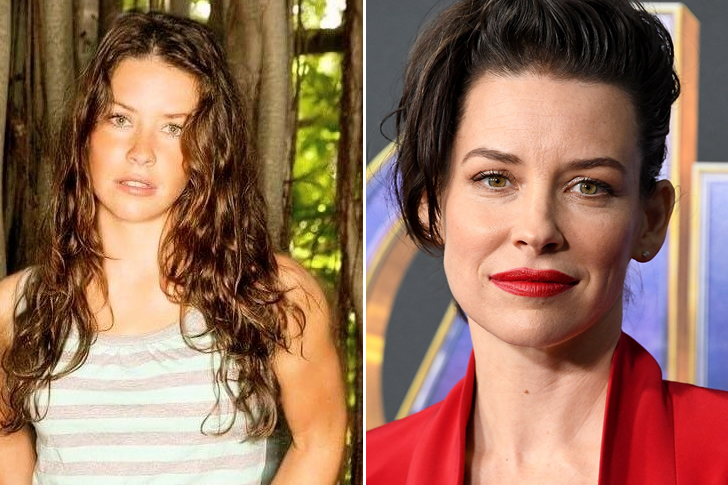 Lost actress Evangeline Lilly is not at all lost. The way she was discovered, however, was a wee bit strange. She was walking down one of the streets of Kelowna, British Columbia when a Ford Modelling Agency representative approached her. Perhaps the agent was smitten by her beauty or saw how she walked gracefully and decided to recruit her. Lilly had not considered acting before, but she did anyway, and she landed minor roles in Smallville and Kingdom Hospital.
The actress performed her first leading role on Lost as Kate Austen, and from there, she started appearing in movies like The Desolation of Smaug and The Battle of the Five Armies as Tauriel. The MCU family also welcomed her as Wasp in Ant-Man, Ant-Man and the Wasp, as well as Avengers: Endgame. Her story shows us how a great degree of change could happen — one day, you could be walking on the street, and the next day, you are part of the MCU Universe.
Kristen Wiig | Saturday Night Live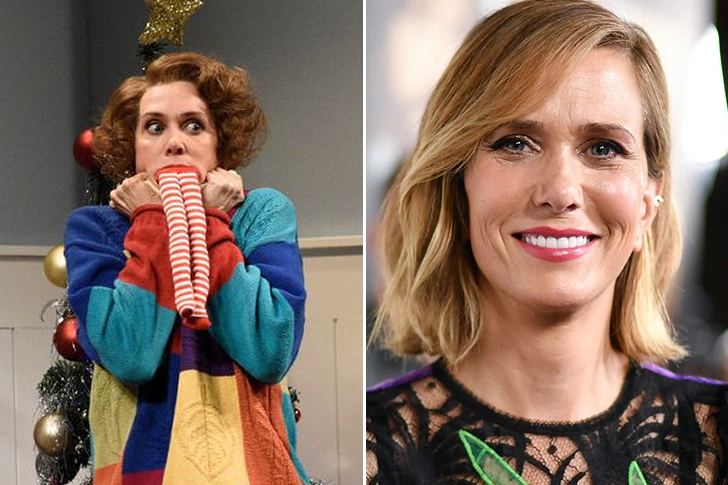 We all have that teacher who has a great deal of influence on us and made a big impact in our lives. He or she could be a teacher in high school or college who prompted us to do our best or follow our dreams. In Kristen Wiig's case, one of them encouraged her to pursue acting after she graduated, and she did just that. She packed up her things, contacted the moving company, and moved to Los Angeles to become part of The Groundling, an improv group. She then found her big break in Spike TV's 2003 The Joe Schmo Show.
It was at this point that Wiig was encouraged by her manager to submit audition tapes to Saturday Night Live. Shortly after, SNL contacted her, and she made her debut during its 31st season, on November 12, 2005.  She then went on to star in Bridesmaid, which earned her nominations for the Golden Globe, Academy, BAFTA and Screen Actor Guild Awards. Her current projects include voicing Jenny Hart in the series Bless the Harts.
Sharlto Copley | District 9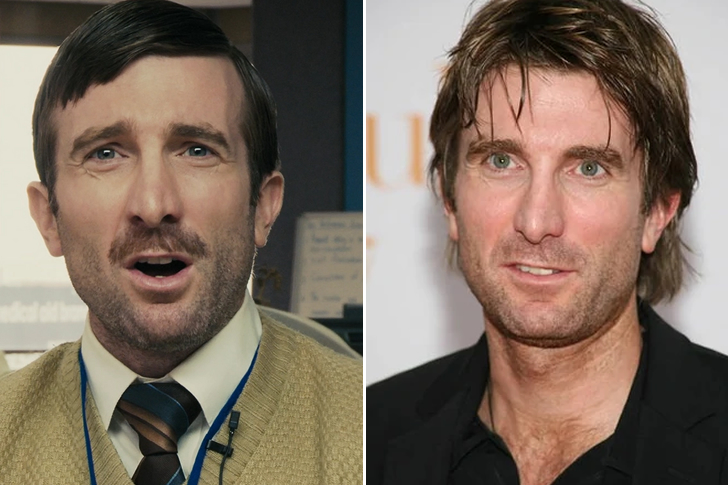 Being a sincerely generous person has positive effects in our lives. The universe will always find a way to repay you one way or another. Sharlto Copley is one living example of this. The actor was very persistent in getting into the acting business that he even took drama classes and acted in school plays, but he was not so lucky in landing big-screen roles. He eventually gave up and opened several companies without having to get business loans.
His business flourished, and he became one of South Africa's youngest TV producers, and at one time, he allowed Neill Blomkamp to borrow his computer to make his designs. The latter did not forget this and repaid him by casting him as lead actor in District 9. He also appeared on Elysium, fulfilling a childhood fantasy by playing Howling Mad Murdock on the big screen. Copley now enjoys married life with his family, alternating between South Africa and the US.
Sylvester Stallone | Rocky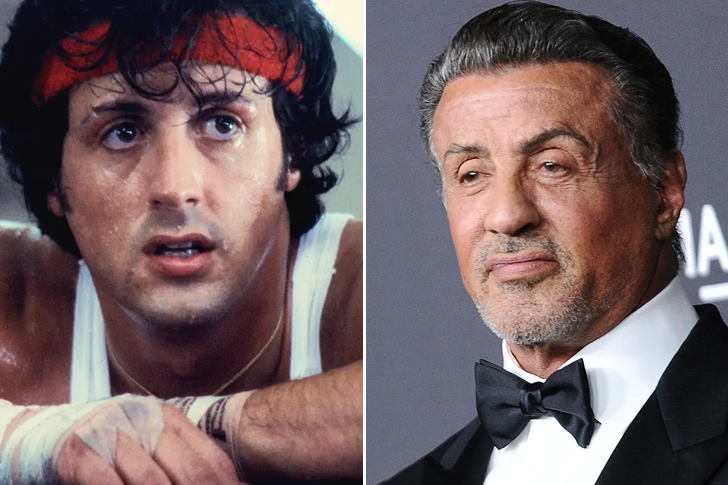 Struggling with making ends meet, Sylvester Stallone was only renting a house and did not have one he could call his own. The monthly rent payment was already a pain for him.  He had tried acting and appeared in minor roles in films like No Place to Hide and Downhill racer, but the money was not just enough. The actor turned to work outside of acting to earn more.
His discovery as a screenwriter happened when he wrote what would eventually become Rocky. He sold the screenplay and petitioned the studio to cast him as the lead. Luck or skills, or both, eventually paid off and he landed the role. Rocky became an instant hit, and this paved the way for him to become an internationally acclaimed celebrity. If there is one regret he has over Rocky was that he did not ask a lawyer to protect his copyright. Nonetheless, it became a success, which reflected well on his bank account later on.
Samuel L. Jackson | School Daze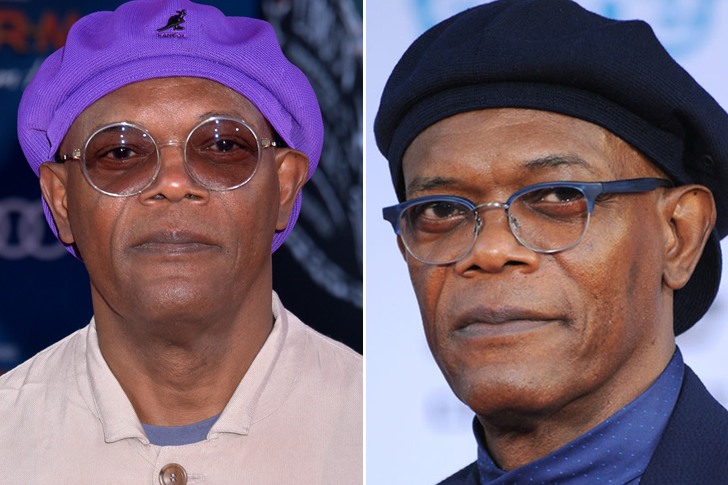 Pulp Fiction star Samuel L. Jackson has been active in the entertainment industry for more than 48 years. He has been most notably recognized for films like Patriot Games, Jurassic Park, and Do The Right Thing. His character as Mace Windu in Star Wars and Nick Fury in the MCU is what made him an international star.
Before all the fame, however, Jackson was just a regular actor. He began acting in Morehouse College while earning a degree but quickly got disenfranchised. He then appeared in a black film, A Soldier's Play, which led to an introduction to director Spike Lee, who asked him to play small roles in Do The Right Thing and School Daze. He also worked as a stand-in for Bill Cosby for a few years. Quentin Tarantino was instrumental in bringing Jackson to the international stage when he recruited him to be part of Pulp Fiction, alongside John Travolta.
Hulk Hogan | Jack Brisco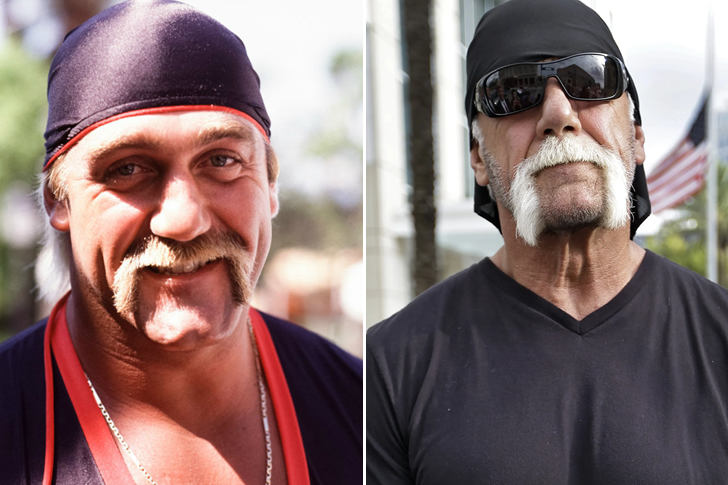 The name Hulk Hogan commands a certain level of respect as he is a legend in the world of wrestling. Born Terry Bollea, the future Hulk Hogan was first into music. He was part of a rock band and went around in clubs, making a living. He founded his own band, called Ruckus, by getting the best band members from other existing bands.
In one of their gigs, Jack Brisco, a professional wrestler, happened to be in the audience and got impressed by Bollea. After the set, he engaged in a conversation with him and asked if he would consider being a wrestler. Bollea said yes and admitted that he had always wanted to be one and revealed he was a big fan of Brisco. The future wrestler was later introduced to Hiro Matsuda and Eddie Graham, and his training and preparation for his lifelong successful wrestling career began. Now, Hulk Hogan is given credit as one of the best professional wrestlers of all time.
Elizabeth Banks | All My Children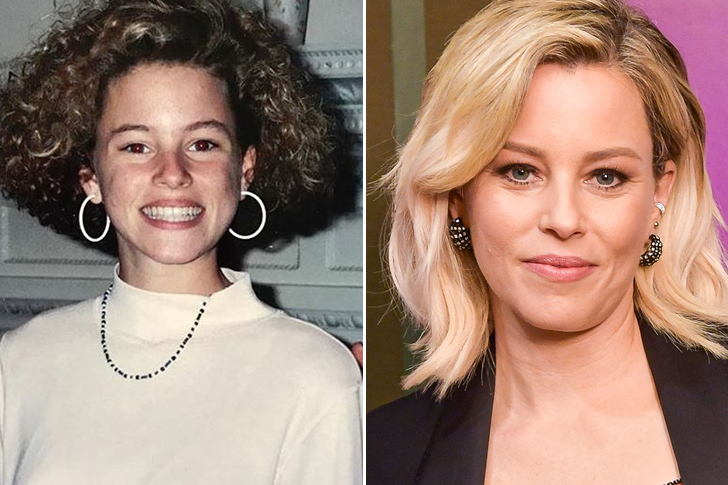 Emmy Award nominee Elizabeth Banks is known for her role as Effie Trinket in the Hunger Games. She is now also a director and made her debut behind the camera with Pitch Perfect 2. As a first-time director, this film's earnings of $69 million during its opening weekend was a record first for a new director. We hope that she was able to set aside some of the earnings for investments. Before becoming a rich and respected actress and director, Banks also started with low-budget films.
She was initially cast on All My Children as a waitress, and Third Watch was also among her very first gigs. One admirable thing about the actress, though, was she was actually offered a role in the soap opera Santa Barbara, but she declined as it would affect her studies. She first finished her studies and then went on to become a full-time actress afterward.
Kathy Bates | Taking Off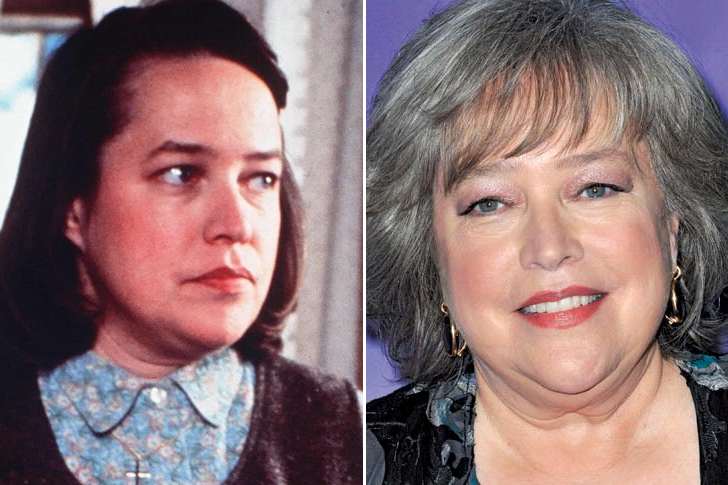 With one Oscar Award, two Primetime Emmy Awards, and two Golden Globe Awards to her credit, Kathy Bates has really made more than sufficient headway in Hollywood. She has starred in big-budget films and TV series as well. Her TV work, for example, resulted in her being nominated for the Emmy a total of14 times. For portraying Miss Hannigan on Annie, this actress also received critical acclaim.
This was a long way from when she first started acting in the Hollywood industry. She could barely land a role after she was discovered and cast for Taking Off in 1971. Film agents told her that she was not sufficiently beautiful to land major roles. Of course, Bates knew herself better and persevered. Many years later, she has proved the agents wrong and became a formidable celebrity. Her success has even continued to this day, more than 40 years later after she received her own star in the Hollywood Walk of Fame.
Justin Hartley | Passions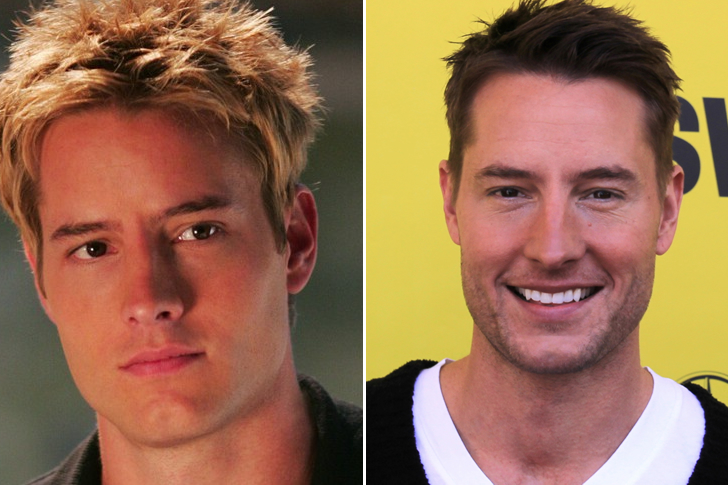 Justin Hartley is an American actor who managed to land numerous credit roles on several television shows. Justin also has appeared in a good number of films such as The Hunt, The Challenger, Another Time, and many more. He also has numerous nominations and awards in his resume, and one of them is a nomination as Best Supporting Actor for his portrayal of "Kevin Pearson" in the hit television show This Is Us.
Justin's first acting performance came in the television show called Passions from 2002 and 2006. He certainly used his performance in Passions as his springboard to a well-established acting career. Hartley makes constant appearances on various television shows and films every now and then. Justin Hartley should be in the entertainment industry for more years to come! We're definitely excited to see his acting performances and roles in the future!
Amber Tamblyn | General Hospital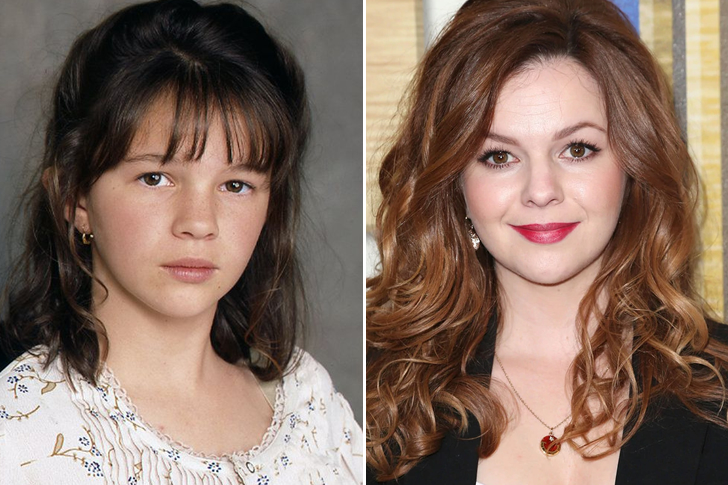 Amber Tamblyn is a well-known American actress, director, and writer. She's known for her starring role as "Joan Girardi" on the hit primetime series Joan of Arcadia. Tamblyn also received nominations for a Primetime Emmy and a Golden Globe for her contributions to the hit television show. Indeed, she's an incredibly recognizable face as she's appeared in a long list of television shows and films throughout the years.
Amber Tamblyn's acting career kicked off on the hit television show General Hospital. She masterfully played the role of "Emily Quartermaine" from 1995 to 2001. Tamblyn must've impressed a lot of executives in Hollywood as she received numerous offers to star in a handful of movies and television shows. One of Amber's most notable performances after General Hospital was in The Sisterhood of the Travelling Pants. She's still raking in acting credits to this day as she makes constant appearances on various film and television projects.
Shemar Moore | The Young and the Restless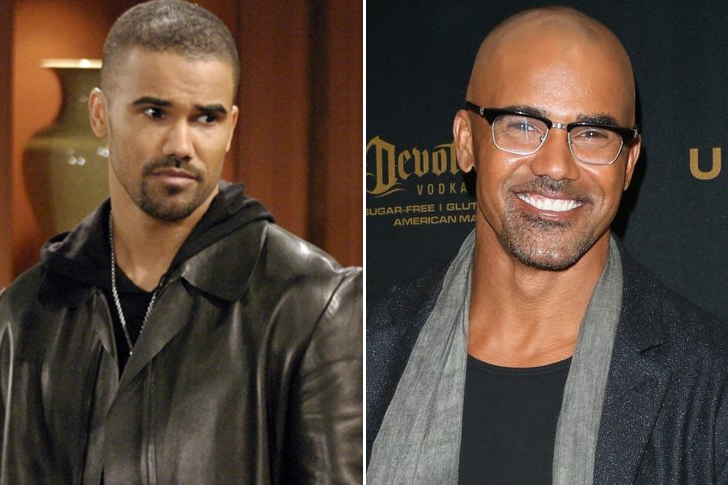 Shemar Moore is a popular actor and fashion model. You may know Shemar from his acting credit of "Derek Morgan" on the hit C.B.S. television show Criminal Minds. He's had quite an illustrious acting career on television that he's won eight N.A.A.C.P. Image Awards. Moore also has a Daytime Emmy Award for Outstanding Supporting Actor in a Drama Series that he bagged back in 2000.
Shemar Moore first kicked off his television career in the hit series The Young and the Restless. Moore appeared in the show from 1994 to 2005 with a brief hiatus between 2002 and 2004. He managed to return to the long-running soap for a guest appearance back in 2014. Today, he's the star of the critically acclaimed television show S.W.A.T. Besides acting, Moore also started producing television shows. It must be easy for him to know the ins and outs of producing television shows as he's appeared in countless television projects before!
Laurence Fishburne | One Life to Live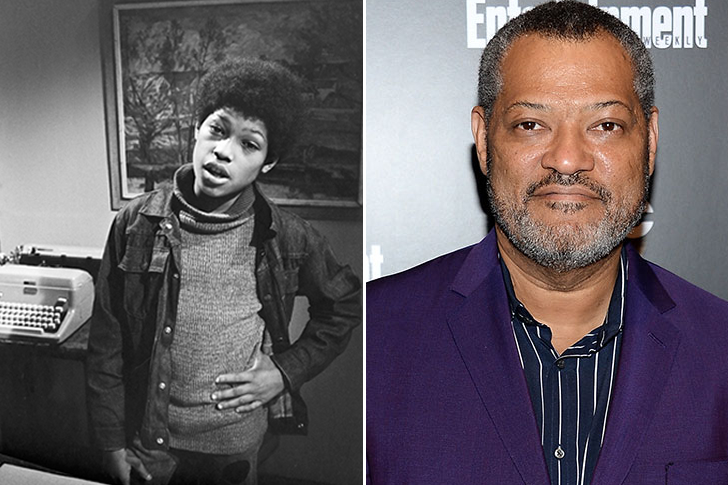 Larry Fishburne is one of Hollywood's tenured and successful actors. He's managed to stay in the entertainment industry for several decades now. Fishburne is best known for his credit role of "Morpheus" in the iconic The Matrix trilogy. He's also known as "Jason Styles" in Boyz n the Hood, "Mr. Clean" in the war film Apocalypse Now, and most recently as "The Bowery King" in the John Wick film franchise. He's certainly one of Hollywood's recognizable faces, and he still appears in film and television even at the age of 59!
Before Fishburne played "Morpheus" in The Matrix saga, he played "Josh Hall" on One Life to Live from 1973 to 1976. Fishburne certainly used his performance on One Life to Live as his stepping stone to achieving a successful acting career. He managed to land spots in numerous film projects and televisions, and has received dozens of awards for his performances in the process. We're confident that Fishburne has a good idea of what it takes to cultivate success in Hollywood as an actor!
Julianne Moore | As The World Turns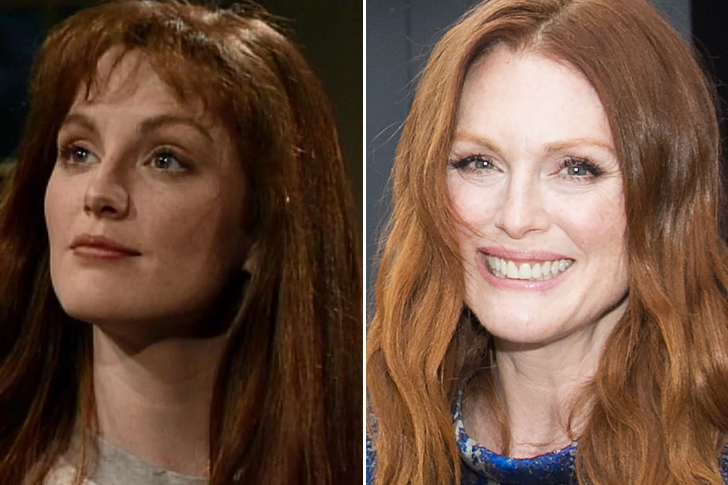 Julianne Moore is an accomplished American actress and author. Moore has been a prolific actress since the early 1990s starring in numerous films and television shows. She's best known for portraying emotionally troubled women in both blockbuster and independent films. She is the recipient of numerous accolades as an actress, including two Emmy Awards, two Golden Globes, and an Academy Award. In addition to her awards, she's been named one of the 100 most influential people by Time Magazine.
Moore first kicked off her illustrious acting career on the long-running television show As The World Turns. She skillfully portrayed the credit role of both Frannie and Sabrina Hughes. Moore played Frannie from 1985 and 1988 and then did twice the work by playing Frannie's identical sister and cousin Sabrina since 1986. Fast forward to 2010, and Julianne reprised her role as "Frannie" by appearing on the long-running show for an episode.
 Josh Duhamel | All My Children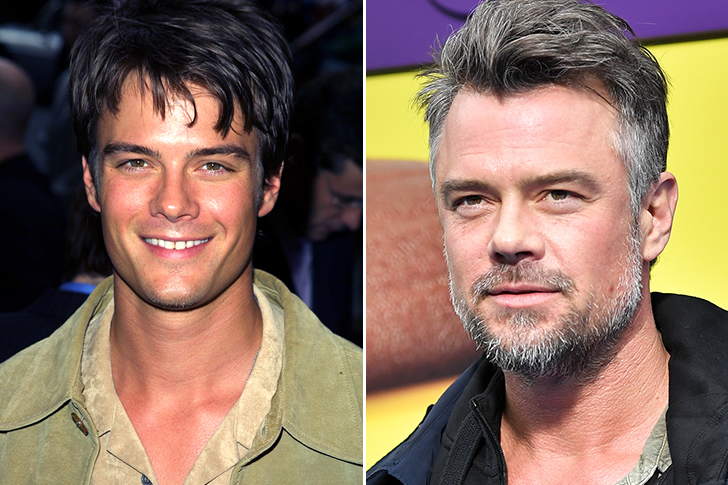 Josh Duhamel is a widely known actor and former fashion model. Before he started appearing in numerous films and TV shows, he was doing various modeling work. Duhamel first made his acting debut on the hit ABC daytime soap opera All My Children. He played the role of "Leo du Pres" in All My Children and later starred as "Danny McCoy" on the NBC soap opera Las Vegas. You could say that Josh Duhamel reigned supreme in the soap opera world from 1999 to 2002!
Josh Duhamel raked in numerous awards for his roles in various soap operas. Despite his new-found success, Duhamel left the show to chase other opportunities. He went on to star in several romantic-comedies and action films. Some of his most notable acting credits came in films like Transformers, Life as We Know It, When In Rome, and many more!
 Sarah Michelle Gellar | All My Children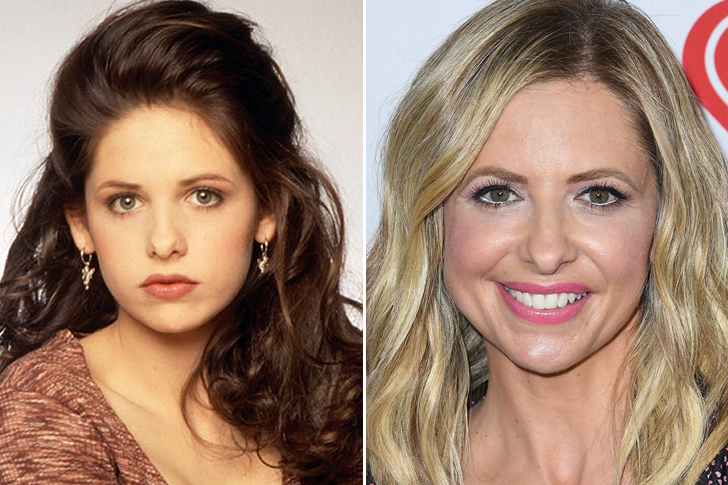 It's undebatable that Sarah Michelle Gellar became a household name for her credit role in Buffy the Vampire Slayer. However, Sarah Michelle Gellar's first acting breakthrough came in various soap operas back in the 90s. From 1993 to 1995, she played the role of "Kendall Hart" who was a troubled teen on the hit television soap All My Children. Who knew that she had a knack for soap operas before she started fighting vampires? Needless to say, her performance was well-received, and she even won a Daytime Emmy Award for her contributions to the show.
Sarah Michelle Gellar managed to leave the show despite winning an award for her performance. She wanted to focus and explore different projects in 1995. Shortly after, Gellar took on the role of the iconic vampire-fighting persona that we all knew and loved from 1997 to 2003!
John Stamos | General Hospital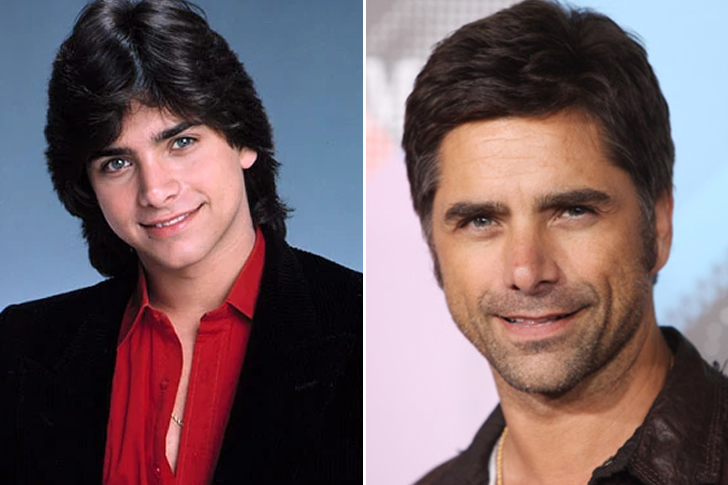 Before John Stamos played the role of "Uncle Jesse" in Full House, he starred as "Blackie Parrish" on the hit soap General Hospital. Even back in John's early '80s stint on the show, he already showed his interest in music. His character on the hit television show formed the band "Blackie and the Riff Raff," but one could argue that they weren't on the same level as "Jesse and the Rippers."
John Stamos breakthrough in General Hospital certainly propelled him to the successful acting career that he now has. Throughout the years, Stamos has been able to land a spot in several film and television shows. He's also been able to win numerous acting awards throughout the course of his career. Interestingly, one accolade that stands out the most is the nomination that he received for a Daytime Emmy for Outstanding Supporting Actor for his credit role in General Hospital.
 Leonardo DiCaprio | Santa Barbara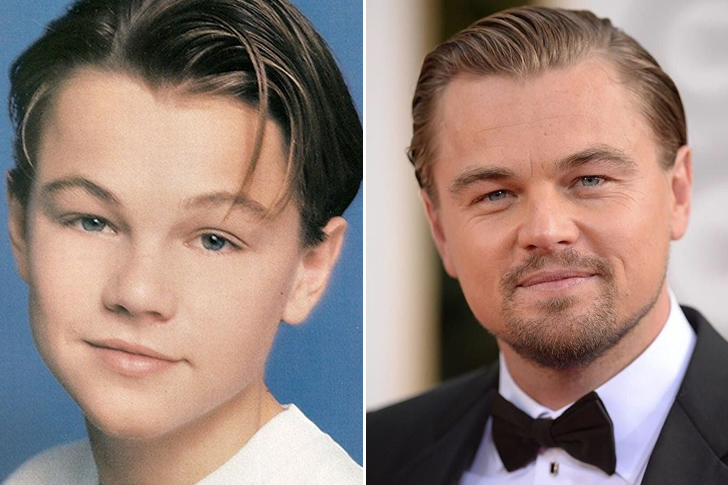 Many television fans know Leonardo's early days as a child actor, thanks to the television show Roseanne and Growing Pains. Before all of Leo's roles from the early '90s, he first made an appearance on the hit '80s television soap Santa Barbara. It's definitely interesting that Leo's first acting credits weren't in Titanic and the succeeding films that we've seen him in!
Leonardo DiCaprio certainly used his experience in television soap operas as his springboard to success. Leo went on to put together a massively successful career as an actor, starring in countless blockbuster films throughout the years, and even acquiring the title of being one of the highest-paid actors today. Leo currently has an astounding fortune worth $260 million. Who would've known that the young version of "Mason Capwell" in Santa Barbara would be able to become one of the sought-after actors in Hollywood today!
Alec Baldwin | The Doctors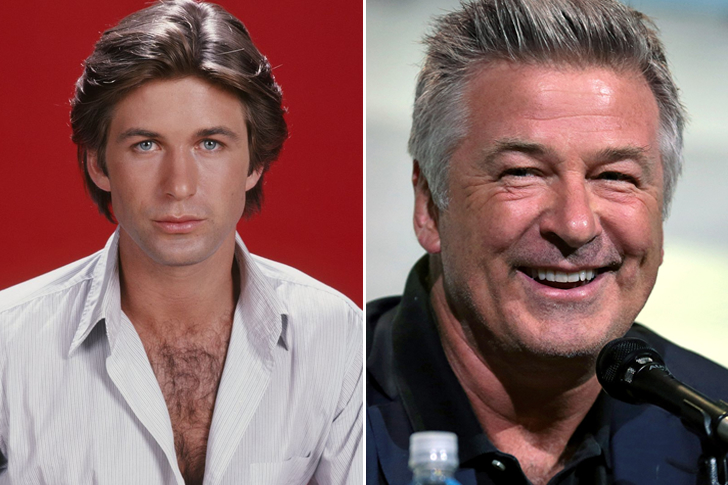 Alec Baldwin's first acting experience came in a television role on the critically acclaimed television soap The Doctors back in the '80s. Baldwin's character took on an incredibly dramatic turn for the show, proving his acting prowess and versatility in the process. He'd eventually reprise his role until 1982, when he decided to put his focus into pursuing other acting projects. After his stint on The Doctors, he went on to star in numerous films and television projects, cementing his legacy as one of the best actors in the 20th century.
Alec Baldwin's acting prowess and versatility paved the way for him to rake in numerous awards and recognition. Baldwin also managed to extend his reach onto other industries and platforms. As of writing, Alec Baldwin's career involves countless acting credits in theater, television, and films. He even published a couple of books while starting a few podcasts and radio shows of his own!
Morgan Freeman | Ryan's Hope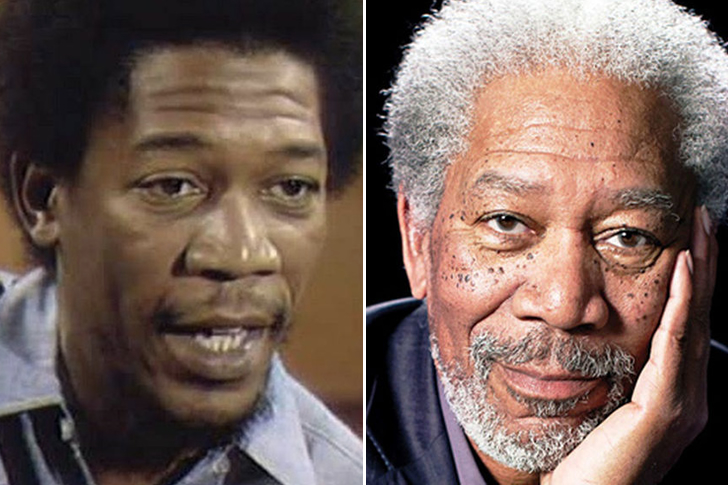 Without a doubt, Morgan Freeman is one of the most iconic and celebrated actors in modern film history. Interestingly, Freeman didn't start acting until he was in his twenties. Before he became the actor that everyone knows of today, he used his iconic voice on hit soap operas like Ryan's Hope and Another World back in the early '80s. After his stint in both television soaps, he then managed to put together one of the most successful acting careers in Hollywood today.
Some of Morgan Freeman's most memorable performances came in films like Shawshank Redemption, The Bucket List, Unforgiven, and many, many more! He's accumulated countless awards and recognitions throughout his career and managed to become one of the wealthiest actors, too! As of writing, Morgan Freeman is worth $250 million, with most of his fortune coming from acting. Who would've thought that his acting credits on Ryan's Hope and Another World would kickstart an incredibly successful acting career?
Mark Hamill | General Hospital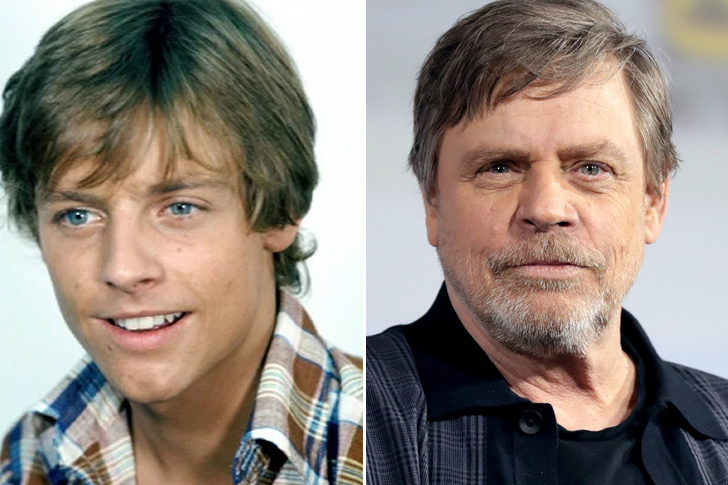 It's definitely impossible to picture Mark Hamill as any character that's not Luke Skywalker. A long time ago, five decades to be exact, in a galaxy far away, Mark Hamill used to appear on General Hospital. Hamill's credit role of "Kent Murray" was his first regular acting role, and he played the part from 1972 to 1973. Despite his brief stint in the hit television soap, Hamill referred to the experience as one of the happiest months of his career.
We certainly applaud his decision to walk away from the hit television soap General Hospital. His decision to pursue other projects landed him the role of Luke Skywalker in the iconic Star Wars franchise. Hamill continued to appear in various film projects, and he's managed to accumulate a good number of awards in the process. Without a doubt, it's one illustrious career that started in an iconic television soap like General Hospital!
Jensen Ackles | Days of Our Lives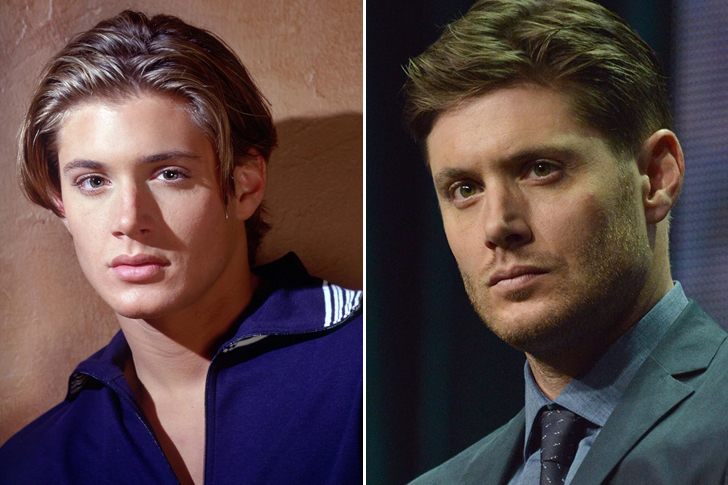 We all know Jensen Ackles for his long-running role as Dean Winchester in the hit television show Supernatural. Interestingly, Jensen has been around the industry since he was a little boy. He first started out as a model when he was four, and he broke into acting at the age of 18. Jensen's first acting credit was as "Eric Brady" on the television soap Days of Our Lives.
Jensen Ackles landed the role back in 1997 and held it for three years until 2000. He then left the show to pursue better acting opportunities, which he was able to do. Of course, Jensen is best known for his long-running role in Supernatural, as he held it from 2005 to 2020. Besides his iconic role in Supernatural, Ackles has also been able to star in other television shows like My Bloody Valentine Tom Hanniger and Ten Inch Hero Priestly.
Demi Moore | General Hospital

Before Demi Moore was known for her tabloid-heavy marriages to Ashton Kutcher and Bruce Willis, she was part of the iconic and long-running television soap General Hospital. Demi only appeared in the television soap for over a year, but it was enough to kickstart a successful career as an actress. In General Hospital, Demi played the role of an investigative journalist.
Demi Moore then quickly moved on into appearing in a handful of blockbuster films and television shows. Some of her most notable acting credits came in films like A Few Good Men in 1992, Ghost in 1990, and About Last Night in 1986. Demi Moore has put together an illustrious acting career filled with numerous recognition and awards. She's still making constant appearances in film and television shows to this day. Moore recently appeared in the 2020 film Songbird and is set to appear in Please Baby Please, which is still under production. It's interesting that so many actors and actresses kickstarted their careers in the same soap opera.
Hayden Panettiere | One Life to Live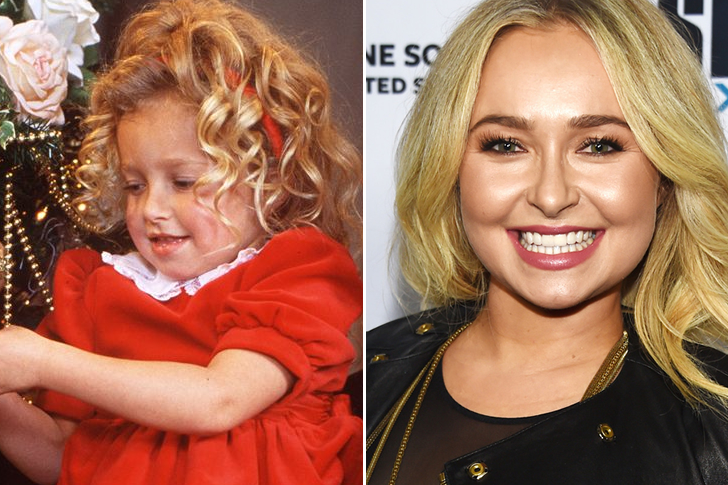 Fans would certainly remember Hayden Panettiere's early acting career from her iconic role of the 2000s classic Remember the Titans. Before Hayden landed a role in the iconic movie, she appeared on soap operas years before that. Panettiere played "Sarah Roberts" on the 90s television soap One Life to Live between 1994 and 1997. She then followed her soap debut by starring "Lizzie Spaulding" on another memorable 90s soap Guiding Light.
Hayden Panettiere's acting credits from two well-known television soaps from the 90s certainly propelled her to higher heights. Panettiere quickly became one of Hollywood's most recognizable stars, appearing in numerous films throughout her career. Besides acting, Panettiere has also been able to carve a career in modeling and music! Who would've known that the young girl we saw on two critically acclaimed television soaps would have an incredibly multifaceted career?
Kevin Bacon | Animal House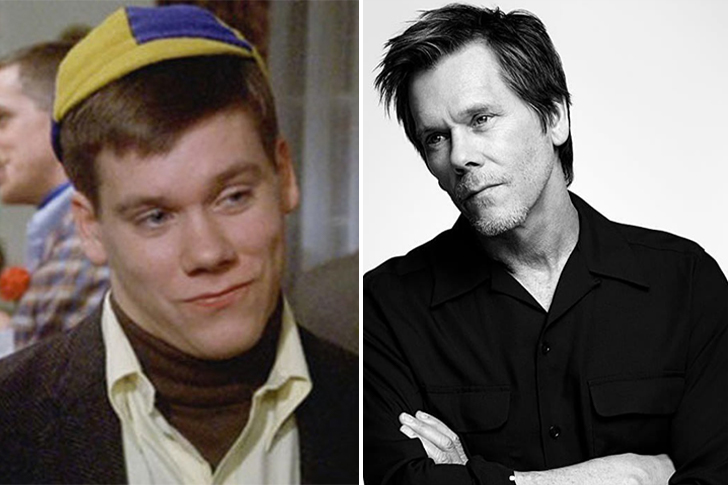 Kevin Bacon was a prominent character actor who created a game built on his screen pervasiveness. Throughout a four-decade tenure in the film and television industry, he portrayed a relatively diverse variety of roles. Born in 1958, the Philadelphia native got "the itch" for performing and decided he wanted to pursue it as his career path. Bacon was so excited to start working as an actor that he finished half a year early from high school to move to New York City. He supported himself by bussing tables at Fiorello's Roman Cafe while auditioning for roles.
Bacon's first major break as an actor came quickly, with a part in the 1978 cult classic Animal House. He kept hustling for many years, waiting tables and appearing on soap operas until the 1984 drama Footloose catapulted him to a degree of fame. The film's success and critical acclaim for his performances in A Few Decent Men re-energized his career and led to Apollo 13, Mystic River, and a slew of other films. Kevin has established himself as one of Hollywood's most admired actors, delivering unforgettable roles in far too many movies and television shows to list here.
Taye Diggs | Rent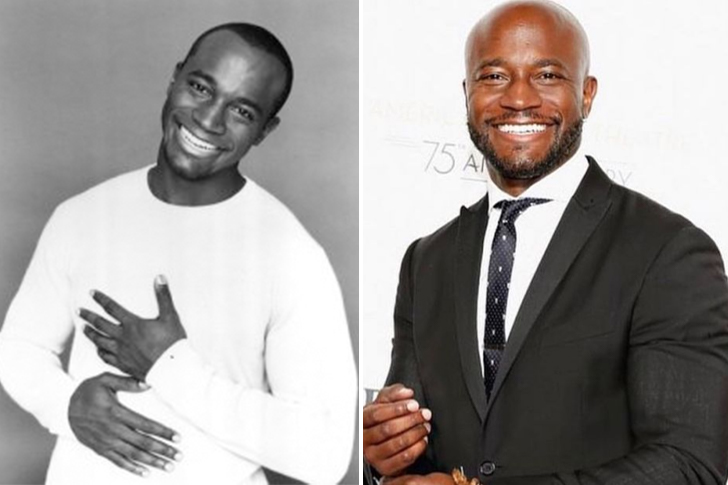 Taye Diggs is part of a new wave of African-American leading men achieving remarkable success in the Hollywood industry. The Broadway legend is best known for depicting the handsome young Jamaican in How Stella Got Her Groove Back, which is a no stranger to theatergoers. He earned his Broadway breakthrough back in 1994 in a Tony-winning revival of Rodgers & Hammerstein's Carousel. His career, however, got a 360-degree turn after he was cast for the Broadway musical, Rent.
Following the success of Rent, Diggs' career trajectory climbed continuously. He was cast as Adrian "Sugar" Hill in the CBS daytime drama The Guiding Light and soon landed guest roles on Law and Order and New York Undercover. After playing opposite Angela Bassett in the film adaptation of How Stella Got Her Groove Back, the actor broke into the mainstream. His versatility landed him a trail of performances and several accolades to his name. All adds up to his impressive resume that secured him a spot among the highest-paid actors in Hollywood.
 Ryan Phillippe | One Life to Live

Ryan Phillippe has become one of Hollywood's best actors, thanks to his movie-star good looks and impressive talent, but his path to success wasn't like a walk in the park. It was a memorable day for him when he got noticed by a casting director in a Delaware barbershop. After that, he spent the next two years doing auditions in New York, where he earned the occasional modeling job. His perseverance paid off when he was cast as Billy Douglas in a daytime sitcom One Life to Live. Phillippe soon rose to prominence due to his stint, earning credits on both the small and big screens, including the 1996 film White Squall.
The massive success of the 1997 horror film I Know What You Did Last Summer cemented his place in the industry. It also transformed him into a teen pin-up and gained him a sizable female following. This was followed by a trail of performances that confirmed the actor's degree of commitment to the craft. While he chose to maintain a stable career, Phillippe remains one of the most in-demand Hollywood actors today.
Brad Pitt | Less than Zero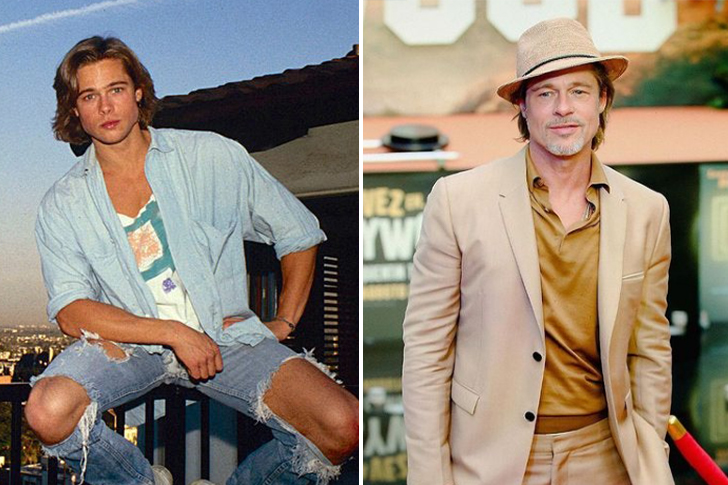 Brad Pitt has been hailed as one of the most prominent and robust figures in the American entertainment world. He was dubbed Hollywood's most beautiful guy by numerous media outlets for many years. Before his worldwide stardom, however, Pitt had to support himself by working in several jobs. Down the road, he met an agent and started booking acting work, eventually making his debut in an uncredited role in the 1987 drama film Less Than Zero. Pitt was ultimately able to establish a solid foothold in the television and film industries. The stud's first feature film appearance as a cowboy was in the 1991 film Thelma and Louise, where he had 14 minutes of screen time.
Shortly afterward, Pitt's degree of popularity skyrocketed, thanks to his appearance in Interview With the Vampire. In the same year, Pitt starred in another film, Legends of the Fall, for which he was hailed People Magazine's Sexiest Man Alive' for 1994. The actor remained productive in the scene with several movies and accomplishments under his belt. Pitt's acting career has had its ups and downs, but this actor has amazed the world with his acting prowess over the years.
Nathan Fillion | One Life to Live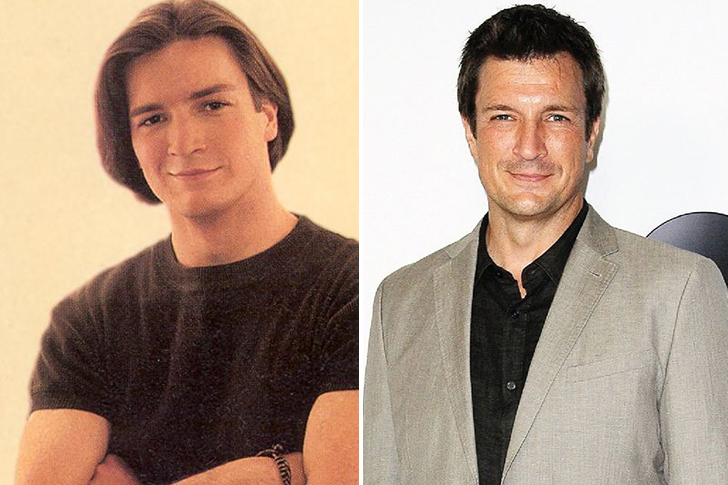 Nathan Fillion's name might be new to you, but you've definitely seen his face. After all, he's been on one TV series or another, almost continuous since 1998. Not to mention, his filmography includes several notable roles. The then-aspiring actor relocated to New York and attended college for a while, but after landing Joey Buchanan's role on One Life to Live, he realized he'd found his calling and soon dropped out of college. The show opened the gates of opportunities for Fillion— most notably, his role as Caleb in Buffy the Vampire Slayer.
Fillion then made the primetime viewers swoon over his appearance in the sci-fi series, Firefly. He rose to a degree of prominence as a co-star in independent films such Slither and Waitress. His good looks and wit landed him more memorable roles, including the romantic series Castle. His rave reviews and charm to female viewers showed that he embodies an overwhelming star quality when combined with the right film.
David Hasselhoff | The Young and the Restless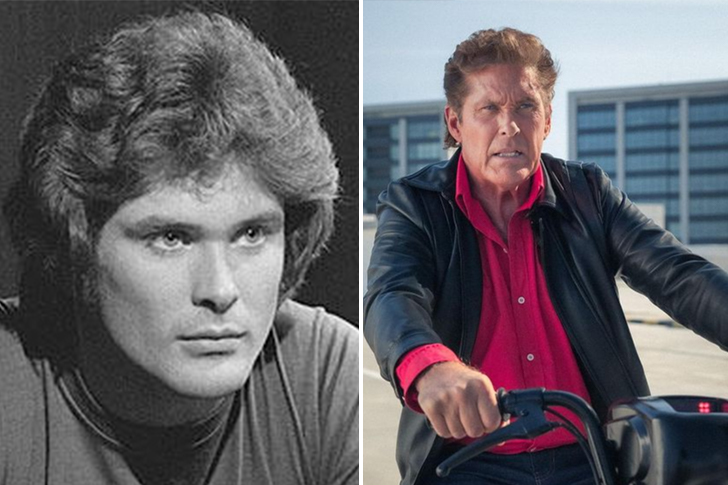 It was probably fair to say that few celebrities had as fun and exciting a career as David Hasselhoff. He gained prominence in the iconic American soap opera The Young and the Restless after playing Dr. Snapper Foster. The show achieved significant success not only in the United States but also around the world. Soon after, Hasselhoff made the transition to primetime with his appearance in Knight Rider, where he portrayed Michael Knight, a hero who uses a supercar named KITT to tackle various misdoings. The series soon became a significant hit in the United States and abroad, establishing him as one of television's most popular stars.
After starring in the American action drama series Baywatch, David then rose to a certain degree of prominence. Despite being canceled for some time, the show was later resurrected and became one of the most popular television shows in the world. He later appeared in a series of films and was adored by millions of fans globally. Throughout it all, his celebrity status shone brilliantly.
Michael B. Jordan | Cosby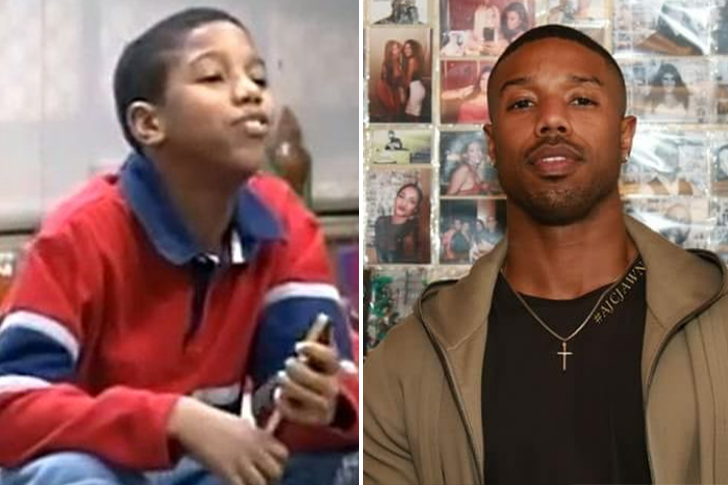 In a series of critically praised performances, Michael B. Jordan brought to life the dynamic web of pain and redemption that young men face. Despite being one of Hollywood's top stars today, he initially didn't dream of becoming an actor. Jordan and his mother crossed paths with someone whose children were models, which gave his mom an idea. He was soon booked for a commercial after she took him to an audition. Jordan began to think bigger after landing small roles on shows including Cosby and The Sopranos.
His popularity skyrocketed to a certain degree when he appeared in the 2001 film, Hardball. Jordan's success caught the attention of the producers of the television show The Wire. Following that breakout film success, he landed many increasingly high-profile roles in blockbusters, including Black Panther and Creed. Jordan has already proved that he is a skilled actor at the top of his game. With his wit and talent, we will not be surprised if he becomes the top star of his generation.
Leven Rambin | All My Children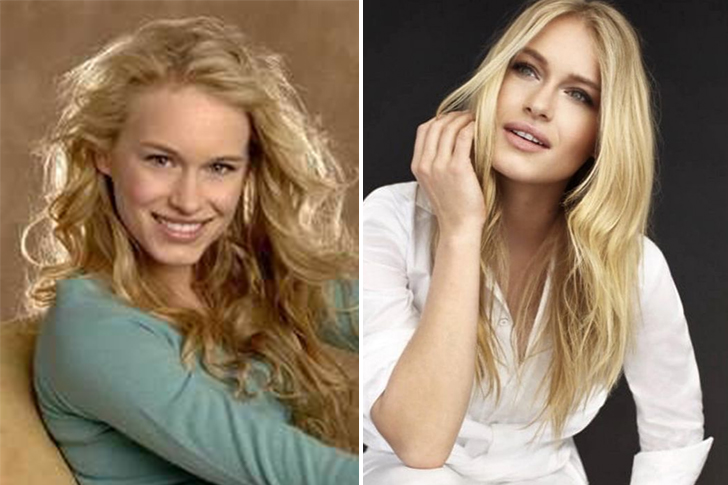 Actress Leven Rambin was undeniably born to be in front of the screen, thanks to her raw ability and never-ending drive. Even at the young age of 13 years old, Leven had already started her acting career as Lily Montgomery on ABC's series All My Children. The film gained her experiences to star in more notable roles in shows like Terminator: The Sarah Connor Chronicles, Grey's Anatomy, and One Tree Hill. Her versatility caught the attention of many and took a stab at comedic series such as Wizards of Waverly Place.
Her tenacity and perseverance paid off when she secured a prized role in The Hunger Games. Rambin's depiction of a gritty player in a brutal survival game attracted attention to her excellent acting abilities and future as a Hollywood star. Indeed, she continued to showcase her acting prowess through a series of career investments in both big and small screens.
Lauryn Hill | Fugees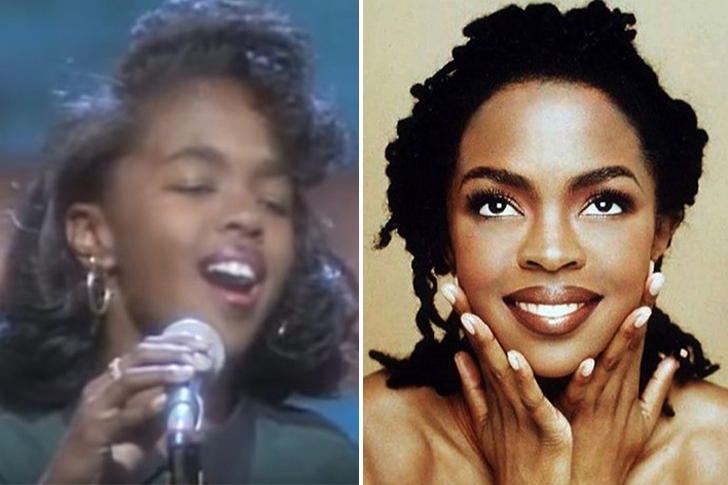 Lauryn Hill's adoration and admiration tend to be unparalleled. Hill was a natural performer who began singing at the age of 13. She met Prakazrel "Pras" Michel and his cousin, Wyclef Jean, and the three soon established an R&B band. Hill sang lead vocals in the group's early appearances in local clubs and released their debut album The Score. The record featured the hit track Killing Me Softly, which went on to sell 17 million copies and win the Fugees two Grammy accolades.
Hill went on to have an enormously popular solo debut with her album, The Miseducation of Lauryn Hill. She was able to effectively combine rap, soul, and reggae into a single sound. Hill remained an enigma following the album's success, with magazines such as Time, Esquire, and Teen People fought to place her on the cover. Her album went on to sell over 12 million copies and earned her several awards. This, along with her career investments, cemented her to become one of the most-sought performers in her era.
Jordana Brewster | As the World Turns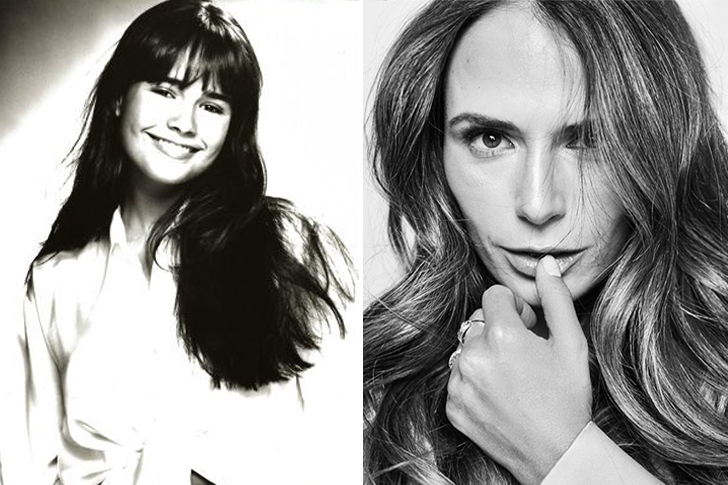 Jordana Brewster rose rapidly to global stardom for her credit role as Mia Toretto in the blockbuster flick The Fast and the Furious. Brewster started her acting career in her late teens in a recurring appearance as Nikki Munson in As the World Turns. Following its success, she was nominated for the 1997 Soap Opera Digest Award for Outstanding Teen Actress. Her first feature film, The Faculty, drew a much larger audience, garnered critical acclaim, and gave her financial stability.
Brewster took a break from acting to finish her studies before returning to lively supporting characters in movies such as The Texas Chainsaw Massacre: The Beginning. She played Toretto in the fourth through seventh installments of the famous franchise and a regular series appearing on the TV adaptation Lethal Weapon. Brewster had defined herself as a versatile performer of tremendous intellect, thanks to her prominence in film and television.
Meg Ryan | As the World Turns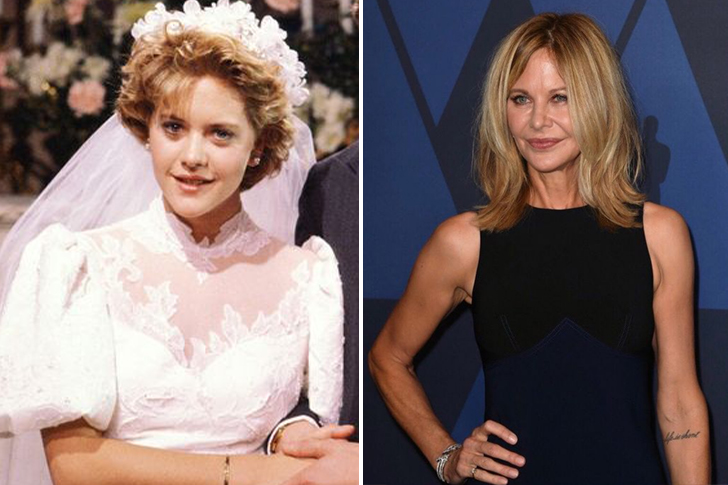 Meg Ryan was named the queen of romantic comedy back in the '90s. The modern-day Doris Day is nicknamed "America's Sweetheart" for her cheerful characters in a constant stream of mating mishaps. After earning a Screen Actors Guild, she landed her first significant role as Betsy Stewart Montgomery Andropoulos on the soap opera As the World Turns. She, later on, achieved a certain degree of fame with a role in the wildly successful 1986 military action thriller Top Gun.
Ryan starred as the sweet, bubbly, but befuddled objects of desire in hit films such as Sleepless in Seattle and You've Got Mail, which won her a devoted male and female fan base. She continued venturing beyond her well-worn yet familiar persona as a giddy romantic stereotype. Meg won acclaim for her SAG-winning roles in When a Man Loves a Woman and Courage Under Fire. She tried to regain her leading actress status by playing middle-aged moms in mature comic roles. Ryan continued to work as a character actress maintaining her A-list quality.
Paul Wesley | Wolf Lake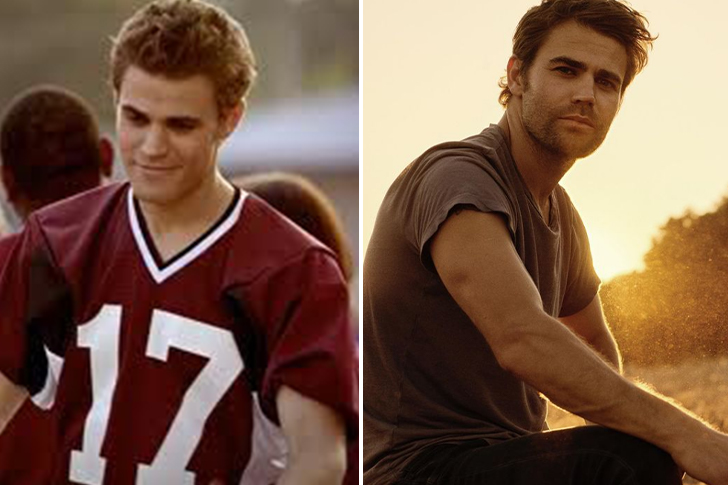 The boyishly attractive actor Paul Wesley demonstrated an early talent for portraying misunderstood outcasts with whom people could empathize. After beginning his career in a daytime soap opera while during his high school years, the young actor went on to primetime projects such as the short-lived series Wolf Lake. Wesley continued to draw casting agents' interest with his intricate work in various roles, including his parts in Everwood and Fallen, which made way to a more memorable role in the flick Monster Movie.
Wesley eventually landed the career-defining role of a good-hearted vampire on the successful supernatural sitcom The Vampire Diaries after nearly a decade of near-breakout popularity. Wesley was rocketed to the upper degree of hot young Hollywood talent practically overnight. As he attracted more devoted followers each season, the star expanded his visibility with feature endeavors, including The Baytown Outlaws. Wesley was well suited for a rewarding and long career because of his willingness to play individuals on both sides of the moral scale.
Tom Selleck | Myra Breckinridge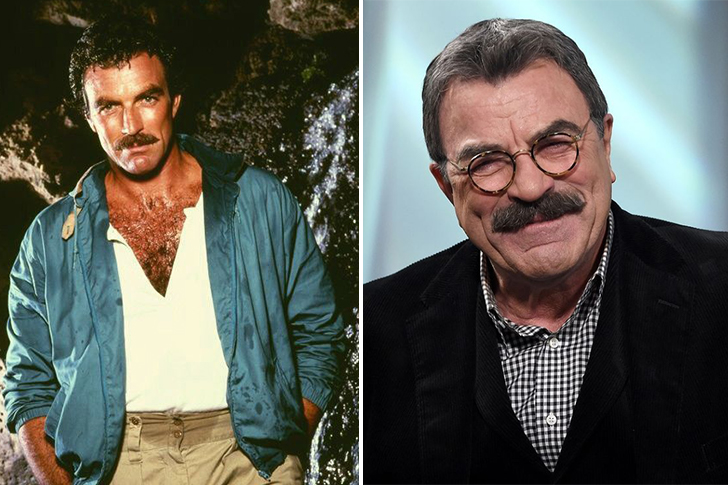 Thanks to an entertaining eight-year stint scooting around Oahu in a Ferrari in the top-rated series Magnum, P.I., actor Tom Selleck will be firmly bolstered as one of the greatest icons of the 1980s. The confident young man served as a model while attending college, and directors soon noticed him. Tom's acting degree began on television, appearing in Myra Breckinridge. Even though Selleck was cast in a minor role, Fox talent scouts identified him as a potential T.V. star and signed him to a seven-year agreement.
Tom's breakthrough came in 1980. When he was assigned as the lead in the television series Magnum, P.I. Audiences were somewhat reluctant to recognize him as anything other than an eccentric wise-cracking detective. Still, movies like Three Men & A Boy and In & Out helped Selleck land much bigger screen roles. On the other hand, television proved to be his most reliable medium, with his recurring appearance on Friends. Selleck's allure was stronger than mere nostalgia, and fans continued to warm up to him in every role he took on.
Susan Sarandon | The Rocky Horror Picture Show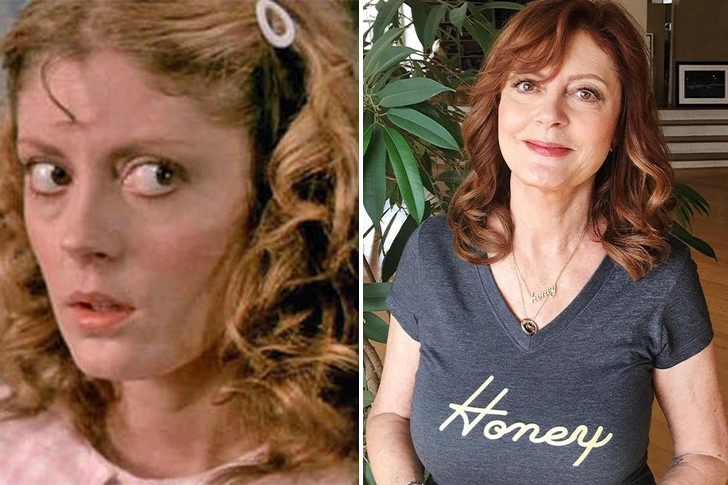 Susan Sarandon challenged stereotypes in both her professional and personal life. The former Ford model displayed tremendous versatility and fierceness during her career in show business. Even though she initially had no plan of becoming an actress, however, after doing some promotional work to pay her bills, she landed a Rocky Horror Picture Show role. She received critical acclaim and propelled her stardom degree while appearing in flicks like Atlantic City. Her career took off later that era with roles in The Witches of Eastwick and Bull Durham.
Her performances were followed by a string of Oscar-calibre roles, including Thelma & Louise and The Client. Susan's reliable and honorable portrayal in Dead Man Walking helped pave the way for an Academy Award. Though Sarandon's career slowed after that success, she continued to work as an iconic leading lady even during the age when most actresses were struggling to keep their roles.
Kevin Kline | Sophie's Choice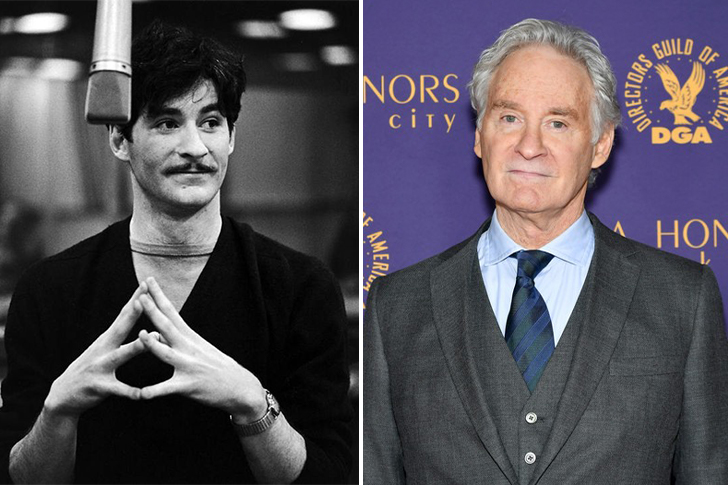 Kevin Kline, a phenomenally talented actor, has carved out a long and illustrious career on both stage and television. He was a music student in college before moving to the theatre. Kevin was a regular on the scene, earning a Tony Award for his performance in On the Twentieth Century in 1978. He rose to prominence outside of the theatre in the early 1980s, when he starred alongside Meryl Streep in the Oscar-winning film Sophie's Choice. In the film adaptation of The Pirates of Penzance, he reprised his theatre credit role as The Pirate King.
Kline became a frequent performer at New York's annual Shakespeare in the Park festival in the 1980s. His presence in the film A Fish Called Wanda earned him an Academy Award that solidified his career in the industry. Kevin continued to showcase his versatility after appearing in comedy films like Dave and Wild, Wild, West. Over the years, he maintained to carve his path to fame in screen and theatre.
Robin Wright | Santa Barbara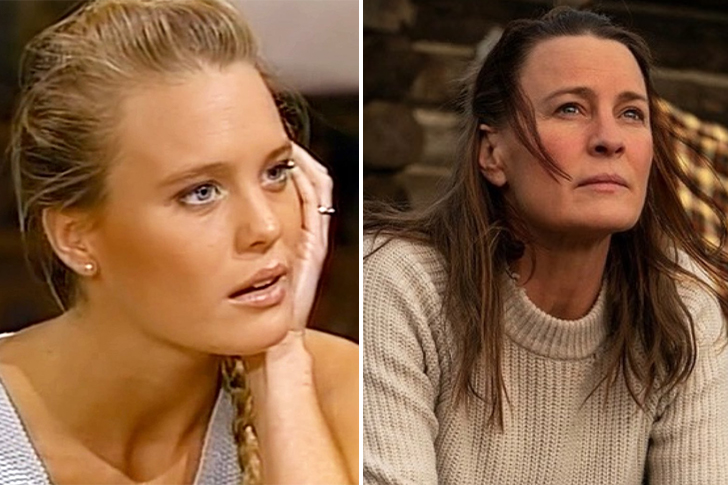 Robin Wright already had a minor modeling career for four years before she got serious about acting. Things fell into place when she was cast as Kelly Capwell in the NBC soap opera Santa Barbara at the age of 18 years old. During her time on the show, she garnered nominations for a Daytime Emmy from 1986 to 1988. However, she transitioned into feature films, where she eventually achieved mainstream prominence. Her memorable roles and performances included Princess Buttercup in The Princess Bride, Jenny Curran in Forrest Gump, Moll Flanders, and She's So Lovely.
Today, Wright is best known for her credit role as Claire Underwood in the critically acclaimed Netflix series House of Cards. While on the show, she won a Golden Globe, a Gold Derby, and a Satellite Award. Besides, she got nominated for multiple awards, including a Primetime Emmy. She made her first directorial debut recently, with the release of her movie Land in 2021.
Kelly Ripa | Dance Party USA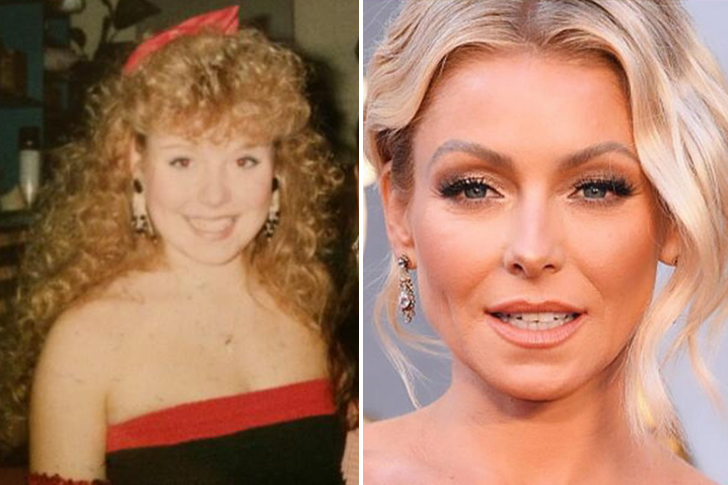 Kelly Ripa made her start in showbiz in Dancin' on Air, which evolved into Dance Party USA. Prior to it, she did some side gigs on TV and theater, where she was discovered during her performance in The Ugly Duckling. She later went to Camden County College for a psychology degree but dropped out to further pursue a career in acting. She became a regular dancer in Dance Party USA from 1986 to 1990. She left the show in 1990 after she was cast as Hayley Vaughan in All My Children, which brought her into the spotlight.
Today, Ripa is best known as the host of the daytime talk show Live! She joined the television program in 2001, along with the late TV legend Regis Philbin. Since then, Ripa has won five Daytime Emmy Awards for her work on the TV show.
Mark Consuelos | All My Children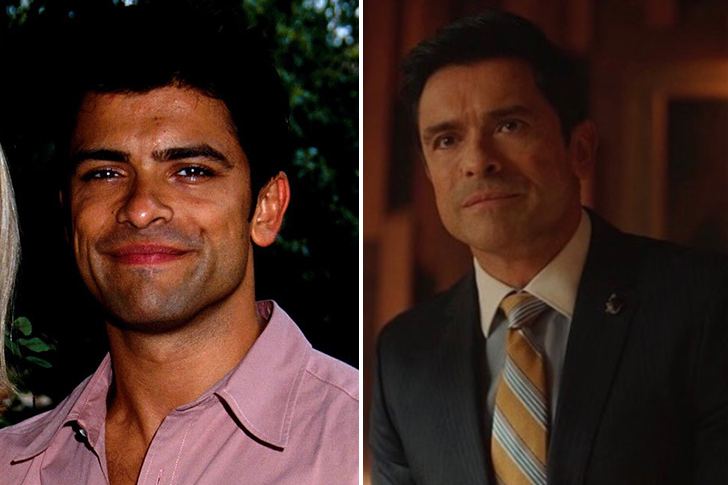 Mark Consuelos began his acting career when he bagged the role of Mateo Santos in the popular television series All My Children. Before that, he had worked for educational serials and as an entertainer in Florida, where he also graduated with a marketing degree at the University of South Florida. In All My Children, his character became a love interest for Hayley Vaughan, portrayed by Kelly Ripa. While the relationship started on-screen, Ripa and Consuelos fell in love. They got married in secret in May of 1996.
Today, Consuelos is known for his appearance in multiple TV shows and movies like Missing, Alpha House, and American Horror Story. Recently, he plays the role of Hiram Lodge in The CW series Riverdale. Married for more than 20 years since 1996, Consuelos and Ripa together have three children: Michael, Lola, and Joaquin.
James Earl Jones | The Great White Hope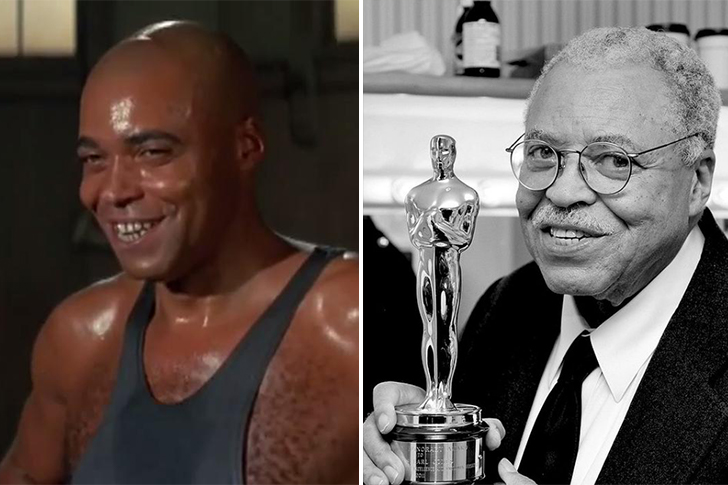 James Earl Jones had his humble beginnings as an actor and stage manager at the Ramsdell Theatre from 1955 to 1957. Before taking the stage, he was a carpenter at the theater in 1953. Already a graduate with a degree in drama at the University of Michigan, he had his first portrayal in Shakespeare's Othello as the titular character.  Eventually, Jones took a primary role in the play The Great White Hope and its movie adaptation, which propelled Jones to celebrity prominence in both Broadway and Hollywood.
Today, Jones is known for his authoritative and commanding voice, which he lent in Star Wars as Darth Vader. Aside from that, he became known for his vast repertoire over his long and illustrious career, from Shakespearean plays to memorable movie roles in Conan the Barbarian, Coming to America, and The Lion King. He was even featured in Sesame Street, as the first celebrity actor to appear on the show.
Kathleen Turner | Body Heat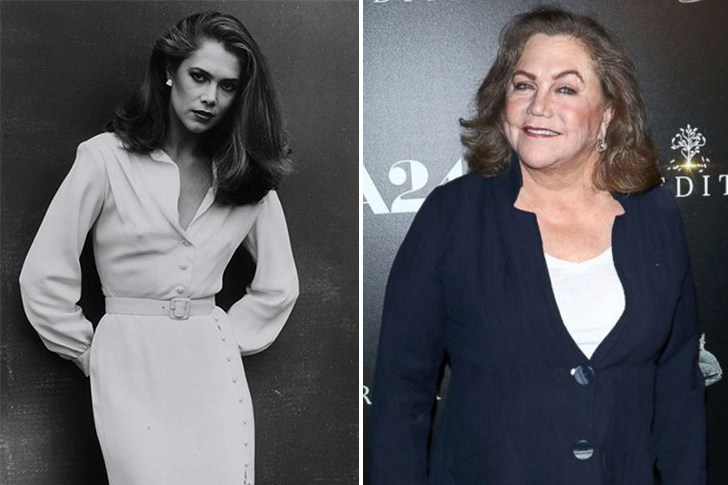 Actress Kathleen Turner made her start in acting through the theater when she was studying for a Bachelor of Arts degree. She made her on-screen debut, however, in 1978, when she starred in the NBC soap opera The Doctors as the character Nola Aldrich. Her role in the film Body Heat propelled her into international stardom and what she is now. Soon thereafter, Turner was cast in movies such as The Man with Two Brains, Romancing the Stone, and Prizzi's Honor, where she won two Golden Globe Awards for her performance.
While she made a brief hiatus in the 1990s, she remained active in acting, mostly in theater. She also spends her time supporting various philanthropic causes, being heavily involved with Planned Parenthood. She supports the causes of the Democratic Party and has made investments and support to raise awareness on rheumatoid arthritis.
Ricky Martin | Burger King ad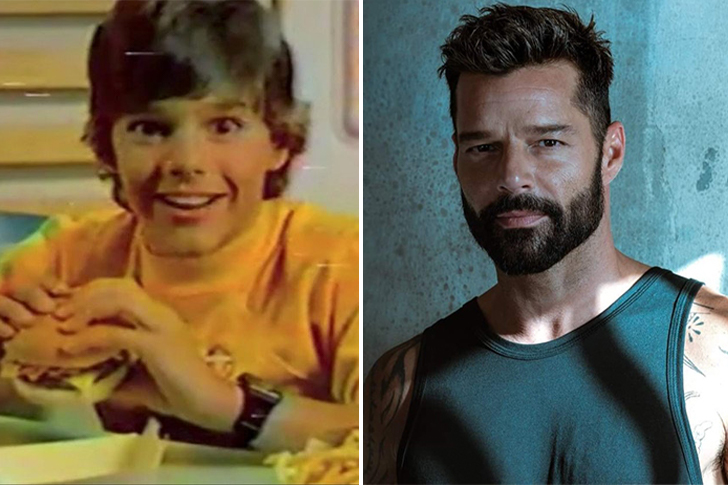 Before he became known as the King of Latin pop, Ricky Martin made his start in the entertainment industry as a child in a Burger King ad, which was revealed during an interview with Jimmy Fallon. According to him, his stint on the commercial was done on a whim when he was joining his aunt and cousin to the audition. The video can be found on the YouTube channel of Burger King Puerto Rico. After this ad, Martin appeared in several more ads, including one for Orange Crush, which was mostly aired in his native Puerto Rico. Due to this, he gained modest fame for his jolly vibe and made investments in his early career as a child endorser.
After his brief success, he auditioned for an already popular Latin pop boy group, Menudo, at age 12. While initially rejected, his persistence eventually led to his hiring and the rest, as they say, is history.
Brittany Snow | Guiding Light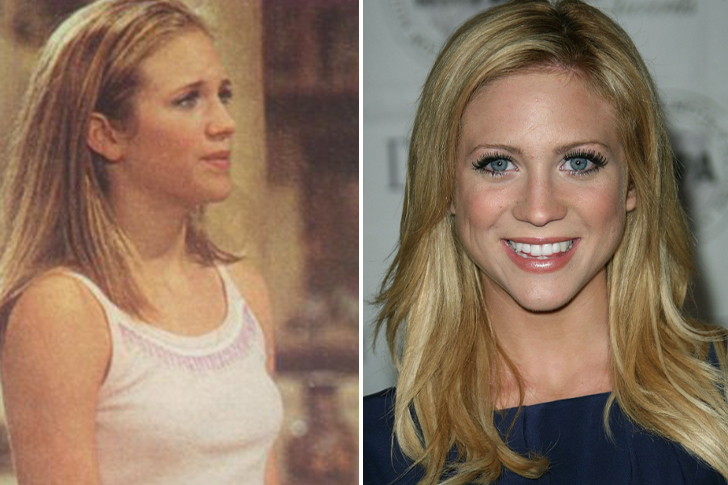 While she had a minor modeling gig at the extremely young age of 3 years old, actress Brittany Snow made her acting debut when she was cast in Guiding Light as Susan LeMay. For her performance, she got a Young Artist Award and Soap Opera Digest Award. Owing to her success, she was soon cast in the TV series American Dreams as Meg and Nip/Tuck as Ariel Alderman. She then appeared in the 2005 movie The Pacifier alongside Vin Diesel. Her role in the 2007 movie adaptation of Hairspray showed her caliber in singing, which became partially the basis for her to land the credit role of Chloe in the Pitch Perfect film series.
Ever since then, Snow has played roles in Someone Great, Hangman, Bushwick, and Kingdom Hearts. Outside of acting, she became an active activist for LGBT advocacy, suicide prevention, and various other causes. In particular, she co-founded the Love is Louder movement in collaboration with Jed Foundation. The movement aimed at helping teens and young adults with their emotional health by investments in support programs, outreaches, and events.
Lindsay Lohan | Ford Models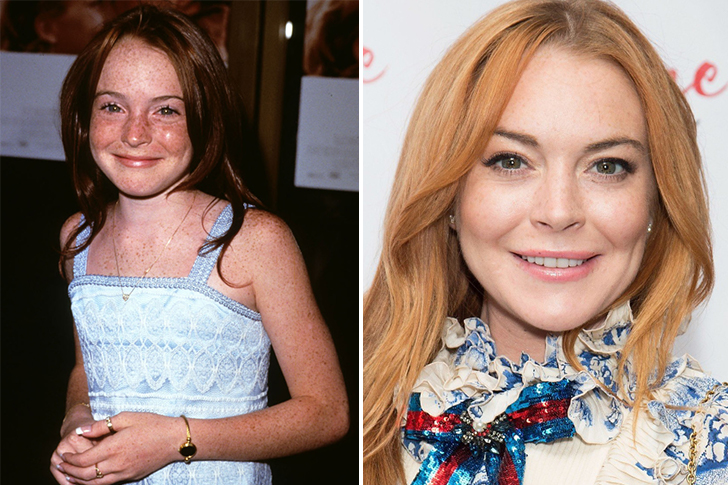 Before dabbling in acting, Lindsay Lohan initially started her career as a model. She debuted at the age of 3 after signing with the Ford Modeling Agency. Her TV ad appearances included Jell-O, Duncan Hines, and Pizza Hut. She also appeared in catalogs such as Toys R Us. Her start was made possible due to the support and investments given to her by her parents. By the time she began her acting career at age 10, she had already become a highly experienced and sought-after talent. Her first acting role was in the TV soap opera Another World.
Today, despite the ups and downs, Lohan has become quite successful. She has been involved in several industries such as music, modeling, and fashion. Recently, she released her song Back to Me in April 2020 to positive reception from critics and audiences. She also is managing the music career of her younger sister, Aliana.
Ray Liotta | Another World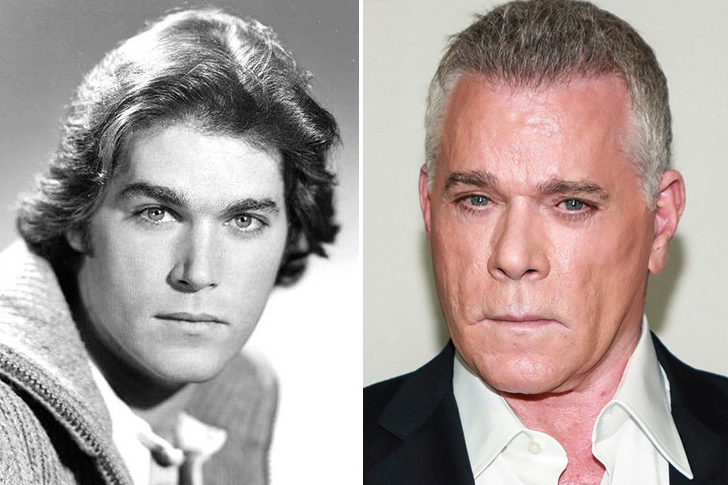 Actor Raymond Liotta first appeared on the small screen long before he donned the suit of Henry Hill in the 1990 film Goodfellas. His debut performance was in the television drama series Another World, where he portrayed the character of Joey Perrini from 1978 to 81. It seemed like timing, and a bit of serendipity played out in the early beginnings of the now sixty-six-year-old actor. He was contemplating on which course to take for his college degree back at the University of Miami. He ultimately chose to study acting, which served as a good investment on his part. After graduating, Liotta moved to New York, where he worked for the theater company Shubert Organization as a bartender. What followed, as they say, is history.
Liotta was soon signed by an agent who booked him for a commercial. From that point, he went on to star in his first television appearance and later in his film debut in The Lonely Lady.
Judith Light | One Life to Live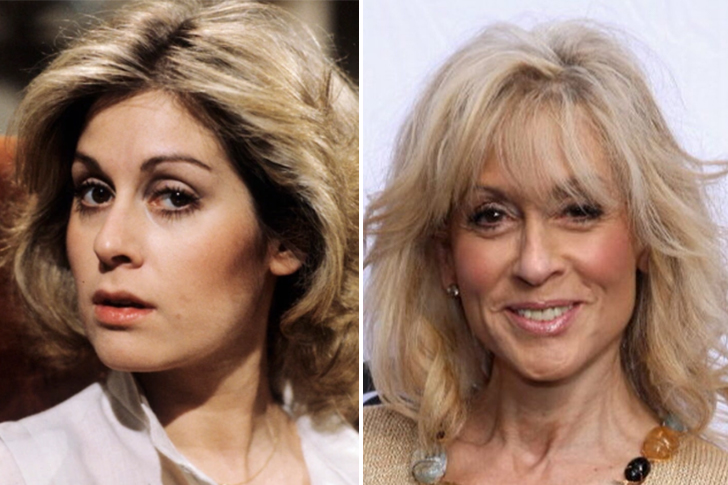 Judith Light had always known that she was meant to become one of the entertainment industry's shining stars. Her determination to pursue this line of career was solidified when she graduated with an acting degree from Carnegie Mellon University. With years of knowledge added to her arsenal, Light went on to manifest her goals. She began her acting journey on the theater stage. Her debut Broadway performance was in the 1975 production of A Doll's House. After a brief low in her career, Light received an offer for her first television role that would change her life for the better. She was cast as Karen Wolek in the soap opera One Life to Live.
Her critically acclaimed performance proved her versatility as an actress and helped pull the show's ratings higher. For her contribution to the TV series, Light received Daytime Emmys for two consecutive years.
Anne Heche | Another World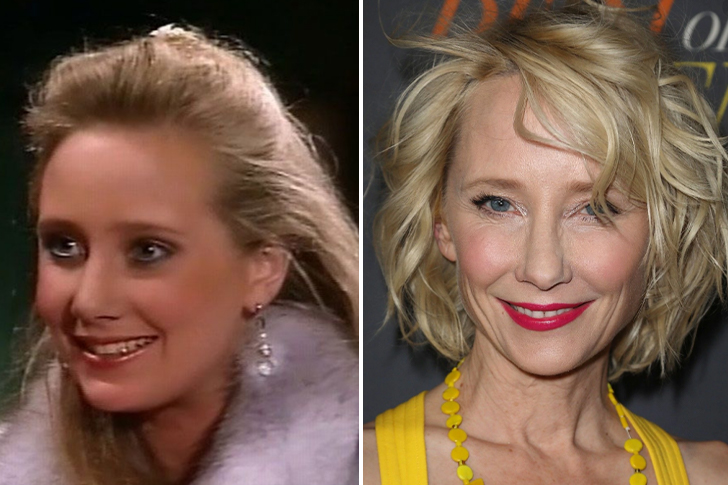 Anna Heche had her more than humble beginnings before she rose to international success for her films Psycho, Six Days, Seven Nights, and Donnie Brasco. Her career debut can be credited to her notable portrayal of twin characters in the television series Another World. Her dual roles Marley Love and Vicky Hudson, had polar personalities on the show. Marley was the goody-two-shoes sister while her twin Vicky was the evil one. Heche appeared in a total of forty-seven episodes. Her four-year stint on the show showed audiences how versatile the actress is. The now fifty-one-year-old actress bagged her first Daytime Emmy Award in 1991 thanks to her incredible performance.
Heche would soon become a household name and one of the entertainment industry's most sought-after actresses. For her contribution to the show business, the actress received a Career Tribute Award from the Sarasota Film Festival in 2019.
Melissa Leo | All My Children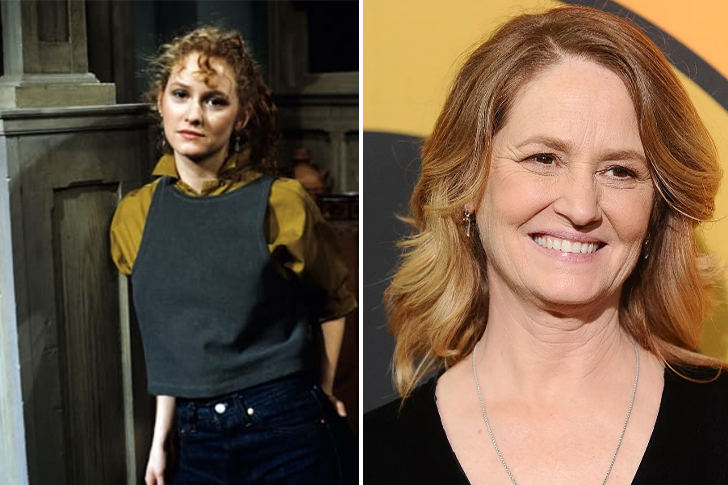 Some people are just destined to exceed with greatness in their chosen field of interest. The same goes for actress Melissa Leo, who achieved critical success right at the beginning of her career in the entertainment industry. Her origin story just proves that you can go a long way with determination, passion, and a little bit of luck on the side. She was cast for her debut on-screen role as Linda Warner in the television series All My Children, which she portrayed from 1984 to 1988. Her five years of work on the show led to her first Daytime Emmy Award.
After her contribution to the small-screen, the now sixty-year-old actress moved on to the ranks of films. Some of her acting credits come from films such as Streetwalkin', The Three Burials of Melquiades Estrada, and Olympus Has Fallen. Her most recent work is in the 2018 film The Equalizer 2.
Christian Slater | Ryan's Hope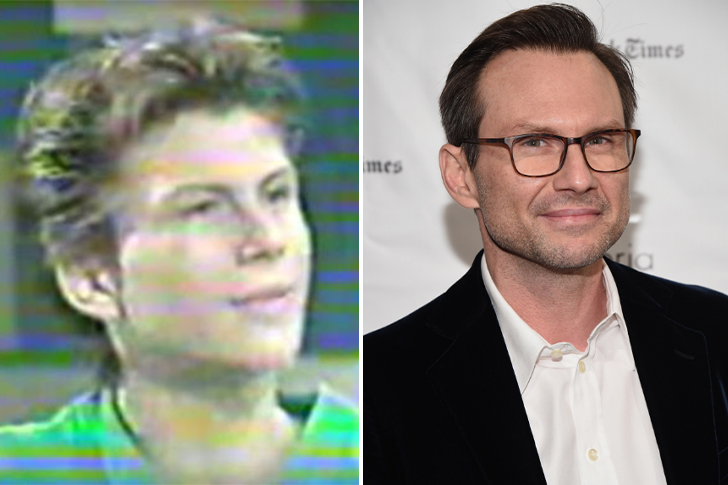 Christian Slater started his mile-long-acting career back when he was just an eight-year-old child actor. He first landed a small television feature role in One Life to Live before he subsequently received significant attention for his short stint in the soap opera Ryan's Hope. He was only sixteen years old when he starred on the television show alongside his father, actor Michael Hawkins. His notable performance in the series later opened doors to his rising fame. The actor ventured outside the small screen and tried his hand on films. Slater's reputation for being one of Hollywood's bad boys was further solidified by his portrayal of Jason "J.D." Dean in the 1989 film Heathers opposite Winona Ryder.
Some of his memorable acting credits came from films like Interview with the Vampire, Dawn Rider, and The Adderall Diaries. His work on the television series Mr. Robot as the titular role has also been well-received by the audience.
Lori Loughlin | The Edge of Night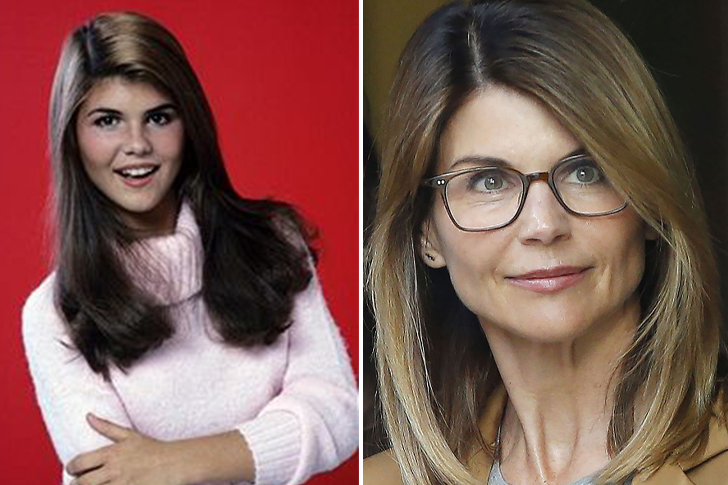 With television taking over almost every household in the '80s, it came as no surprise that almost every kid had dreamt of stardom at least once. Lori Loughlin was one of those kids and at the age of 15, she was blessed with the opportunity to live out that dream as she landed her breakout credit role as Jody Travis, an aspiring dancer on the ABC soap opera The Edge of Night. The show ran from 1980 to 1984, with Lori starring in a total of 519 episodes which practically made her a household name. This led to a slew of other guestings and projects throughout the end of the decade.
In 1988, what was supposedly meant to be a six-episode guesting ended up as a long-term gig for Loughlin, playing the part of Rebecca Donaldson-Katsopolis in the sitcom Full House, which ran until 1995. The sequel series Fuller House is now a Netflix Original production that saw the former cast, including Lori, reprising their roles for five solid seasons.
Kristin Davis | General Hospital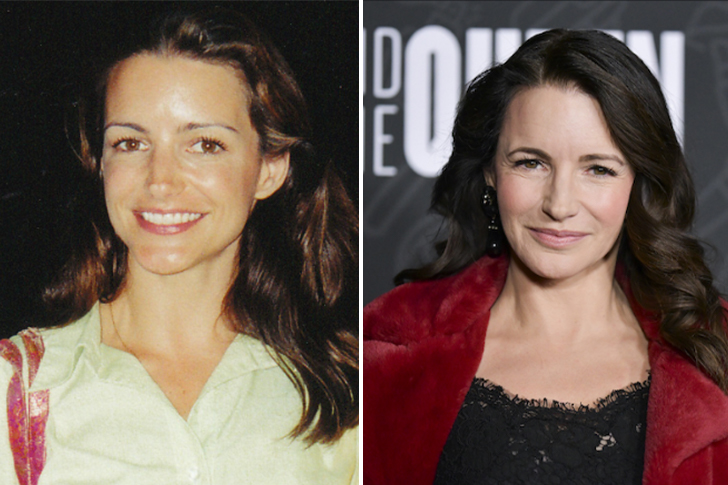 Most of us may remember Kristin Davis best for her role as Charlotte York in the HBO hit television series Sex and the City. However, before she strolled New York City with her best friends Carrie, Samantha, and Miranda, she was a nurse in the daytime television show General Hospital, where Davis portrayed the role of Betsy Chilson, R.N. in twenty-three episodes of the soap opera.
It seems like NYC will always have a special place in the now fifty-six-year-old actress's life. After receiving her degree in acting from Rutgers University in 1987, Davis moved to the Big Apple to pursue her childhood dreams of becoming an actress. She did exactly that as she starred in several films, including The Adventures of Sharkboy and Lavagirl, Couples Retreat, and Holiday in the Wild. She reprised her role as Charlotte in the film-continuation of Sex and the City and its sequel.
Marcia Cross | Melrose Place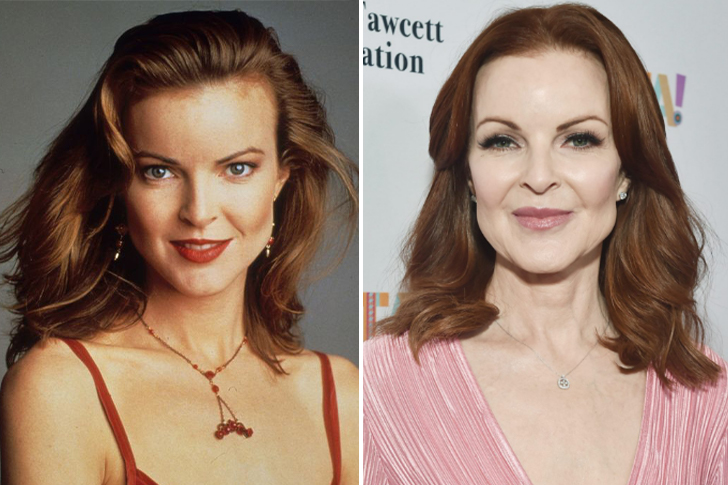 Popularly known for her soap operas entitled Melrose Place and Desperate Housewives from 1992 and 2004 respectively, Marcia Cross is without a doubt one talented actress. Starting her career from Another World, which started in 1986, Cross played an amazing performance, which could be easily be given credit to her rise to fame right now.
In addition to her early start, she also played an outstanding role as Liz Corell in 1987's The Edge of Night, a classic any 80s kid would easily remember. Throughout the roaring 80s, Cross was practically everywhere with her constant appearances in One Life to Live as the dashing Kate Sanders. With her seasoned veteran experience in the career of acting, it goes unquestioned how Cross's professional standard in acting is of high class. Her success throughout her entire career has paid-off rather nicely, too, with a staggering net worth of $30 million as of 2021.
Lacey Chabert | All My Children

Entering the acting scene as one of Bianca Montgomery's actresses in All My Children, Lacey Chabert is absolutely on a different degree when it comes to being on stage or on screen. The young Lacey bagged her role on some episodes of the show during her debut from the years 1992 to 1993, a solid year of exposure to the limelight.
The overall exposure to such a world in acting was a breath of fresh air for the young star since she was only ten years old during the time of the show. Since Chabert was exposed to the line of acting at a very young age, Lacey quickly developed an amazing passion for acting. At the age of 11, she made her first breakthrough starring in Party of Five. However, Lacey's most notable for her amazing performance as Gretchen Wieners from the hit comedy classic, Mean Girls.
Melissa Fumero | One Life to Live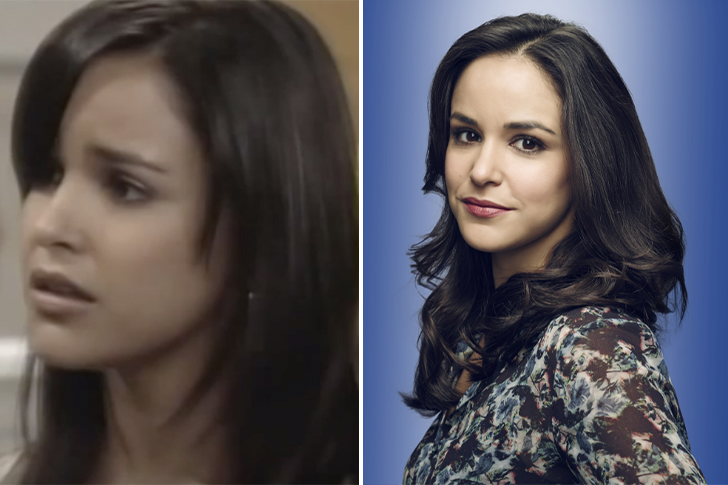 Brooklyn Nine-Nine's Sgt. Amy Santiago goes to show that years of acting experience really shows when you're making waves in Hollywood history. Melissa Fumero has been notably known for her amazing performance in Brooklyn Nine-Nine as the headstrong Sarge, but only a few know where and when she began her acting career.
Before rocking the TV screen, she was Adriana Cramer for a lengthy 207 episodes in the 1998 show One Life To Live. Her amazing performance garnered a lot of attention for her acting skills, that she was able to quickly climb the ladder to fame. With notable skills and a professional degree in acting, Fumero would later go and dominate Hollywood with her coy smile and wonderful personality. It's also worth noting that the star, aside from getting her first instance of fame and recognition from the show, actually found her other half in it whom she'll go and marry, David Fumero.
Kyra Sedgwick | Another World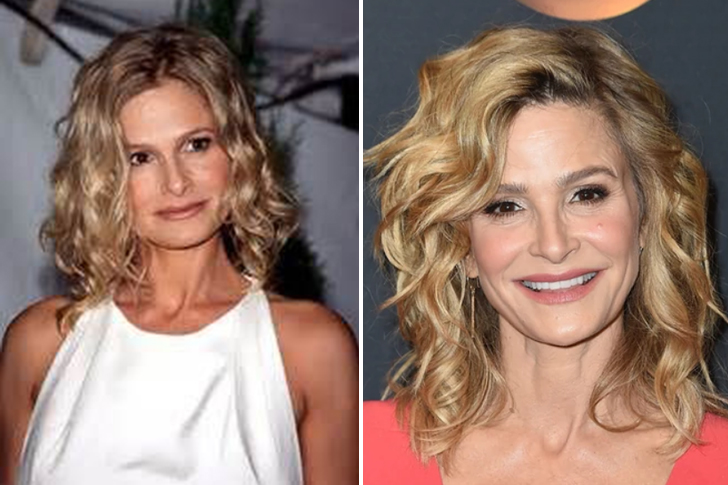 Adorned with multiple accolades under her belt, the Golden Globe and Emmy-winning Kyra Sedgwick has one story to tell on her rise to the top of fame in Hollywood. Before stunning the world with her fantastic portrayal of Deputy Chief Johnson on The Closer, Kyra was first known as Julia Shearer in the 1982's show entitled Another World.
With a lengthy career in acting, Kyra is by far one of the most seasoned actresses on this list which goes to show her great degree when it comes to her craft. Moreover, Kyra really got her first major break in 1989's Born on the Fourth of July, a war biopic that further improved Kyra's already amazing acting portfolio during the time. Being a seasoned actress in her prime, she's amassed a staggering $45 million as a net worth which simply proves that she's one actress of high caliber.
Tommy Lee Jones | Guiding Light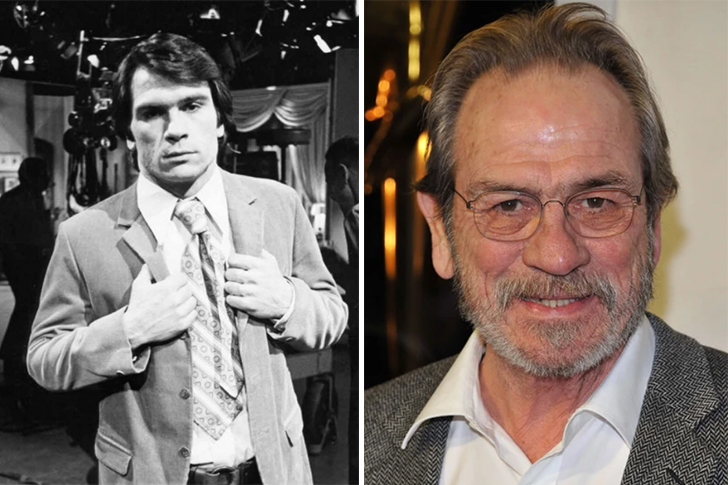 Before becoming Agent K, Tommy Lee Jones was Dr. Jim Frazier and Dr. Jerry Turner in Guiding Light and As the World Turns first. Born as Thomas Lee Jones, the American actor would make his debut in the field of acting through a 1950s Soap opera, where he played as a doctor.
Turns out that back then, Jones already had a passion for acting, and from then on, it was nothing but success for the young American. Another soap opera entitled As the World Turns could be given credit to his success as well, and six decades later, Jones is still rocking the Hollywood scene as if he was in his prime. He's more known for his amazing performances in Men in Black, No Country for Old Men, The Fugitive, and U.S. Marshals, only to name a few of his legacies.
Naomi Watts | Home and Away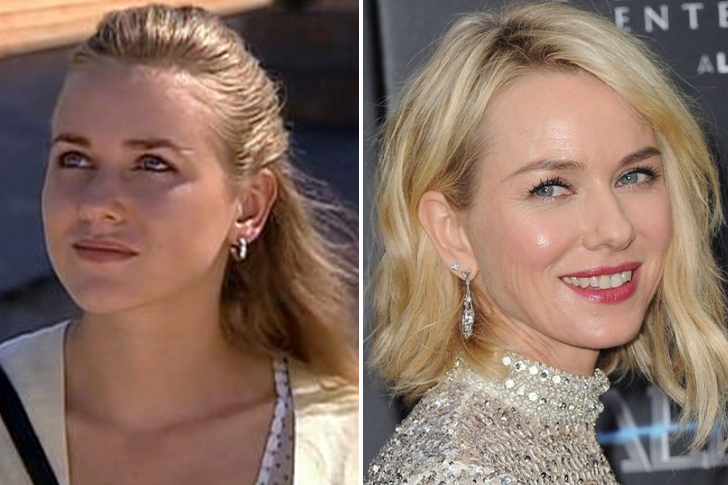 Adored and loved from her hit films 21 Grams, The Impossible, and Mulholland Drive, Naomi Watts would later build a legacy for herself after her first breakthrough in a classic soap opera. Debuting in Home and Away, an Australian soap opera, Watts was known as Julie Gibson for 19 whole episodes on TV, which goes to show that everyone has to start somewhere.
Three decades later, Watts would find herself bagging multiple roles in classic box-office hits from King Kong to The Ring. The British actress is, without a doubt on, a different degree when it comes to her craft since she's actually been nominated as Best Actress and Best Ensemble for Mulholland Drive and Birdman, respectively. At the age of 52, the actress and film producer's hard work is very much enjoyed by her, with an outstanding net worth of $35 million as of 2021.
Ellen Burstyn | The Doctors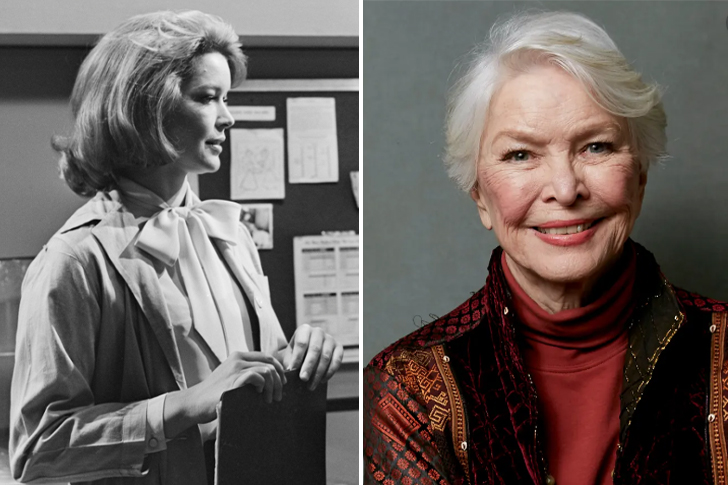 Debuting as Dr. Kate Bartok in the 1965 show The Doctors, Ellen Burstyn's notable investments in the acting industry will undeniably never be forgotten. Best known for her countless roles as complicated women in both TV shows and dramas, Burstyn is one actress of high caliber.
Ever since she was 24, the American actress already had a knack for the big screen, and her rise to the top would make her even more excited for any role you give her. Throughout her lengthy career in acting, she's been a notable name in the industry, with multiple movies under her name. She's been seen starring in Requiem for a Dream, Alice Doesn't Love Her, The Exorcist, and The Last Picture Show, only to name a few of her notable films. With her expertise in acting, it's no wonder she has a massive net worth of $20 million. This amount of success just goes to show that Edna Rae Gillooly, Ellen's full name, is an undeniable actress of great reputation.
Ted Danson | Somerset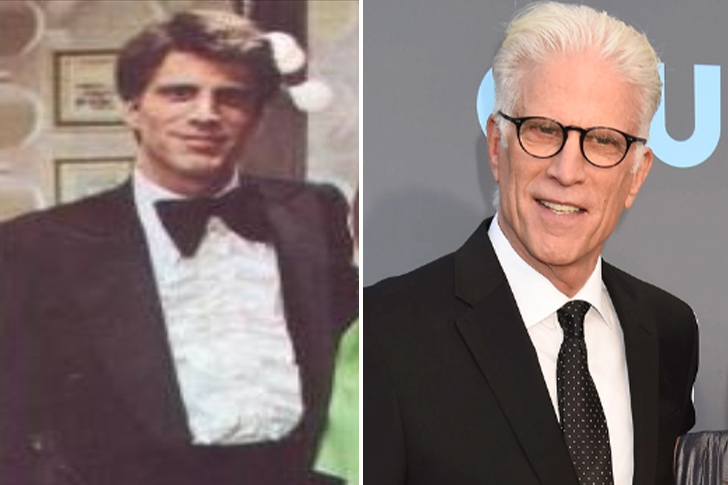 Before owning The Good Place, Ted Danson's career started off with a few daytime dramas here and there. It's insane to think that someone as successful as Ted Danson would go and make millions in his career now, knowing that he started in a relatively small soap opera named Somerset.
Bouncing from soap opera to soap opera for a good solid year from 1975 to 1976, Danson would continually build up his career in acting with numerous investments in soap dramas. First, it was the above-mentioned Somerset, where he played the daring Tom Conway. Soon enough, he found himself on the set of The Doctors, where the actor played Dr. Chuck Weldon for seven long episodes and returned as Mitch Pierson in another arc. Since then, the actor had been eyed for even bigger roles in CSI, Becker, and the most recent The Good Place. With more than four decades of acting, Danson truly is a man born to act.
Eva Longoria | General Hospital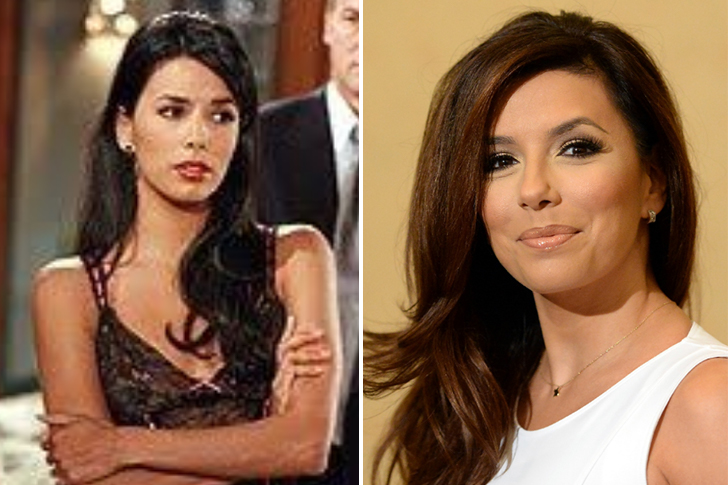 Eva Longoria always had a knack for the drama scene since she was a naturally-born actress to even begin with. Best known for her amazing performance in the show Desperate Housewives, Eva's fame could be given credit to the show that started it all, General Hospital. Contrary to most of the celebrities on this list, Eva only had a small guest role in the 2000 show, but it was enough to garner her attention for big names in the film industry.
Soon enough, she'd go and bag a regular role in another show entitled The Young and the Restless, which would further drive her for much more greatness in the field of acting. From starting off as Isabella Brana in her first regular role to bagging multiple awards as Gabrielle Solis in Desperate Housewives, Longoria has definitely come far in life, and it seems like she's not stopping soon.
Christopher Reeve | Love of Life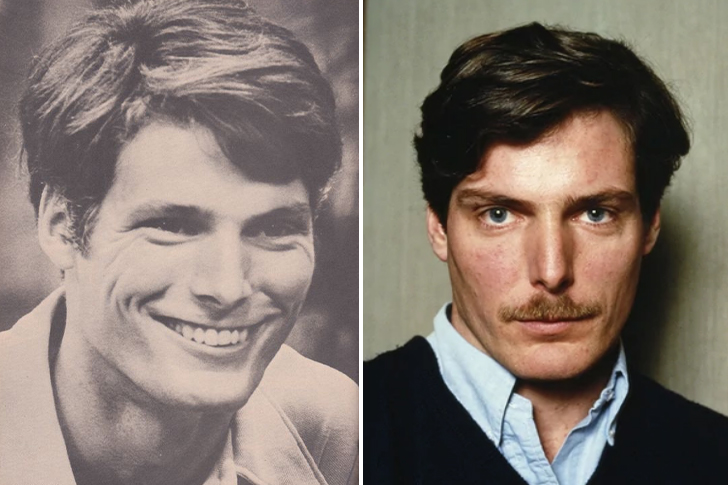 The charming and handsome Christopher Reeve will, without a doubt, go down in history as one of the most iconic Man of Steel in all of the Superman renditions. Born as Christopher D'Olier Reeve, the American actor would go start his long-lasting career with a simple soap opera entitled Love of Life. Before donning the red cape and the famous blue and red suit, Reeve was known as Ben Harper in the CBS soap for three episodes. Although short-lived, this was enough to spark an interest in acting for Reeve as he was only 23 years old when he landed the role, and from then on, as they say, the rest is history.
Reeve's charming personality on the set could probably be given credit to how he nailed his role in the 70s Superman franchise since he was simply perfect for the role. With a chiseled jawline, insanely good looks, and a calming personality, it's like he was simply made to be the Man of Steel.
Marisa Tomei | As the World Turns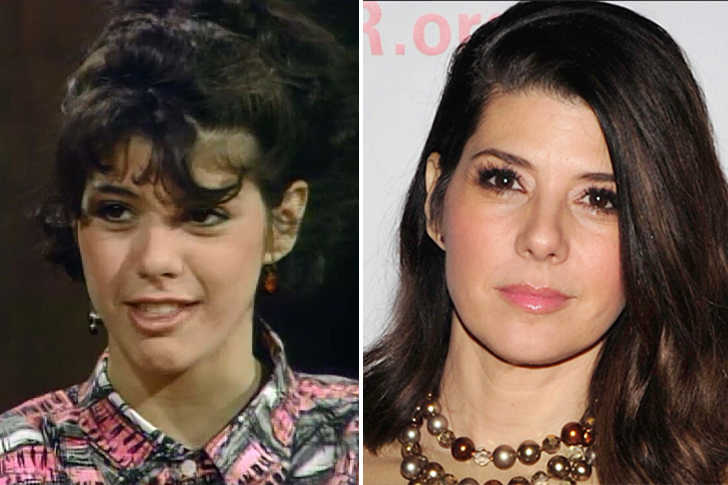 Before stunning the world as Peter Parker's insanely attractive aunt in the MCU's Spider-Man, Marisa Tomei was a small-time actress in a soap drama. Playing Marcy Thompson in the 1980s As the World Turns was Marisa's first taste of the limelight on the TV screen. Marisa's amazing acting paired with a charming personality and a pretty face made her easily climb the ladder rather quickly as she immediately bagged numerous roles after her debut on tv.
On the other hand, her film debut was quite different since she'd land it about four years after her soap opera career in a minor role in a comedy entitled The Flamingo Kid. It was success after success for Marisa since she'd go and have her stage debut the following year of 1987 at the young age of 22 in an off-Broadway play, Daughters. With $25 million as her net worth, her insane wealth and fame could be given credit to her hard work and passion for acting.
Emma Roberts | Aquamarine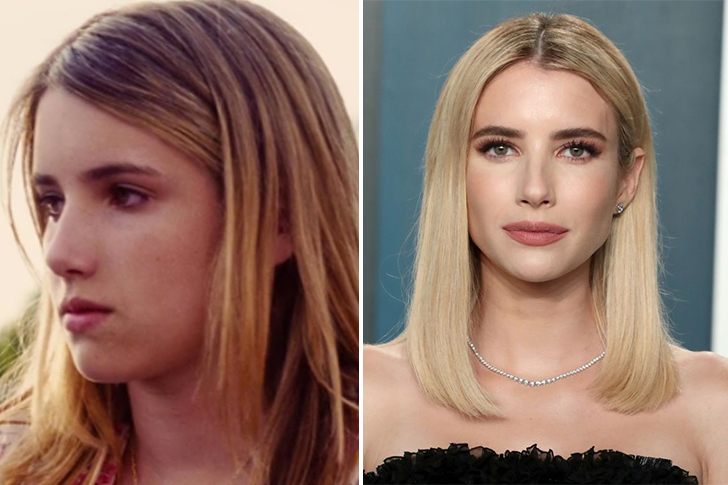 Moving from actresses and actors debuting from small-time soap operas, here's a breath of fresh air since this next celeb first started off a career in modeling. At the young age of 15, Emma Roberts went out on her journey to dominate the runway as she kickstarted her modeling career. She'd already been well-accomplished by the time she was 15 since she'd been posing for big brands such as Dooney & Bourke and even Abercrombie & Fitch, which goes to show how high her degree in modeling is.
Aside from a successful modelling venture, she also landed a role in a mermaid film entitled, Aquamarine which is considered to be her debut on the big screen. Now, Emma's most notable performance was in American Horror Story, Scream Queens, and the 2016 film, Nerve. Being at her prime age of 30 now, Emma's far from over in ending her reign.
Mila Kunis | Lisa Frank Magazine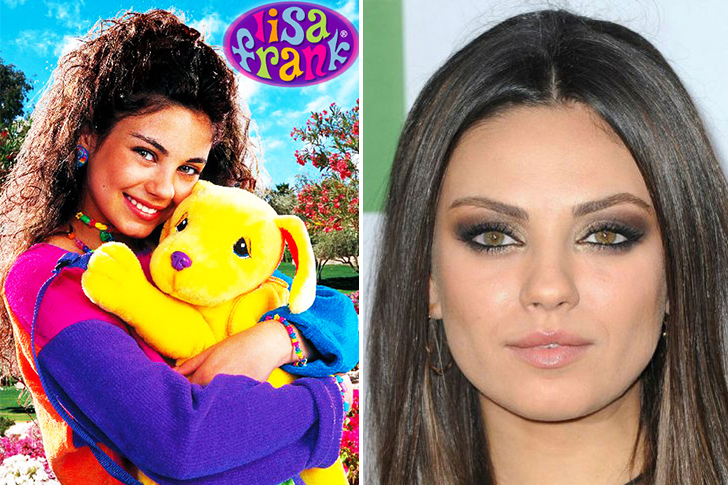 Friends with Benefits star Mila Kunis had a taste of the modelling life before making a name for herself on the big screen, and with her natural beauty, it's no wonder she was a star in modelling, too. As early as 1993, Kunis already made waves in the fashion industry as a young model for Lisa Frank, a 90s magazine. On the magazine cover, you could see that the young Kunis was already sporting the bright smile she'd be known for in the film industry now proving that she was always a happy soul.
Although having a relatively short time in modeling, the young actress would later grow up loving a professional degree in acting and even bagging numerous roles from notable box-office hits. From making the world laugh in Ted, Bad Moms, Friends with Benefits, and The Spy Who Dumped Me, Kunis is undeniably natural behind the camera.
Mischa Barton | Calvin Klein Kids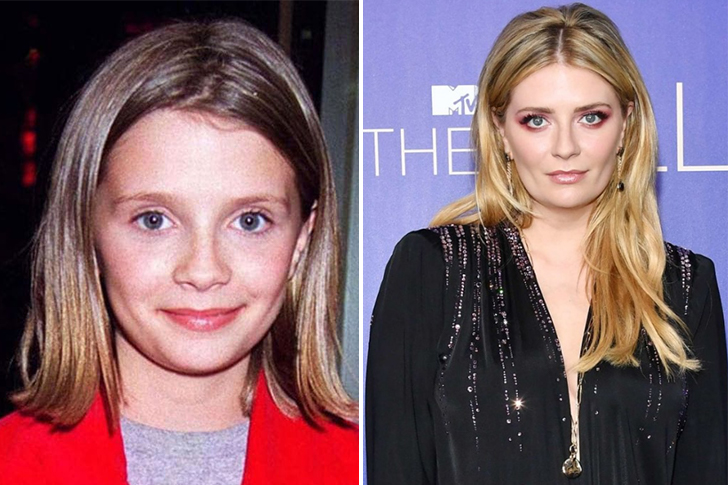 Starring in multiple movies and tv shows from The O.C., The Hills: New Beginnings, and Notting Hill, Mischa Barton is, without a doubt, one of the pretty faces in the film industry. This absolutely stunning beauty was given due credit when she was young since she actually started her career initially as a model for Calvin Klein!
Aside from being one of the notable women in Hollywood, Barton's amazing skill in acting is also another thing worth applauding. Barton actually made her debut in a familiar soap opera entitled All My Children back in 1996. Other than that, she was also a voice actress on the Nickelodeon cartoon show, KaBlam! from 1996 to 1997. From starting off a model to rocking TV shows to eventually being a familiar face in Hollywood, Barton's rise to fame was no easy feat, yet she managed to pull it off while not letting stress ruin her face.
Leighton Meester | Children's Sleepwear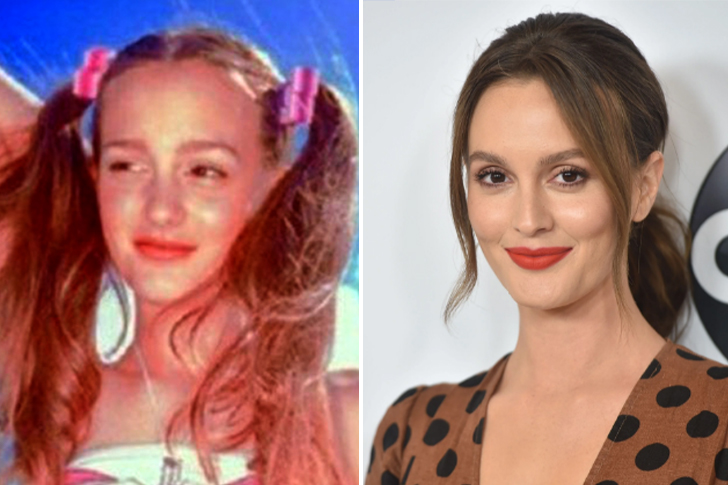 Before being loved as Blair Waldorf in the 2007 American teen drama tv show Gossip Girl, Leighton Meester started off modeling for children's sleepwear. All the way back in the 90s, Meester could be familiarized as one of the adorable little kids sporting comfy children's sleepwear in various magazines and posters.
Growing up, she'd also frequently model for Ralph Lauren and Limited Too, making her one model of high caliber and degree. Eventually, though, the call of the screen called out to her, and she soon realized her passion for acting. Making her debut on the screen in Law & Order at the young age of 14, Meester was quick to win some attention for her impressive acting at an even more impressive age. Currently, she's a well-decorated actress herself with a whopping net worth of $16 million, all from the fruits of her labor and journey in pursuit of the limelight.
Cameron Diaz | Elite Model Management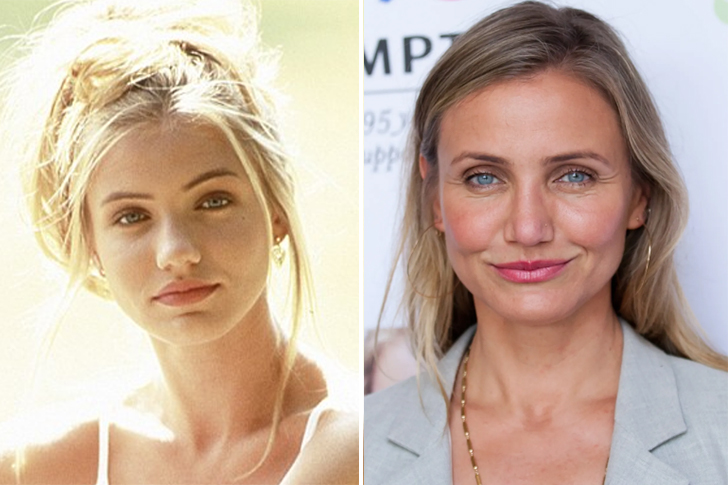 Cameron Diaz is a famous actress, model, and activist. She was one of the most beautiful women in the world during her time, and her reputation continues to precede her to this day. Before all of that, Cameron started modeling at 16 years old. She signed up for Elite Model Management, and from then on, she received multiple gigs. Cameron endorsed a few popular brands such as Calvin Klein and Levi's, then got her first magazine cover not so long after. At the age of 21, Diaz's beauty and potential in acting were recognized by Hollywood— and the rest was history.
Recently, Diaz decided not to act anymore or do any Hollywood projects, except maybe to check on investments in production. The actress added that she can no longer imagine or even begin to think of being in the spotlight ever again. Despite her early retirement from Hollywood, we can all see that she seems happy being a new mom and a low-key figure.
Olivia Wilde | Skin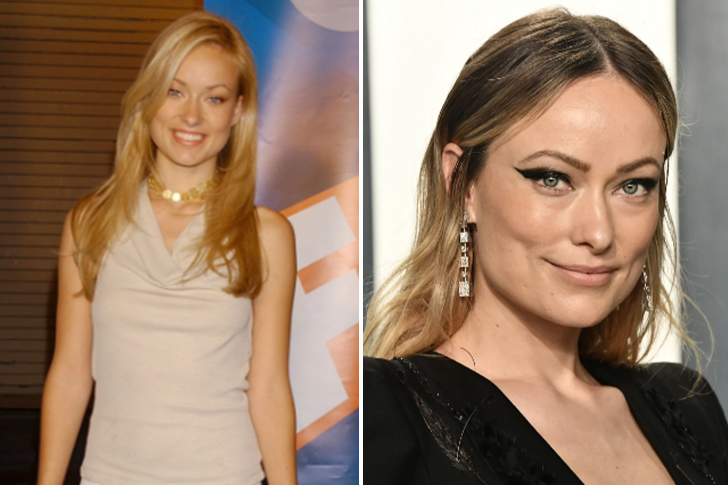 One of the most beautiful actresses in Hollywood is Olivia Wilde. The actress began her career with the short-lived TV series Skin which ran from 2003 to 2004. After that, she got nonstop offers from producers and shows left and right. She became known for her roles both on television and on-screen movies. In recent years, she has also taken on the challenge of being a filmmaker and a model. The public was caught off-guard this year when news broke that Wilde is in a relationship with the famous former One Direction member Harry Styles.
Wilde is constantly being asked if bringing her original and somewhat controversial last name bothers her. The Skin star's answer is simple and direct—she only worries about the huge things and whether or not to bring her screen name isn't one of them. The actress also added that it's all right for people to wonder as long as she knows who to give credits to in terms of her success. At the end of the day, she is grateful for the name that led her to where she is now.
Amanda Seyfried | Limited Too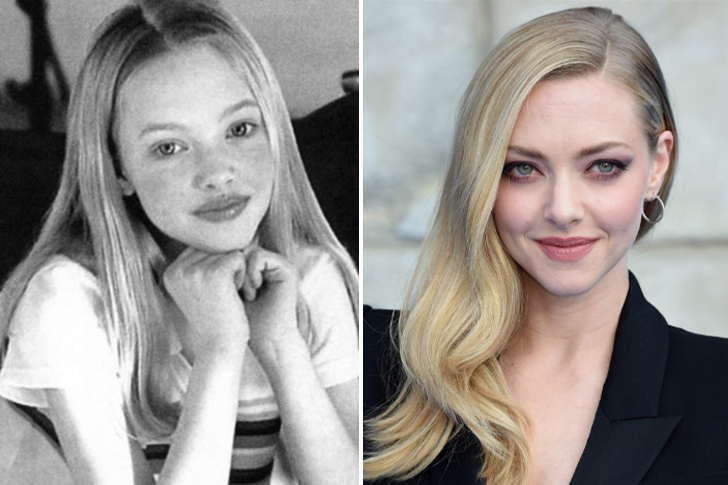 Ever since she was a child, Amanda Seyfried was already a popular actress. There was a time when we wouldn't see a movie without her in it. In fact, she has been a princess of romantic comedies and chick flicks of the early 2000s. Amanda started her career as a model in printed ads for a clothing company, Limited Too, along with actress Leighton Meester. In 2003, she starred in the film Mean Girls, which later gained massive success. Branching out over time, Amanda highlighted her singing career by having significant roles in musicals.
The blonde beauty is always very thankful and gives rightful credit to the people and projects for what helped her get to where she is now. In one interview, she even humored and reminisced about her first magazine cover ever with Clay Aiken. Amanda has shared her tremendous talents to the industry from the start, and every role she portrays is riddled with passion and determination— and we think that's what makes her stand out.
Angelina Jolie | Cyborg 2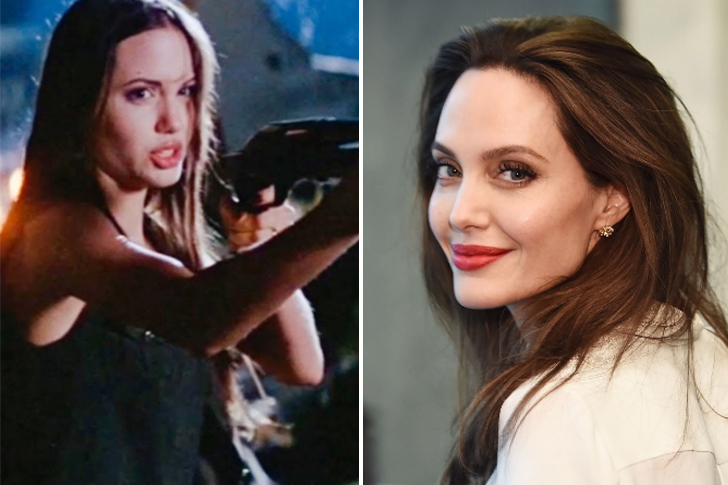 Angelina Jolie is one the biggest names in Hollywood, alongside the likes of Marilyn Monroe. Besides being famous as an actress, Jolie is also known for being a special envoy for UNHCR. Her career first started with her first credit role in the movie Lookin' to Get Out in 1982, along with her father, actor Jon Voight. Unfortunately, Jolie's career didn't start out smooth. When she was 16 years old, she's had a hard time getting past auditions, but that didn't faze the young actress. In 1993, Jolie landed a role in the movie Cyborg 2, and she was then able to land her first lead role in 1995 for Hackers.
After years in the show business, it's undeniable how much fame and success Jolie has achieved. These days, Jolie has taken a step back from the limelight. She is giving most of her time to her kids, traveling around the world and enjoying adventures with them together.
Channing Tatum | Ricky Martin's She Bangs Music Video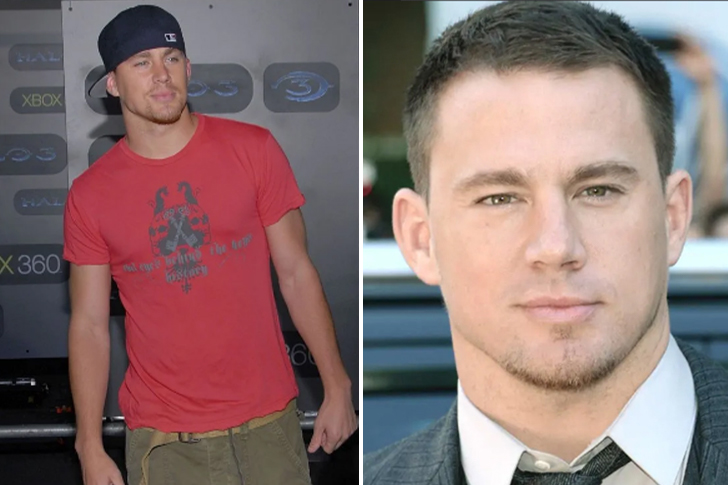 Channing Tatum is one of the most in-demand male actors in Hollywood today. He has the charm and talent in both acting and dancing, which is why it comes as no surprise that his significant break was a lead role in the dance movie Step Up in 2006. The film allowed Tatum to reach a bigger audience that gave a boost to his career. His first gig in Hollywood, however, was in Ricky Martin's music video of She Bangs.
Tatum's investments in entrepreneurship also seem to have paid off! His net worth keeps growing by the year. Sometimes, he might be more of a businessman than an actor these days, and he loves it. The heartthrob is also a good family man, not just with his family at home but also with his family on set with every acting gig he has. He's got the looks, the moves, the smarts, and most especially, a golden heart. By the looks of it, Channing Tatum is the total package.
Charlie Hunnam | Byker Grove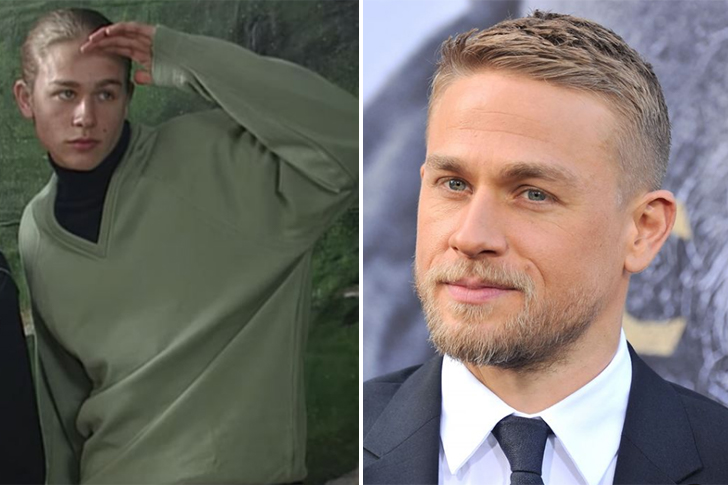 Charlie Hunnam is an actor, a screenwriter, a heartthrob, and a man of many talents. He's received many accolades and nominations throughout his career. He was discovered at the age of 17 while Christmas shopping with his brother at a mall. A producer approached him if he'd want to be in a kid's show named Byker Grove, and his answer was a big yes. By the following year, he got his first major role in a TV drama.
Credits to the British actor, he never seemed to have lost touch with his interests in other things concerning showbiz, even if it has nothing to do with him. Recently, he shared his opinion about the Meghan Markle and Prince Harry interview and exit. He also serves as an inspiration to many people after knowing that Hunnam caught the condition in which the world is forcefully avoiding these days. He detailed his recovery, and we're sure glad he's okay!
Diane Kruger | Elite Model Look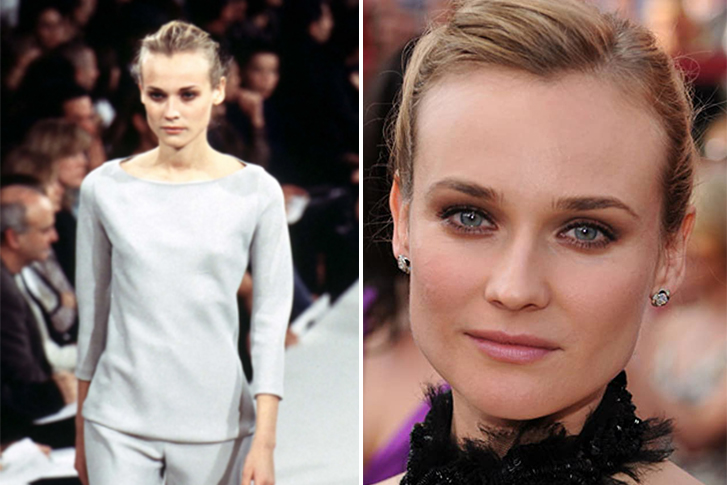 Diane Kruger has one of the prettiest faces in Hollywood. The 44 years old mother of one is also known for her solid and intact relationship with Norman Reedus. Norman is a TV series heartthrob. She began her showbiz career through modeling. In 1993, she was a part of Elite Model Look. She ended up endorsing some world's biggest brands, such as Chanel, Yves Saint Laurent, and more. She remains a model today.
Credits to her beauty, she portrayed Helen's role in the movie Troy which was based on famous Greek mythology. Helen was said to be the most beautiful living individual in all of the land, and so her face could launch a thousand ships. Her face could bring two kingdoms into war. Every time you see Kruger, everything would make sense why she got the role.
Jamie Dornan | Model Behaviour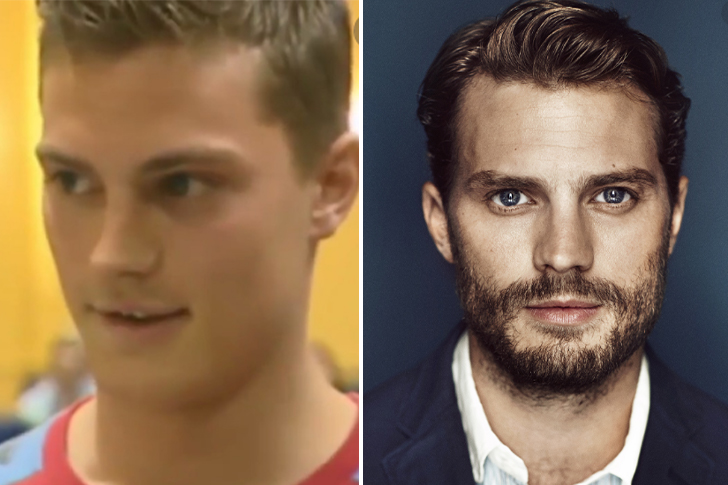 Jamie Dornan gained worldwide massive popularity with his role as Christian Grey in the controversial movie Fifty Shades of Grey. Before acting, Jamie was modeling for Calvin Klein, Hugo Boss, and Dior Homme back in 2001 and was among Vogue's "25 Biggest Male Models Of All Time" in 2015. His modeling career helped him rise to fame, and he was also a member of the folk band Sons of Jim until the band ended in 2008.
The reality show Model Behaviour in 2001—which he participated—opened up opportunities for Dornan, signing with Select Model Management after that. After a couple of years, he met the actress and songwriter Amelia Warner in 2010. Having his own family now, he humored in an interview that his daughters are the ones who taught him patience—credit to them! Dornan keeps his life private as much as possible, keeping away from the limelight.
Liv Tyler | Silent Fall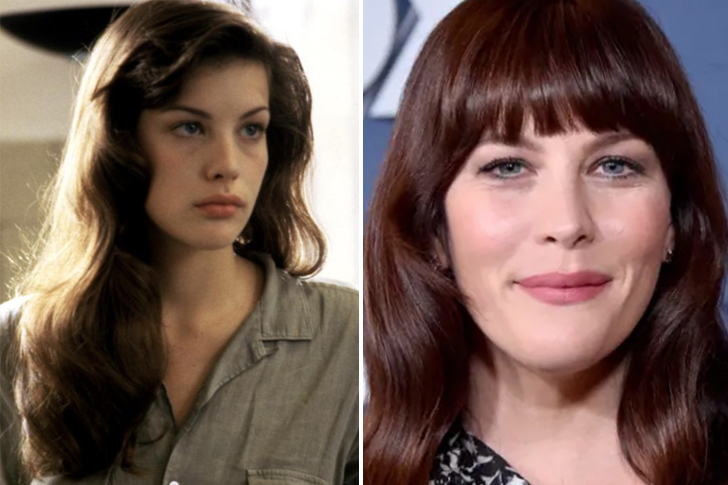 Liv Tyler is the daughter of the famous lead singer Steven Tyler of the band Aerosmith. She's also an American actress, former model, singer, and producer. Liv was famously known for her role as
Arwen Undomiel in the movie The Lord of the Rings in 2001. She showed an innate degree of sophistication in every role she plays. Her modeling career started when she was 14 years old. However, Liv decided to focus on acting and landed her first film debut in the movie Silent Fall in 1994.
Besides acting, Liv was also an avid supporter of UNICEF and was appointed as a Goodwill Ambassador for the United States back in 2003. She also donated for research, outreach, and education to the Women's Cancer Research Fund. At present, Liv resides in London with her family. She also has a house in Malibu, California.
Caitriona Balfe | Ford Models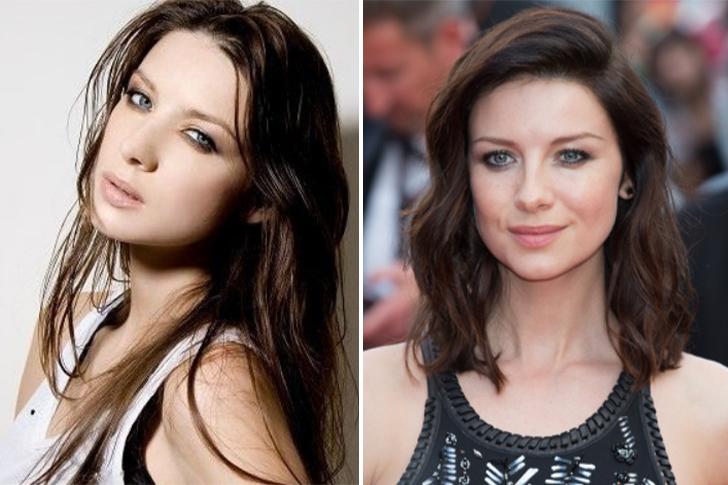 One can argue that Irish actress Caitriona Balfe has a face like an angel. Besides acting, Caitriona is also a former model and producer. She's notably known for her role as Claire Fraser in the television series Outlander, in which she won the People's Choice Award and Saturn Award twice. It also garnered her Irish Film and Television Award. Caitriona also received Golden Globe Award nominations for Best Actress in a Television Series — Drama, several times.
Caitriona's modeling career started in 1999 while studying Drama at the Dublin Institute of Technology. She was offered a fashion job in Paris. After that, she was featured in Chanel, Dolce & Gabbana, Balenciaga, Givenchy—and many more—on runways and advertising campaigns. For ten years, she's been active in the modeling industry and decided to refocus on acting. In 2011, she had a credit role in the film Super 8, where she played the character of Elizabeth Lamb. In the following years, Caitriona's career flourished. She's also a supporter of World Child Cancer, a non-profit organization. In 2019, she married Scottish band manager Anthony McGill.
Travis Fimmel | Chadwick Models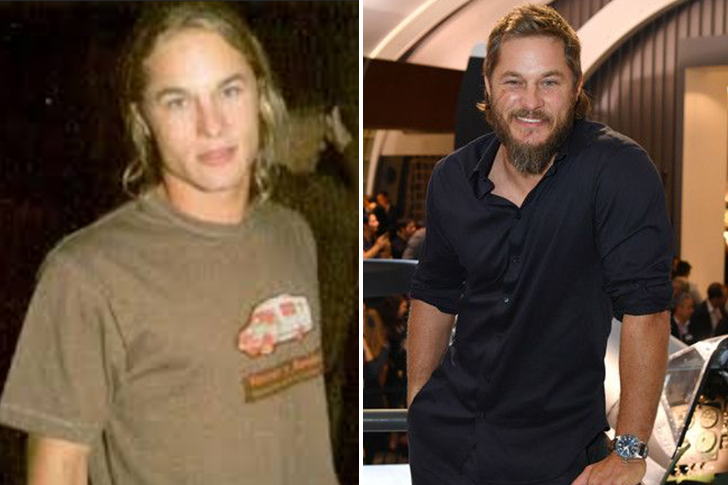 Travis Fimmel is an actor and 0model. Besides being a heartthrob, he is known for his role in the huge hit Vikings. With his physique and facial features, he started his career in modeling. Travis was discovered by a scout who happened to work for the modeling agency Chadwick Models while doing work out at a gym.
In 2002, Travis flew overseas and signed by LA Models on the spot after walking into their office barefooted. Modeling exclusively for Calvin Klein for a year, he secured a six-figure deal. He was getting noticed more by the fashion world, and this time, the film industry, too. Travis clearly knew the essence of good investment when he entered the production world. He might have had just a few projects under his newly found career at the time, but he surely isn't the type who knows how to quit.
Dwayne "The Rock" Johnson | Professional Wrestling / That '70s Show: That Wrestling Show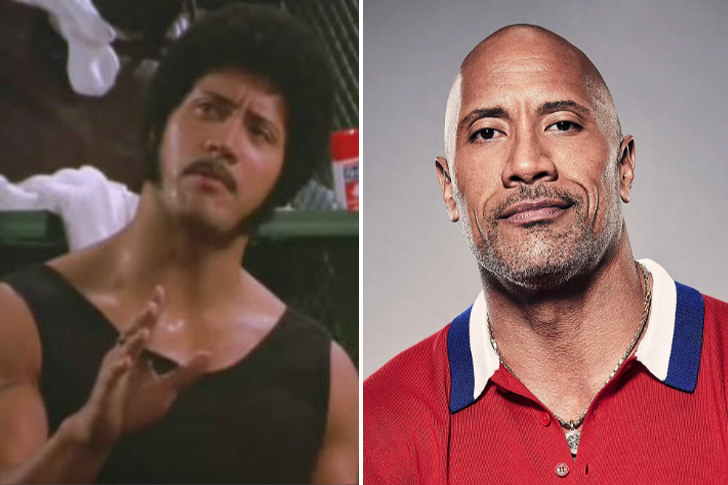 Dwayne Johnson is known to many for his moniker "The Rock." He is one of the biggest names in Hollywood. He is a former professional wrestler, actor, producer, investor, and former football player— for both the American and Canadian teams. Dwayne started his career as a wrestler and got inducted into the WWE Hall of Fame in 1998.
He was discovered in Hollywood through his popularity in wrestling. He appeared in an episode of That '70s Show called That Wrestling Show. Following his appearance, the movie offers lined up for him, and it wasn't long until he became the highest-paid actor in Hollywood. Credits to Dwayne, we have witnessed that a star can be both tough and funny at the same time. The actor can seem intimidating at first glance due to his physique, but his sense of humor will put people at ease eventually.
Terry Crews | Battle Dome
Terry Crews is another former athlete turned actor who made it into our list. The multi-talented comedian, actor, activist, and artist is also a bodybuilder. Terry was a part of the television show Everybody Hates Chris. After being successful as a football player, Terry moved to Los Angeles to pursue his dream of becoming an actor. Terry has directed and produced his very first independent film. Though it wasn't a hit, he was grateful for it. In 1999, he auditioned for the game show Battle Dome, which became his first acting part. Terry's iconic guest appearances in chick flicks became a thing afterward.
People should seriously give more credit to Terry for being one of the most humble celebrities in Hollywood. Terry married his wife in 1990 and has been together since. In 2019, Terry started hosting the talent show America's Got Talent.
Burt Reynolds | Broadway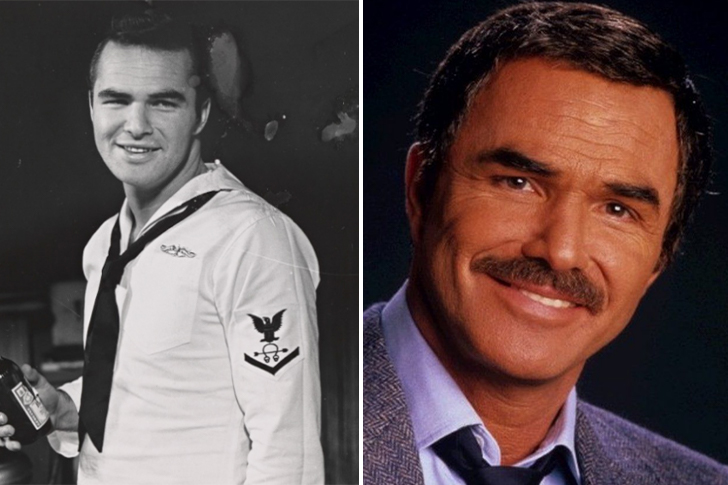 Burt Reynolds was an actor, director, and producer for both film and television. Reynolds gained prominence when he starred in many different television series, such as Gunsmoke, Hawk, and
Dan August, back in the 1960s and 1970s. He was later cast into a bigger play named
Tea and Sympathy in New York, and it wasn't long before his career in film and TV followed.
Reynolds was nominated for the Golden Globe Award for Best Actor – Motion Picture Musical or Comedy twice. He was also voted for five consecutive years from 1978 to 1982 as the number one box office star. For years to come, Reynolds made several business investments, including a restaurant business. Unfortunately, it didn't flourish. He also co-owned a team in the racing series of NASCAR. In 1981, Reynolds was awarded by the Florida State University with an honorary doctorate.
Joel McHale | Community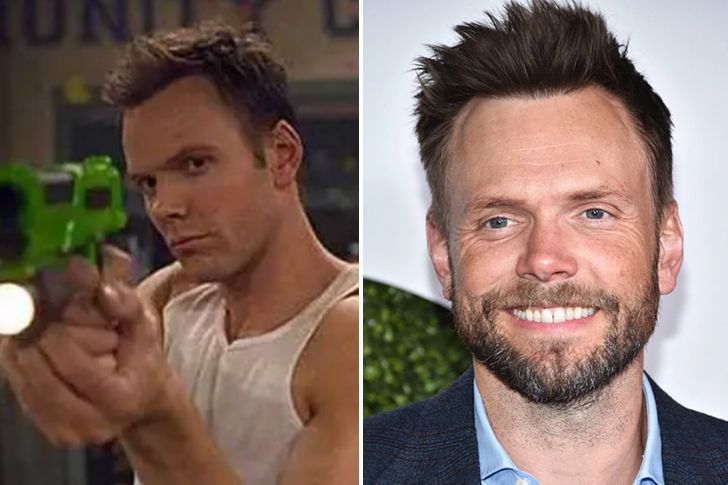 Joel McHale is a TV host, comedian, actor, writer, and producer. The 49-year-old, blue-eyed,
baby-faced McHale is known for the NBC sitcom Community, produced by Dan Harmon. McHale played the role of Jeff Winger, a former lawyer suspended by the state bar after finding out he was falsely claiming that he has a bachelor's degree. The television series was actually based on the
real-life events of Dan.
McHale started his career right after earning his master's degree. He landed small roles when he moved to Los Angeles with television series like Will & Grace, CSI: Miami, and Diagnosis: Murder. Soon after, he had many role credits for television series and movies. In 2004, McHale's career in hosting began with the television series The Soup, taking the audience through the ridiculous happenings of the week on the television. Additionally, he has been a judge for the cooking television show Iron Chef America.
"Stone Cold" Steve Austin | Football Player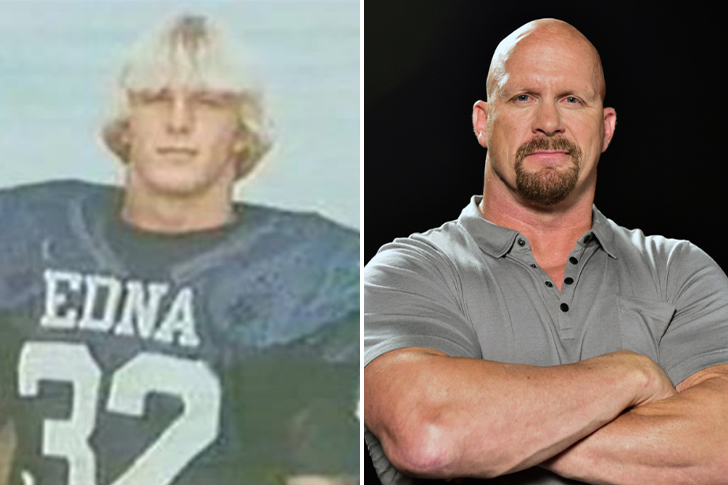 Steve Austin is an actor, TV host, producer, and a former professional wrestler. He enjoyed a successful career and became one of the top wrestlers in the history of
World Wrestling Entertainment. Prior to his fantastic job, he was just a regular kid who hails from Texas and loves playing football. He was given a football scholarship and went to finish his degree at the University of North Texas. Steve was playing for the Mean Green before he pursued wrestling.
During his time in WWE, Steve brought the Stone Cold stunner to the public while he creates a vast rivalry with The Rock. Later on, he ventured into acting and appeared in films like
The Longest Yard and The Expendables. Steve always advises people to exercise regularly. It was one of his secrets and helped him maintain an incredible physique.
Mark Harmon | Football Player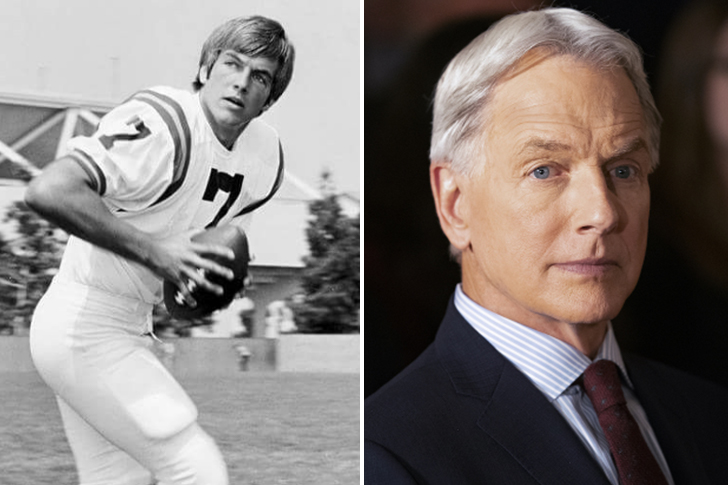 Mark Harmon is a remarkable actor well-known for starring in the crime investigation series NCIS. Before his outstanding acting career, Mark has roots in football. His father was an award-winning football player who received a Heisman Trophy. We are not surprised that Mark also liked football. He played as the UCLA Bruins quarterback for two years and put a 17-5 record while on the center. With his father's fame and fortune, Mark never needed student loans while getting an education.
Mark's film career continued to grow, and he gained high recognition after he was cast in the soap opera Flamingo Road. After it was canceled for two seasons, he then landed a role in St. Elsewhere. Besides working as an actor, Mark established his production company, Wings Production, which produced NCIS: New Orleans. Likewise, he became the producer of a best-selling CBS series, Prey.
Forest Whitaker | Football Player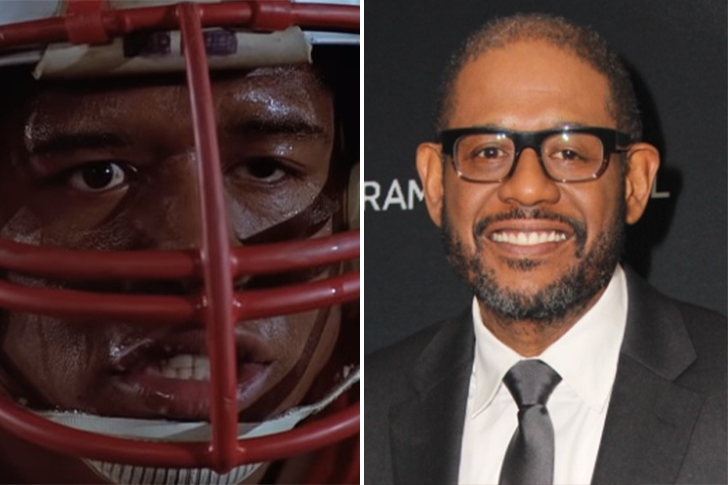 Before Forest Whitaker became an Academy Award-winning actor, he got a football scholarship at California State Polytechnic University. Forest was the quarterback in high school, but he suffered from an injury in college that ended his football career. This circumstance made him pursue acting and graduate at the University of Southern California with a fine arts degree. The actor's film debut was also combined with football in the classic comedy Fast Times at Ridgemont High.
Forest's career sparked a long line of remarkable characters, such as The Color of Money. From that movie, he landed a role in Platoon and a year later in Good Morning, Vietnam. He even worked with the legendary actor Client Eastwood in the film Bird. Throughout his career, Forest attained wide acclamation and notoriety with his works on the screen. Furthermore, he received more experience by producing made-for-TV movies.
Dean Cain | Football Player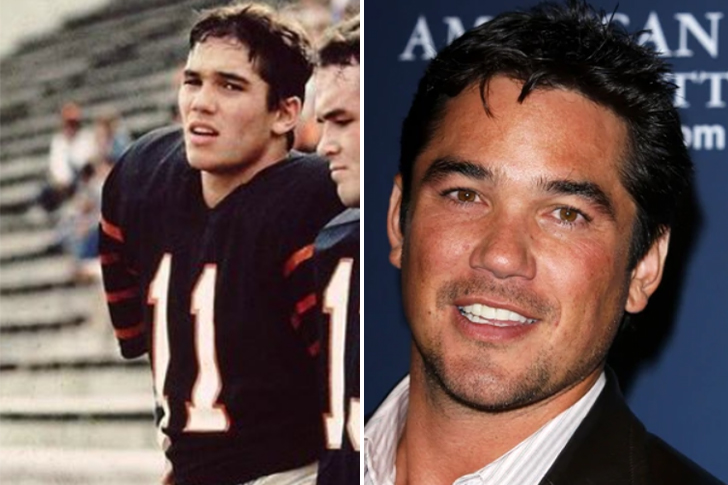 Dean Cain accomplished fame after he starred as Superman on the TV series Lois & Clark. Even so, before he became a prominent actor, he is a real-life hero of the Princeton football team way back in his college years. His position was defended, and he even set an FCS record with 12 interceptions. Dean was teammates with Jason Garrett, an NFL head coach. After he graduated with his college degree, Dean signed with the Buffalo Bills. Unfortunately, he had an injury during training camp that ended his football career but opened a new opportunity for him, and he began acting.
Dean also became a cast in The Stone Boy which is his father's film. Moreover, he went on commercials and some TV parts like a small cameo in Beverly Hills, 90210. Dean has more film credits under his name, including Just Shoot Me, Perfect Husband: The Laci Peterson Story, and Frasier.
Vinnie Jones | Soccer Player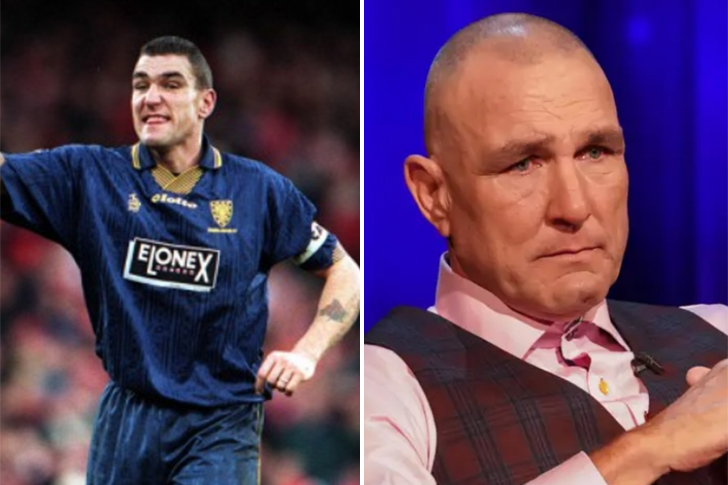 Vinnie Jones has a fierce persona in films, mostly when he starred Guy Ritchie in the classic movie, Snatch and Lock, Stock and Two Smoking Barrels. Prior to his fantastic career, he is a remarkable soccer player for almost one decade. Vinnie played for Leeds United, Sheffield United, Queens Park Rangers, and Chelsea. He is more popular for joining the Wimbledon club and played 200 games for them. He was among the Crazy Gang ear and the best players.
The actor first rose to fame in the film industry after a photographer captures him. Vinnie since then starred in many blockbuster movies like X-Men: The Last Stand, Johnny Was, She's the Man, and
The Riddle. With many hit movies, he established his life and never worries again about cash loans. He, too, received many prestigious awards in his fantastic acting careers, like Odeon Audience Award and Satellite Award.
Ed O'Neill | Football Player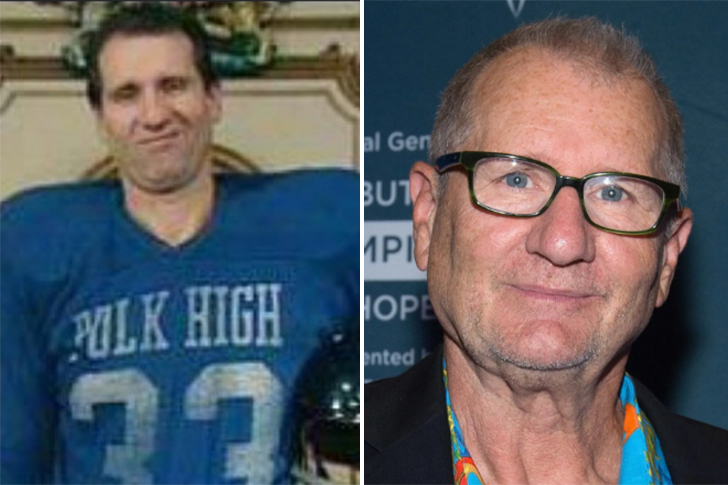 Ed O'Neill is a successful actor in his time. Ed has a huge net worth that he gained from numerous acting roles on television and movies. He appeared in notable shows like Modern Family and Married with Children. Apart from his acting talents, Ed has a great voice which makes him a high-paid voice actor. With the wealth that he accumulated all over his career, he made various investments.
The actor had a successful and long-lasting career. Before all of his victory, he is a football star in Ohio. He played for the Youngstown State University as their lineman. He even got the once-in-a-lifetime chance to join the Pittsburgh Steelers. He got cut from the training camp but did not stop there. As a renowned actor and footballer, he combined football and acted in the sports film Little Giants.
Jason Segel | Basketball Player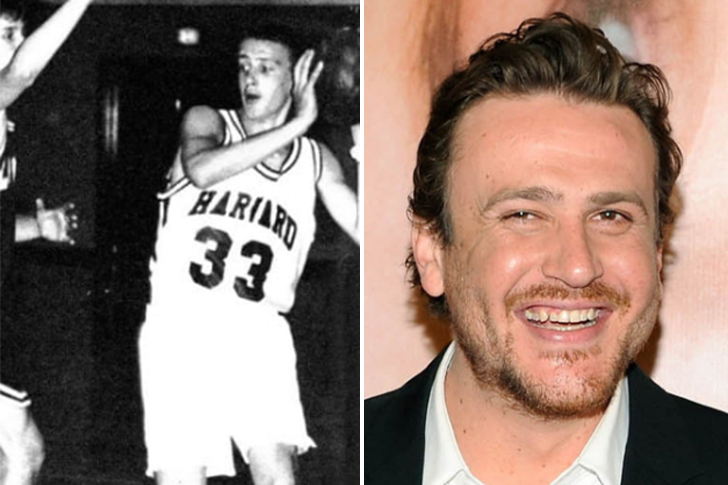 Jason Segel is a renowned comedian, actor, author, singer-songwriter, producer, and screenwriter. He is known for his works on films, and the famous one is the TV series, How I Met Your Mother,  Freaks and Geeks, and Undeclared. Jason has many credits under his name for all the works he has produced and written.
Before his work in the industry, he has a basketball player's height, and yes, he is! He was once a basketball player in high school. He served for Harvard-Westlake in Los Angeles. Some of his remarkable teammates are now NBA players Jason and Jaron Collins. The Collins brothers are now professional players while Jason ventured into films and had successful works like The Muppets, Forgetting Sarah Marshall, The Five-Year Engagement, and Knocked Up. Jason will appear on the upcoming The Sky Is Everywhere, which will air soon.
John Goodman | Football Player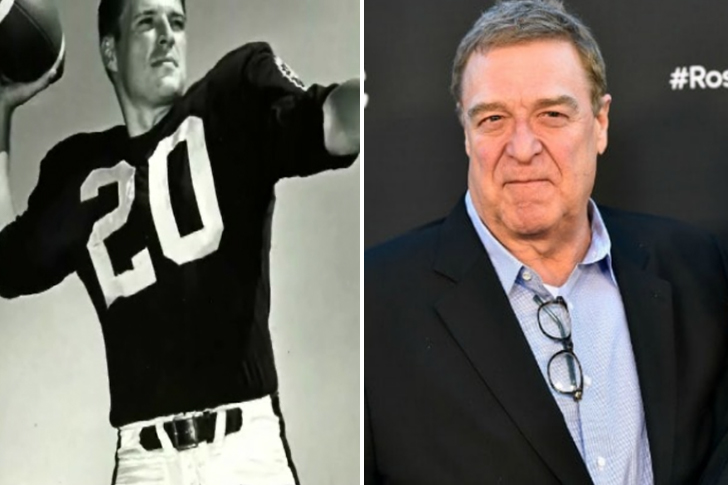 One of the most remarkable actors and voice artists of Hollywood is John Goodman. He appeared in many movies and TV series, including Roseanne, where he earned a prestigious Golden Globe Award. He reprised his role in its sequel, The Conners, and starred more in films like The Big Lebowski, Barton Fink, Raising Arizona, Inside Llewyn Davis, and O Brother, Where Art Thou? For his voice roles, his vocals got primarily featured on Disney and Pixar movies like The Jungle Book, Monsters, Inc., Bee Movie, The Princess and the Frog, and Clifford's Really Big Movie. He earned much wealth, and he gives credit to his talents.
Before becoming a star in the industry, he was once a Southwest Missouri State University football scholar. Sadly, an injury occurred and made him switched to the silver screen. Regardless, he is now a remarkable actor and continues to amazed people.
Jon Stewart | Stand-up Comedian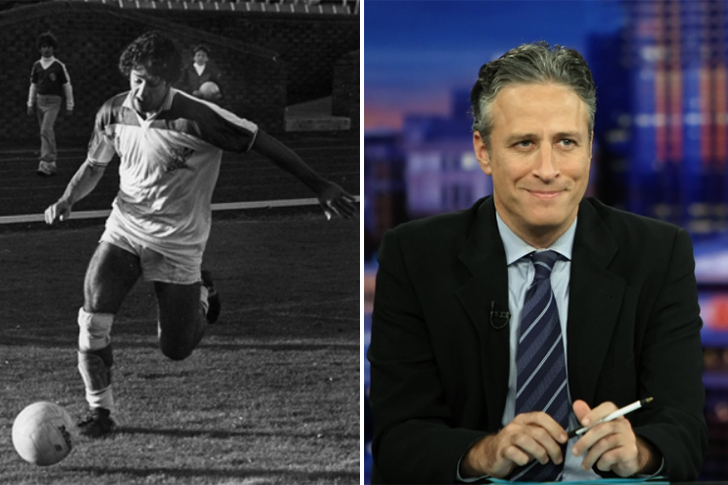 Famous for his comedic skills and personality, Jon Stewart became famous as a TV host personality. He was the long-time host of The Daily Show from 1999 to 2015. Long before he was discovered, Jon always had the reputation of being funny at school. In 1986, he tried his hand at a comedy club in New York but to no avail. He didn't have the courage then to go up the stage. However, in the following year, Jon had his stand-up debut at The Bitter End club. From there, the funnyman's career took off.
Jon's career branched out further later on into television, eventually developed a talk show on MTV called The Jon Stewart Show. Other than that, he also hosted a comedy show for Comedy Central called Short Attention Span Theater. Moreover, he also appeared in cinematic movies later on. After years of hosting The Daily Show, Jon left. Now, he maintains a low-profile life in the industry but uses his influence and investments for his causes and advocacies.
Carl Weathers | Football Player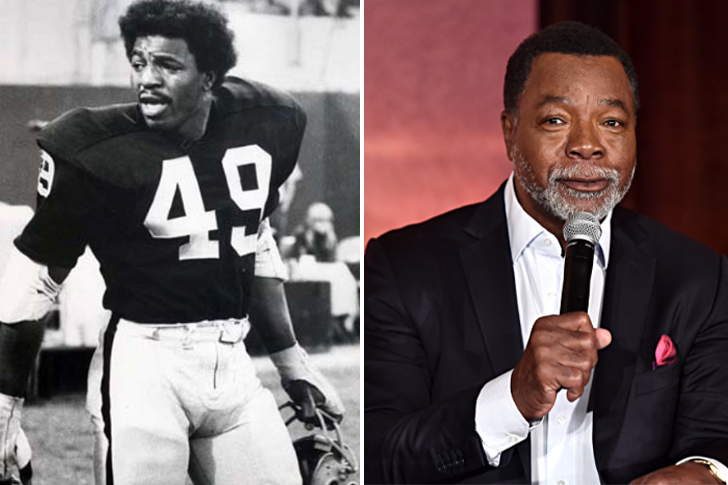 Carl Weathers garnered a degree of affirmation after appearing in the TV series Rocky as Apollo Creed. Surprisingly, the film was not the only connection he has to sports. Carl is a real-life professional athlete who ventured his luck in acting. He used to play as the San Diego State's linebacker and appeared for eight games as an Oakland Riders member. The former professional football player even spent shortly in the Canadian Football League with BC Lions.
The actor who starred in Happy Gilmore and Predator started his acting profession as an extra while still playing football. His first most significant roles were films by Arthur Mark—
Friday Foster and Bucktown. Carl also appeared in the sitcom Good Times. Over the years, he maintained his status as one of the skillful actors in Hollywood. He often showcases professionalism and good influence among his co-stars— traits that he arguably has carried over from his time on the field.
Matthew Fox | Football Player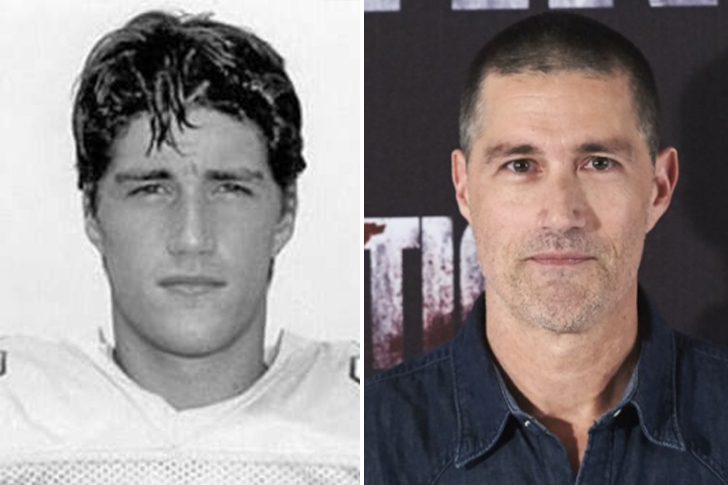 Before Matthew Fox found himself in the drama series, Lost, he was a football player. He went to Columbia University and graduated with a degree in economics. He was widely received by the university and played for the team for four years. Although the youngster was not excellent at that time, he still pursued playing and maintained a positive attitude.
Matthew earned nominations for the Primetime Emmy Award and Golden Globe Award after his world-class acting skills in Lost. Likewise, he appeared in feature films like Vantage Point,
Bone Tomahawk, We Are Marshall, Emperor, and Alex Cross. In case you did not know, Matthew debuted at the age of 25 in an episode of Wings. In the same year, he was a cast in Freshman Dorm. Though his appearances are short, he never fails to prove himself worthy of his Hollywood spot. The actor is now 54 years old and still has a long way ahead in showbiz— so best watch out for him!
Stan Lee | Timely Comics Assistant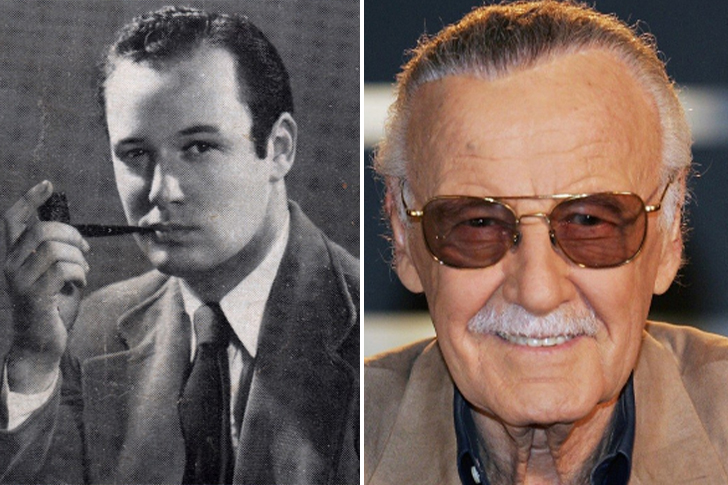 If it were not for Stan Lee, we would not have the amazing cinematic superheroes of Marvel Comics. For everyone's information, Stan did not make the first Marvel superhero until he turned 39. He is a comic book writer, publisher, editor, and producer. He rose to prominence in the family-run business, Marvel Comics. Stan was the creative leader for two decades and helped the company dominate both the movie and comic industries. For that, he considered Marvel as one of his greatest investments.
Before he became the mind of these superheroes, he was just a simple assistant of Timely Comics. Later on, he became an interim editor of the company and drew his first-ever superhero.
Timely Comics changed their name to Marvel Comics and asked Stan to draw a series of superheroes to compete with DC's Justice League. He became successful with the project and received many honors, including NEA's National Medal of Arts.
Melissa McCarthy | Stand-Up Comedian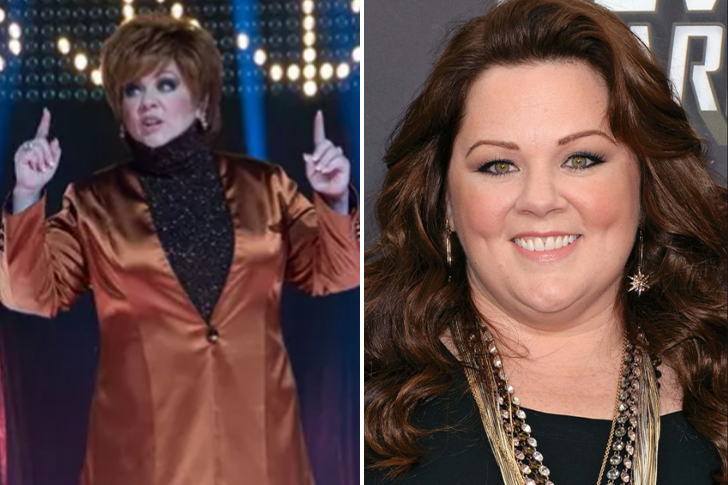 Melissa McCarthy is an actress, fashion designer, producer, writer, and comedian who received several awards. McCarthy was also nominated for the Academy Award and Golden Globe Awards, and Primetime Emmy Awards twice. The Time Magazine named McCarthy among the 100 most influential people across the world by Time Magazine. Among other things, McCarthy also was among the highest-paid actresses around the world. It seems that Melissa did not worry about cash loans her entire life.
Before becoming one of the Greatest Actors of the 21st Century, she was a stand-up comedian in Los Angeles and transferred to New York. There in the city, she appeared on Jenny, her first TV appearance. From there, she became an exceptional actress, and her talents are sought in the business. Other film works include Bridesmaids, The Heat, Identity Theft, The Boss, and Can You Ever Forgive Me?
Jon Hamm | Teacher
After Jon Hamm graduated with an English degree, he became a teacher in his highs school. He taught eighth-grade students acting. While he was doing auditions, he even worked as a waiter. Growing up was not easy for him, and packing his bags to Los Angeles was not immediately successful. Jon's life did not stop there because later on, he claimed his worthy recognition on television.
Jon is the producer and actor who rose to fame after starring in Mad Men as Don Draper. His extraordinary performance garnered him a Golden Globe Award for Best Actor and a
Primetime Emmy Award. Jon's other film works are Black Mirror, Toast of London, A Young Doctor's Notebook, and Wet Hot American Summer: First Day of Camp. He also became the voice for animated films like Minions and Shrek Forever After.
Amy Poehler | Upright Citizens Brigade Co-Founder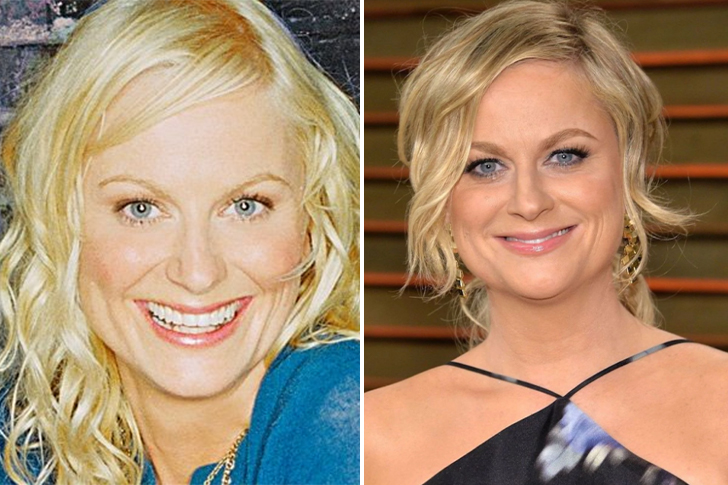 American actress, producer, comedian, director, and writer Amy Poehler took an improv class to become a professional comedian. After studying at ImprovOlympic and Chicago's Second City, she became one of the Upright Citizens Brigade co-founders. It is an improvisational-comedy troupe. Later on, along with its members, they established the Upright Citizens Brigade Theatre. In 2001, she joined Saturday Night Live, where she received a Primetime Emmy Award, and in 2004, she became the co-anchor of Weekend Update.
She left the series and landed a lead role in Parks and Recreation. Amy received her star on the famous Hollywood Walk of Fame, a sign of profound appreciation for her contribution and investments in the show business industry. Moreover, she won accolades like the
Critic's Choice Award and Golden Globe Award. Amy has been in the industry for almost two decades and remains to work even at 48.
Lupita Nyong'o | Production Assistant at The Constant Gardner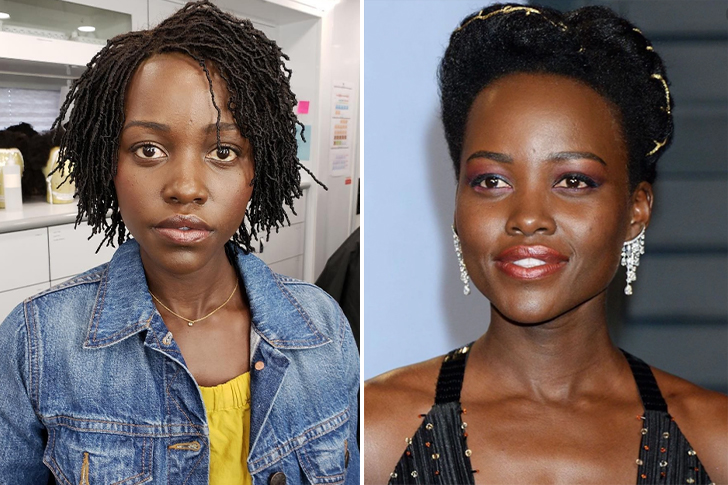 Lupita Nyong'o got her spot in Hollywood when she starred in the 2013 film 12 Years of Slave. Through it, she received several nominations and awards, such as Academy Awards Best Supporting Actress. She is also the first Kenyan and Mexican to receive an Academy Award.
Lupita Nyong'o first started as a production assistant in The Constant Gardner. She got her degree in theatre and film at Hampshire College and then pursued further studies in acting at Yale University. Her first few projects focus on social issues and concerns. She hosted MTV Shuga, a show that raises awareness about HIV/AIDS. By the time she went back to the US, she landed the casting role in the Steve Mcqueen film 12 Years of Slave, which launched her stardom. Her resurgence in the mainstream leads her to bag big movie projects. Lupita got a role in Black Panther and Star Wars.
Steve Carell | The Dana Carvey Show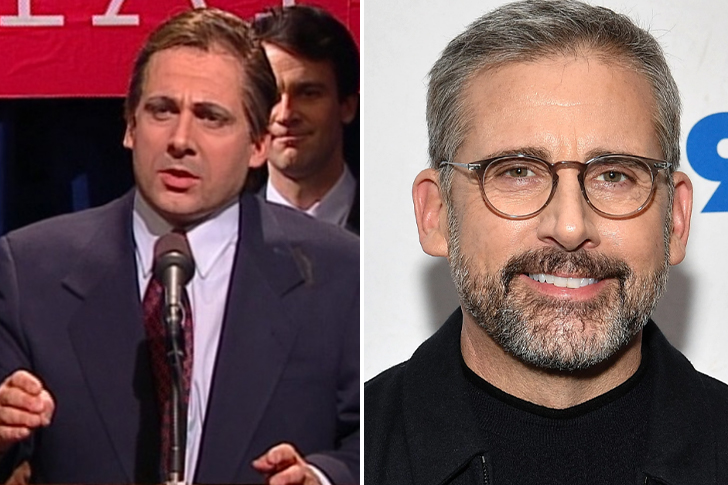 One of the most famous comedians in the industry today is undoubtedly Steve Carell. He is best known for his TV series, The Office that aired from 2005 until 2013. He stars in several comedy films such as The 40-year-old Virgin, Evan Almighty, Crazy, Stupid Love, and voiced the character of Gru in the Despicable Me series. Before becoming a TV star and a box-office star, Carell started working as a writer and a side performer in The Dana Carvey Show.
Steve Carell's climb to success wasn't all that easy. Carell worked as a mailman and got ousted eventually. It must be a sign for him to pursue a career in acting and join an improv acting company to hone his talents. It eventually opened the door of Hollywood for him. He was able to work on different shows such as SNL, The Daily Show, and finally, his big break, The Office. As his career grows, so is his credit score. Carell is one of the most successful comedians who can do serious acting as well.
Jessica Chastain | Romeo and Juliet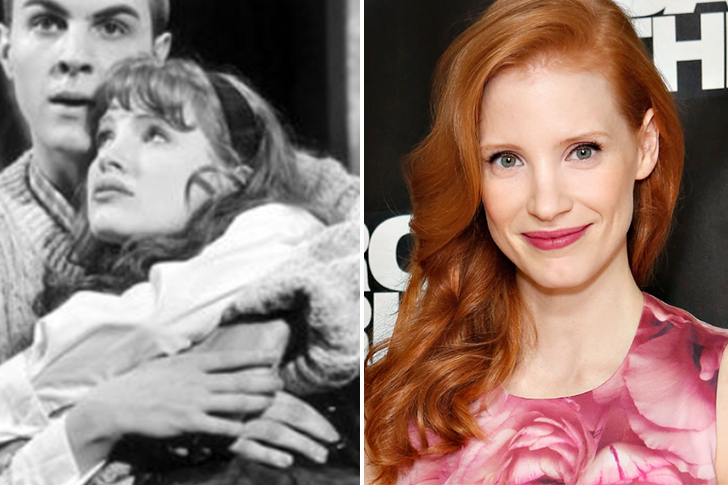 Jessica Chastain got her shot to fame at the age of 31. She proves that passion and dedication will eventually lead you to success, no matter how fast or slow it may be. As such, it gives her the sweetest reward, as she not only landed her feet among the brightest stars in Hollywood but also became a voice of change.
At the age of 7, Jessica Chastain knew what she wanted to do when she grows up. Chastain developed her interest in acting through watching a play with her grandmother when she was a child. Chastain obtained a degree in fine arts at Julliard School in 2003. Her first professional theatre acting was in Romeo and Juliet, where she played Juliet. She eventually got minor projects for TV series and films. Her debut as the leading star was in the 2011 film, Take Shelter. In the same year, she landed a lead role in The Help, where she received several nominations and awards. Chastain is a femisnist. She is among the women of Hollywood who act on having gender equality and raise awareness in several issues in the entertainment industry.
J.K. Rowling | Bilingual Secretary in Amnesty International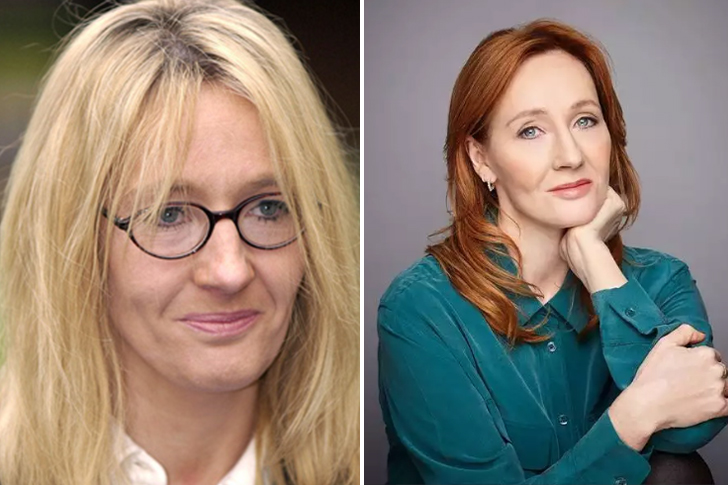 Joanne Rowling or best known as J.K. Rowling, is famously known as the creator responsible for the seven-book series of Harry Potter. Her life story of rags to riches serves as an inspiration to many, especially those starting from scratch. Rowling was living a meager life during the conception of her best-selling novel Harry Potter. She conceptualized the idea of Harry Potter during her train trip to work. At that time, Rowling was working as a bilingual secretary and researched in Amnesty International in London.
Along her journey, she had met all kinds of tragic experiences, including her mother's passing, dealing with a failed marriage, and living in poverty with a child. Her general state of mind inspired most of the characters in her book. By the time she finished her first book, Harry Potter and the Philosopher's Stone, her luck kept pouring in. Rowling managed to rise from poverty and create great investments. She is now one of the wealthiest people in London.
Jeremy Renner | National Lampoon's Senior Trip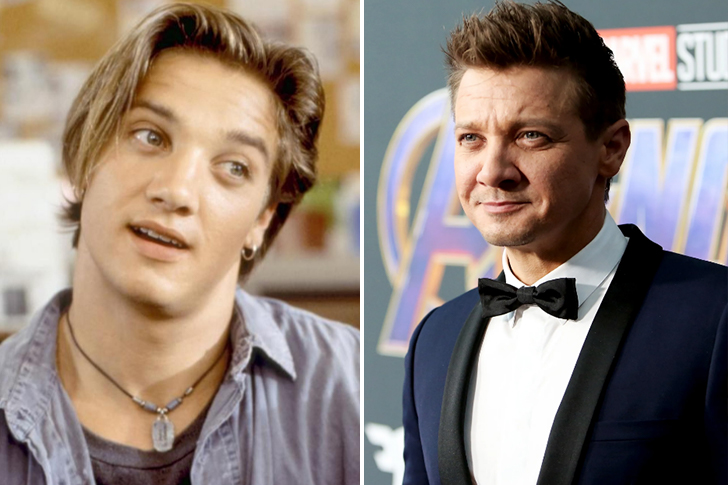 We all know Jeremy Renner as a prominent figure in action movies. He is Hawkeye in Marvel's Avengers franchise, Jason Bourne in Bourne Legacy, and William Brandt in Mission Impossible franchise. Before his big breaks and high-grossing films, Renner started in the 1995 movie National Lampoon's Senior Trip.
Jeremy Renner has been around the corners of Hollywood since the '90s. He flew to Los Angeles to pursue his dream of an acting career. Renner was once a struggling actor who has a hard time landing high-paying roles. As a result, he works several jobs and lives in a house with no electricity to sustain a living. Renner worked as a makeup artist and renovated homes while accepting minor credits in films and TV. His big break came in 2008. Renner took the lead in The Hurt Locker, where he receives a nomination for Best Actor. As his career launched, he also grew his house flipping business and built stable finances for his family.
Jane Lynch | Stephen Wolf Theatre Company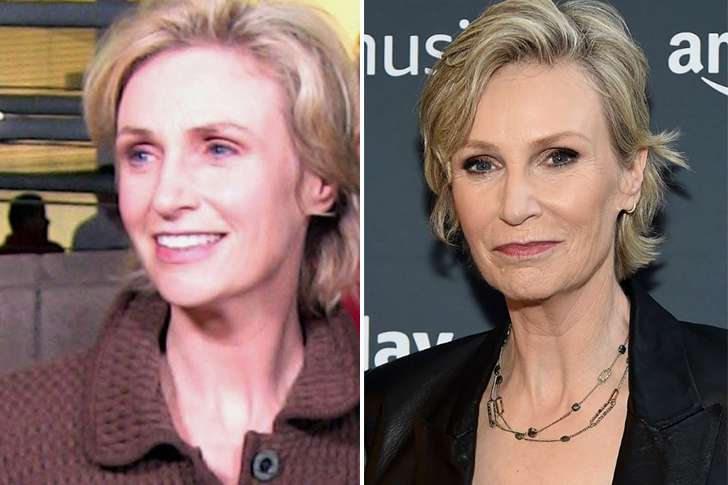 Admit it or not, Jane Lynch is one of the keys to the hit TV series Glee's success. She may be the key villain of the show, but she is the one who puts color on the story. Likewise, Glee is Jane's catapult to success as it gave her the stardom and popularity of an actress that she deserves.
Jane Lynch is already in her forties when she meets her success in mainstream acting. Jane started her career in acting in Stephen Wolf Theatre Company. She crossed to filming by 1988 and received little credit in Vice Versa. Jane starts getting more significant roles by 2000. She gets cast in Two-and-half Men as a psychiatrist and made a starring credit in The 40-year-old Virgin in 2005. Her biggest break must be her role in Glee as Sue Sylvester – the terror cheerleader coach that terrorized the whole school, especially the Glee club.
Bryan Cranston | Granada Theatre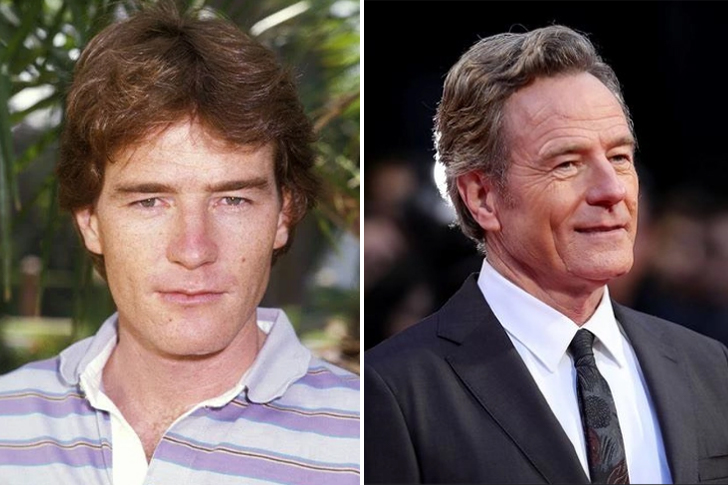 Bryan Cranston is one of the actors who has a humble beginning. Cranston is a struggling theatre actor when he is starting his career in the acting industry. Cranston worked in the Granada Theatre while taking manual jobs to support the needs of his family. He started getting minor credits in TV series in the early '80s until he got his breakthrough act in The Seinfeld as Jerry's dentist.
Another milestone of his career is when he took the role of Hal in Malcolm In The Middle. Bryan Cranston gained popularity when he played Walter White in the Breaking Bad TV series. The show was aired in 2008 and gathered general approval from the viewers, and won the Outstanding Lead Actor in a Drama Series of the Primetime Emmy Award for three consecutive years. Cranston also played several minor roles in films such as Total Recall, The Lincoln Lawyer, and Contagion.
Jenna Fischer | Zoo District Company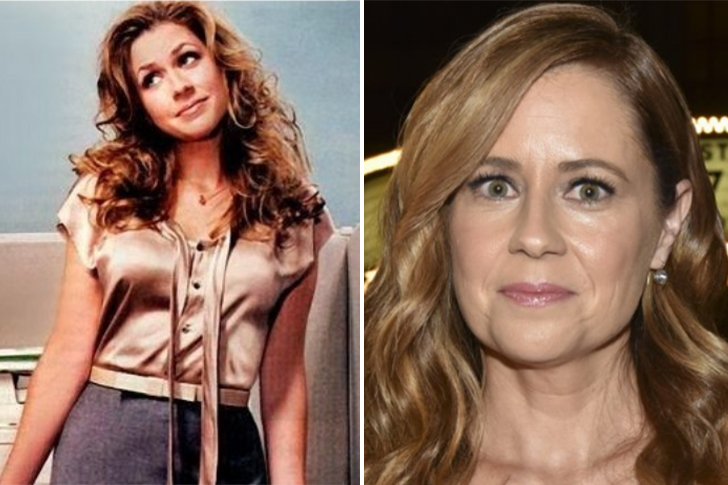 The Office is considered one of the most successful TV series on NBC. The show ran for nine seasons, airing its first episode on March 24, 2005. A lot of its cast members catapulted to stardom due to their appearance in the show. One of which is Jenna Fischer, known as her character Pam Beesly in The Office.
Jenna Fischer always wanted to be an actress. She obtained a bachelor's degree in theatre at Truman State University. After college, she started performing as a member of the Zoo District Theatre Company. Fischer caught the attention of a talent agent while performing Nosferatu. After signing a contract, she got minor roles in different TV shows such as Spin City, That 70s Show, and What I Like About You. Fischer made her directorial debut when she made Lollilove in 2004, where she starred, co-wrote, and directed the film. The mockumentary format of Lollilove paved the way for her to join the cast of The Office. Fischer's character as Pam Beesly receives much attention in the show. Thus, made her an established TV actress.
Alan Rickman | Royal Court Theatre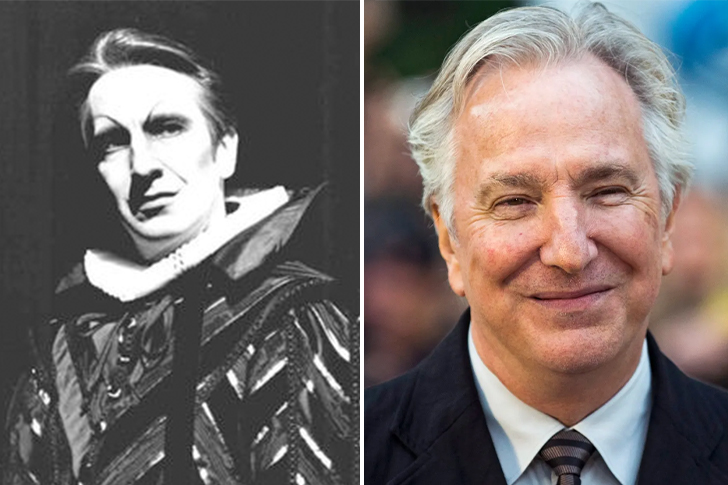 Losing a talent like Alan Rickman saddens the world of theatre as well as the film industry. Rickman is famously known for his character as Professor Snape in the Harry Potter movies, passed away in 2016. Though he started his career in his later years, he sure does grab success not only as a great actor.
Alan Rickman started acting during his student years. He later pursued an acting career around his late twenties and joined the Royal Court Theatre. He emerged as a film actor in Hollywood when he got cast in Die Hard. He also gets cast in several films such as Love Actually, Robinhood: Prince of the Thieves, and Sense and Sensibility. Rickman gained international popularity when he became Professor Snape in Harry Potter. His last film is Alice Through the Looking Glass in 2016. Additionally, he got credit for having a distinct voice that considers owning a perfect man's voice, according to research.
Ricky Gervais | Seona Dancing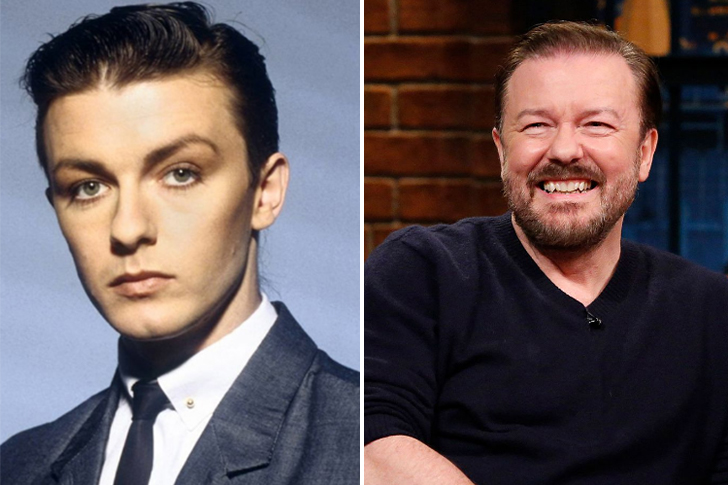 The original TV series, The Office, would not be possible without the brilliant man, Ricky Gervais. The English-born comedian, actor, producer, and director is one of the people who conceptualized the hit original TV series The Office (UK version). Gervais also plays the lead character of the show David Brent. The show aired for two seasons that started in 2001. The Office reached great popularity and remade into many versions, including in France, Brazil, Sweden, and The United States. As such, Gervais has to credit his involvement in the show as it pushed him to his celebrity status now.
Before he became a known comedian, Ricky Gervais's ticket to the entertainment world was as a member of a new wave pop band, Seona Dancing, in 1983. It is the duo responsible for the songs Bitter Heart and More to Lose, which didn't do well in the music scenes. Although the song
More to Lose became a popular song in the Philippines, the band eventually dissolved and parted ways. Gervais pursued a career in comedy and acting. His first appearances on TV were in the Comedy Lab and 11 O'clock Show in 1998.
Ken Jeong | Comic Groove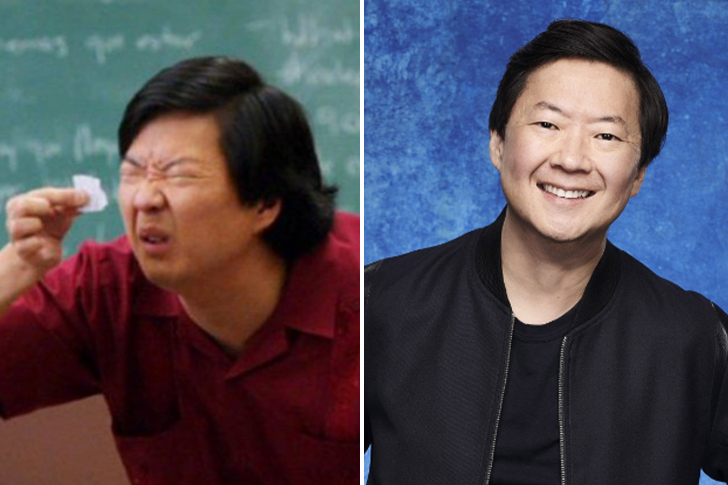 Ken Jeong is one of the unique comedians today. He rose to fame when he made his starring credit as a doctor in the film, Knocked Up. The role was not something new to him as he is a licensed physician in real life. Ken Jeong was a medical student when he started his career in stand-up comedy. When he moved to Los Angeles, he still juggled his time as a doctor while performing stand-up comedy in several comedy bars that eventually led to performing on a small screen.
His big break came in 2002 when he earned a spot in Comic Grove. It led to his first starring role in the film as he got cast in the comedy film Knocked Up and later on in Hangover. As he gained celebrity status and a pile of work as an actor, he took a break in practicing medicine, although he still kept his license. Now, Jeong is one of the prominent and successful stand-up comedians in Hollywood.
Ellen Pompeo | L'Oreal Campaign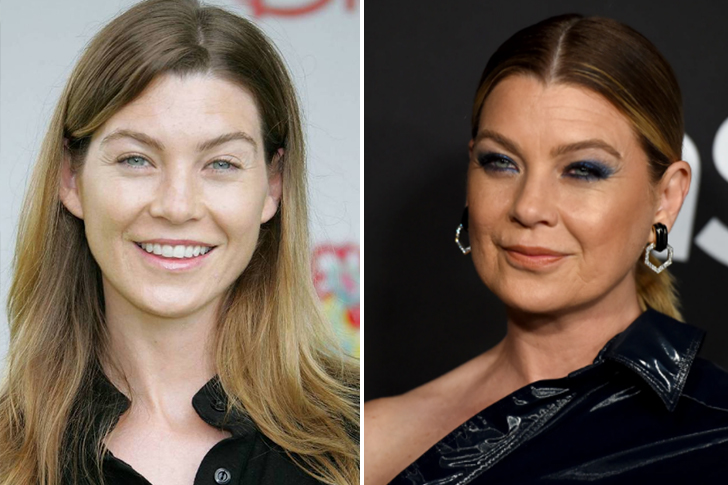 Ellen Pompeo is popularly known for her titular role in Grey's Anatomy. Though Ellen has no intention of getting into Hollywood, her ticket to the business came when she was spotted by a casting director while bartending in the 1990s. Immediately, she got cast in advertising campaigns for L'Oreal and Citibank.
It wasn't long enough until she got her first acting role in Law & Order and her film debut in Coming Soon in 1999. Ellen finally got her big break when she was cast as Merideth Grey in Grey's Anatomy in 2005. It was a massive success not only for Ellen but also for the show as it is the longest-running show to date. Through the show, Ellen is one of the highest-paid actresses on TV. Likewise, it made her credit score up. Currently, the show is in its 17th season.
Katherine Heigl | Wilhelmina Model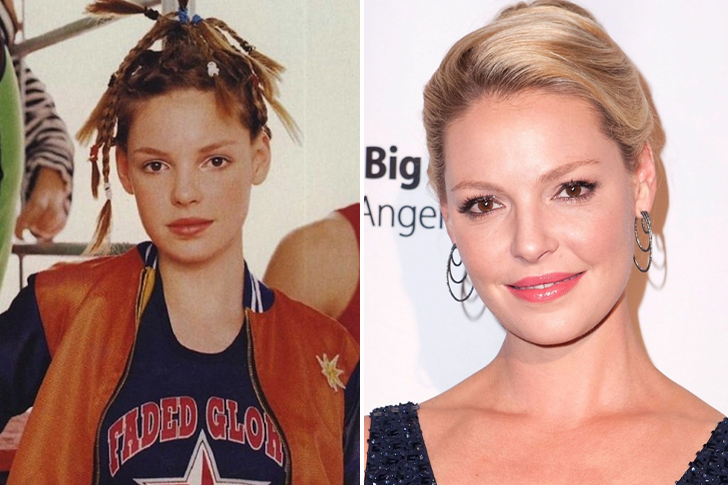 Katherine Heigl is considered one of the most beautiful actresses in Hollywood. Heigl started her entertainment career as a child model. She was only nine years old when she got signed for a modeling contract at Wilhelmina Models. She appears in Cheerios and catalogs of Lord & Taylors and Sears. Heigl then developed an interest in an acting career and enrolled in classes to hone her talent.
She later got her first starring acting credit in the 1992 film That Night and later on in 1994 film My Father the Hero. Heigl keeps her modeling stints despite being busy with her pursuit of filming roles. Her first big break as an actress was when she starred as Izzie in Grey's Anatomy and when she took the lead star in the 2007 film, Knocked Up. Since then, she is one of the most sought-after rom-com leading ladies.
Will Smith | The Fresh Prince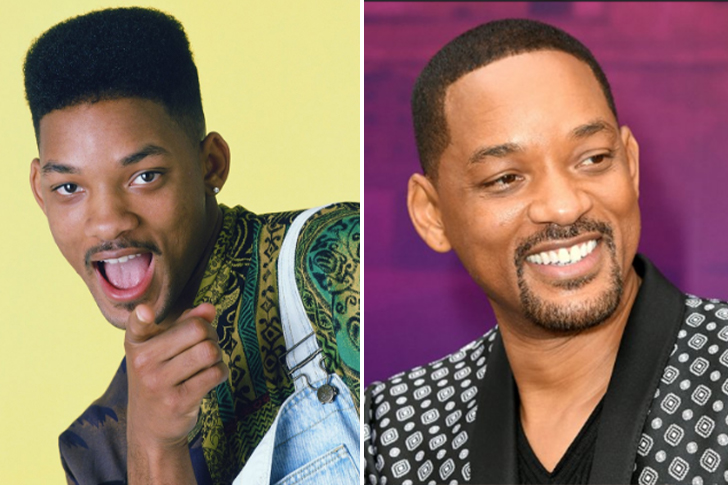 Initially, Will Smith aims to be a singer and rapper. His plans did not work as he meant to do bigger things, which is to star in many high-grossing films. Will Smith first entered the music scene by the name of The Fresh Prince. He was still in high school when his first hit song made it to the air.
By 1986, Smith and his friend Jeffrey Townes became a recording star with their first album, Rock The House. Smith was on his way to success as he and Townes won Grammy's in 1989. Smith encountered a financial setback and low credit score by the early '90s. As Smith looks for a solution for his problem, he meets Benny Medina, who helped him lock a deal with NBC and star in a TV series. In 1990, The Prince of Bel-Air was launched on the small screen, and so is the unstoppable acting career of Will Smith.
Mandy Moore | Performing at Local Events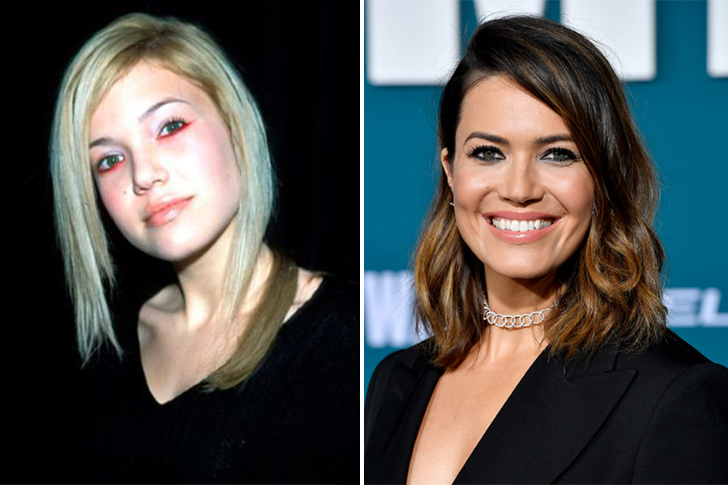 Behind the hit songs Candy, Walk Me Home, and I Wanna Be With You is the 36 years-old singer-actress, Mandy Moore, born Amanda Leigh Moore in Orlando, Florida. Mandy's interest in performing started at a young age. She often sings the National Anthem and performs in local events in Orlando before she got discovered. Victor Cade, a FedEx delivery man, overheard her singing in a studio.
Cade offered Mandy some help and sent her sample tapes to a friend working at Epic Studios. It landed Mandy a recording deal, and by the age of 15, Mandy had already released her first hit song, Candy. She also tours with leading boy bands like N'Sync and Backstreet Boys. Mandy further releases more albums that increased her credit score to the tee. By early 2000 she began starring in films. In 2002, she debuted as a lead star in the romantic movie A Walk To Remember, which marks her international stardom.
Haley Joel Osment | Pizza Hut Audition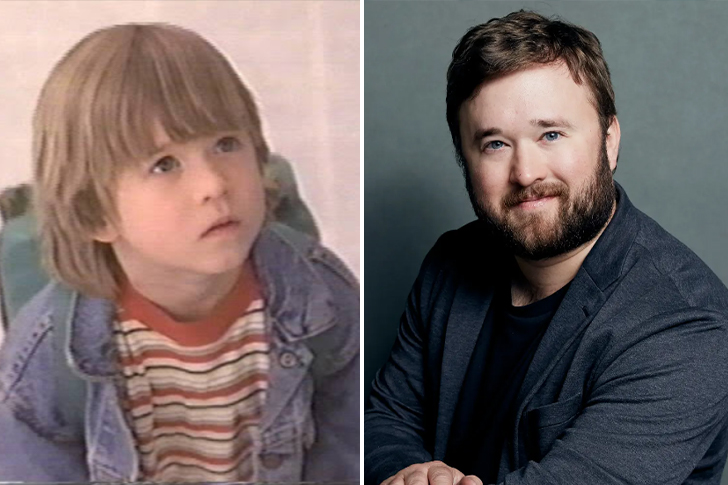 Before proving to the entire world that he was one of the most prominent young actors in his generation, Haley Joel Osment found his success in the most unusual places. You may think that such an actor of high caliber and degree would start with a small part in a soap opera or a Broadway debut, but Osment got his from IKEA. Way back when the actor was young, he'd go to a
Burbank IKEA store to do what people do in IKEA, furniture shopping.
When Osment went to IKEA, little did he know that a casting table was set up taking Polaroids of kids going in and out from the store, and Osment was simply at the right place and at the right time. Eventually, the young Osment's photo piqued interest within the commercial industry and soon landed him in a Pizza Hut advertisement audition. From that very audition, the casting director responsible for Forrest Gump saw great potential in him, and then the rest was history.
Jennifer Aniston | Sunset Boulevard Gas Station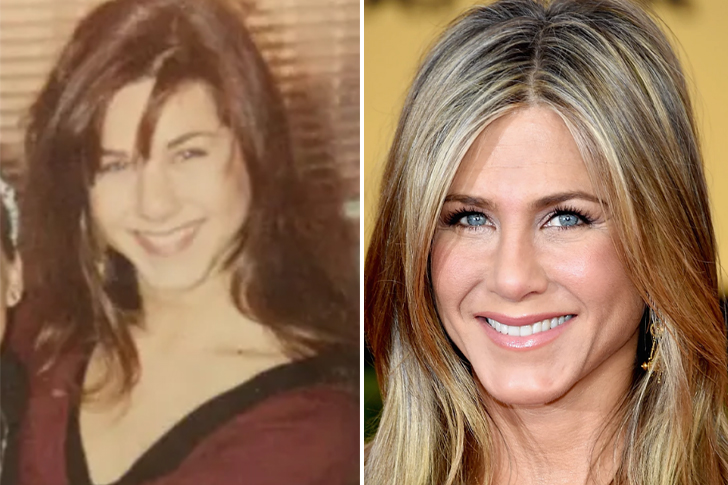 Best known for her outstanding performance as Rachel in the hit TV sitcom Friends, Jennifer Aniston's fame could be given credit to a little trip down a Sunset Boulevard gas station. Aniston is responsible for making an entire generation laugh, but before being regarded as a comedy icon, she had to endure tons of failed comedy sketches and pilots. One day, the disheartened Aniston ran into Warren Littlefield down in Sunset Boulevard in a gas station of all places.
Littlefield could clearly remember Aniston asking if comedy and making it big will happen to her, to which he replied with positive encouragement. The positivity coming from the encouraging words the TV executive gave to the young actress soon came true when he gave her the script for Friends. The world would never be the same without the comedic genius behind the famous character who was given to life by Aniston.
Zac Efron | Local Theater Production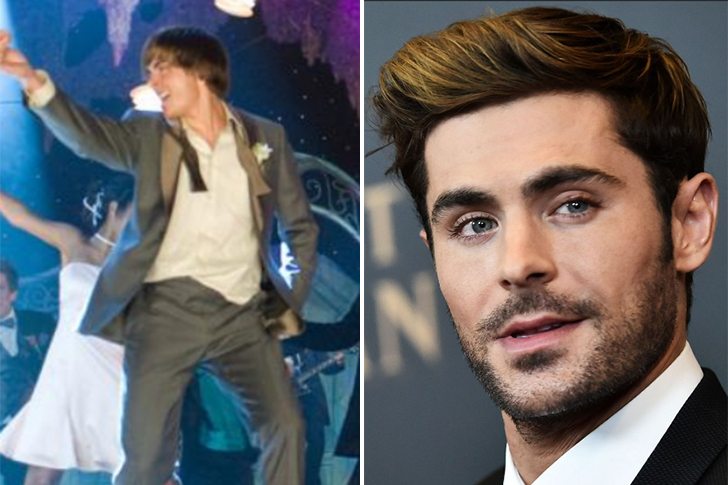 Easily won the hearts of many as Troy Bolton in the High School Musical franchise, Zac Efron is one of the young prodigy actors in the show business industry. However, before playing on-court for the Wildcats and before rocking the beach in the recent Baywatch remake, Efron's fame could be given credit to a local theater prod.
Efron's a natural when it comes to acting since the young star got the knack for acting ever since 11 years old. With further encouragement from his ever-supportive Grade 8 drama class teacher, Efron started aiming big, and from then on, began to make a legacy for himself. First landing his major leading role in the High School Musical movie, everyone immediately loved and knew who Troy Bolton was. His climb to the top doesn't stop there, though, since he'd land himself in many more box-office hits from The Greatest Showman, Baywatch to Bad Neighbors.
Sofia Vergara | Pepsi Commercial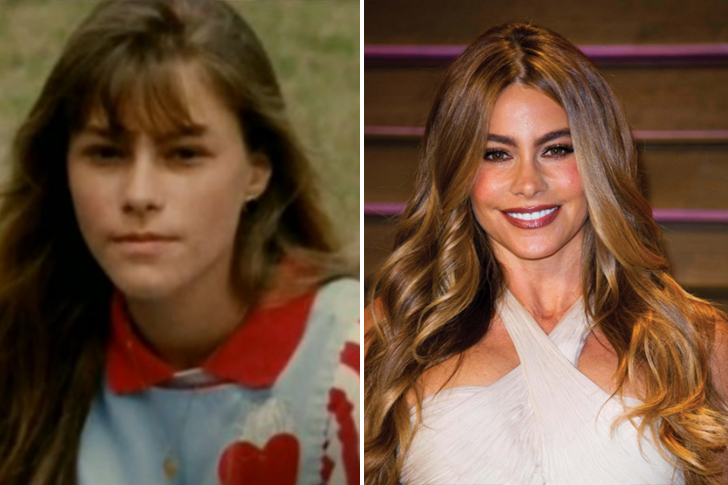 When talking about headstrong and independent women, it's impossible not to bring up Colombian actress Sofia Vergara and her notable investments in the acting industry. Born as Sofia Margarita Vergara, the actress would dominate the TV screen with her natural skills in acting. However, before she was known and adored as Gloria on the hit show Modern Family, Vergara started in a Pepsi commercial.
It all started one day when her family was enjoying a nice day on a beach when a talent scout spotted the soon-to-be actress. The then 17-year old Colombian was asked for a polaroid snap, and come a year later, she landed her first role in a commercial. What's funny about her story is that it started on the beach, and she came back to the beach for the same commercial since she was tasked to "find a bottle of soda." Since then, people recognized her talent, and now she's turned into a notable household name.
Vin Diesel | New York City Theater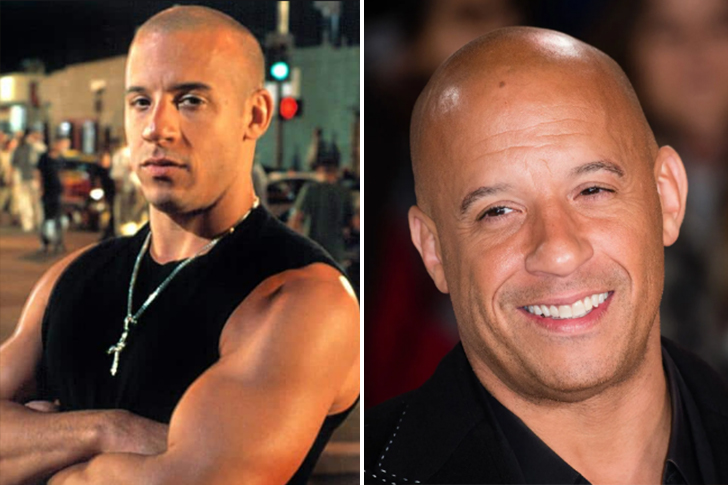 Easily known as the close family-tied Dominic Toretto in the Fast & the Furious franchise, Mark Sinclair, professionally known as Vin Diesel, actually has one amazing story to tell. Most actors and actresses start from small roles, which eventually land them in bigger roles after being spotted by a talent scout. However, for Diesel, the only one who caught him in the act wasn't a talent scout but an artistic director—for all the wrong reasons, though.
Back then, the young Diesel and his friends were caught messing around a theater down in
The Big Apple, and they left quite the mess. The rascals got their fun cut short when they got busted. However, the group got off easily with a minimum sentence of a role in a play. Talk about unusual kindness. Despite the weird punishment, though, Diesel actually liked acting on stage. From then on, he started to appear in many more off-Broadway shows. The rest is history. Diesel is one actor of a different degree.