Former Celebrity Couples Who Are Successfully Co-Parenting Their Kids
Hollywood has seen a lot of failed marriages, from A-list stars to celebrities who are just making a name for themselves. Sadly, these celebrity breakups don't only affect the couple themselves, but their kids, and sometimes, their fans too.
Several celebrity romances come out from the open and make everyone believe in love again. From May-December love affairs to the impossible relationships that no one ever thought would happen, well, these happened in Hollywood.
They bring back everybody's faith in Hollywood relationships again only to break it after—one failed romance to another. To make things complicated, they even have to call in their lawyers so that everything will be legal.
When they have kids, the ex-couple has to be as cordial as possible for their sake. They have to make things civil so that their children will not witness them quarreling in front of them.
By the looks of it, several celebrities win this part. Despite not having the happily ever after they have been dreaming of, these former celebrity couples have triumphantly made co-parenting works, even if their relationship didn't.
Winnie Hollman & Jack Nicholson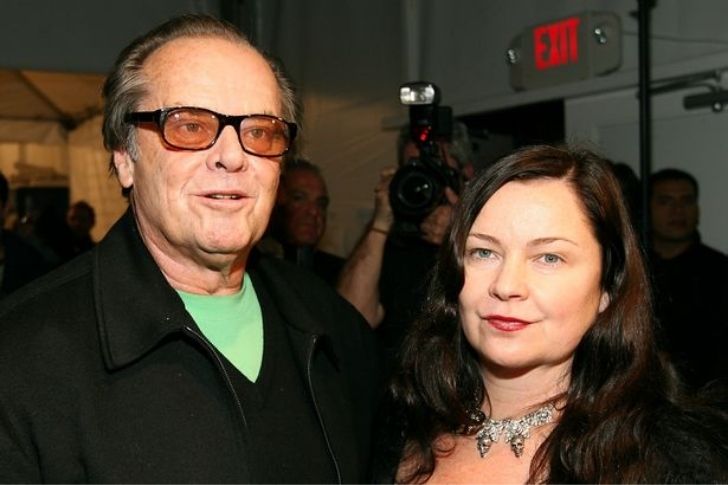 Hollywood star Jack Nicholson has appeared in over sixty films during his entire career and was nominated for twelve Academy Awards, which is a record for male actors. He considered working as an animator but ultimately chose to pursue acting. His notable film credits include Carnal Knowledge, Terms of Endearment, A Few Good Men, and The Shining. Jack quickly landed the A-list ranks and starred in more blockbuster movies.
The actor also dated several women during the height of his career, including Danish model Winnie Hollman. In 1980, they dated for two years, and during that time, they had a daughter named Honey Hollman. While their child lives a private life now, she is known to have worked briefly in the show business and had a minor acting role in the Danish movie Empire North. She acted alongside Kristian von Bengtson and Jakob Boeskov.
Will Smith & Sheree Zampino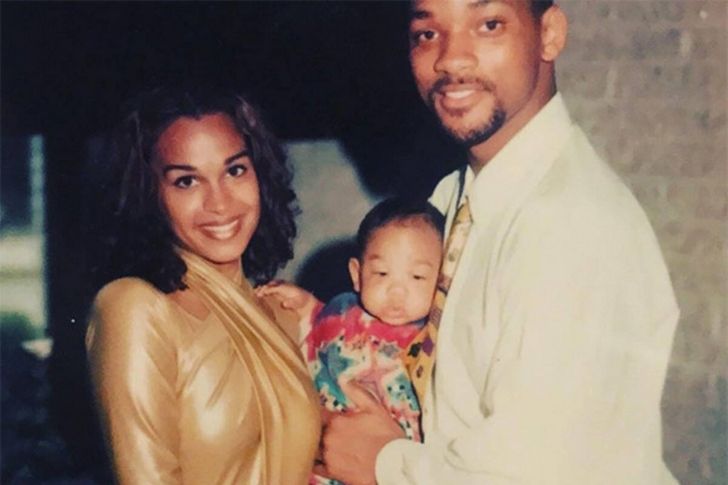 You probably already know that actor Will Smith reached international fame by starring in The Fresh Prince of Bel-Air, a sitcom that ran for six seasons until 1996. He subsequently pursued music and launched four studio albums. He later won the first Grammy ever for the newly-created Rap category in 1988. Will was paid $500,000 to star in Six Degrees of Separation, a 1993 film for which he received critical acclaim. Around this time, he was married to Sheree Zampino.
Before Jada Pinkett came into the picture, there was Sheree, the mother of the actor's first son. Their child, Willard Carroll "Trey" Smith III, was born in November 1992. Trey was only three years old when his parents separated. While growing up, he followed in his father's footsteps in Hollywood and appeared in several TV shows, including All of Us.
Wendy Williams & Kevin Hunter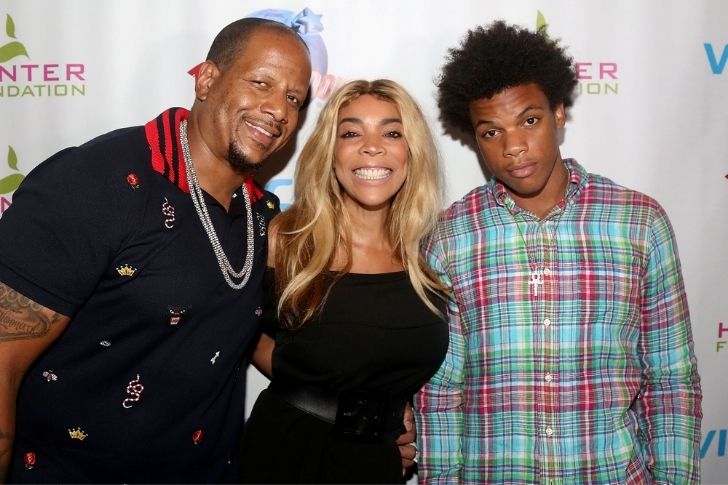 Wendy Williams gained a degree of notoriety for her on-air spats with celebrities on her nationally syndicated eponymous television talk show. Her other endeavors include appearances in various films and television shows, authoring several books, and launching her own fashion line, wig line, and jewelry collection. It was also reported that her annual salary is $10 million, making her a highly successful personality in the entertainment scene.
In November 1997, the talk show host tied the knot with her second husband, Kevin Hunter. Three years later, their son, Kevin Hunter, Jr., was born. Sadly, in April 2019, the pair decided to separate. Their child is now 20 years old and is very supportive of his mom. Kevin Jr. currently attends college in Miami. While he's pretty much living a life away from the limelight, it's still a possibility that he'll someday pursue a career like his mom's.
Vanessa Morgan & Michael Kopech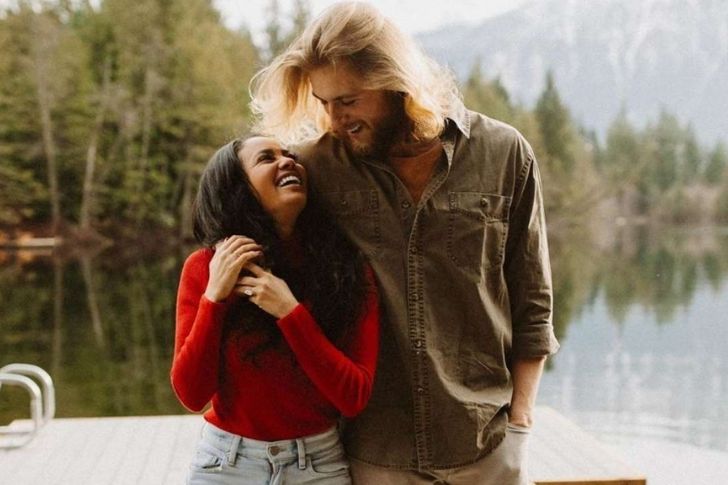 Vanessa Morgan upscaled her credit reports when she appeared in the TV series Riverdale as Toni Topaz. She debuted her acting career in the 2000 film A Diva's Christmas Carol. From there, she has worked in a series of television shows until she became a regular cast on Riverdale.
As for her personal life, she became engaged to baseball player Michael Kopech in July 2019. The pair walked down the aisle six months later at the Historic Walton House in Homestead, Florida. Forty guests witnessed the nuptials. Just several months into their marriage, though, Michael said that they have separated, even though the actress was pregnant with their child — it was a devastating announcement that shocked their fans. In January 2021, Vanessa recently gave birth to their baby boy. Despite their split, Michael has been by her side while giving birth to their child.
Tracy Morgan & Megan Wollover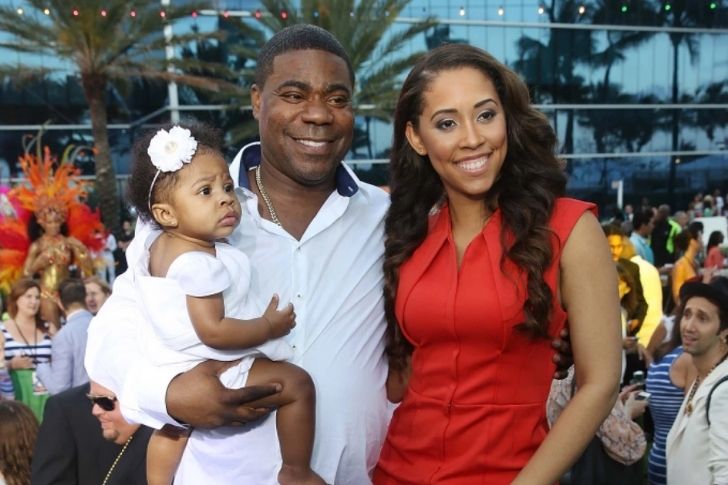 If you've ever watched 30 Rock, then you're very much familiar with this funny guy. Tracy Morgan skyrocketed to fame for his Emmy-nominated performance in the sitcom. He currently stars in the comedy The Last O.G. as Tray Barker— a show for which he also serves as executive producer.
Tracy met model Megan Wollover on a blind date in 2011. That same year, he popped the question to Megan, to which she said yes. The comedian announced their engagement on the red carpet at the 2012 Emmys and tied the knot on August 23, 2015. A total of 150 guests joined the couple in their celebration. Unfortunately, Tracy hired some lawyers in July 2020 to help finalize his separation from his wife. Details about the cause of their rift are still not disclosed to the public. The former couple also has a daughter, Maven Sonae, born in 2013.
Tom Hanks & Samantha Lewes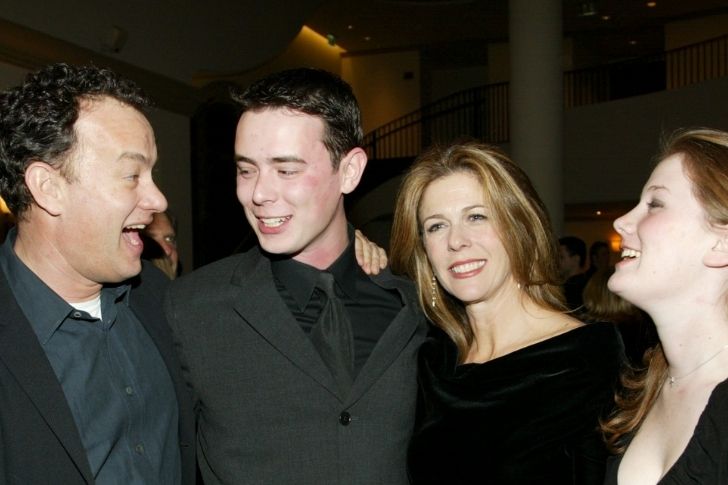 Considered one of Hollywood's living legends, actor Tom Hanks certainly captured our hearts ever since he began appearing on the silver screen. His films have grossed almost $10 billion worldwide, and we are still enamored with his performances in Forrest Gump, Cast Away, and Sleepless in Seattle.
In 1978, the actor married his college sweetheart, Samantha Lewes, shortly after their eldest child's birth. The pair had two children, Colin and Elizabeth. Tom and Samantha decided to part ways in 1987, and their choice was hard for them and their kids. "I was not ready to take on those responsibilities," the actor revealed in an interview. However, they remained friends and continued to co-parent their kids until Samantha's passing in 2002. Colin, like his famous dad, became an actor, director, and producer. Elizabeth, on the other hand, is a writer with a handful of professional credits.
Tobey Maguire & Jennifer Meyer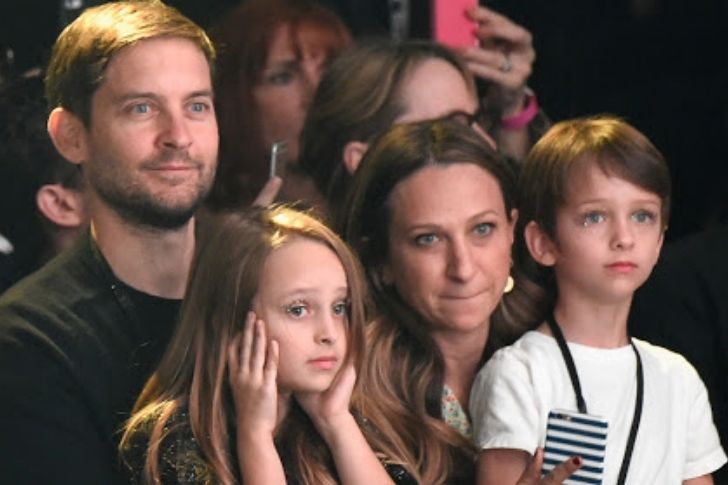 He reached the height of his Hollywood career as Spider-Man or Peter Parker, all thanks to director Sam Raimi. Actor Tobey Maguire's performance in the film franchise won him the Best Actor from Saturn Awards, and not just that, but he also captivated millions of audiences all over the world. He starred in other blockbusters, such as The Great Gatsby and The Good German. In 2012, Tobey ventured into other business investments, including his own production company, Material Pictures. Around this time, he was married to jewelry designer Jennifer Meyer.
The duo met on the set of the film Seabiscuit in 2003 and became engaged three years later. In 2007, they exchanged vows and were blessed with two kids, Ruby Sweetheart and Otis Tobias, who are now in their teenage years. Sadly, nine years into their marriage, the actor and the designer chose to go on separate ways.
Taye Diggs & Idina Menzel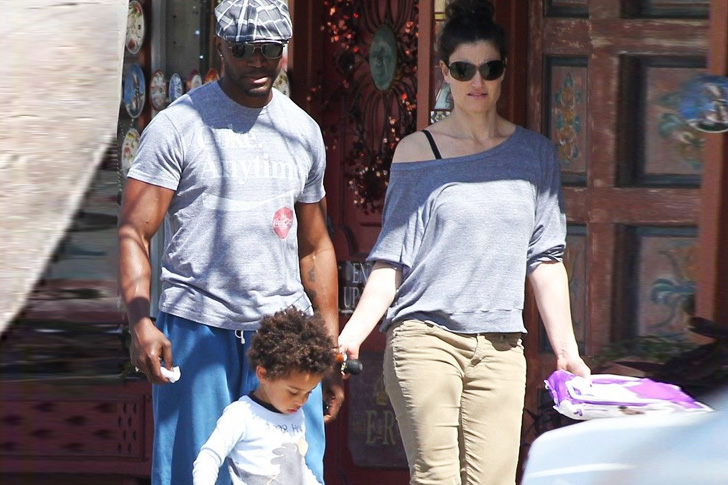 They used to be one of Hollywood's power couples. Taye Diggs and Idina Menzel tied the knot in 2003 and separated in 2014. Unfortunately, they went on their separate ways after 11 years of marriage. The two share one kid, Walker Nathaniel Diggs, who is now 11 years old.
The two met on the set of the hit stage show Rent in 1995. Since then, fans had been rooting for them. According to Diggs, the incredible degree of attention they received took a toll on them at times. On the other hand, Idina admitted they also went through tough times just like any other couples, though it might have to do with their schedules too. Anyhow, despite their split, the ex-couple made sure they would remain amicable for the sake of their kid. Diggs and Menzel now have a healthy co-parenting relationship and are on the same page when it comes to raising Walker.
Tim Allen & Laura Deibel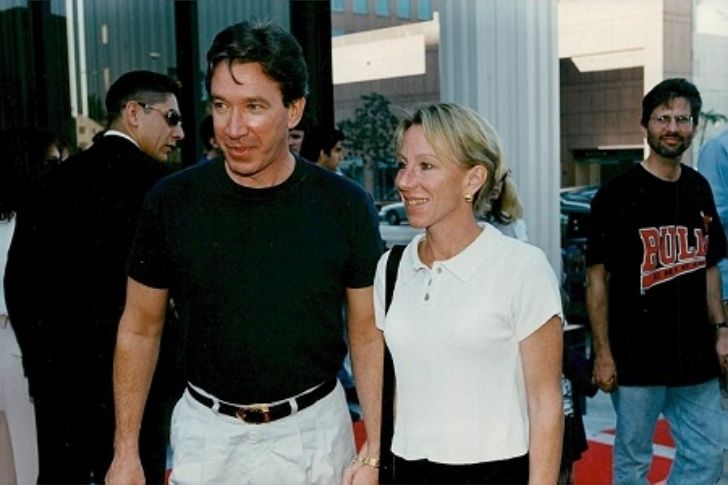 Tim Allen is widely known for his comedic roles in films and television. He appeared in the Santa Clause film trilogy, Home Improvement sitcom, and he currently stars in the ABC/Fox sitcom Last Man Standing as Mike Baxter. Over the years, he has collected a net worth of $100 million and probably acquired insurance to secure his family's future.
Talk about family, Tim married his first wife, Laura Deibel, in 1984, and they had a private ceremony. They met each other while attending Western Michigan University. Five years into their marriage, she gave birth to their only child, Katherine. However, Laura filed for separation after 15 years of marriage. Katherine, now 32 years old, shies away from the spotlight and does not attend her father's red carpet events. Nevertheless, she remains close with her dad and her step-mom, Tim's second wife, actress Jane Hadjuk.
Tiger Woods & Elin Nordegren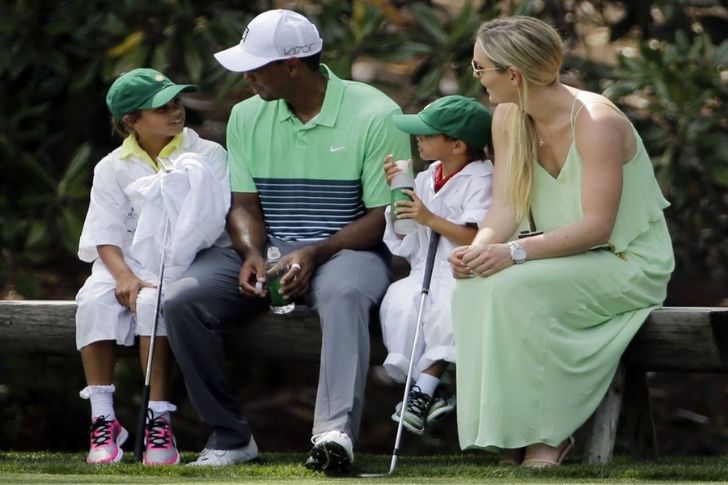 Born Eldrick Tont Woods in Cypress, California, Tiger Woods was introduced to golf at a very young age. His father, Earl Woods, taught him the sport when he was just merely two years old. Tiger wowed the audience when he appeared on That's Incredible! at age five and showed off his exceptional skills. While growing up, he won four consecutive years in the Junior World Championships. From there, Tiger became a highly regarded golfer and won numerous accolades, including 15 major professional tournaments.
In November 2003, the golfer became engaged to Swedish model Elin Nordegren. They exchanged vows on October 5, 2004, at a resort in Barbados and then lived at Isleworth, a suburb of Orlando, Florida. Their first child, Sam Alexis, was born in 2007, followed by their son, Charlie Axel Woods, in 2009. The former couple and their attorneys finalized their separation in 2010.
Teresa Barrick & Steven Tyler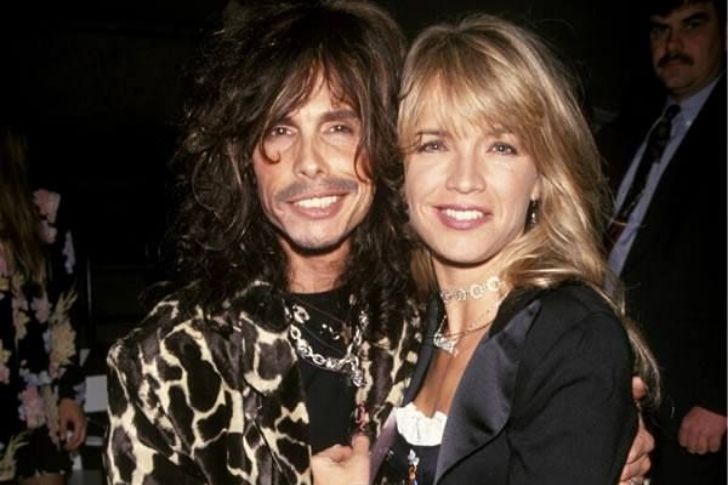 Born Steven Tallarico in Manhattan to Victor Tallarico, a musician, and Susan Ray, a secretary, Steven Tyler became interested in his father's music pursuits at an early age. As you probably know, he formed the band Aerosmith in the late '60s but only became popular in the mid-'70s. Since then, they hit mainstream success and became a worldwide phenomenon with their hit songs, including I Don't Want to Miss a Thing.
In the following decade, Steven met fashion designer Teresa Barrick at the band's recording studio. Due to their shared interest in music, the two easily connected and began dating. They tied the knot in 1988 but separated in 2006. The pair has two kids together: a daughter named Chelsea Anna and a son named Taj Monroe. Chelsea briefly acted and appeared on Lizzie McGuire, while Taj earned a degree in music.
Tamara Hood & Eddie Murphy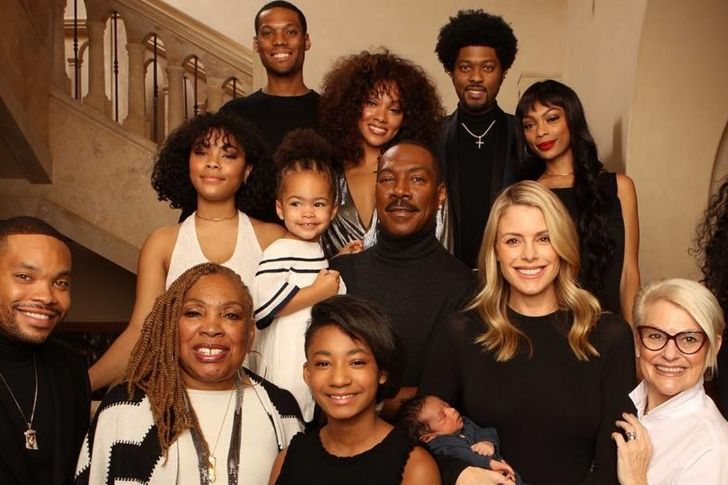 Eddie Murphy is undeniably one of the highest-grossing actors in film history. As of today, his movies have grossed over $6 billion at the worldwide box office. It was also announced that Netflix paid him a hefty sum of $70 million to air his comedy specials, making it a wise investment. The comedian also ventured into writing and producing films, including his own projects.
In the '90s, Eddie began a short-term relationship with Tamara Hood, with whom he has a son named Christian. Like his father, Christian also dabbled in acting and starred in a few feature films from 2002 to 2011. He appeared in The Shield, Cougars Inc., and Love Cures Cancer: Take a Chance on Love II. He is also a doting brother to his nine siblings: Eric, Bria, Miles Mitchell, Shayne Audra, Zola Ivy, Bella Zahra, Angel Iris, Izzy Oona, and Max Charles.
Susan Anspach & Jack Nicholson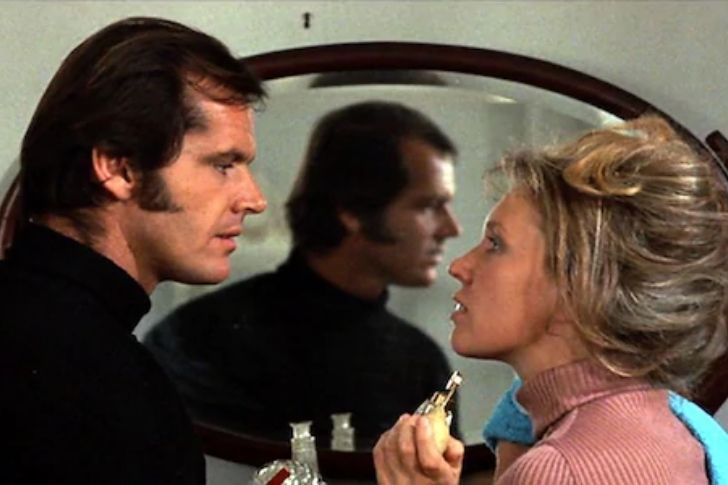 Just as you thought we're done with actor Jack Nicholson, well, you're wrong. As we previously mentioned, he dated several women in the past. While filming Five Easy Pieces, Jack met actress Susan Anspach. The actress claimed that her son, Caleb James Goddard, is fathered by the Something's Gotta Give star— a claim that the actor denied. However, it was alleged that at some time between 1988 and 1994, Jack helped out Susan financially in order to put Caleb through college and to steer clear from student loans.
While growing up, Caleb followed his parents' footsteps in Hollywood. He appeared in an episode in the 1988 TV series The Slap Maxwell Story and the crime comedy movie Guilty as Charged in 1991. Shortly after working as a writer and producer in New York, he went on to live a quiet life.
Steven Tyler & Bebe Buell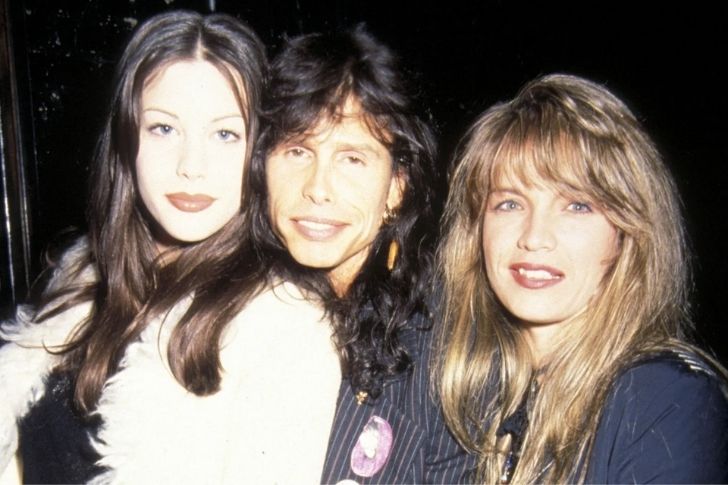 Aside from a lengthy musical career, Steven Tyler continued to make waves in the entertainment scene. He made several film and television appearances, including Wayne's World 2, Saturday Night Live, and Two and a Half Men. He also spent his resources in a string of investments, including designing for Dirico Motorcycles in 2007, in collaboration with inventor/engineer Mark Dirico.
The rock icon began a brief relationship with fashion model Bebe Buell in 1976. A year later, they gave birth to Liv Tyler, who is now a popular actress. Liv is best known for her role in the Lord of the Rings film trilogy as Arwen Undómiel. She is also remarkable for her lead role in Armageddon, Inventing the Abbotts, and Cookie's Fortune. She is currently in a relationship with sports and entertainment manager David Gardner, with whom she has two kids.
Steven Spielberg & Kate Capshaw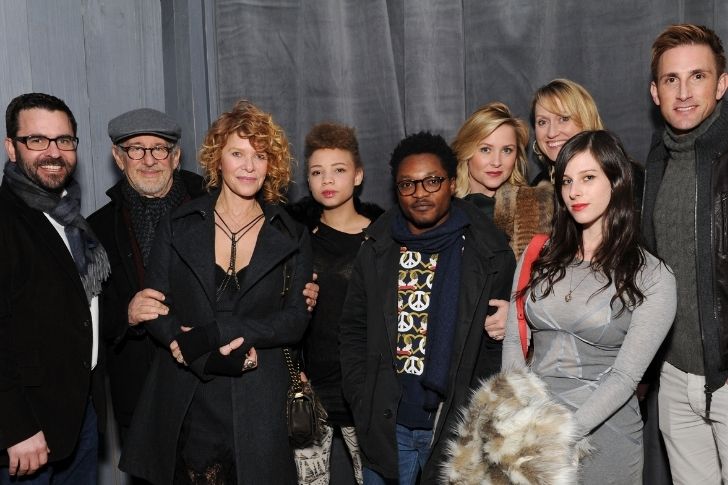 With a net worth in the multi-billions, renowned filmmaker Steven Spielberg must have hired a number of financial advisors to help him with his money affairs. He is now the second-richest celebrity in the world, behind his good friend and fellow director, George Lucas. While filming Indiana Jones, Steven developed a relationship with Kate Capshaw, an actress whom he tied the knot with back in 1991.
The couple has six children, including two adopted kids and another two from a previous marriage. Theo, Jessica, Sasha, Sawyer, Destry Allyn, and Mikaela all share the same interest in the film industry. In fact, the kids have had small roles in some of Steven's films, such as the 2017 film The Post, where Sasha played a woman holding a package and Sawyer played as a plaza protester. Jessica, on the other hand, portrays Arizona Robbins in Grey's Anatomy.
Steven Craig & Sally Field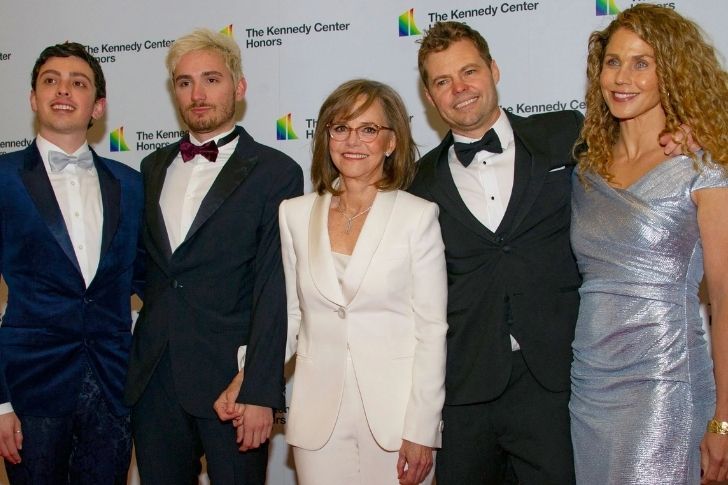 Smokey and the Bandit star Sally Field has graced the movie industry with her talent and stunning looks for years. However, behind the spotlight, she is also a superstar to her three children, Peter Craig, Eli Craig, and Sam Greisman. She used to be married to Steven Craig. The pair tied the knot in 1968 and then had their first son, Peter, in 1969. After three years, the former couple had their second child together named Eli in 1972.
Although their early family life was full of love and joy, their relationship didn't work and they decided to call it quits in 1975 when their boys were only toddlers. Even though things didn't go quite right with Steven, and even with her second husband Alan Greisman with whom she had her third son Sam, Sally credits her kids as her everything and the pride of her life.
Sonny Bono & Cher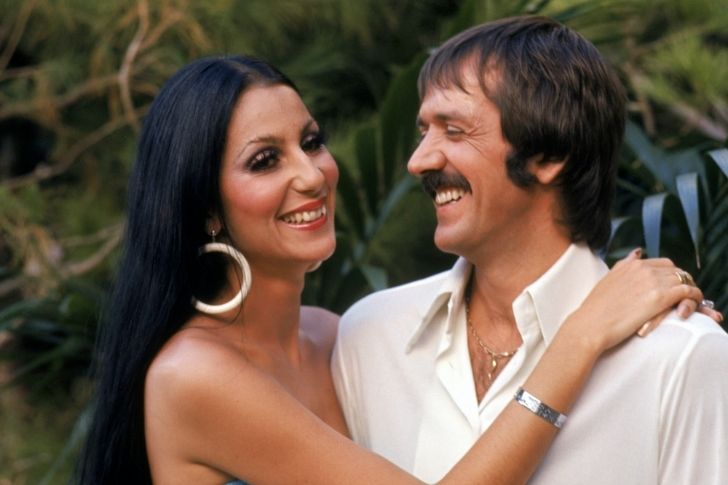 Salvatore Bono was only 27 years old and Cherilyn LaPierre was only 16 years old when they met, became a couple, and rose to fame as the iconic Sonny and Cher. Sonny was already an established musician in the industry when he met Cher in the '60s. She started out wanting to pursue acting but when she began her career as a backup singer to Phil Spector, she was discovered as a talented singer. She and Sonny were roommates at this point and as her career flew to a great degree, her relationship with him also developed.
Their first song together was Baby Don't Go and it reached the top 10 instantly. In 1969, Cher got pregnant with their child that they named Chastity Sun Bono, or who is now more popularly known as Chaz Bono. The couple tied the knot after the birth of Chaz but soon had a very messy separation.
Solange Knowles & Alan Ferguson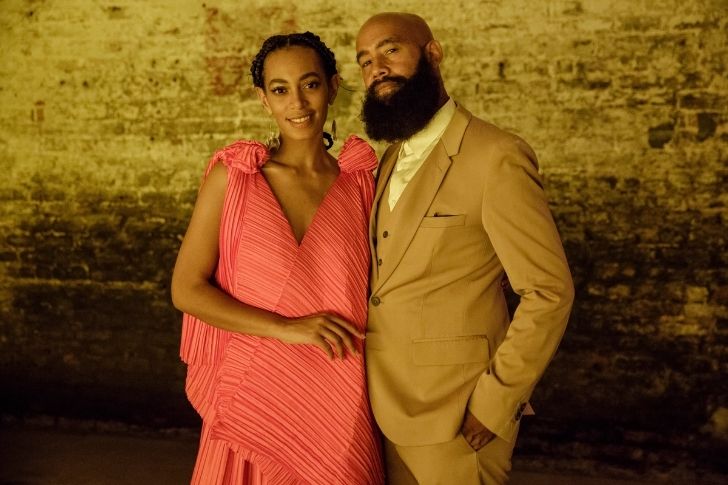 Alan Ferguson and Solange Knowles tied the knot in November 2014 at the Marigny Opera House in New Orleans. Although the two have dated for a while, Solange used to be in another relationship back when she was just a teenager.
She married Daniel Smith at the age of 17 and became pregnant with his son. This is Solange's only child up until now. She and Daniel hired attorneys to help them finalize their separation in 2007 so her son joined her and Alan in their new blended family. Even then, things soon turned sour between Solange and Alan and they decided to go their separate ways as well. Even so, Solange still continues to prioritize her son through everything. She and her sister Beyoncé have been said to be great moms to their kids, according to a lot of people.
Shaquille O'Neal & Shaunie O'Neal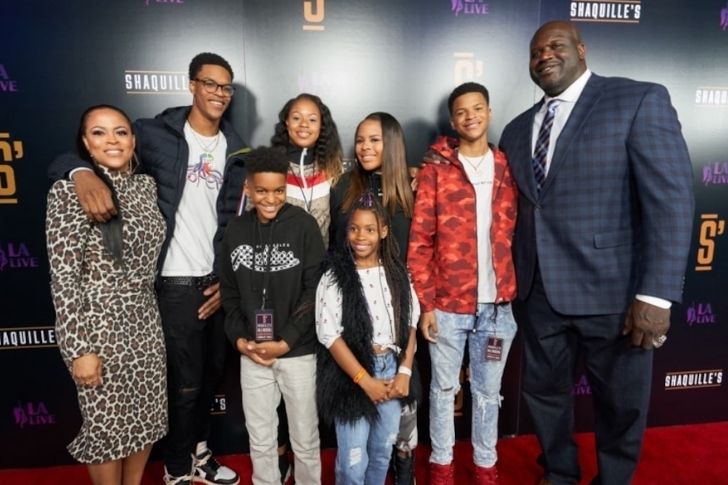 Shaquille O'Neal is a superstar on the basketball court. He is also a great father to his kids. He has been with a few women and has had kids with two of them. His girlfriend from before was Arnetta Yardbourgh, and when she and Shaq were still together, they had a daughter named Taahirah. Unlike her siblings, she preferred to live a quiet and peaceful life, complete with home security.
On the other hand, the rest of Shaq's kids are in love with not only the spotlight but also the ball game just like their dad. Shaquille eventually married Shaunie O'Neal after his split with Arnetta. With her, he had four kids: Shareef, Amirah, Shaqir, and Me'arah. All four kids are active in the basketball world and their parents could not be more proud. Unfortunately, Shaq and Shaunie broke up after some time due to some marital problems.
Shannon Beador & David Beador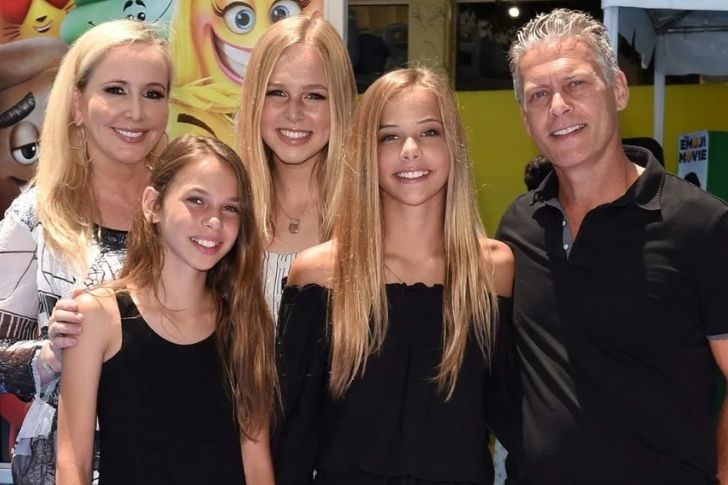 Shannon Beador is most popular for being in the cast of The Real Housewives of Orange County. She was married to David Beador for almost two decades before the two decided to go their separate ways in December of 2017. Because of all the court dealings and the lawyers they had to deal with, the process stretched for two whole years and their split was only finalized in April 2019. They have three daughters together. Sophie is 19 years old, and their twins, Adeline and Stella are now 16 years old.
The pair had a messy split, which involved David claiming that part of the reason he wanted to leave their marriage is Shannon's unhealthy behavior. In the show, The Real Housewives of Orange County, Shannon was seen expressing how devastated she was that David had moved on so quickly after being with her for almost 20 years. Currently, both are now with different partners.
Shania Twain & Robert John Lange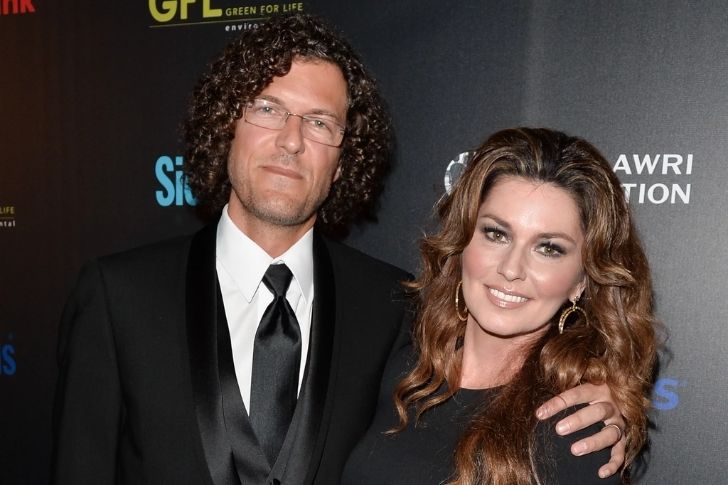 Shania Twain is one of the most celebrated musicians in the industry. She was married to Robert John "Mutt" Lange for a long time before the devastating news came out that he was not faithful to her. In 2008, news came out that Robert was having an affair with Shania's best friend Marie-Anne Thiebaud. Their situation is a degree more complicated because not only was Robert involved with the production of Shania's work but they also shared a son named Eja together. Their separation became final in 2010.
It was quite an eventful time in her life when this happened, but soon, her sadness came to an end and she found love in no other than Marie-Anne's ex-husband, Frédéric Thiebaud. Shania and Frédéric got married in Rincon, Puerto Rico, in 2011 and formed a family with Eja and Frederic's daughter, Joanna.
Sasha Czack & Sylvester Stallone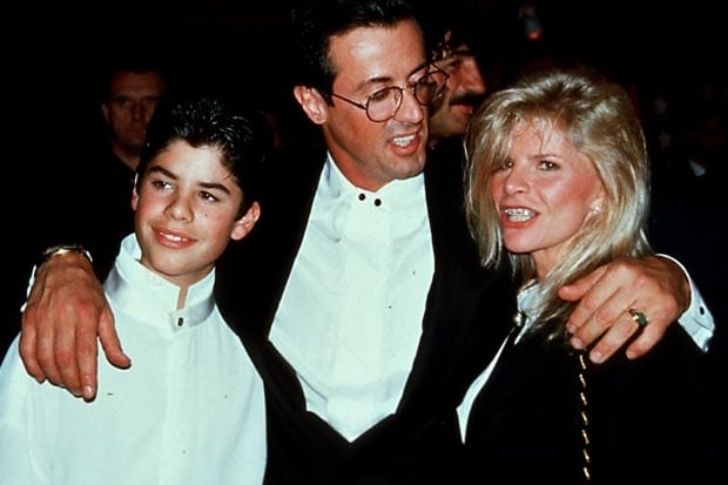 Movie star Sylvester Stallone was always very generous with the work that he put in. He is very popular and his fans all over the world are always in great awe of him and all his film credits. They are also pretty interested in his love life. His first wife was Sasha Czack and during the time that he played the iconic character, Rocky Balboa, he was married to her.
They had two sons together named Sage and Seargeoh. Sage passed away in 2012 because of a health condition while Seargeoh is diagnosed with autism. Sylvester and Sasha called it quits after years of marriage and Sylvester soon married Brigitte Nielsen, and eventually, Jennifer Flavin. Sasha, on the other hand, also ventured on her own successful career while taking care of their son Seargeoh. She has stayed clear from the limelight after her high-profile marriage with Sylvester.
Sandra Knight & Jack Nicholson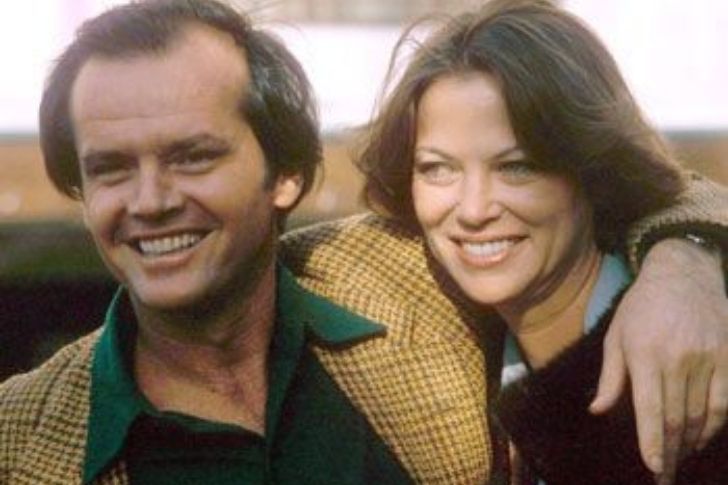 Jack Nicholson is another very popular movie star who has been around for decades. His long list of projects has continuously made him relevant in the industry. Of course, just like any other movie star, his love life was also an eventful and well-followed one. Although he has a total of five kids from four different ladies, he was only ever married to one woman – Sandra Knight.
Out of all of Jack's partners, Sandra was his first love who bore him a child. They were married from 1962 to 1968 and had a daughter named Jennifer. The eldest of all of the Nicholson children, Jennifer was born in 1963 and is now living her own life. Like her father, she already had her share of marriages and meetings with an attorney. Likewise, she already has kids of her own.
Sandra Davenport & Jim Belushi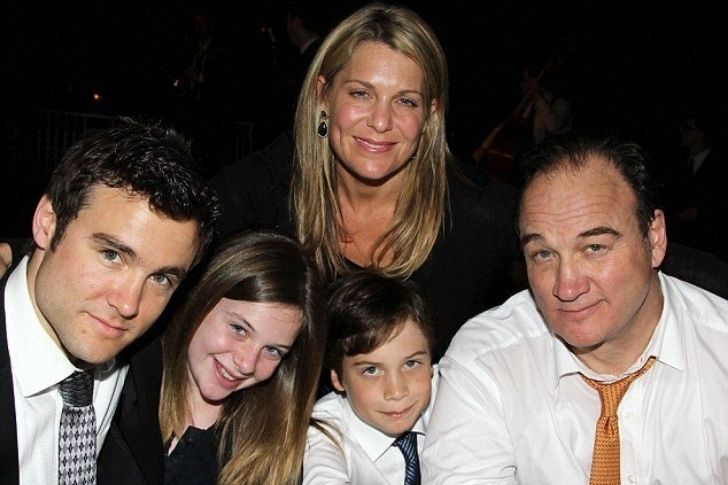 Sandra Davenport and Jim Belushi got married on May 17, 1980. This was Jim's first marriage, but as we all know, he has been involved and became involved with other women before and after this relationship. The couple stayed together until October 10, 1988, when their separation was legalized and finalized. Sandra and Jim were in a relationship for a long time before they decided to tie the knot. Although they had a deep romance, the electricity did not stay long enough and they had to part ways. They did, however, have a child together.
Robert was born on October 23, 1980. Now all grown up, he followed in his father's footsteps as an actor. He is slowly making his way up to the Hollywood A-listers. One of the most notable appearances he has had was on the hit TV series How I Met Your Mother.
Sam Shepard & Jessica Lange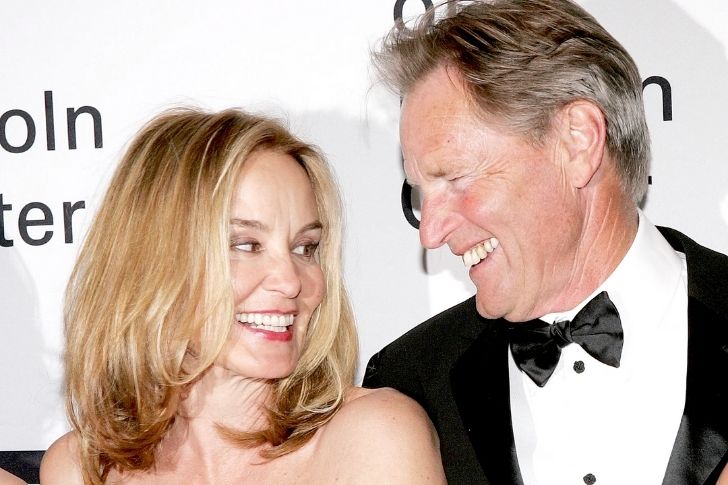 Sam Shepard and Jessica Lange met on the set of Frances. From the making of that movie, the two became a couple and shared the next three decades together. They started dating in 1982, and although they were never married, they lived together as a family. They had two kids together, and soon, their relationship and their family became one of the most ideal ones in Hollywood.
Although they were both very famous people, they kept their private lives to themselves. That's why it was such a shock when they announced their breakup in 2009. Even though it was a hard time, they still said nothing but good things about each other. When Sam died in 2017, Jessica expressed her sadness over the news. She recognized the degree of impact that he left in her and their kids' lives. She spoke very kindly of him through the great loss.
Ryan Phillippe and Reese Witherspoon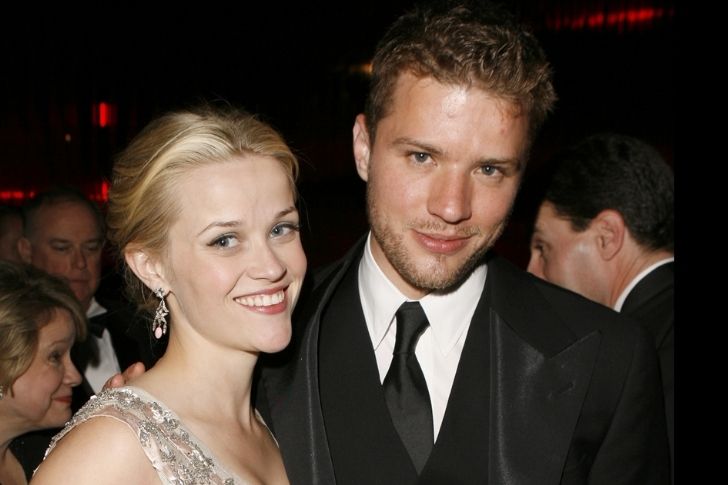 Reese Witherspoon's 21st birthday party was the reason she met Ryan Phillippe. In 1997, he was present at the event, and Reese, who spotted him, approached him and said that he must have been a gift sent to her that day. Since then, the two dated and slowly rose to become one of the most popular celebrity couples in Hollywood. Within only a year of dating, they got engaged and got pregnant with their first child.
They tied the knot in 1999. Reese walked down the aisle six months pregnant. They had Ava, their firstborn shortly after that. Within four years, they had Deacon, their second kid soon after. The couple was celebrated as their family and their investments were growing. In 2006, however, they decided to part ways. Ryan said in an interview that the marriage probably didn't work because they were both so young and things happened very fast.
Roxanne Tunis & Clint Eastwood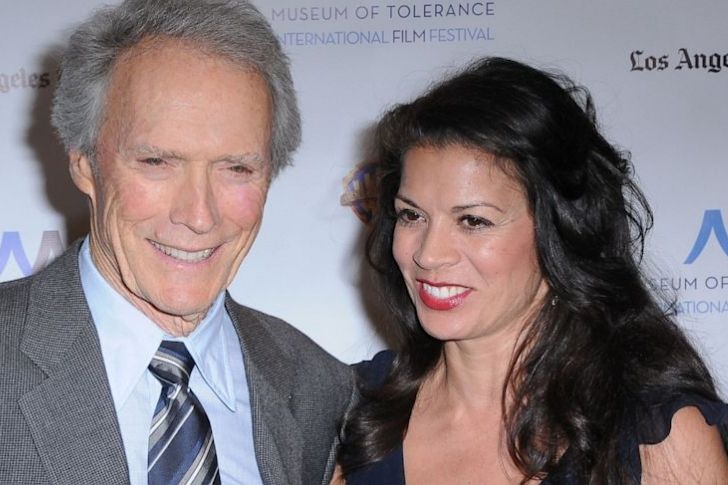 Roxanne Tunis and Clint Eastwood first met in 1959 on the set of Rawhide. They dated then but Clint was actually married at the time to Maggie Johnson. According to reports, Clint did not tell Roxanne that he had a wife. Soon he and Maggie parted ways and Roxanne and Clint stayed together for 15 years.
When they parted ways, Clint was said to pay a huge amount of investment money to Roxanne in exchange for keeping quiet about their relationship. They had a child named Kimber who was born on June 17, 1964, in Los Angeles, California. She grew up to be artistic just like both her parents. Having film and the love of storytelling in her blood, she is also an actress and a film producer. She has been married thrice already and is currently with her third husband, Shawn Midkiff.
Robyn Moore Gibson & Mel Gibson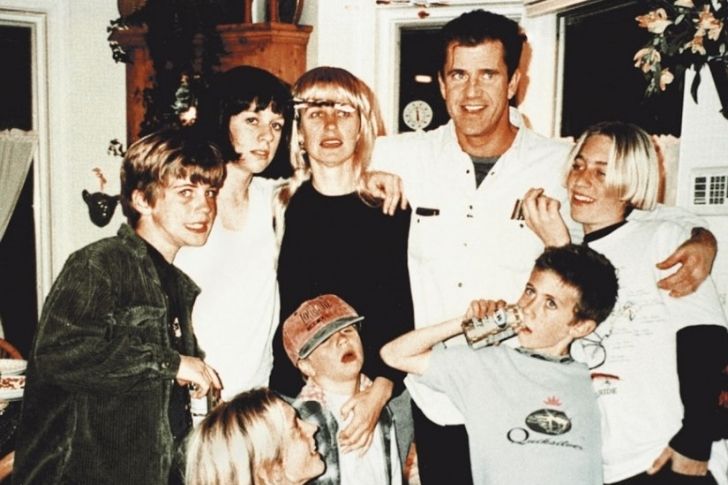 Robyn Moore and Mel Gibson first met during the '70s when Mel was not yet a world-famous actor. He was employed in an Australian-based theater company while Robyn was a dental nurse. They were living in the same apartment and their relationship started from there. They got married on June 7, 1980, in Forestville, Australia. They had seven kids together during their marriage. They had one daughter named Hannah and six sons named Edward, Christian, William, Louis, Thomas, and Milo.
Due to the high-profile identity of Mel, he really tried hard to protect his family. Their huge estate was probably equipped with the best home security system possible. After 26 years of being together, though, Mel and Robyn decided to call it quits on their marriage because of irreconcilable differences. During the process, Mel agreed to give half of his huge net worth to Robyn.
Robert Redford & Lola Van Wagenen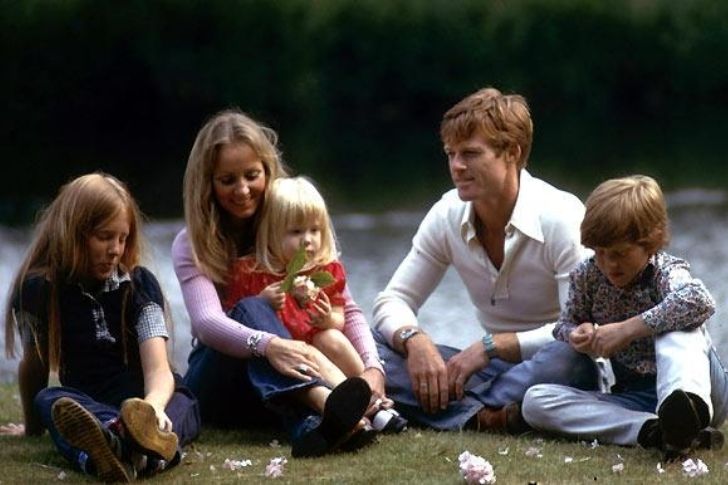 Lola Van Wagenen and Robert Redford got married in 1958. Although they had a wedding that was shown to the public in Las Vegas, some sources say that their romance actually started way before that and that they had already gotten married in secret beforehand. They had four kids together during their marriage. Scott Anthony was born in 1959 but passed away at only one month old; Shauna Jean was born in 1960; David James was born in 1962; and Amy was born in 1970.
In 1985, Lola and Robert got a lawyer to help them with their separation. They said that irreconcilable differences were the reason for their decision. On top of that, Robert was known to have been struggling with substance abuse during their time together. Life in Hollywood must really take a toll on a celebrity's personal life and family.
Robert Evans & Ali MacGraw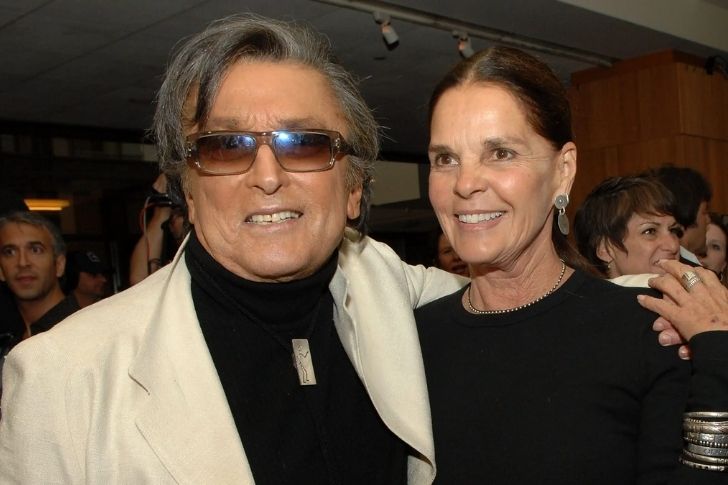 Robert Evans and Ali MacGraw got married on October 24, 1969. Their only son, Josh Evans, followed in the footsteps of his talented parents. Just like them, he ventured into the entertainment world and became a producer, an actor, a screenwriter, and a director.
Robert and Ali called it quits on their marriage in 1972 when Ali became involved with Steve McQueen on the set of the film The Getaway. Ali left him in 1978, and she and Steve got married shortly after that. However, Robert and Ali learned to forgive each other and became good friends. In fact, she was with Robert when he got his Hollywood Walk of Fame star in 2002. When he died in 2019, Ali said that she, Josh, and their family missed Robert very much and that his works in the industry truly inspired a lot to a great degree.
Robert Ellis Silberstein & Diana Ross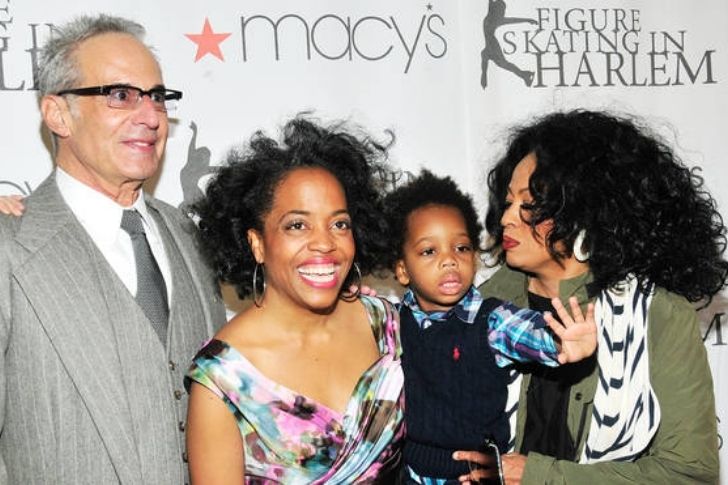 Diana Ross is one of the biggest names in Hollywood. Her beauty, grace, and talent have impacted Hollywood so much that it has never been the same since the Diana Ross era. She rose to fame when she was with her band, which also takes credit for her legendary fame – The Supremes. She also delivered some of the most romantic songs, and even duets, of all time.
Robert Ellis Silberstein was married to the diva from 1971 to 1977. The couple met when Diana was shopping for her then-lover in what seemed to be a shaky relationship. She bumped into Robert and asked him for suggestions on what she should buy as a gift. Apparently, it was love at first sight. Even though their marriage didn't last, their seven years of love created three beautiful souls. Tracee Ellis Ross, 42, is an actress, singer, host, producer, and director. Rhonda Ross Kendrick is a 49-year-old singer, songwriter, actress, and public speaker. Lastly, Chudney Ross is a 45-year-old television producer.
Robert Capshaw & Kate Capshaw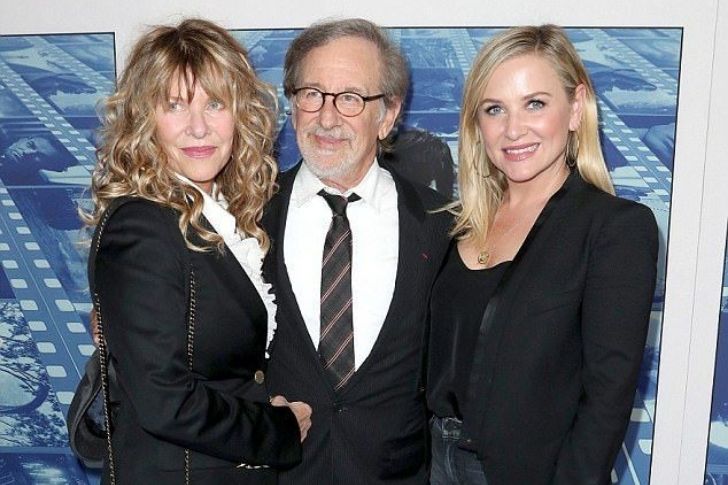 Robert Capshaw and Kate Capshaw got married in 1976. However, even though they clearly gave all of their love, effort, and time as investments in their marriage, it didn't last the way they wanted it to. In 1980, the couple decided to go their separate ways.
They formed a love that is eternal and their one and only child, the beautiful blonde Jessica Capshaw is proof of that. The 44-year-old actress is perhaps best known as a regular cast in the hit medical TV show Grey's Anatomy. She is now married and has a family of her own. She is pretty successful as well and is close with both her mom and dad. She is also close to her half-sister. When her mom fell in love with the legendary Steven Spielberg, the two had a child named Mikaela. She is now in her 20s and even when she is pursuing a different career, her sister Jessica is always out to support her.
Richie Sambora & Heather Locklear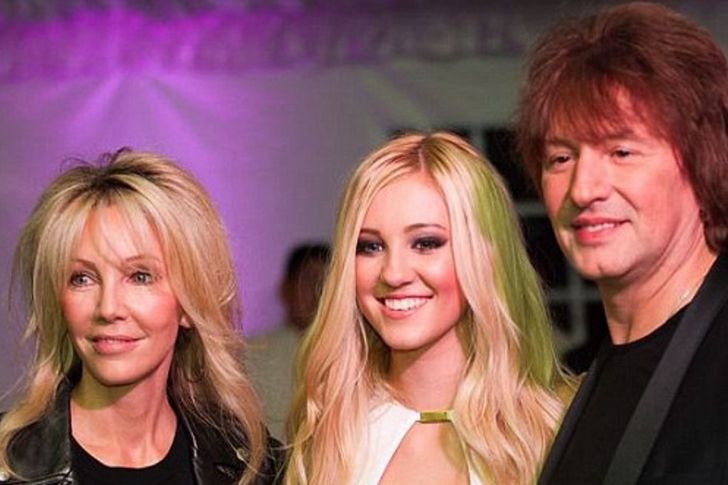 As the lead guitarist of the rock band Bon Jovi, and as the best friend of Bon Jovi himself, Richie Sambora belongs to the Hollywood A-listers. If not, then to the Hollywood legends. The rock star and Heather Locklear tied the knot in 1994. They got married in the city of love – Paris. Credits to the saying "opposites attract" because it appeared to be true for these two. They made each of their differences their strength.
Unfortunately, some good things never last, and in 2007, they have mutually decided for their marriage to come to an end. Richie and Heather have a daughter, Ava Sambora, who is a 23-year-old beautiful blonde model living in L.A. The two remain supportive of each other amidst Heather's struggle with Richie when she was helping him cope with what she referred to as her former husband's very challenging time.
Richard Taubman & Christie Brinkley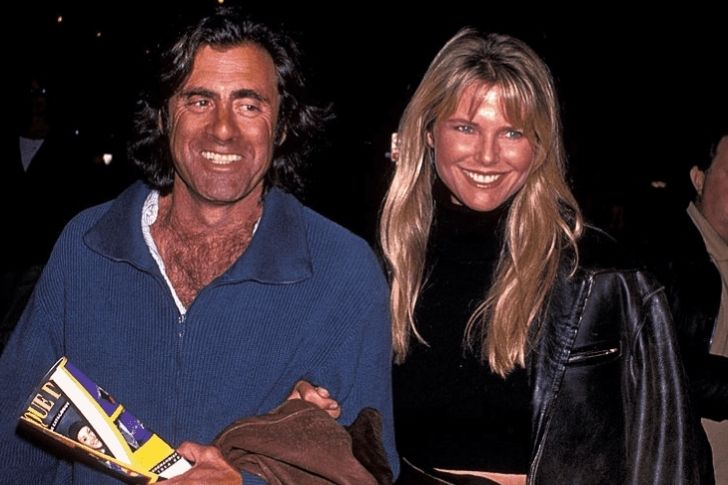 Real estate developer for celebrity houses Richard Taubman fell in love and eventually popped the question to supermodel Christie Brinkley. Credits to her instantly recognizable good looks, charm, and wit, any man who has met her that day would've probably also fallen in love with her at first sight. The two met at the Telluride ski resort in Colorado in 1994. Richard couldn't let the opportunity pass by him and made things official with his lady.
Unfortunately, their marriage only lasted a year, but that was enough for them to bring into this world another perfect human being. Just like his parents, Jack Paris Brinkley Cook is gorgeous, smart, active, driven, and everything that Christie and Richard are. The 25-year-old handsome young lad is a model and a socialite. He is so handsome that he is often mistaken for a real-life Disney prince. He's got the perfect hair, eyebrows, with a jawline to match the whole package.
Rebecca Broussard & Jack Nicholson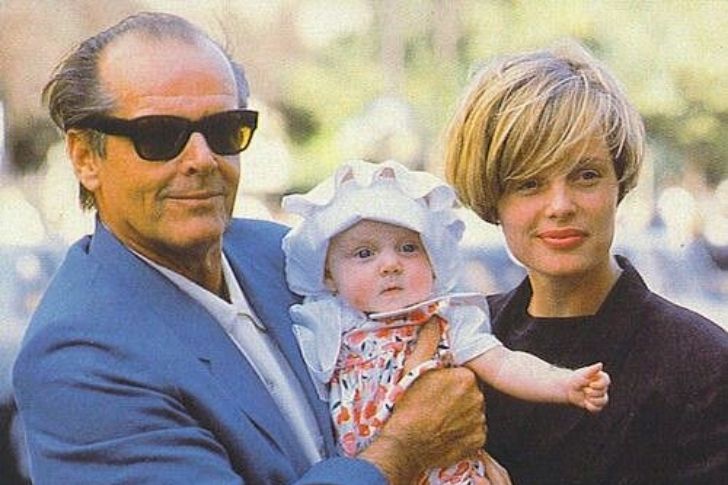 Credits to Jack Nicholson, we have seen some of the most remarkable films of all time. His performances are absolutely breathtaking, to say the least. He is an award=winning actor with humor, charm, and wit that can never be out of style.
Our legend was head over heels for the beautiful Rebecca Broussard. The two have worked together in films such as The Two Takes, Man Trouble, and more. From 1989 to 1994, they lived together. The iconic actor mentioned that he is not very good at cohabitation, which is most likely what caused the separation before. However, he said he is great with love, relationships, and being unashamed of his life. Even though their relationship ended, the memory of being together is forever alive by the presence of their two children. Lorraine Nicholson is a 23-year-old beautiful blonde actress while Ray Nicholson is 29 years old and has also pursued acting. With his grin and dark hair, Ray looks just like his dad.
Raymond Hill & Tina Turner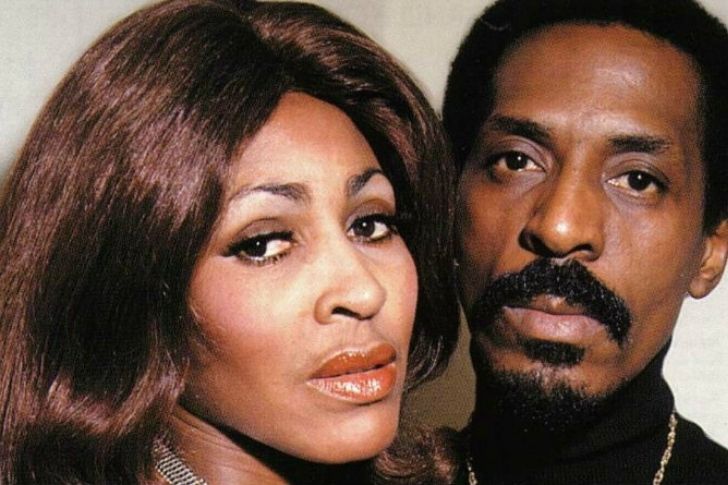 Tina Turner is one of the biggest names in Hollywood. She has brought us some of the most unforgettable performances, music videos, concerts, and songs of all time. The diva was born by the name of Ann Bullock, and at 17 years old, she was a band vocalist. That's where she met Raymond Hill. Raymond was later adopted by a family of Turners, but not Tina's family, since the last name Turner is just a stage name for the pop royalty. We must give them credit for being able to keep up with everyone along the way who attempted to ask this funny question.
The two have been partners for years, and they were living together peacefully, and in love. The tenor saxophonist passed away in 1996. It broke the hearts of those who love him, and one of those people for sure was Tina. He wasn't just the love of his life once; he was also the father to her child. They only have one kid together, named Raymond Craig Turner.
Ray J & Princess Love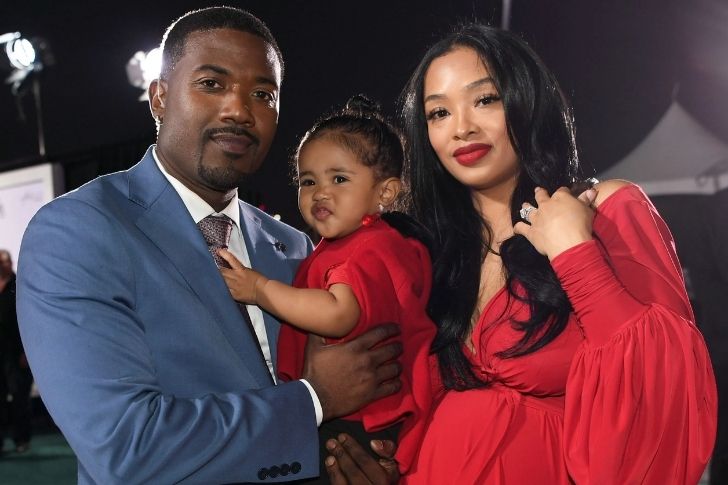 William Ray Norwood Jr, also known as Ray J, is a popular musician and producer. He is the first cousin of the legendary Snoop Dogg. He and the long-time love of his life, the Afro-Asian video vixen and fashion designer Princess Love was always meant for each other. Even their fans went wild when the two announced that they got engaged, and then they tied the knot, up to the time when they were pregnant. The beautiful Princess Love and the artist have been married since 2016. They have two kids together – Epic Ray, 1, and Melody Love Norwood, 2.
Things started to get a little rocky by the end of last year. The couple is still trying to resolve their issues since the legal separation has not been finalized yet. They are surely considering it though, but just because they are both considering it, doesn't mean it is any easier. As for Ray J, he has regrets, second thoughts, and heartbreaks over the split. He always gets emotional in interviews about it. Whatever is the endgame for these two, we sure hope they would be willing to make an investment in their relationship again so that they could stay connected for their kids.
Raquel Welch & James Westley Welch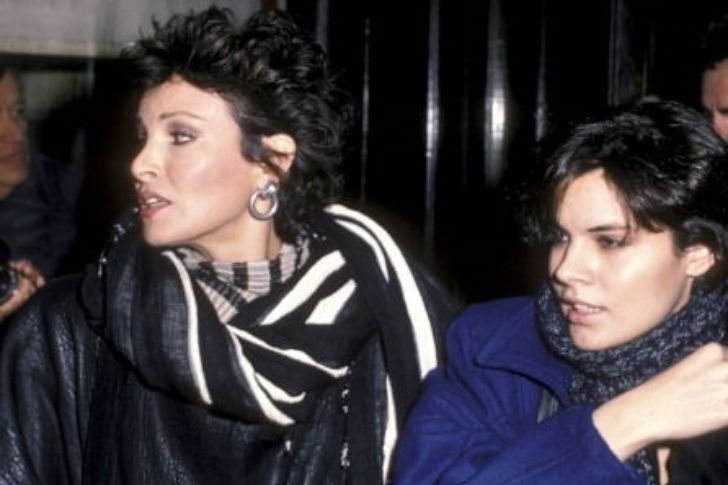 Raquel and James Westley Welch were married from 1959 to 1964. All credits to this couple for raising two decent children, now all grown up. Tahnee Welch is 59 years old and was a former model. She takes on her mom's figure that's for sure. Damon Welch is also doing well as an actor at the age of 61.
Raquel is one of the most beautiful women in the world. She was the epitome of beauty and figure. She was the envy of many in a good, inspirational, and motivational sort of way. Raquel was also the crush of so many men. She was able to capture people's attention from afar or from the screen because of her undeniable appeal. She was born a natural beauty and it's a gift. Some of her nicknames are "Miss Fairest of the Fair", "Miss La Jolla", and more.
Rachel Bilson & Hayden Christensen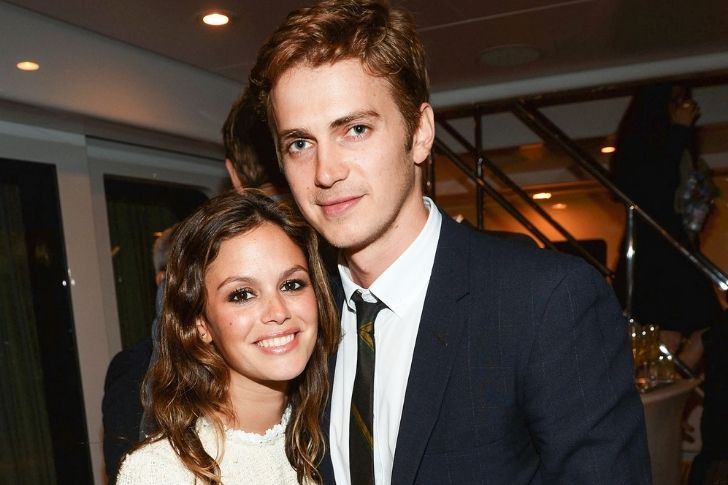 Hayden Christensen and beautiful brunette actress Rachel Bilson were married for ten years. Before all of that, they were lovers, so we are guessing it's safe to say that their entire relationship is actually more than a decade. In fact, it is closer to being two. They were engaged way back in the past, long before they got married.
Although Rachel was rumored to date actor Bill Harder, and Hayden has quite moved on as well, we must give them credit for being so good at co-parenting. Lately, the dark-haired actress revealed that it was so much fun that during this difficult time, they were able to co-parent their kid together. Sometimes, even at the same house. We are guessing that their partners don't mind, especially since their only child, Briar Rose Christensen is the cutest 6-year-old in the whole wide world. Now, who could ever resist that?
Priscilla Presley & Elvis Presley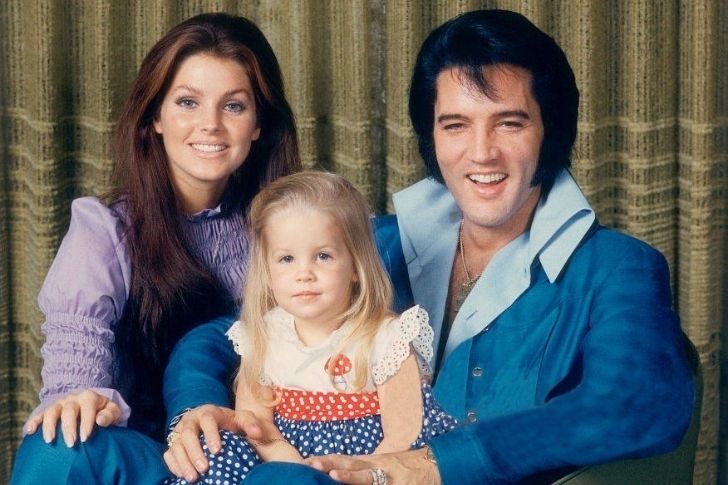 Priscilla Presley and Elvis Presley are a celebrity couple we have heard about more than a hundred times in our lifetime. It is because they are one of the most legendary couples of all time. Even though we hear different stories from each side, the specific cause of their breakup remains undetermined.
Still, both Priscilla and The King poured out all of their investments in making their marriage work, but it still didn't. Elvis met Priscilla at a very young age, and at the time, he was a bit hesitant to pursue the young lady. She would often beg her parents to go out with him even with chaperons and just for an hour. The two tied the knot in 1967 and their marriage ended in 1973. Priscilla confessed that her husband never looked at her the same way after her childbirth. Their only child, Lisa Marie Presley, has struggled with losses of her own, too. Elvis passed away on the 16th of August, 1977. According to Lisa, Elvis was the best dad.
Pierce Brosnan & Cassandra Harris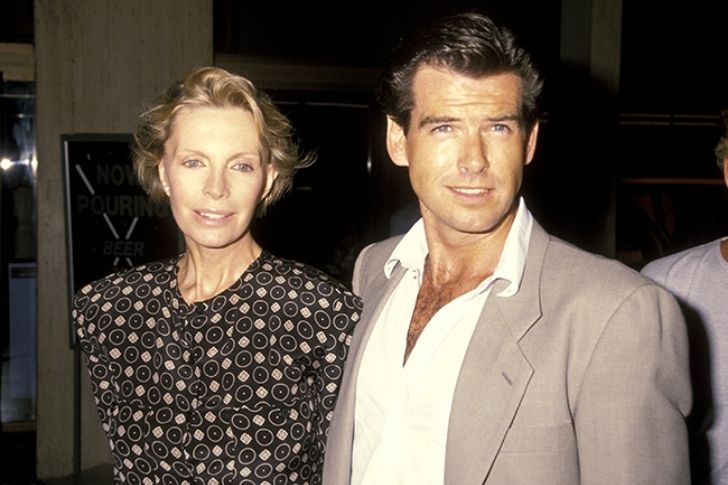 Pierce Brosnan is one of the world's most favorite actors to portray the iconic role of James Bond. We all know him as a singer and dancer as well; all credits to his new movies the Mamma Mia! sequel. Pierce is currently a happy-go-lucky husband so in love with his wife Keely Shaye Smith whom he refers to as the mysterious woman who always manages to make him weak, or rather, take his breath away.
Before all of that, Pierce was married to the beautiful Australian supermodel and actress Cassandra Harris. Together, they had three kids. Her passing in 1991 was a sad time, almost unbearable to her fans and family. Most especially, to her kids – Sean Brosnan, a 37-year-old actor, Christopher Brosnan, a -old director, and Charlotte Brosnan. Charlotte was the couple's daughter who, unfortunately, passed away as well. At 41 years old and a mother of two, she went to a better place in 2013 due to a health complication.
Peter Halsey Cook & Christie Brinkley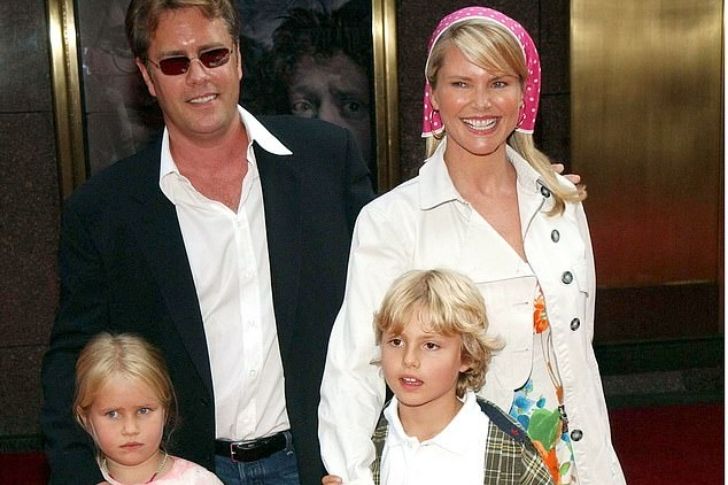 Model, actress, and entrepreneur Christie Brinkley was one of the most sought-after actresses during her time. Credits to her key to success, which was the Sports Illustrated cover, it helped make her a phenomenon. From then on, she was an icon and an inspiration to many. She was also a beautiful goddess during her time.
Christie met the handsome Peter Halsey Cook, and in 1996, they got married. It was a blessing for her since Peter was a non-showbiz personality and that means they could keep their marriage and their family away from the spotlight. However, in 2008, the two mutually decided to legally separate. They have one daughter, Sailor Lee Brinkley-Cook. She is a 22-year-old model, social media "influencer", and socialite. She is also a blonde beauty just like her mom. Christie and pPeter are both doing fine on their own, with Christie being the supportive former wife even when her former husband is about to say his "I do's" again to a 21-year-old beautiful college student.
Paige Butcher & Eddie Murphy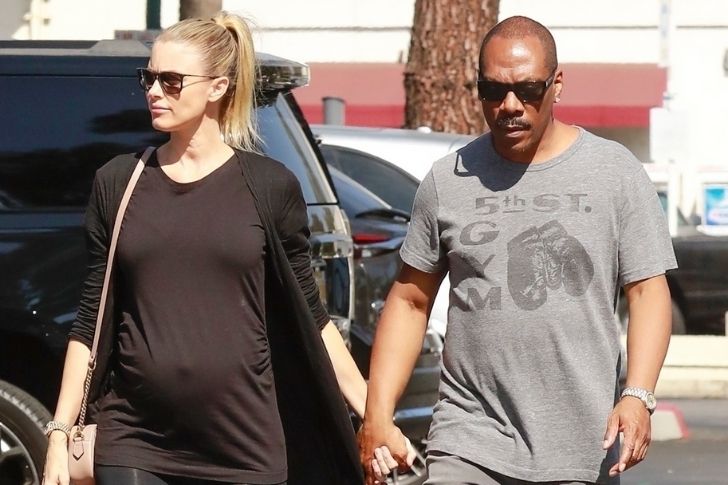 Paige Butcher and Eddie Murphy have been together for a very long time. We should give our funny legend credit for his relationship with the gorgeous model for it is one of his relationships we can call a keeper. They have also been a model couple to interracial couples around the world, and also, to those who don't quite believe in the power of marriage papers right away.
The two have been partners since 2012. Eddie recently popped the question, and she said yes, of course! The two are now engaged. False rumors from time to time give out speculations that these two are heading for separation or are splitting up. There are sources stating that the two decided to live in different houses across the street from each other. None was confirmed. By the looks of it, they are going strong. Their kids Izzy Oona, 4, and Max Charles, 2 are healthy and joyful children. The legendary icone never gushes about his fiancé from time to time, telling the world how proud he is of her.
Olivier Martinez & Halle Berry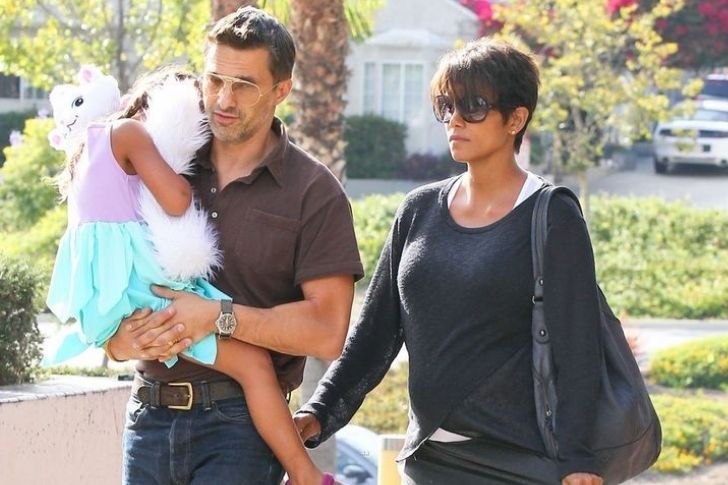 Halle Berry is one of the biggest names in Hollywood. She is an actress, a model, and a businesswoman. She wisely made investments in her own line of French lingerie. She also modeled for it, and considering her beauty and figure beyond compare, women are getting hyped about her products. The award-winning actress has been involved in a few controversies in her lifetime. She is also not afraid to speak her mind. She is a former beauty queen, and so much more, but above all that, she is a mother.
She and Olivier Martinez were married for three years before the marriage fell down the rocks and ended. Although the pair confirmed that even from the start, their romance had always been a rocky romantic, bittersweet road. Seven years after the birth of their one and only child, Maceo Robert Martinez, he now looks just as good as mommy and daddy do. He also has a mixed-race look which makes his visuals more interesting.
Olivia Wilde & Jason Sudeikis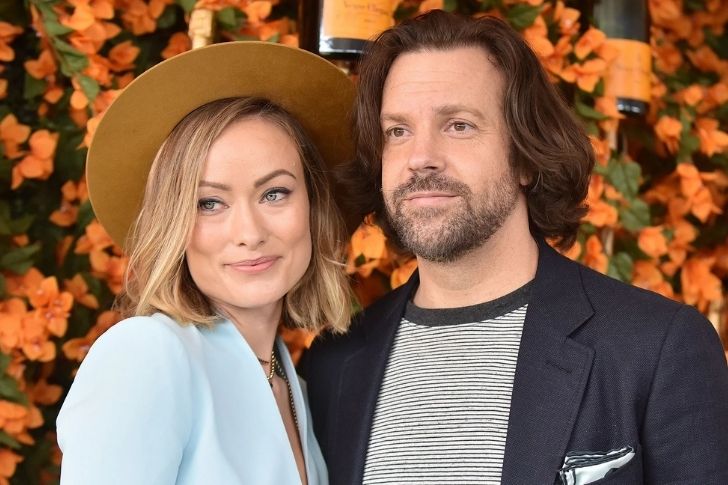 Olivia Wilde rose to fame in the 2010s after becoming a regular on the hit medical TV show House. She is also a public speaker, and now, a businesswoman. She has also decided to put investments into the production side of the industry. So far, her first few years have turned out to be quite a success. She made her directorial debut with the film Booksmart in 2019 and is attached to a few more projects.
She and her former partner Jason Sudeikis called it quits not so long ago. After almost a decade together, they became parents to two kids: Otis, 6 years old, and Daisy Josephine, years old. Their children look up to them so much. Luckily, they appear to be co-parenting very well despite their past conflicts. They both said that their children are their utmost priority.
Oksana Grigorieva & Mel Gibson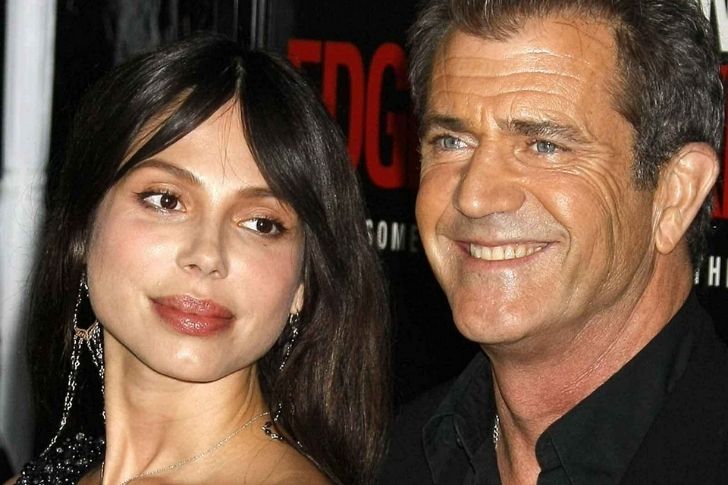 Mel Gibson rose to fame when he appeared in blockbuster films like Mad Max and Lethal Weapon. He even achieved a certain degree of recognition as a director through the films Braveheart and Passion of the Christ. It wasn't until his relationship with Oksana Grigorieva that Gibson made headlines for something besides his achievements. He began seeing the Russian pianist in 2007. It was a rocky relationship from the get-go. The saga of their turbulent romance came to an end in 2010, five months after they had their baby, Lucia.
It's not often that 11-year old Lucia is spotted out with her popular father since the actor-director is very private when it comes to his family. Still, thanks to her mama's social media accounts, we get to see a glimpse of Lucia's charm now and then. She certainly inherited her parents' good looks!
Christina Milian & The-Dream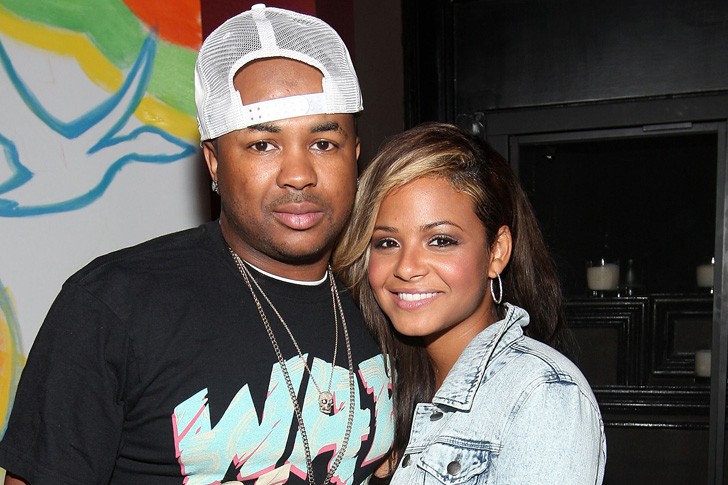 Christian Milian and The-Dream, real name Terius Nash, confirmed their split after just less than a year of marriage. Although the separation happened in late 2009, they only revealed it to the public in mid-2010 to protect their daughter, Violet Madison Nash.
Despite the issues Milian and Terius faced at the start of their separation, they are now amicably co-parenting their child. The 39-year-old actress is even proud of the friendship they have established today. In an interview, she said they always put Violet first in whatever they do. Their separation hasn't affected the way they raise their child. As she and Terius now have their respective new partners and families, Violet has other siblings on both sides. When they want the kids to meet together, they don't mind spending extra cash on gas to let them bond on special occasions.
Ne-Yo and Monyetta Shaw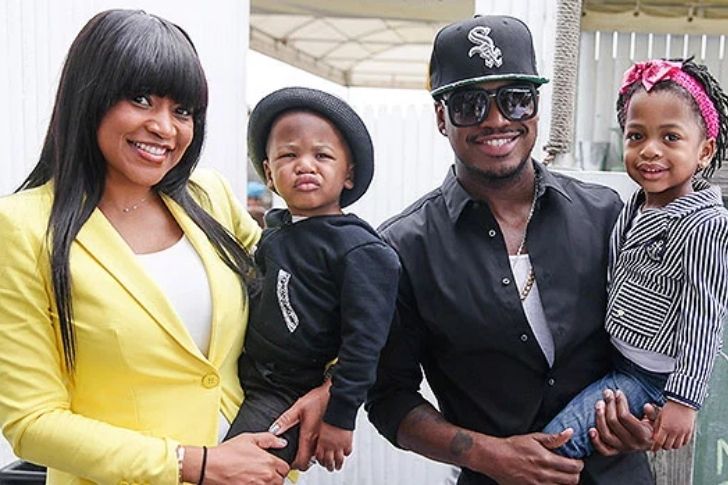 Their separation did not happen overnight, but we are just glad that they are now happy with their respective partners while maintaining a close bond. Former DJ Monyetta Shaw met Ne-Yo at a Jamie Foxx concert in Louisiana. They exchanged numbers and dated soon after. Ne-Yo and Shaw were together for several years, but her love and patience were not enough to keep their romance alive. The pair mutually decided to call it quits in 2012.
Their separation brought a different degree of pain to fans and to their kids, Mason and Madilyn. However, despite their parents' separation, the children are surrounded by good energy. It's no wonder the children are happy. The friendly exes are setting an excellent example for their kids. Now ready with her kids to tackle the new year, Shaw is as proud as any mother could be.
Nicole Mitchell Murphy & Eddie Murphy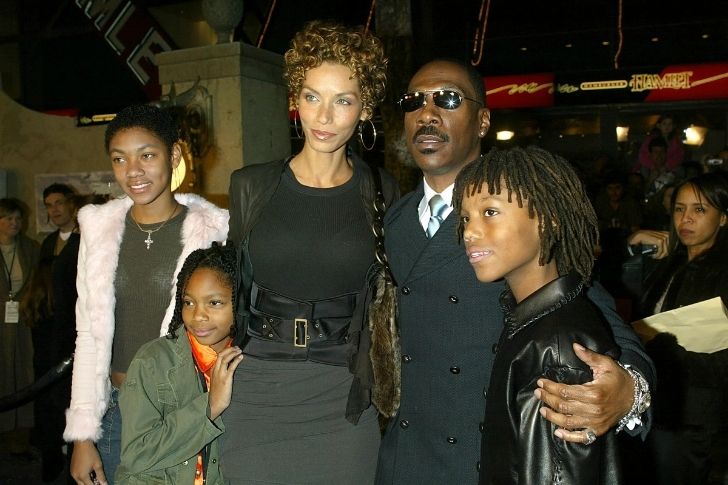 When they first met, Nicole Murphy was a model in Italy who walked the runways, and Eddie Murphy was the hottest stand-up comic and movie star at the time. The two dated for several years and got married in 1993. After 12 years of being together, Nicole sought her lawyer's help to file a legal separation from Eddie.
While the two may not be in a relationship now, they have always maintained a close bond over the years. After all, the couple shares five children: Bria, Myles, Shayne, Zola, and Bella. Following their mom's footsteps, Bria, Shayne, and Zola are currently carving their paths in the modeling industry. Bria also entered the acting scene just like her dad, appearing in some TV series and films like The Perfect Match. Their marriage may not have ended in happily ever after, but Nicole and Eddie have set the standard for successful co-parenting.
Nicole Kidman & Tom Cruise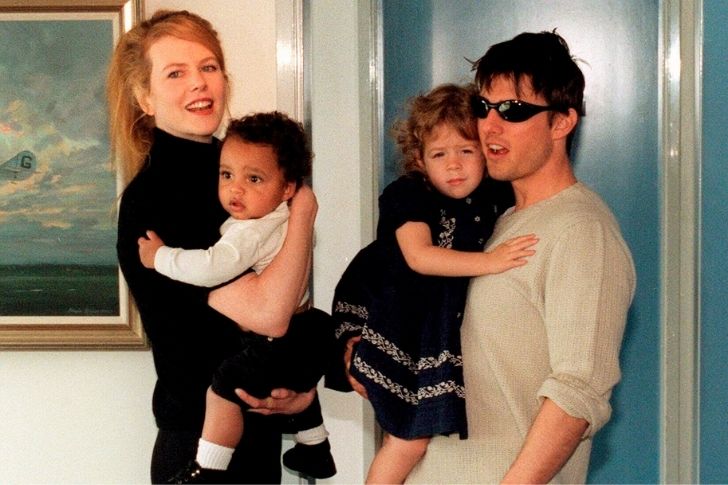 Nicole Kidman and Tom Cruise were once one of the biggest couples in the limelight. With their career investments and fortune, their separation was something we never saw coming. The former couple were married in December 1990 and adopted two kids, Bella and Connor. The two were filming the movie Eyes Wide Shut when news broke that they were calling it quits. Although many people claim that his beliefs created a divide between the two, Kidman said that there were a lot of small things that contributed to their split.
Their two kids are now all grown up. Connor starred in two films before pursuing his passion of deep-sea fishing. He is now married to his wife, Silvia Zanchi, and resides in Florida. Speaking of Bella, the 28-year-old is now a fashion designer and married to Max Parker. The siblings keep a low profile, but sometimes share updates on Instagram.
Nicolas Cage & Alice Kim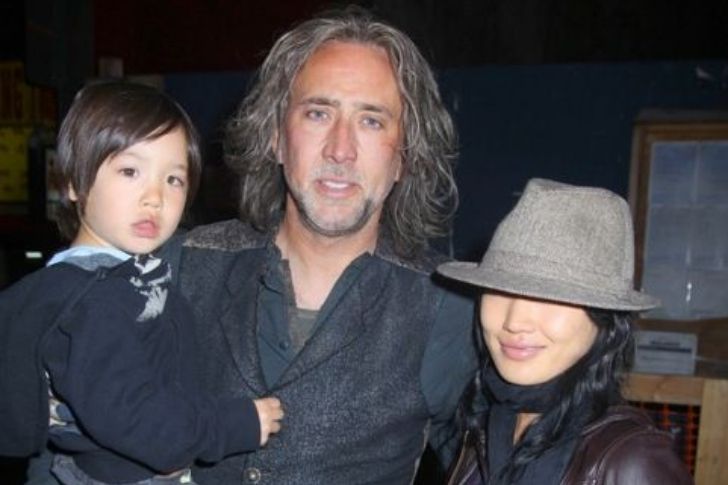 It hit the Hollywood scene like an avalanche when Nicolas Cage's almost 12-year marriage came to a sudden end. Looking back to how their love story began, he was already an actor when he met his future wife, Alice Kim. The then 19-year-old Kim was working as a waitress during that time, but their 20-year age difference did not deter them. The two took their love to a higher degree in 2004 when they tied the knot. Unfortunately, their whirlwind relationship ended after being together for over a decade.
Despite the unforeseen events that happened between them, their eleven-year relationship gave them a child, Kal-El. The boy is currently 15 years of age and is striving to follow his father's trail. He secured a role dubbing young Bruce Wayne in Teen Titans Go!: To the Films. We are excited to see more of the young Cage in the future.
Nick Buonfiglio & Amanda Stanton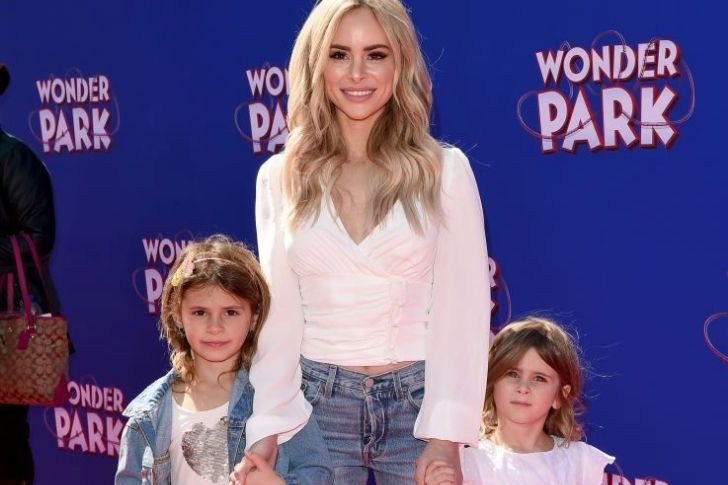 There is no doubt that The Bachelor actress Amanda Stanton is a darling. Well, despite being a sweetheart, she was not lucky in love. If there is something that she considers a life lesson, that would be her marriage to Nick Buonfiglio. The couple got married in 2012, and after a fair share of ups and downs, she decided to end their three-year relationship. Since then, she has moved on to several other relationships while concentrating on her business investments on the side.
Despite it all, they managed to set their differences aside for the sake of their daughters Kinsley and Charlie. Now aged 8 and 6, the girls are very trendy and fashionable, as we see them on their mom's social media accounts. With their love for fashion, we would not be surprised if we see them soon gracing the runway.
Naomi Watts & Liev Schreiber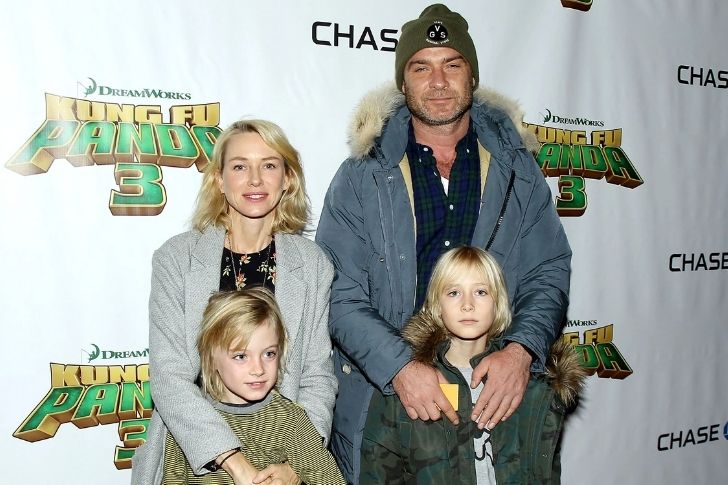 At one point, Naomi Watts and Liev Schreiber embodied love and happiness. While we believed that their deep bond would last a lifetime, the couple proved otherwise, ending their eleven-year relationship. Although both of them have moved on, we are unable to say the same thing. The two met in 2005 at the Met Gala. Schreiber worked his charm and they started dating. Eventually, Watts moved to New York to be with her man. However, cracks later showed in their relationship. Schreiber wanted to focus more on building his family, but Watts wanted to pursue her career investments.
Years of being together brought them their children Sasha and Samuel. While we often see them doing videos together, thanks to social media, we are hoping to see them follow the Hollywood glitz as well. As for now, seeing their parents overcome their rocky patch to co-parent the kids is a relief to their fans.
Miranda Kerr and Orlando Bloom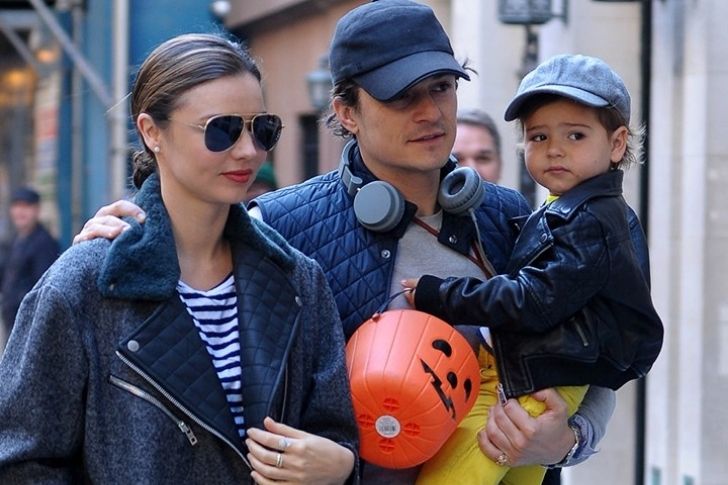 Miranda Kerr and Orlando Bloom were once included on lists of Hollywood's favorite couples. Although the news of their separation broke our millennial hearts, the former pair seem to set a standard when it comes to uncoupling. The Australian model is even friends with her ex and his present partner, Katy Perry. Recalling how their love story started, Kerr and Bloom began dating in 2007 and got engaged in 2010. They wedded after a month and gave birth to their son, Flynn, a year after. Sadly, their relationship ended after six years.
The exes went on with their lives, setting aside their gaps for the sake of now 10-year-old Flynn. He has a promising future ahead of him with his parents' net worth and investments. Their relationship may have failed as husband and wife, but it is undeniable that they have a healthy parental dynamic.
Mikhail Baryshnikov & Jessica Lange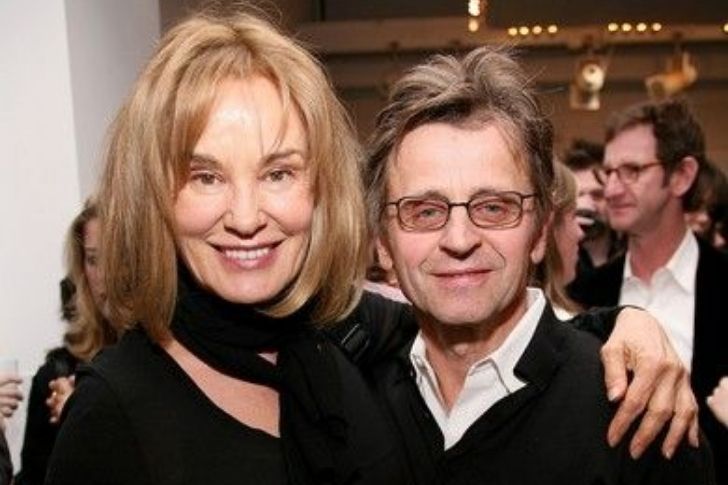 Through the years, Jessica Lange remains to be remarkable amidst the glitz and glam of Hollywood. Her acting prowess was recognized by award-winning bodies, bagging her several accolades. She is best known for her performances in the movies Frances and Blue Sky. Her career investments are immeasurable, but her personal life is another story. In 1976, Lange met Mikhael Baryshnikov, a respected ballet dancer, with whom she has a daughter, Shura. They managed to keep their relationship away from the spotlight until it ended in 1982.
Having seemingly inherited her father's genes, Shura Baryshnikov is now dancing her way to the industry. Aside from gracing the stage through her dance performances, Shura also works as a choreographer. With her movements in the dance scene, fans hope to see her showcase the acting and dancing in her DNA. Her parents must be proud.
Michael Sheen & Kate Beckinsale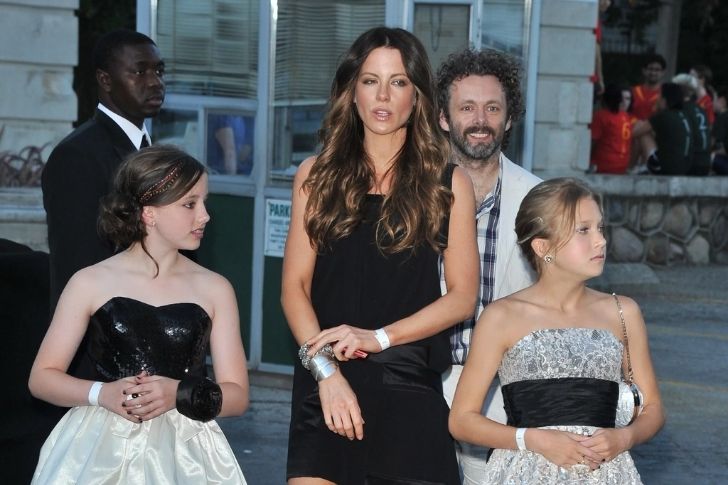 We find it customary in the Hollywood world when couples separate. However, when two celebrities split after being together for almost a decade, it is a different degree of hurt for us. Kate Beckinsale and Michael Sheen were one of the most impressive pairs in the grand scheme of Hollywood. Their relationship's postscript was more thrilling than the sum of their time in the spotlight. According to sources, the couple fell in love during the making of their 1995 film, The Seagull. Sheen and Beckinsale may have gone their separate ways after seven years together, but they remain in contact to co-parent their child, Lily.
Now all grown up, Lily is not only set to inherit her parents' fortune; she indeed has gotten their looks and wits too. Despite their split, they set a platonic ideal setup for their daughter, even spending their holidays together as a family.
Michael Douglas & Diandra Luker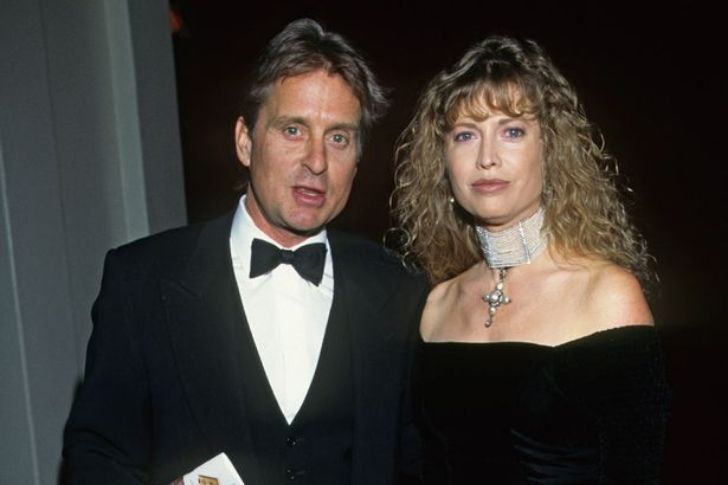 Michael Douglas has established his reputation in Hollywood as one of the industry's biggest actors. Along with his on-screen career investments is a series of ups and downs behind the screen. Unknown to some, the actor was married for 18 years to Diandra Luker before his high-profile marriage to Catherine Zeta-Jones. Luker was just 19 years old when they first met, but their love disregarded their age gap. He proposed to her after dating for just two weeks, and they tied the knot in March 1977. Their whirlwind romance ended in a separation after a decade.
Their son, Cameron, is set to follow his father's path after entering the scene as an actor. Douglas and Luker are now doing their best as grandparents to Cameron's daughter, Lua Izzy. They have successfully kept a civil relationship and now live happily with their respective partners.
Malika Haqq and O.T. Genasis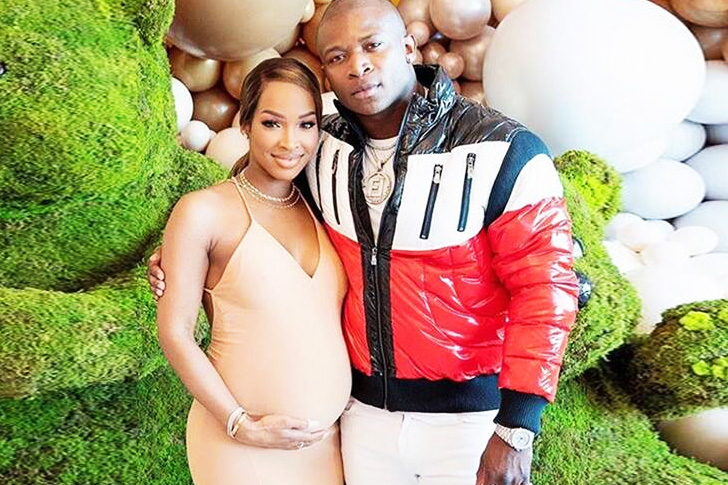 Malika Haqq had a one-year on-again-off-again relationship with O.T. Genasis. Sadly, they called it quits even before Khloe Kardashian's BFF gave birth to their son, Ace Flores. The 37-year-old actress now revealed the reason for their split to her best pal, and it had something to do with their being in two different places in their lives. Haqq decided to stop their romance as it started to get more challenging for them.
Despite what happened, the TV personality revealed they had remained good friends. They are now amicable co-parents to their almost one-year-old baby. The most important thing for her today is getting Ace surrounded by love and positivity, and she gives Genasis credit for helping to give their kid a loving environment. Though there's little chance of them returning to each other's arms, they will continuously love and respect one another.
Mel B & Eddie Murphy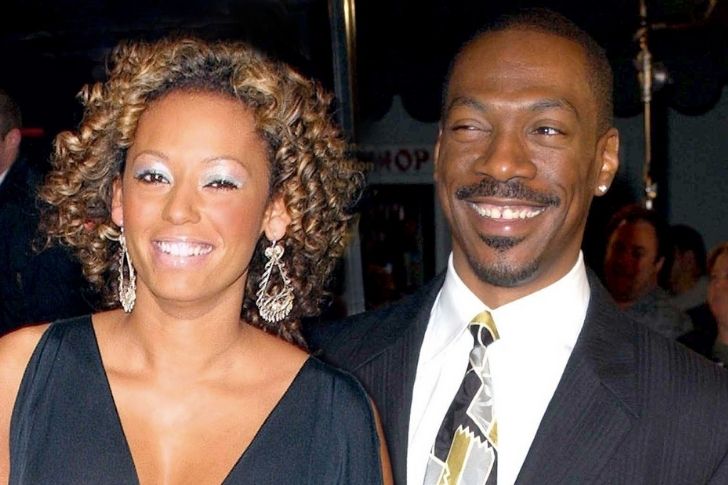 While the fairytale of Spice Girls' Mel B with comedy actor Eddie Murphy never ended with a happy ever after, he will always be her greatest love. It was love at first glance when the two first met during an event at the latter's investment home in Beverly Hills. As their romance blossomed, the couple soon fell deeply for each other. So deep that they even pictured themselves getting married before they had their child, Angel. Just when we thought they were inseparable, controversies emerged, causing the split between the comedian and the Spice Girl.
Aside from the notoriety that comes along with her parents' fame and status, rumors and speculations followed Angel soon after her birth. Luckily, a series of tests proved them wrong. Despite her parents' failure to reconcile, we are just so happy to see a father-daughter bond bloom between the two.
Mary Lee Harvey & Steve Harvey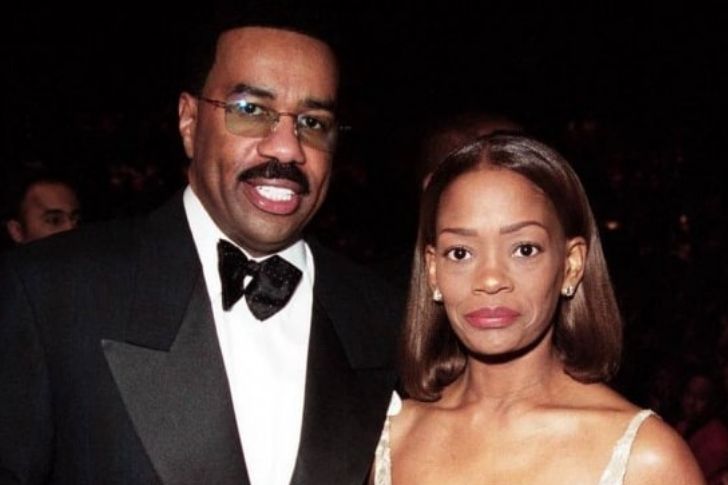 Steve Harvey amassed a great degree of fame and fortune over the years. Outside his comedy acts is an even more colorful love background. His private life was brought into the spotlight after his split from his second wife, Mary Lee Harvey. Their relationship raised eyebrows as it came soon after his first marriage had ended. The couple fell in love immediately, and within a year, they brought their relationship to the next level. Before the formal separation took place, the pair had been together for 17 years.
Their split was made even more difficult because they share a son, Wynton Harvey. He is now attending college at Savannah College. Steve is one proud dad to his kids and even uploaded a video of them on his YouTube channel. Though their love story has ended, it is no doubt that Steve is doing a great job when it comes to raising his children.
Martha & Andrew Stewart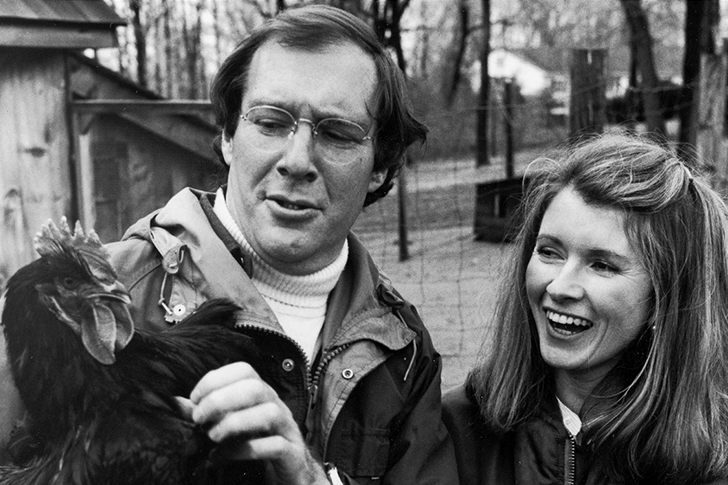 Martha Stewart is a huge TV personality, writer, and retail businesswoman. She is the founder of Martha Stewart Living Omnimedia and obtained recognition after having different business ventures. The entrepreneur encompassed business like merchandising, broadcasting, e-commerce, and publishing. Likewise, she has written few bestselling books and published magazines. With her wealth, she does not need any personal loans to raise her only daughter, Alexis, with her former husband, Andrew Stewart. He is a publisher and was wed to Martha for 26 years.
Martha and Andrew met in 1961 while there were just students in Yale Law School. Four years later, they had Alexis. The couple was already struggling with problems even from the start. In 1990, they decided to separate. It was the best decision for them, and they did not stop supporting their only kid. Alexis is now a radio personality and TV host.
Marie Osmond & Brian Blosil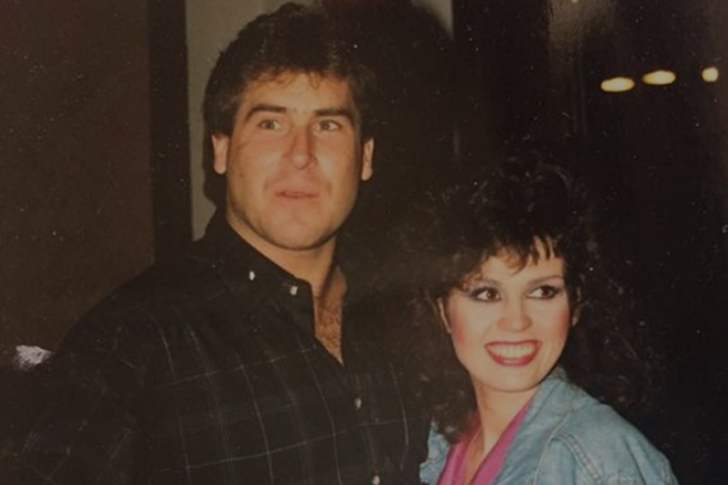 Marie Osmond is an esteemed pop culture icon, famous for her acting, music, and being a co-host of The Talk. She is also well-known for being loving to her family and for being the former wife of Brian Bosil. The duo met in Utah at Jordan River Temple and got married in 1986. Their marriage lasted for 21 years and resulted in seven kids, five of whom are adopted. Blosil is a record producer who only had a few film appearances. He avoided the spotlight when his then-wife became an international celebrity. All of their children have home security and are often guests on her social media accounts. In 2010, their family faced a tragedy when one of their sons passed away. It made their family bond stronger, and even when no longer married, the exes ensure their kids' support and safety.
Mariah Carey & Nick Cannon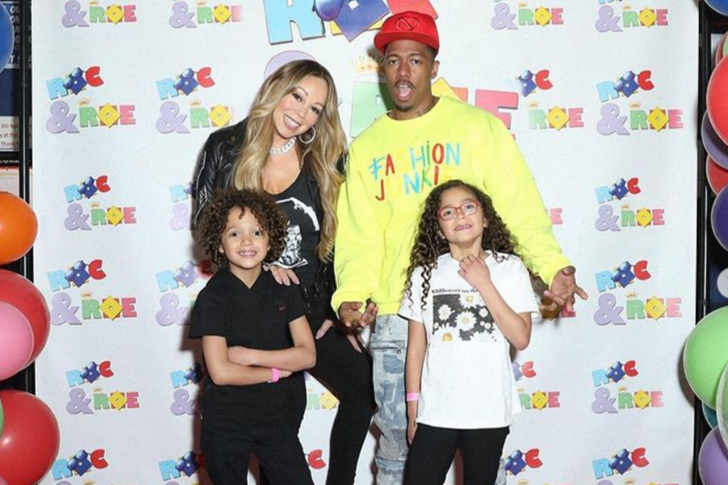 Mariah Carey and Nick Cannon's relationship was one of the most iconic celebrity couples of their time. Two became one in April 2008 in a private estate in the Bahamas. They were dating for six weeks when Cannon decided to put a ring on the singer's hand. After three years, they welcomed fraternal twins, Monroe and Moroccan. Unfortunately, their love story came to an end in 2014. Regardless of how their relationship ended, they provide the kids with a lavish lifestyle because they're worth the investment. The twins are always present at their mother's concerts. We are sure that they are proud of their mom because she holds the title of Songbird Supreme by Guinness World of Records. She is one of the best-selling artists who possesses a unique singing style with a five-octave vocal range. Her former husband Cannon is a rapper, comedian, actor, and TV presenter. He is the host of The Nick Cannon Show, America's Got Talent, and The Masked Singer.
Marco Garibaldi & Priscilla Presley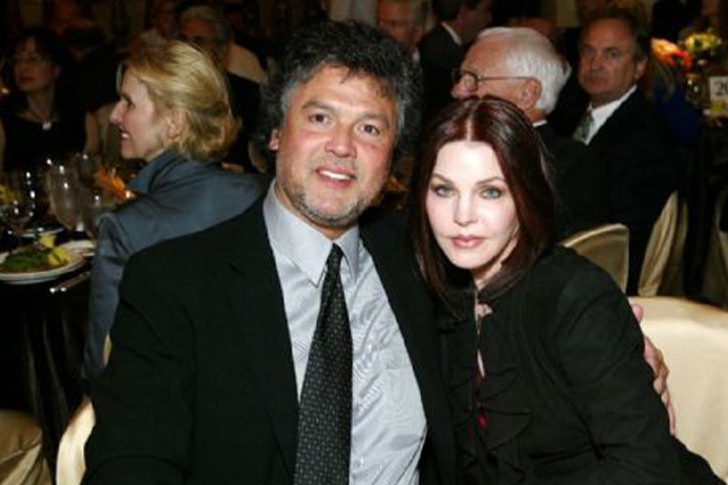 Marco Garibaldi and Priscilla Presley were never married, but they were together for more than two decades. They ended their romance in 2006 and had two sons together, one of whom is Navarone. He is now a great musician and leader of the band The Guns. Though his parents did not work out, he was given all that he needed including gas. Garibaldi and Presley met in 1984 through a mutual friend. He is a screenwriter and owner of Godfather Entertainment, a film-making company. He produced the long-time running TV series Dallas, where his former wife portrayed Jenna Wade. The producer was younger than her by ten years, but they hit it off right away. Presley is a known actress and businesswoman who starred in films like Naked Gun, The Fall Guy, and Love is Forever. They continue to support each other despite no longer being together, especially their son, who has a fantastic career.
Marcia Harvey & Steve Harvey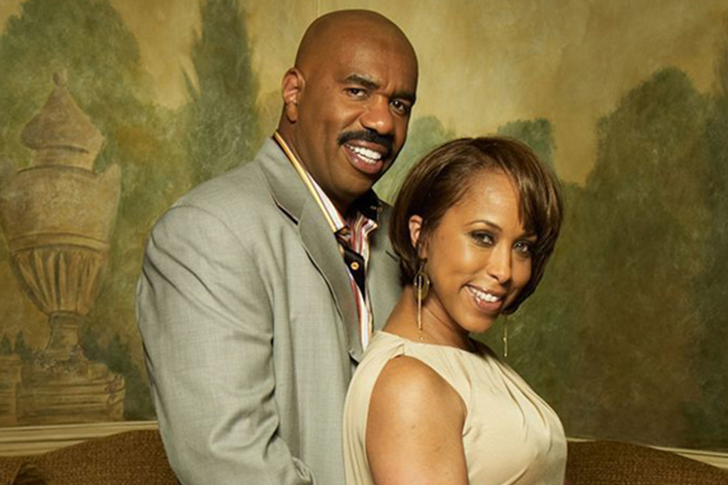 Steve Harvey is one of the most excellent television hosts of all time. He is the host of the Celebrity Family Feud, The Steve Harvey Morning Show, Family Feud, and the Miss Universe pageant. On top of it all, he is also a prominent actor, comedian, author, broadcaster, and businessman. Before Harvey gained recognition, he was married to businesswoman Marcia Harvey. They exchanged vows in 1980 but ended their marriage in 1994. They have three children together: twin daughters, Brandi and Karli, and one son, Broderick.
Marcia is an author and has released books such as Marcia: Eyes to the Soul, Marcia: Poems From The Heart, and Marcia: Thoughts From My Mind. She considered her books as her investments in life and one of her greatest achievements aside from her children. Their kids are now grown up and have their own lives, families, and careers.
Maggie Johnson & Clint Eastwood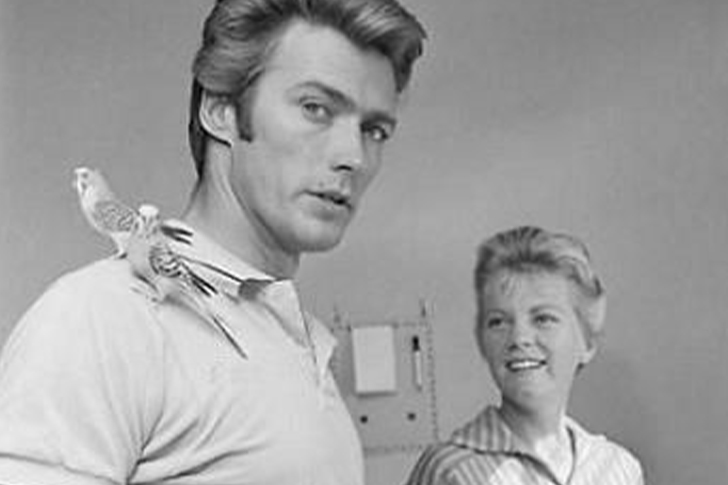 During his prime, Clint Eastwood was once one of the in-demand and handsome lads in Hollywood. It's no surprise that he was a ladies' man off-screen. He was once married to Maggie Johnson in 1953, when he was just 23 years old. They met on a blind date, and after six months, they tied the knot. The duo has two kids, Kyle and Alison. Later on, after being married for a decade, they called it quits with the help of their lawyer. Kyle is now a renowned musician and his sister Alison is an excellent model. Their mother is a secretary of an automotive parts supplier. Eastwood is still no doubt one of the greatest actors, and he proved it many times. He is the recipient of countless accolades, including four Golden Globe Awards, three Cesar Awards, four Academy Awards, and an AFI Lifetime Achievement Award.
Lisa Bonet & Lenny Kravitz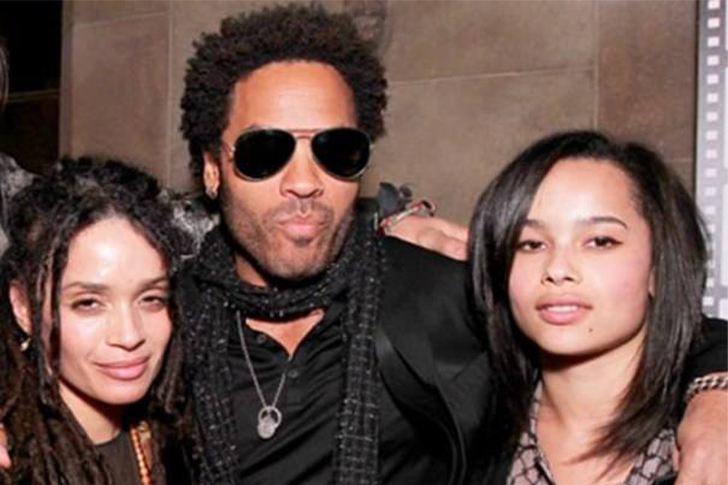 Actress Lisa Bonet and rocker Lenny Kravitz were once considered the most attractive couple in Hollywood. She is a prominent actress and is best known for working with Bill Cosby in The Cosby Show. Ever since she was a child, she dreamed of becoming a celebrity. She graduated from Birmingham High School and studied acting in Celluloid Actor's Studio. Her former husband has a high degree of talent for being a musician and actor. He won Grammy Awards for his rock vocal performance and other awards at the MTV Video Music Awards, the Brit Awards, and the Radio Music Awards. Even though they separated after just a few years, the two remain super close until now. The two have only one daughter, Zoe. She is now a grown lady and has a successful career as a model, singer, and actress.
Liam Neeson & Natasha Richardson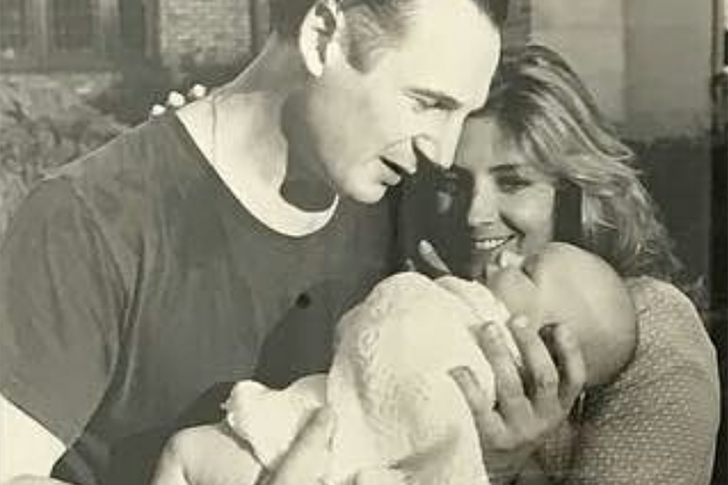 Liam Neeson and Natasha Richardson met during the Broadway rendition of Anna Christie. They were cast opposite each other, and though the timing was not the best, their connection was absolutely magical. The pair were nominated for Tony Awards for their skills. Their relationship produced two sons named Micheál and Daniel. Neeson is an actor from Ireland and never disappoints people in his projects. He received various nominations for his amazing performances at the BAFTA Awards, the Golden Globe Awards, and the Academy Awards. The Taken actor never worries about gas because he is among the top-paid actors in history. On the other hand, Natasha was an actress on screen and stage. She received a Theatre World Award in her stage debut, which just goes to show how talented she was. Though she is no longer with us, her memory remains alive in her family.
Kristin Grannis & Jamie Foxx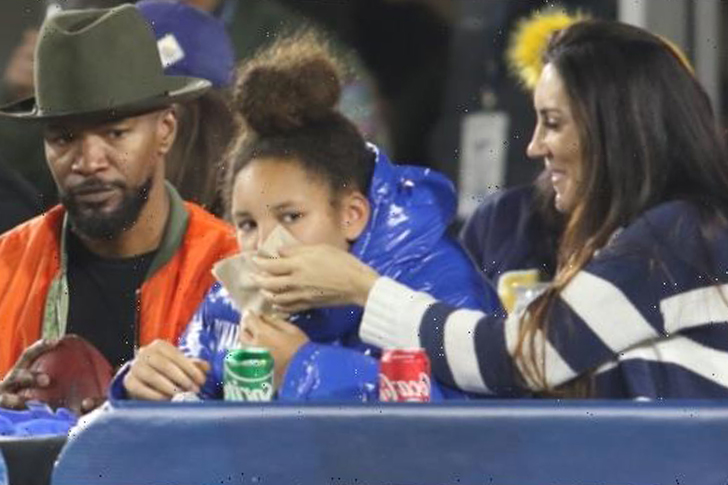 Jamie Foxx might have spent his whole life in the limelight, but he has been private about his personal life. He shares a daughter with Kristin Grannis, and as much as possible, he keeps her away from the public. His daughter's name is Annalise and she is now 11 years old. Foxx is a multi-talented actor, singer, TV presenter, and comedian. The actor gained recognition after his role as Ray Charles in the biographical movie Ray. From there, he won many awards at the BAFTA Awards, the Critics' Choice Movie Awards, the Academy Awards, the Golden Globe Awards, and the Screen Actors Guild Awards. His fame reached a high degree after he starred in a string of critically acclaimed films. His former partner Grannis is also a very private person. She was first recognized in October 2017 after she was caught on camera hugging their daughter.
Kristin Cavallari & Jay Cutler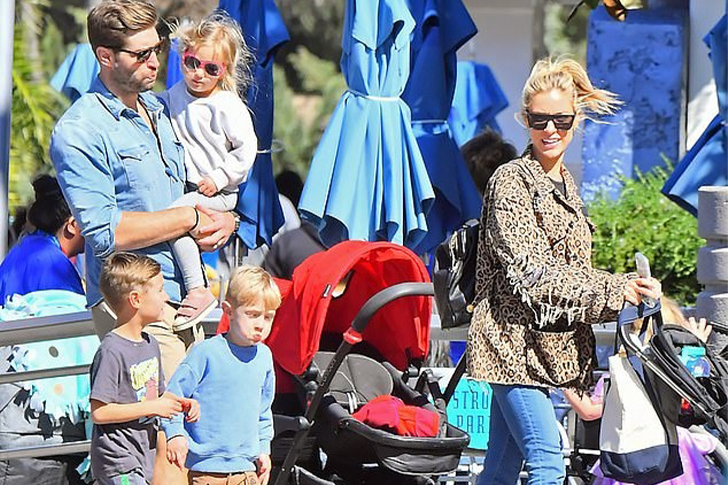 Kristin Cavallari and Jay Cutler were together for ten years. The couple has three kids together: Jaxon, Saylor, and Camden. Cavallari is a fashion designer, actress, and TV personality. After being a cast in a popular reality television show, Laguna Beach: The Real Orange County, she reached an incredible level of fame. Over a decade after her first TV stint, she was given her own reality show, Very Cavallari. Besides being a reality TV star, she enjoyed small success from being an actress who has worked on a few movies and TV shows. She is now a fashion designer and has her own clothing and jewelry line, Uncommon James. Her ex-husband Cutler is a former NFL player who played for Chicago Bears. He was the first drafter for Denver Broncos but traded with the Bears. In this whirlwind romance, they made sure to secure good insurance companies for the kid's future.
Kourtney Kardashian & Scott Disick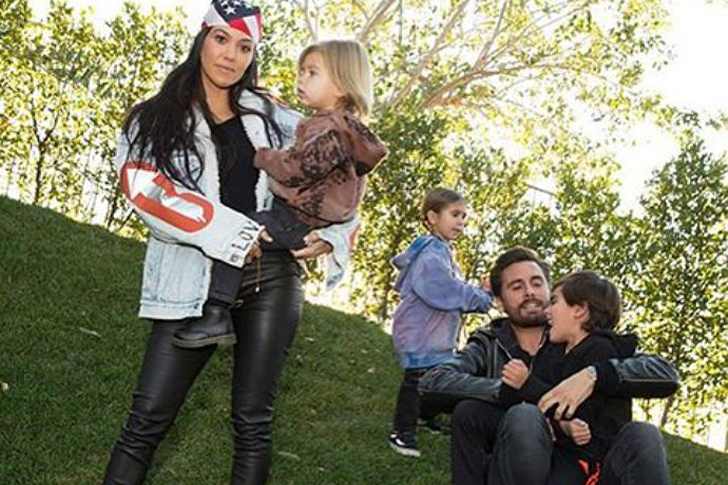 Kourtney Kardashian and Scott Disick dated for more than a decade and have three children together. The two first met at a house party in Mexico and hit it off. Their kids Mason Dash, Penelope, and Reign Aston are even present on Keeping Up With The Kardashians. Outside of their TV series, the eldest Kardashian sibling works in the fashion and retail industries along with her sisters. Involving herself in businesses and launching different collections like clothes and fragrances is a wise investment for her family. Additionally, she published the book Kardashian Konfidential and has her own website called Poosh. Disick is a socialite and media personality. He appears in the reality series too and is involved in a house-flipping show called Flip It Like Disick. Like Kardashian, he also has many business ventures like nightclubs, clothing brands, and vitamin companies.
Kirstie Alley & Parker Stevenson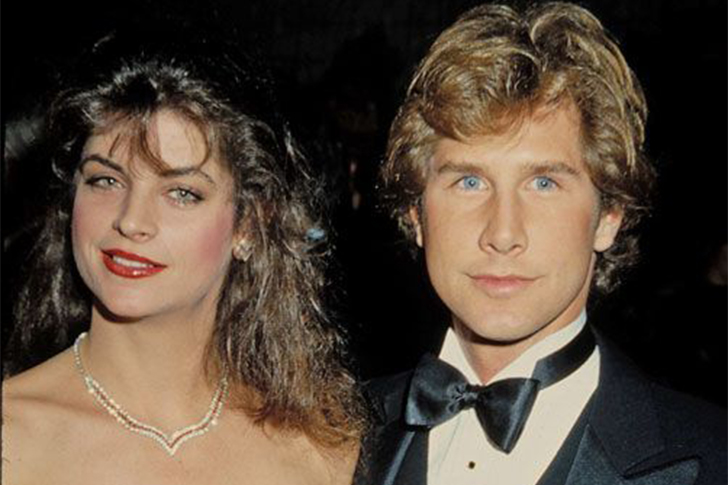 Kirstie Alley is a well-known actress whose breakthrough role as Rebecca Howe in the sitcom Cheers catapulted her into fame. For her outstanding performance, she received a Golden Globe Award and an Emmy Award in 1992. After that series, she immediately starred in another sitcom, Veronica's Closet, and again gained nominations at the Golden Globe Awards and Emmy Awards. She gives credit to her talents for achieving these attainments. The actress was once married to Parker Stevenson. The couple has two children together, William and Lillie. Stevenson became famous for giving life to Frank Hardy's character in the television series The Hardy Boys. He later starred as Craig Pomeroy in Baywatch. The two were married for 14 years before they separated. However, it was the best for them. They are now grandparents to William's kid and happy for the life they have given both their children.
Mayim Bialik & Michael Stone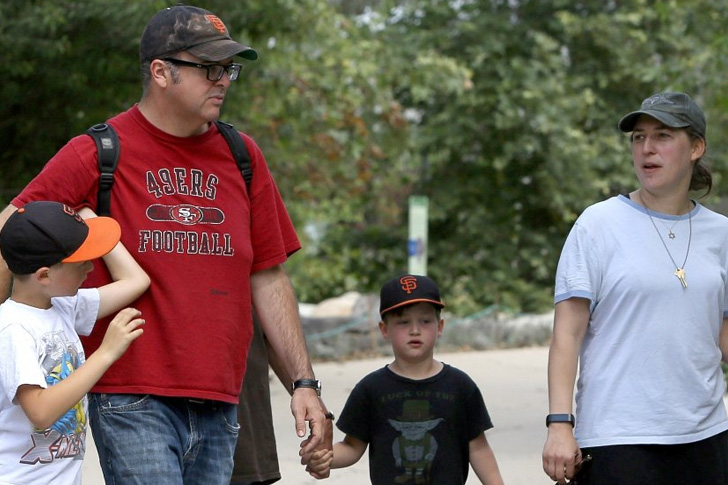 After being married for a decade, Mayim Bialik and Michael Stone parted ways. The ex-couple has two kids, Frederick Heschel and Miles Roosevelt Bialik Stone. Despite the separation, the fan-favorite The Big Bang Theory star said it is not their family's end. After being mum about the issue in respect of her former husband and kids, she broke her silence to educate others about being separated.
Bialik revealed she and Stone both aim to establish the healthiest environment possible for their kids. She is not afraid to spend time with her ex-husband, even celebrating holidays and other special events together under one roofing. Though they will have their own partners, she added they would continue to be part of each other's families. Lastly, despite the way things ended between them, they promise to show good behaviour to be the perfect models for their children.
Kelly Clarkson & Brandon Blackstock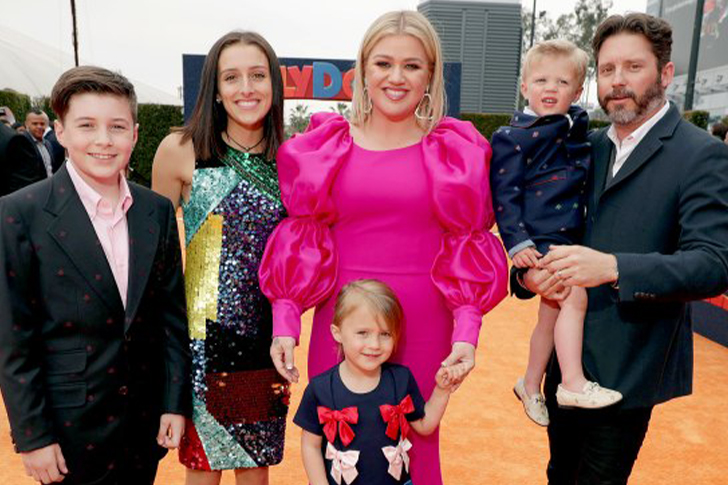 After four years of shooting American Idol, Kelly Clarkson met her husband, Brandon Blackstock. They were married in 2013 and had two kids. However, they recently decided to end their seven-year relationship. Clarkson is one of the best singers in the world. She rose to prominence after winning the first season of American Idol. She later sold more than 12 million copies of her Breakaway album, which won a Grammy Award. She is known for her versatility and powerful voice. Throughout her career, she has earned four American Music Awards, three Grammy Awards, two Academy of Country Music Awards, three MTV Video Music Awards, and a Daytime Emmy Award. Clarkson considers her achievements as investments in life. Her former husband Blackstock has been her manager since they got married, but that might change. No matter what happens to them, they will always work together to co-parent their children. They both keep their kids' away from the limelight.
Denise Richards & Charlie Sheen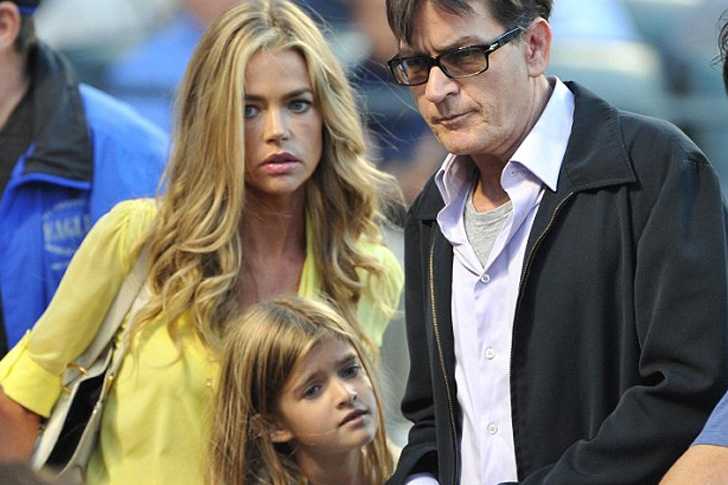 One of the most famous former couples in Hollywood is Denise Richards and Charlie Sheen. The two got engaged in 2001, married in 2012, and separated after three years as husband and wife. Since then, the 50-year-old actress has been meeting with her lawyers to modify the support he gives to their daughters, Sam and Lola Rose Sheen.
However, despite not being on the best terms, the actress never talks badly about Sheen to their children. She wants him to be part of their lives, knowing her kids need a father to guide and protect them in life. Though Sheen is a famous actor to the rest of the world, for Sam and Lola, the 55-year-old actor is just Dad. Richards is now married to the holistic practitioner Aaron Phypers. She is also a mother to her adopted daughter, Eloise Joni Richards.
Katie Holmes & Tom Cruise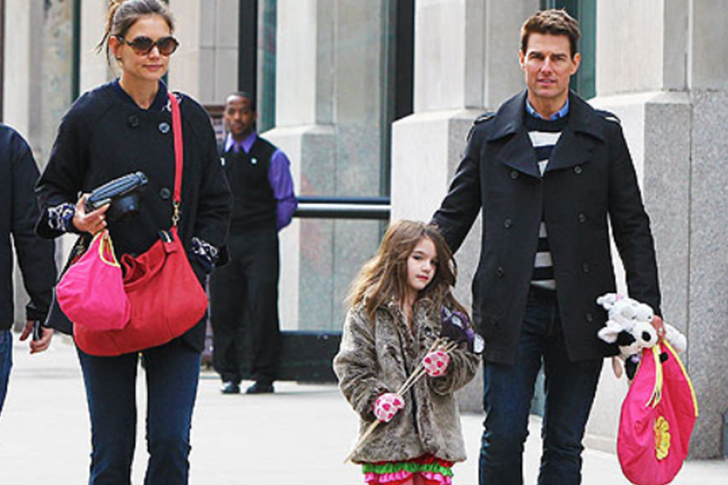 Katie Holmes achieved stardom in the series Dawson's Creek in the early 2000s. Little did she know that through her popularity, she will meet and marry her childhood crush. During an interview, Holmes mentioned her great admiration for Tom Cruise. She even shared that she dreamed of marrying the actor when she grew up. Little did she know that Mr. Cruise will show interest in her and eventually fall in love with her. In the blink of an eye, the two started dating and later got married in Italy. As good as it seemed at the time, their love story ended with their attorneys filing their separation. Not much is known about the reason for their split, though some speculates that Cruise's religion is somewhat to blame.
It was not long ago when the world celebrated with the ex-couple when they announced the arrival of their daughter, Suri Cruise, on 18 April 2006. Now, Suri is in her teen years and looks like her mom and dad. Suri and her mom reside in New York and are usually seen strolling around the city.
Kate Moss & Jefferson Hack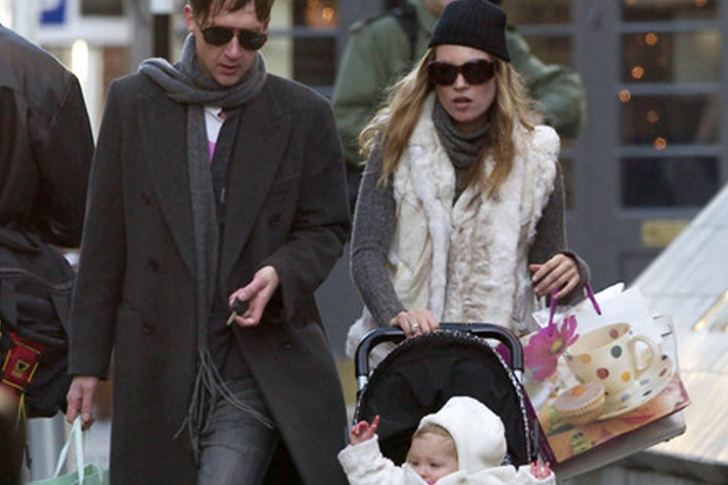 Kate Moss started modeling at a very young age. She debuted in 1988, and since then, she has been the face of many brands and covers of many magazines, proving to be one of the most successful models of all time. Now, at 47, Moss seems to replicate herself through her daughter, Lila Grace Moss Hack. Lila Grace, just like her mom, is starting to take credits in modeling and runway at an early age.
Lila Grace is the daughter of Kate Moss with her former boyfriend, Jefferson Hack – co-founder and Creative Director of Dazed magazine. Their relationship started when Hack interviewed Moss for the fashion magazine Dazed and Confused back in early 2000. The couple seemed to be a perfect match as Hack has a modelesque figure himself – tall and slim. In 2002, they welcomed Lila Grace. Three years after, the two called off their relationship. Today, the two are very much on good terms due to their co-parenting and love for their daughter.
Kate Hudson and Chris Robinson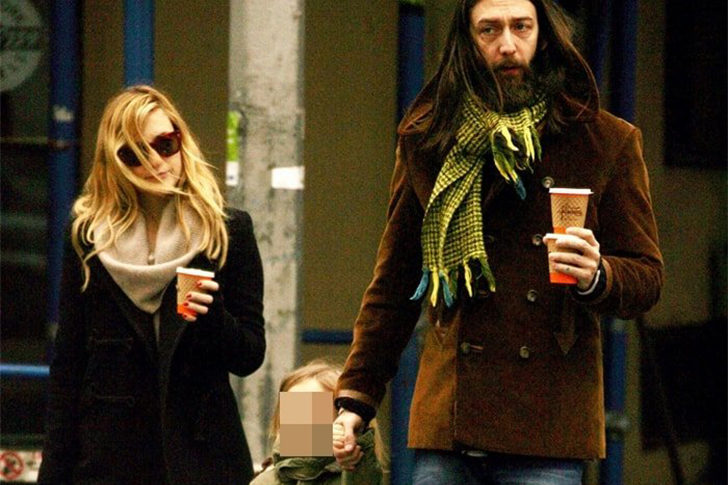 It is safe to say that Kate Hudson's first love is Chris Robinson, the front man of the band Black Crowes. Kate married Chris on New Year's Eve 2000. Their relationship seemed to be unwavering back in the days as they express how much they love each other. Hudson even dedicated her Best Supporting Actress win for the film Almost Famous to him. Likewise, Robinson has penned a song for Kate called Katie Dear. The movie star and the rock star later welcomed a son, Ryder, in 2004. Now, Ryder is 16 and is said to have a tight relationship with his mom and his granny, Goldie Hawn. Though his parents reached out to their lawyers in 2007 to arrange their split, he maintains a good relationship with his dad. He is said to spend equal time with both parents as they co-parent him. Ryder is also very loving and caring for his little siblings shown on Hudson's Instagram.
Johnny Galecki and Alaina Meyer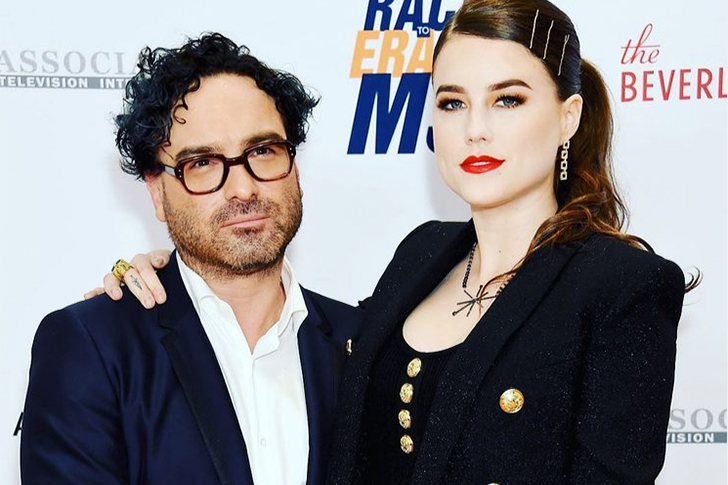 Many speculated that Johnny Galecki and Alaina Meyer would tie the knot when they introduced their son, Avery, in 2019. Apparently, the couple went their separate ways in 2020, after two years of being together.
Galecki credits his prominence to his role as Leonard in The Big Bang Theory. The show reached significant success as they aired for almost 12 years with 279 episodes. Due to his fame, his love life became a topic in the media. When Galecki met the Meyer in 2018, many were intrigued. The two seemed inseparable and were often seen attending events. Merely one year after their relationship became public, the couple announced the arrival of their baby boy. The adorable family of three was a staple on Instagram feeds as both of them grew fond of posting about each other and their family. Unfortunately, the couple split, which they announced weeks after Avery's first birthday.
Jennifer Lopez and Marc Anthony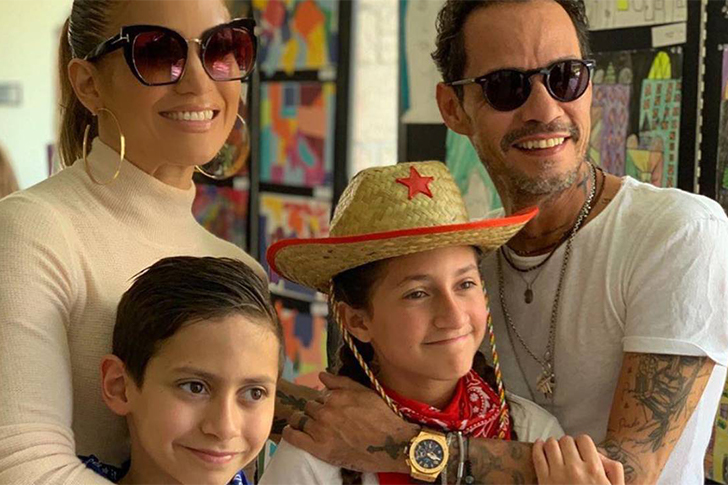 Love has a funny way of bringing people together, like how Jennifer Lopez and Marc Anthony's love story started. From the start, it seemed like they were destined to be together for a time.
Anthony and Lopez know each other since the 1990s. The two started as friends and worked on several projects together. The singer confidently proclaimed that Lopez would be his wife one day. It came true. In February 2005, she admitted that they had been married since 2004. The two got together in 2003, just after she broke things off with Ben Affleck. The couple welcomed fraternal twins, Emme and Maximillian, on February 2008. Though the couple separated in 2011, they remain on good terms. Now, their kids are already 13, and one is already an author. Emme earned a writing credit for her audiobook Lord Help Me, which was released in 2020.
Jennifer Grey and Clark Gregg

In July 2020, Jennifer Grey and Clark Gregg said their goodbyes to their marriage after 19 years. Despite that, the two had a remarkable relationship and have a daughter, Stella Gregg.
Grey is widely known for her film Dirty Dancing in 1987. She temporarily took a break from acting after she was in an unfortunate incident in 1987. Gregg is an actor and director who gained prominence as Agent Phil in the Marvel Cinematic Universe, which increased his credit score significantly. The two started dating in 2000 and eventually wed in 2001. Five months after, they welcomed their daughter, Stella Gregg. The soon-to-be 19-year-old lady is now part of the entertainment business and even starred next to her dad in his highly acclaimed series Agents of S.H.I.E.L.D. As for Ms. Grey, she and Mr. Gregg are in a good relationship and still consider each other as family.
Jennifer Garner and Ben Affleck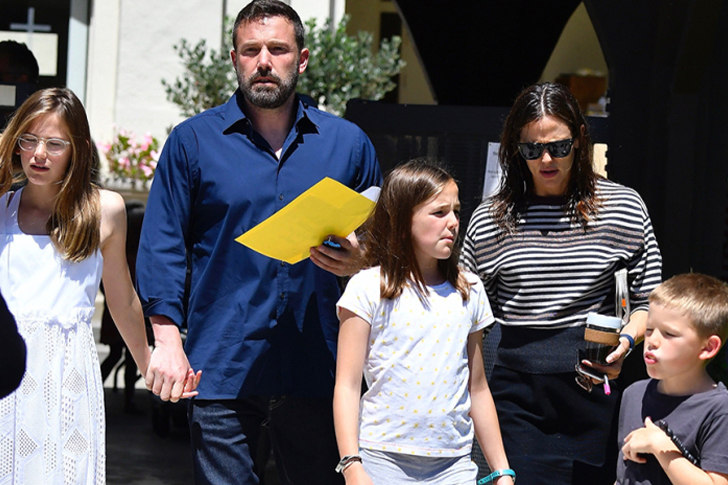 Jennifer Garner and Ben Affleck first met in 2000 on the set of Pearl Harbor. They became friends at the time, as Garner was in a relationship. Their second encounter was on the set of Daredevil in 2002, which was when Affleck began looking at his future wife differently. They eventually found love in each other after their respective relationships ended in 2003. The couple started dating in 2004 and got married in 2005. They have three kids together: Violet in 2005, Seraphina in 2009, and Samuel in 2012. Though their marriage ended in 2018, the couple still shows good teamwork and partnership in raising their kids. They have even established home security for their children to maintain their privacy and safety. They also spend time together with their kids as a family unit, which is sometimes mistaken as them getting close again.
Victor Cruz & Elaina Watley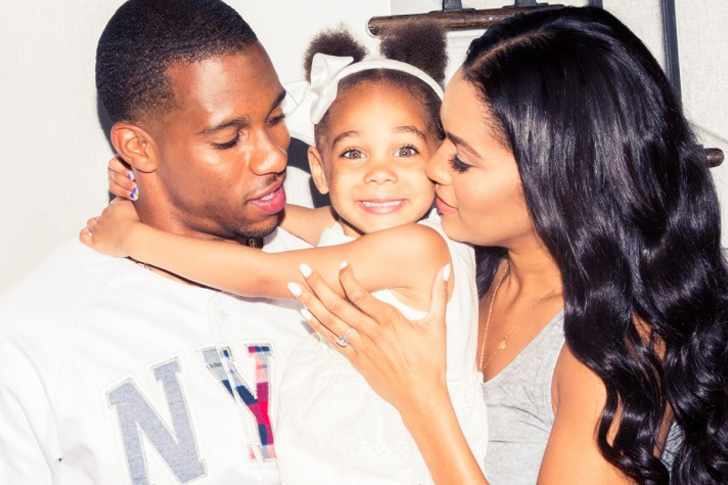 Victor Cruz and Elaina Watley surprised everyone when they called off their engagement. The ex-couple started dating in 2008, welcomed their kid, Kennedy Cruz, in 2012, and got engaged in 2014. However, after a year, the two made headlines as they split up.
The couple now has a good co-parenting relationship. Kennedy is now about nine years old, and the only way for them to raise her together, albeit separated, is by talking. Cruz knows they have to put their egos aside for the sake of their child. Their focus now is never on themselves but Kennedy. As long as their daughter is happy, everyone will be satisfied. It is also important for them to have their child understand her cultural roots, so Cruz may have used some of his investment money to enrol her in a language-immersion school to make sure she can speak Spanish fluently.
Jacqueline Ray & Tom Selleck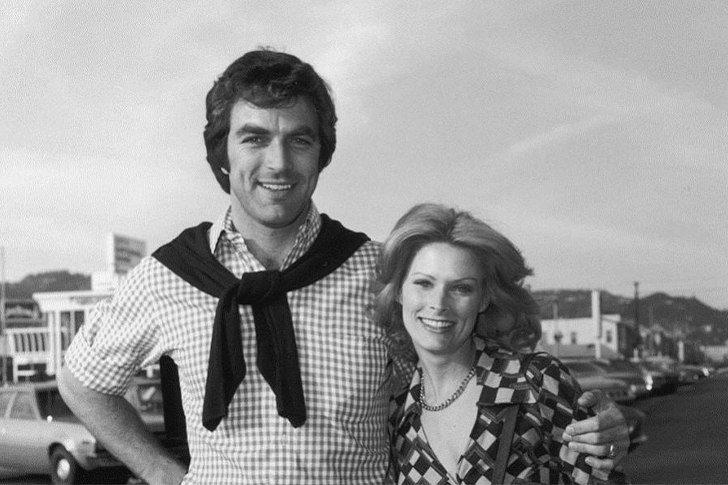 Before Tom Selleck reached global stardom through Magnum P.I.  in 1980, he was just a married man with a beautiful wife. He married Jacqueline Ray in 1971. Through his marriage with her, Selleck has an adoptive son, Kevin Selleck. Ray is also an actress and model. The two sent separate ways just when Selleck was gaining popularity and increasing his credit score. What caused the rift is rumored to be due to his popularity among women which Ray could not handle, which has never been confirmed by the two. As of today, Ray has since left Hollywood and is no longer in the acting business, while Selleck has been happily married to Jillie Mack since 1987 and enjoying the fruits of his hard work with his children Kevin and Hannah. We're happy that there is no bitterness between the two.
Jacelyn Reeves & Clint Eastwood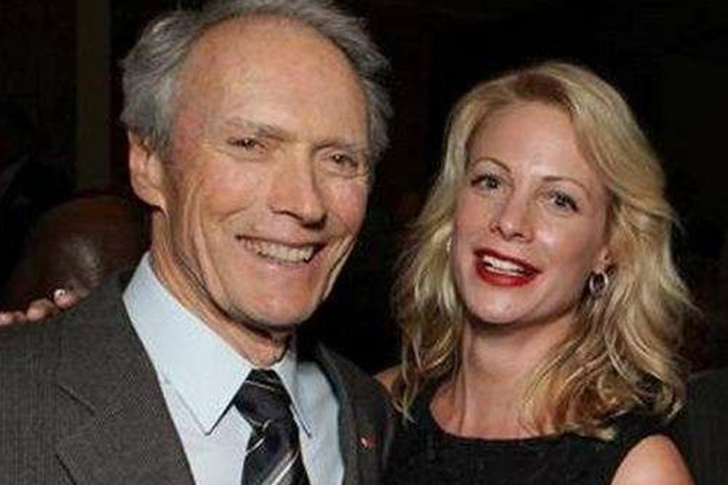 Who would have thought that Clint Eastwood's son with Jacelyn Reeves would take after his interest in acting? It was public knowledge that the actor's involvement with several women led him to father eight children, one of whom is with Reeves in the early 1980s.
The actor met the beautiful flight attendant when she served him on a flight. As a man known for intense adoration to women, he was interested and pursued her. Their union resulted in two children: Scott Eastwood, born in 1986, and Kathryn Eastwood, born in 1988. Though the two didn't marry, their children know him and got to live with him for a while. When the two broke up in 1990, Reeves was said to struggle with a low credit score. Thankfully, they managed to get through. Their son, Scott Eastwood, is among the rising young actors in Hollywood. Scott has appeared in films such as Flags of Our Fathers and Pacific Rim: Uprising. Notably, Scott looks so much like his father when he was young, and it is undeniable that they are father and son.
Iggy Azalea and Playboi Carti

Iggy Azalea is a Canadian-born rapper known for her massive hit songs like Black Widow, Fancy, and Wicked Lips. Her keen talent in music launched her to international stardom and credit through several chart-topping collaborations with equally famous music personalities such as Ariana Grande, Jennifer Lopez, and Rita Ora. Playboi Carti, born Jordan Terrell Carter, is an uprising rap artist and just launched his album Whole Lotta Red album in December 2020. Carti met Azalea while during a tour in 2018. The two moved in together immediately. Azalea didn't announce her pregnancy and just introduced her son months after she gave birth. Their relationship was not as smooth sailing as they hope it would be as they separated after the birth of their son. Still, they are working on improving their relationship since they have to put their child first.
Hilary Duff and Mike Comrie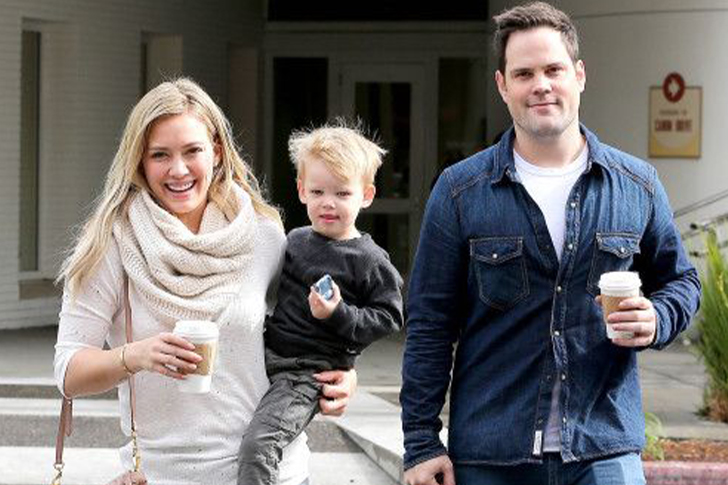 Hilary Duff is one successful actress who managed to survive the transition from being a child star to a grown actress. With several acting credits to her name, she had a promising career ahead of her. She was ready to take on the next level of career challenges when she met Mike Comrie – a hockey player. The two met on a flight in 2007. It was an instant click, according to Duff, as she found Comrie funny and attractive. Soon enough, in 2010, the two had a very dreamy wedding. Ready for their next chapter in life together, they welcomed their son Luca Cruz in 2012. Apparently, just a year after, their marriage started to crumble. Duff pulled the plug legally in 2016. Despite their differences, the two are successfully co-parenting their son and have even gone on vacations together.
Heidi Klum & Seal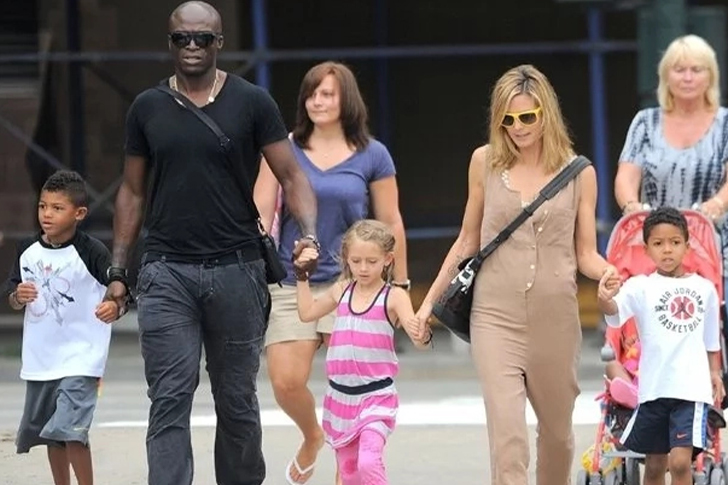 The year 2004 marked a big year for Heidi Klum and Seal. They started dating just as their careers were taking off. Klum started to receive credits as a host, while Seal released another album. It was in a hotel lobby where the magic of attraction happened. During that time, Klum was currently pregnant with her first child from a previous relationship when she saw the stunning British singer who had just stepped out of the gym. They soon tied the knot in 2005 and subsequently produced children during their time together. Seal even adopted Klum's first child. They have three kids together: Henry, born in 2005, Johan in 2006, and Lou in 2009. Despite all of their magical moments onscreen, they went separate ways due to irreconcilable differences. There are several speculations about their split, but they decided to move forward and keep a civil relationship for their children's sake.
Gwyneth Paltrow & Chris Martin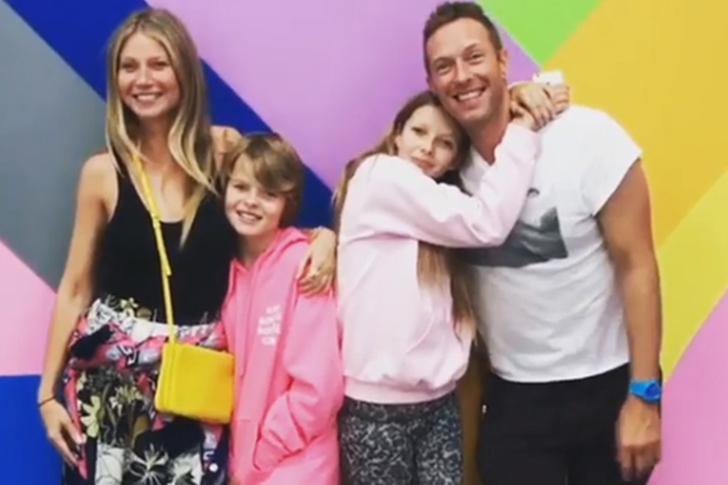 Fix You is one of Coldplay's most famous songs and Chris Martin penned it especially for actress Gwyneth Paltrow. Its music and lyrics touch anyone who hears it, but it is also quite saddening that the couple who gifted us with it are no longer together.
Gwyneth Paltrow and Chris Martin met backstage at a concert back in 2002. It must have been love at first sight because they were inseparable since. Within just a year of dating, they began living together and welcomed their daughter, Apple, in 2004. She was followed by Moses Bruce in 2006. The family lived a relatively private life while still maintaining their careers in the spotlight. However, even with the investments, they have made toward their relationship over the years, the couple parted ways in 2014. Reports do suggest that they remain friends and co-parent their kids.
Gwen Stefani & Gavin Rossdale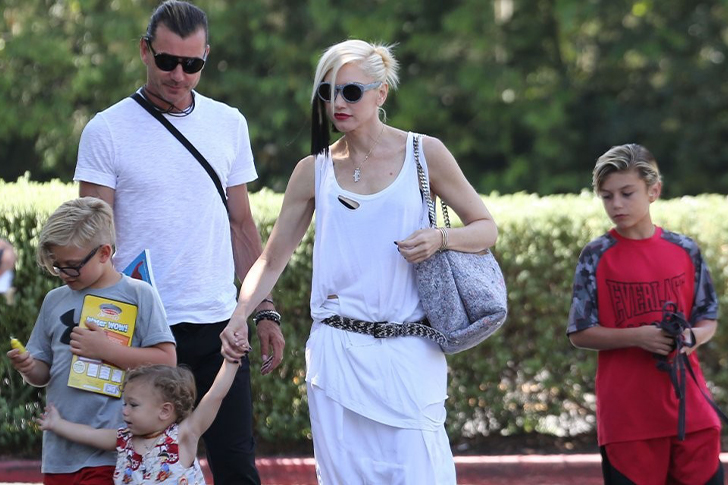 Separations can be rough on everyone involved, but in some cases, they cannot be avoided. Such was the case with Gwen Stefani and Gavin Rossdale. The two weathered a rocky relationship for over thirteen years before eventually calling it quits. The two met while touring together, in 1995, with their respective bands. They eventually developed a relationship and were together for six years before they got wed. The former couple has three sons together, Kingston, Zuma Nesta, and Apollo Bowie.
Like others, they also tried to work things out but learned that they could no longer stay together due to their differences. They announced their split and called in their lawyers in 2015. Despite no longer living together, the two continue to work on raising their kids properly through co-parenting. At present, Gwen has found love anew with Blake Shelton.
Greg Allman & Cher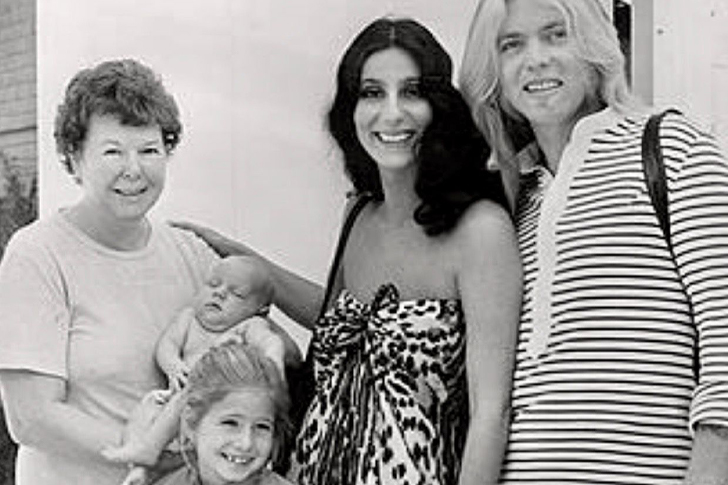 Greg Allman and Cher's romantic relationship began at backstage one of his solo shows. At that time, Cher was dating David Geffin, but Allman decided to turn on the charm and wooed the singer. Six months into their relationship, the couple exchanged vows in Las Vegas. However, their rocky start continued all through their short-lived marriage. After nine days of being married, Cher wanted to end things.
To his credit, Allman fought for his marriage. With their combined effort, the couple managed to hang on for three more years. They also have one child together, Elijah Blue. The couple tried to make their marriage work through music, but it seemed that the discord could no longer be remedied. At present, Cher is still a force in the industry, while Elijah Blue is making a name for himself as well.
Goldie Hawn & Bill Hudson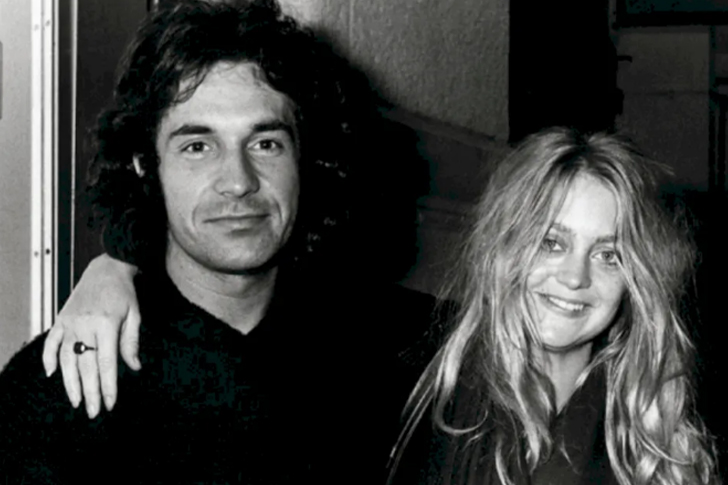 Goldie Hawn and Bill Hudson comprise one of Hollywood's most recognized characters. They were married back in 1976 and had their first child, Oliver, not too long after. In 1979, their daughter Kate was born. However happy they may have seen to outsiders, a storm had already been brewing in their marriage since the beginning. It wasn't too long after Kate's birth that they decided to part ways. Throughout the years, and according to the children themselves, Bill Hudson was hardly in their lives.
Nonetheless, they continued forward and even have successful careers of their own now. You might know Kate for receiving credit as one of the industry's darlings. She was in the movies Almost Famous and How to Lose a Guy in 10 Days. Meanwhile, Oliver is a TV veteran and has appeared in shows like Nashville and Rules of Engagement.
Gillian Anderson & Mark Griffiths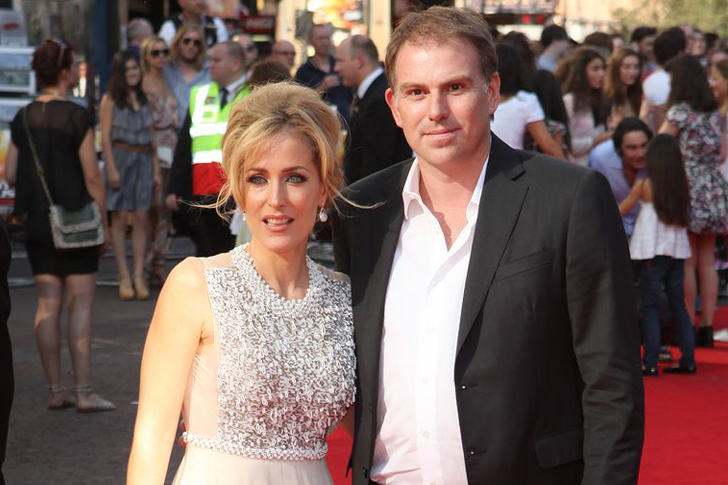 American actress Gillian Anderson and businessman Mark Griffiths met after Gillian's separation from photojournalist and documentary filmmaker Julian Ozanne. The two dated for six years but decided against marriage. They have two children together, Oscar and Felix. Beyond their time together, not much else is known about Mark Griffiths considering he is a rather private person.
What we do know is that despite being a single parent, Gillian is more than capable of raising her children. Aside from her net worth of $35 million, she is still active as an actress, which ensures a steady income for years to come. Both Oscar and Felix can rest easy, knowing they will never require loans for themselves. Who knows? They might even decide to follow in their mother's footsteps. You can catch more of Gillian's work on The X-Files and on her new Netflix teen-comedy series.
Giada De Laurentiis & Todd Thompson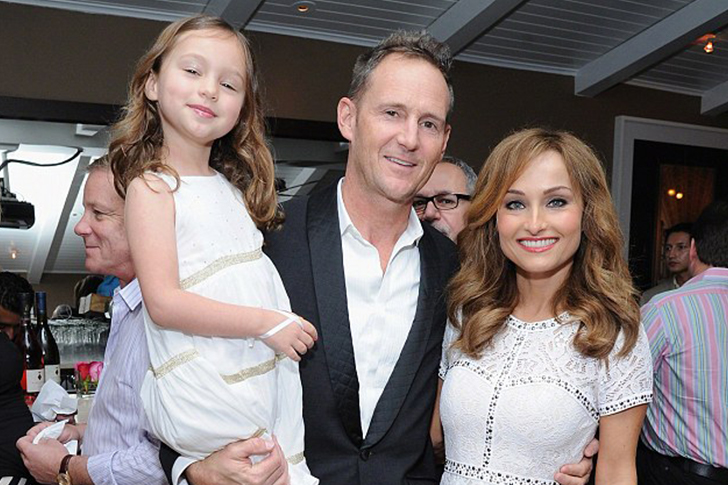 After an amicable separation, Italian-American chef Giada De Laurentiis and Anthropologie designer Todd Thompson decided to officially end things in 2014. The announcement was made on Giada's Facebook, which garnered around 13,000 comments.
The couple has been together for over two decades before calling it quits. They got married on May 25, 2003, and have a daughter named Jade Marie De Laurentiis-Thompson. Following the announcement, the pair worked on splitting up their considerable assets. After all, they each had a significant net worth prior to the marriage. Just take Giada, who already had $20 million to her name. Fortunately, she kept the rights to her production company Linguine Productions and her company GDL Foods Inc. Todd, on the other hand, who has $8 million to his credit, got to keep their $3.2 million mansions and $300,000 worth of art and furnishings.
Garth Brooks & Sandy Mahl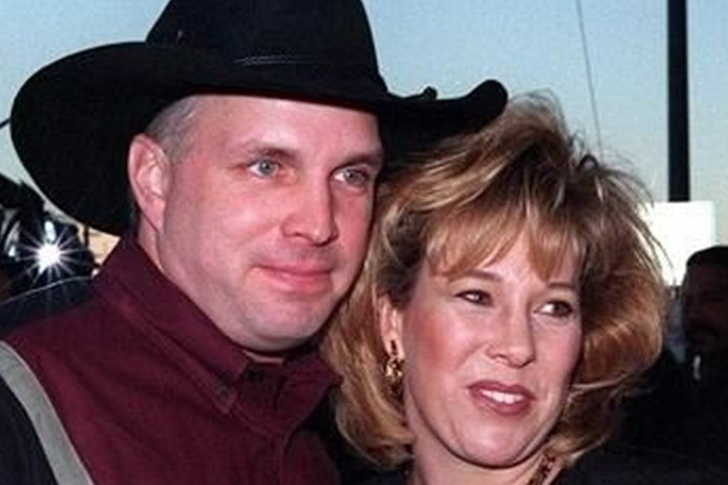 Country singer and icon, Garth Brooks, exchanged vows with his college sweetheart, Sandy Mahl in 1986. The two met at a bar where Brooks had been working as a bouncer. After getting together, Mahl left her home in Oklahoma to help Brooks with his budding career since she is a songwriter as well. In fact, she received credit for having penned I've Got a Good Thing Going and That Summer. They have three children together: Taylor Mayne Pearl, August Anna, and Allie Colleen.
They have been married for 15 years before the couple decided to end things. They had their ups and downs, and although they tried their best to keep it together, the relationship could no longer be mended. Nevertheless, they remained doting parents to their three children even after Brooks remarried. They prove that parents will go through great lengths for their children.
Gabriel Aubry & Halle Berry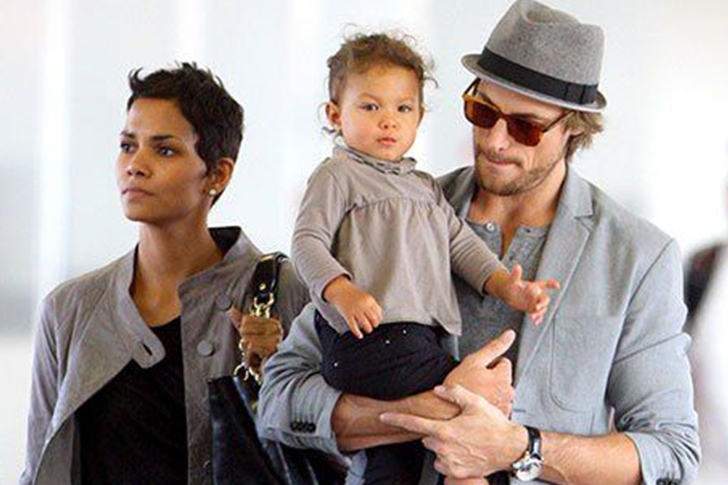 Halle Berry is one of Hollywood's most sought-after actresses. After her marriage to Eric Benet, she met and began dating model Gabriel Aubry. Although they were never married, the couple stayed together for five years. Together, they have one daughter, the lovely Nahla. Unfortunately, being in a relationship with Aubry wasn't all sunshine as Berry had once claimed. In a court hearing, Berry portrayed their relationship as being dysfunctional.
Berry had her first child when she was 41, expressing that it was just the right time for her to become a mother. She later had another child with her ex-husband Oliver Martinez. Now that she's raising her children as a single mom, fans might worry about the actress. However, given her net worth and consistent Hollywood career, Berry has more than enough to maintain a comfortable lifestyle for her kids. She won't even need loans for it!
Frances Fisher & Clint Eastwood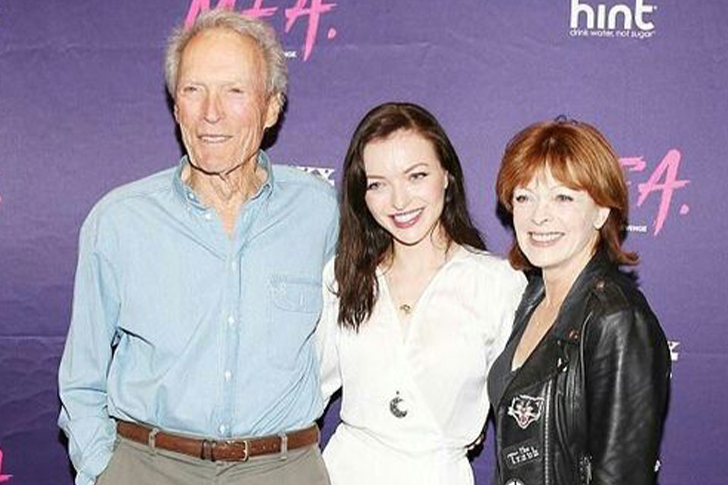 Frances Fisher and Clint Eastwood met on the set of Pink Cadillac, which prompted a relationship between the two. As actors, they also worked together in the hit movie, Unforgiven. Fisher moved in with Eastwood in 1990 and they had a daughter named Francesca. This also marked the first time Eastwood was around for the birth of his child. He was a doting father to his newborn, but things turned sour eventually.
Fisher and Eastwood's relationship suffered the same fate as that of his previous relationships. Although they weren't married, she received support from Eastwood for Francesca. As the young girl grew up, she never had to worry about things like student loans. After all, her father is an iconic actor and filmmaker with a net worth of $375 million. At present, Francesca is also seeking her own luck in the field of modeling and acting.
Floyd Mayweather & Josie Harris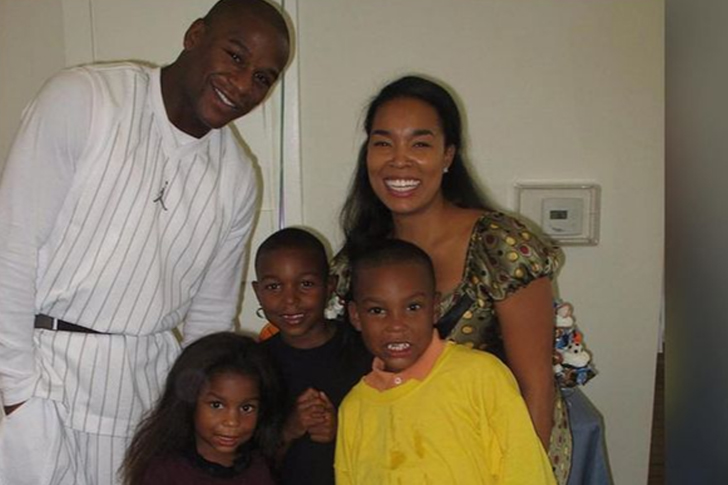 The relationship between Floyd Mayweather and Josie Harris was a tumultuous one, to say the least. Mayweather is a renowned boxer while Harris was an actress. The couple were together before Mayweather even became a champion boxer. She got pregnant with their first child, Kouran, when she was only 16 years old. In the years that followed, they would have two more children, Zion Shamaree and Jirah. Their relationship didn't end on a happy note either and Harris has since passed; the case for which is still being investigated.
The couple's story was revealed to the world through Harris' tell-all book, which was published before her passing. What she wrote shocked many and explained why their once beautiful relationship eventually came to an end. At present, Mayweather does maintain a good relationship with his children, whom he supports through various investments.
Drew Barrymore & Will Kopelman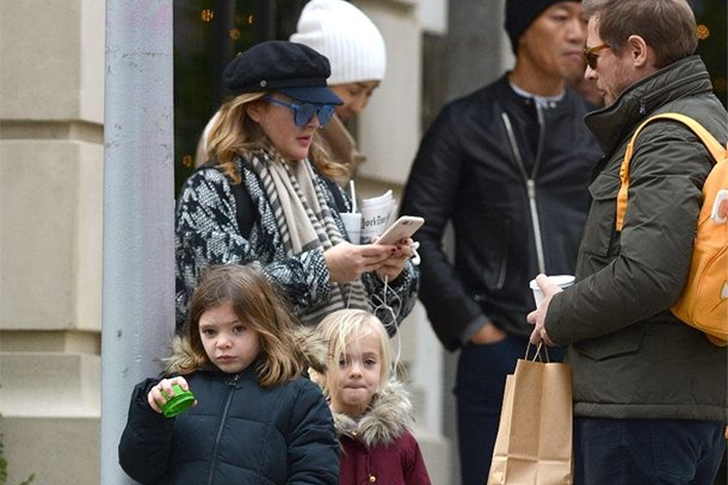 Drew Barrymore first made her acting debut in Steven Spielberg's iconic movie, E.T. She would go on to star in a number of other films, such as Firestarter, Poison Ivy, The Wedding Singer, and Charlie's Angels. She was once wed to Tom Green, but following their separation, she found love again with Will Kopelman. Although it wasn't love at first sight for her, she claimed that Kopelman was able to address her pragmatic side. They have two daughters, Olive and Frankie.
Although the married couple seemed to be the perfect pair, their marriage did not last long. After four years of marriage, they filed for a separation. The exes are working on the custody of their children and their living arrangements too. Thanks to her investment planning, Drew need not worry about her future with the kids. After all, her net worth is enough for them to live comfortably.
Drake & Sophie Brussaux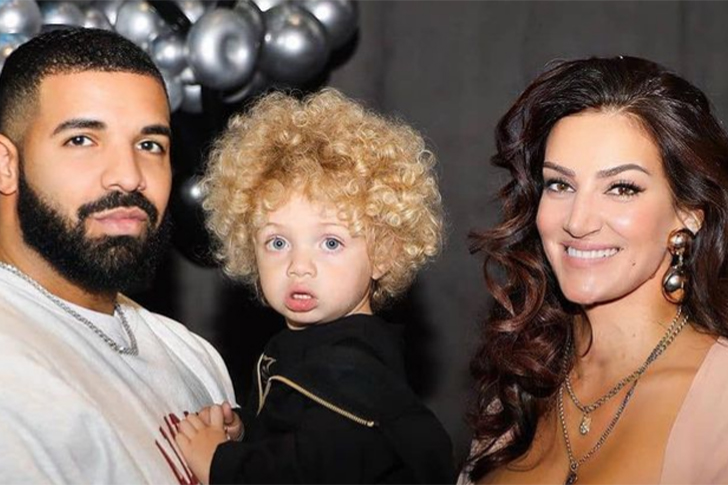 Drake knows how to keep his private life out of the limelight, but he did eventually reveal the existence of his child to the public. According to Drake, he waited that long because he wasn't sure if the child was his. Their relationship fizzled out after the revelation, but the singer is doing right by his family. He is ensuring a comfortable lifestyle for his child and his former partner as well.
Fortunately, the two seem to have patched things up between them and are co-parenting at present. This is one of the reasons why he has taken a back step from his work as a musician and is focusing more on raising his child. Drake is also adept with his finances and shows that he has a good eye for real estate, which is perfect for his credit report.
Dina Eastwood & Clint Eastwood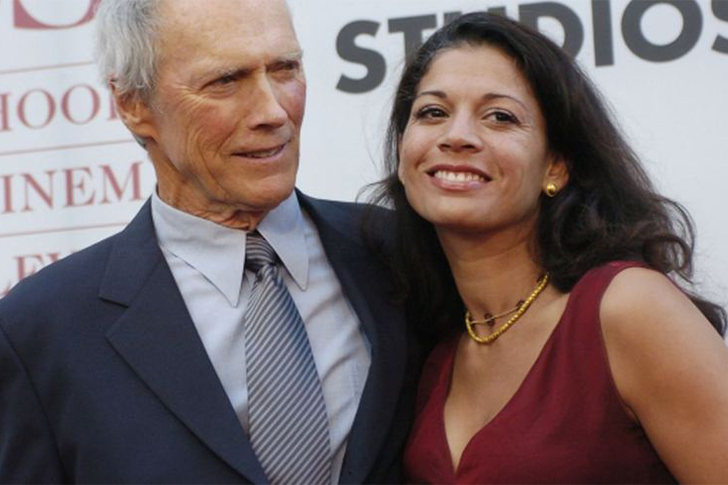 Dina Ruiz and Clint Eastwood had a great relationship in the beginning, but it wasn't meant to last forever. Dina was a reporter, TV news anchor, and actress when she began dating Eastwood. Sparks flew between them when Ruiz got the chance to interview the Hollywood actor for the movie, Unforgiven. Later on, the two were spotted holding hands during the movie screening. They eventually got married and have one child together. Morgan Eastwood is the youngest among the actor's children.
The couple's relationship began its decline when Dina decided to do a reality show about their family. Clint has always been a private person, so this caused friction between the two. Since their separation, Morgan has tried her hand at both fashion and modeling. Should she decide to start her own business, we're sure Clint would be more than happy to provide investment money.
Dianne Holecheck & Chuck Norris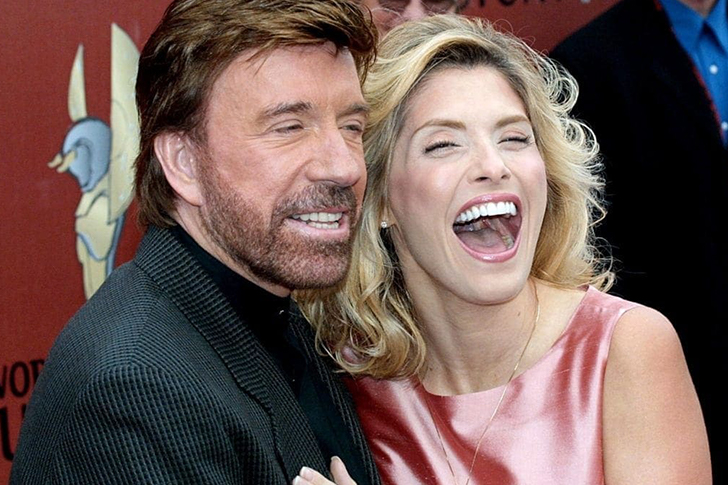 Dianne Holecheck and Chuck Norris enjoyed almost 30 years of wedded bliss before they separated in 1988. The two started dating when they were in high school then later tied the knot, even though both were still young at the time. They had two children, Michael Ray and Eric Scott. Both seemed to inherit their father's love for martial arts and made career out of it, apart from being an actor and stunt coordinator respectively.
Trouble started brewing in paradise due to Norris' infidelity. There were many speculations about Norris and all the supposed secret relationships he had but through it all, Dianne was able to maintain her privacy. Thanks to his work as a martial arts expert and being a business mogul with numerous investments, he was able to provide for his children well until they all reached adulthood.
Diana Douglas & Kirk Douglas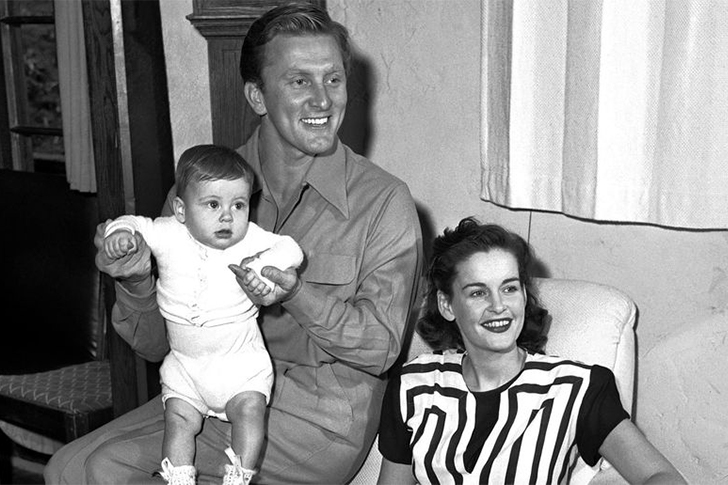 Diana Douglas was a professional actor and Kirk Douglas' first wife. The two first met while they were studying at the American Academy of Dramatic Arts. They had two children, Michael, who later became a renowned actor in Hollywood and Joel, who became a film producer. Diana and Kirk married in 1943 but separated in 1951. Diana was very much an accomplished actress herself, appearing in TV shows like The Waltons, Dynasty, Paper Chase, and ER.
In her memoir, Diana wrote that they brought different concepts to their marriage. Although the two parted ways, they remained on good terms. She even appeared in several of his films, too. To their credit, this couple proved that a friendship was still possible even following the end of a marriage. Both have since passed away, but their legacies are continued by their children.
Dennis Rodman & Michelle Moyer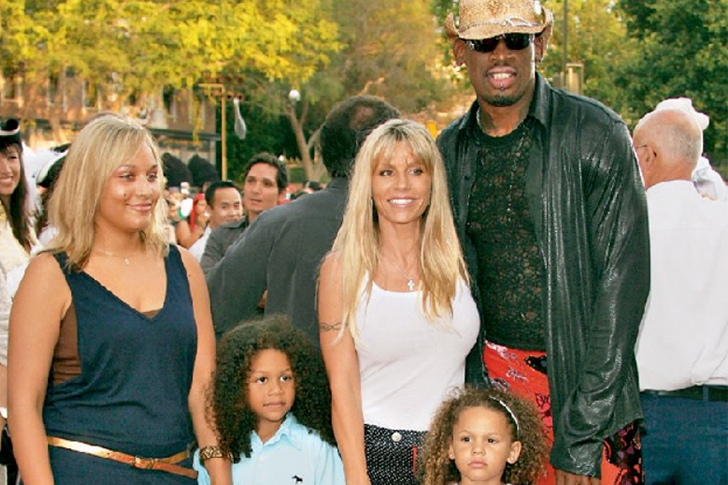 Dennis Rodman may be a basketball legend, but his married life is not so stellar. He first met his third wife, Michelle Moyer, at a bar back in 1999 and they instantly clicked. Their relationship started soon afterwards. After a few months in, Moyer got pregnant with their firstborn, Dennis Rodman Jr. They also later welcomed a daughter, who they named Trinity. The two tied the knot in a civil wedding in 2003, which took place in Newport Beach.
The couple was married for eight years, and although they tried to patch things up, they eventually separated. Both their children followed their father's footsteps and are star athletes in their own right. Trinity plays soccer while Dennis Rodman Jr. plays basketball. Sadly, Dennis Sr.'s finances have taken a downturn and it seems that he will need a financial advisor to help with his earnings.
Debra Messing & Daniel Zelman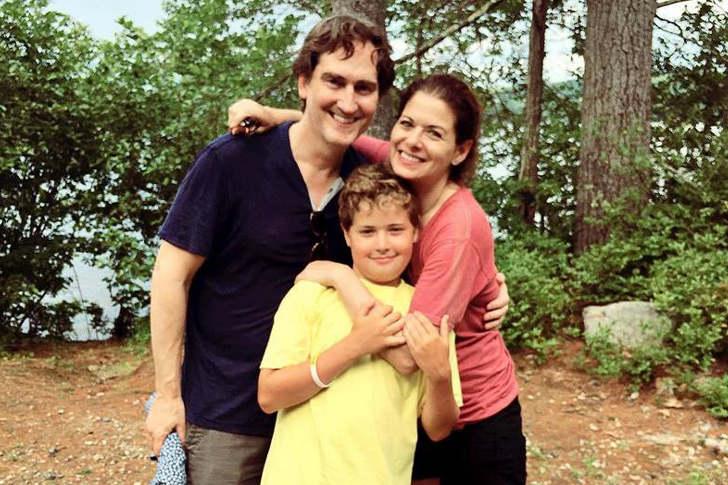 Debra Messing and Daniel Zelman first met as graduate students at New York University. Messing went on to get a degree in Theater Arts and became a prolific actress, while Zelman's career transformed him into an actor and screenwriter. After a decade of being in a relationship, the two tied the knot in 2000. Four years later, Debra gave birth to their only child, Roman. Roman is certainly a stunner and looks just like his mom in his most recent photos.
The couple announced that they were separating in 2011 after being married for 10 years. Though they had issues with the division of their properties, they continued to co-parent their only child. This star couple proves that even with time limitations, they are both committed to giving Roman their best. Since then, however, they sold their former family home in Bel Air for $11.4 million.
Debbie Reynolds & Eddie Fischer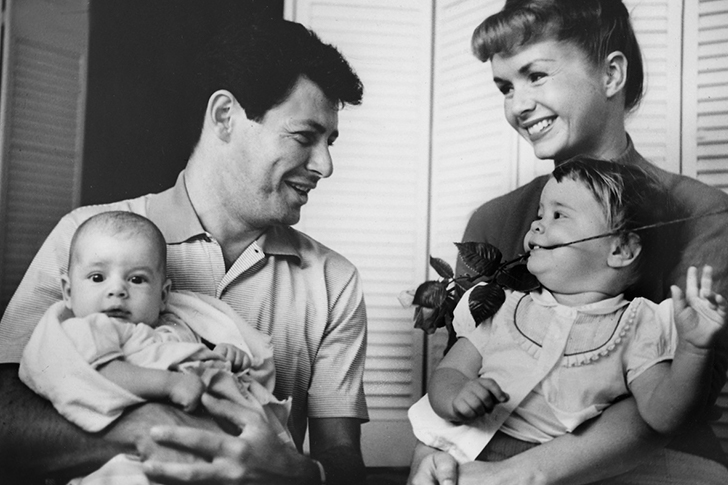 Debbie Reynolds and Eddie Fischer are parents to two children Carrie and Todd, who would later be successful stars as well. Carrie become known for her role as Princess Leia in the Star Wars movies, while Todd made a name as a director.
Fisher and Reynolds first met overseas while entertaining American troops during the Korean War. They married in 1955 but separated four years after. Reynolds' best pal and fellow superstar Elizabeth Taylor became involved in their relationship. Soon after Taylor's husband passed away, Fisher was said to have rushed to her side and comforted her, leaving his wife and two children. Reynolds later tied the knot with businessman Harry Karl in 1960, but this also resulted in separation. Though her luck in love wasn't as bright, Debbie did go on to receive major credit for her work in the industry.
Darcy LaPier & Jean-Claude Van Damme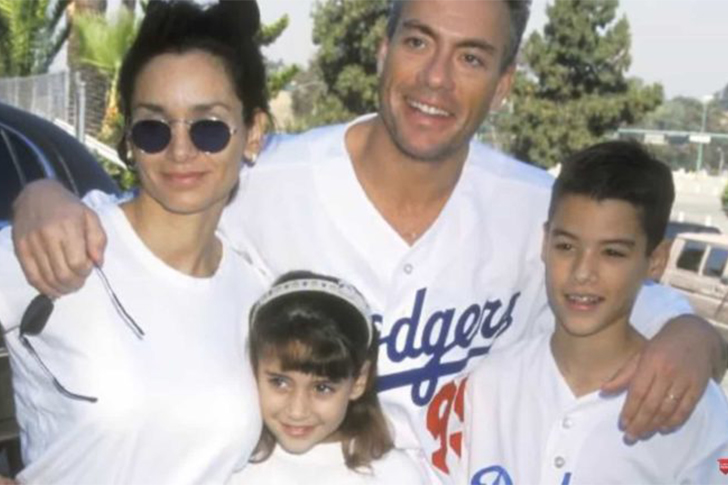 It is common knowledge that renowned martial artist and actor Jean-Claude Van Damme has a reputation for being in an on-and-off marriage. He has tied the knot five times. One of his former wives is Darcy LaPier. Van Damme was finalizing his separation with Gladys Portugues in 1992 when he met the former model and actress. They tied the knot in 1994 and had a son named Nicholas. But their romance did not last as well due to the actor's infidelity. After his admission, LaPier said that she felt betrayed and hurt during the ordeal. Van Damme agreed to spousal support and made sure to cover her medical insurance as a way of assisting LaPier during her pregnancy. Any man would have given up at this point, but he continued to fight for their marriage and was able to win her back in 1999.
Daniel Craig & Fiona Loudon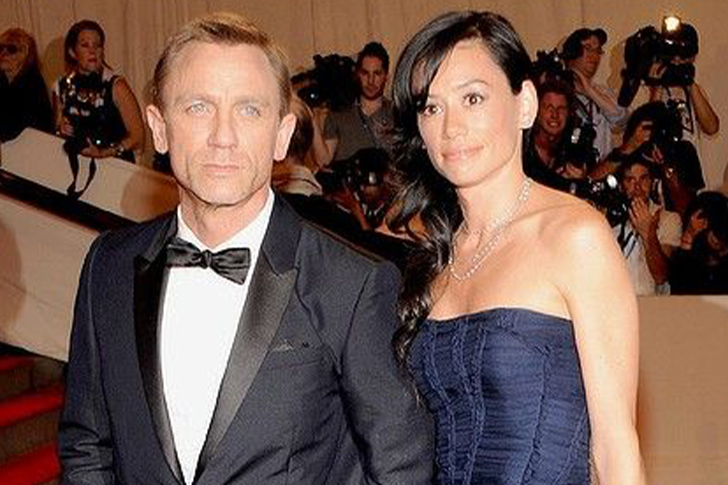 Daniel Craig and Fiona Loudon married early on in their individual careers. Craig was a budding actor while Loudon was just starting out in theatre. They were in love, but their marriage only lasted for a brief period. Two years after tying the knot in 1992, they went their separate ways. It wasn't all for nought, though, because they became parents to a beautiful daughter named Ella, who would later join her parents' journey in Hollywood as an actress.
Craig later became a juggernaut in Hollywood. He bagged landed the role of the sixth James Bond and made over five movies with the franchise. Meanwhile, Loudon focused mainly on her child as a single mother. For Ella, she believes that having a popular father does not mean she is guaranteed stardom. Instead of finishing her acting degree at the New York University, she dove into the "family business" and has been working since.
Cyrinda Foxe & Steven Tyler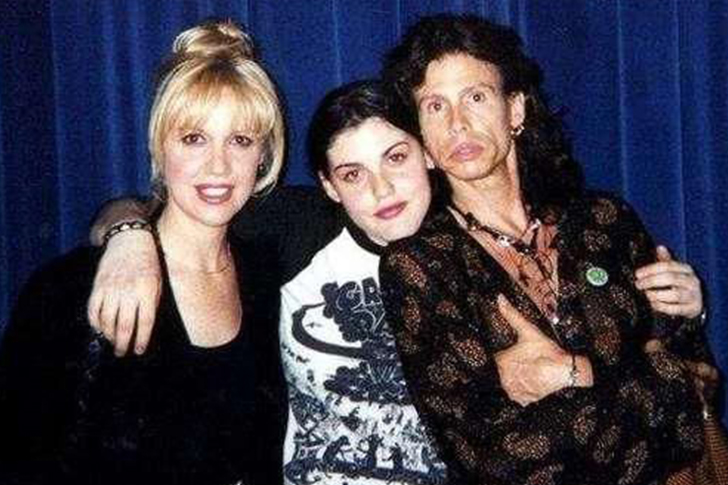 Steven Tyler was once married with model and actress Cyrinda Foxe. Foxe had just separated from David Bowie when she tied the knot with the Aerosmith frontman. Foxe and Tyler enjoyed married life for nine years, together with their daughter Mia. However, their marriage began to crumble. Not too long after, Tyler had to deal with personal health issues. Despite this, the two co-parented their only daughter well. Foxe passed away in 2002 and despite the separation, Steven continues to pay homage to his former spouse.
Meanwhile, Mia has gone past the shadows of her parents. Although she gives credit to them for all of the opportunities she was given when she was starting out, Mia was able to find success on her own. She is a known actress who has bagged roles in Rush Hour 2, Celebrity Fit Club, and many others.
Courteney Cox & David Arquette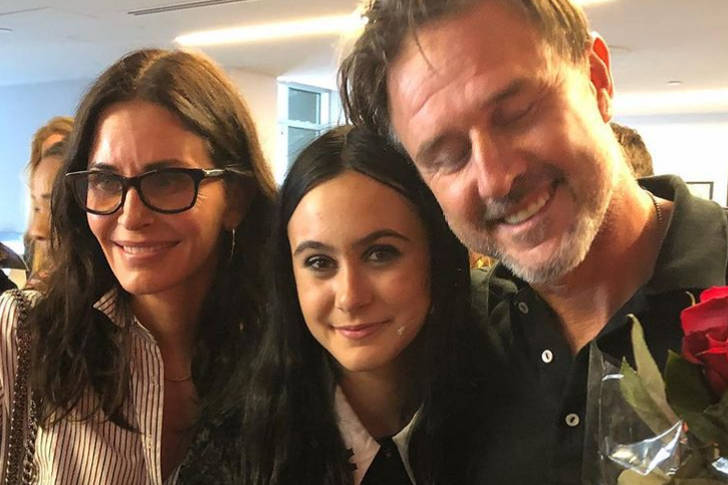 Courteney Cox and David Arquette met at the set of the slasher film Scream. Cox played reporter Gale Weathers while Arquette portrayed Deputy Dewey Riley. They dated for a couple of years before tying the knot in 1999 in a lavish star-studded ceremony. What was supposed to be a healthy relationship soon ended with a decision to separate. According to reports, Cox felt like a mother who was looking after her son. Arquette wanted to mend their already broken relationship but his efforts were not successful.
When their lawyers had finalized their divorce in 2013, the two remained in each other's lives for the sake of their daughter. They continued co-parenting Coco and maintained their friendship. Cox and Arquette are also set to reprise their roles for the reboot of Scream. This will certainly be a full circle moment for this former couple.
Connie Stevens & Eddie Fischer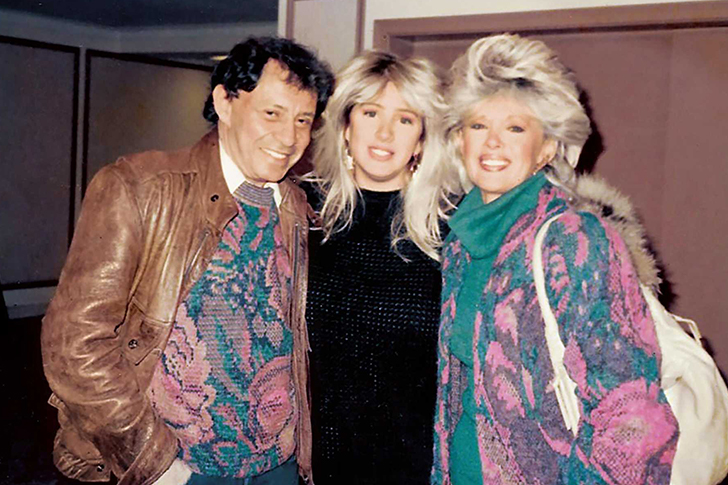 One of Eddie Fisher's former wives is Connie Stevens. The legendary music icon married Stevens in 1967. It would be less than three years into their union when Fischer filed for separation once again. Even when things did not work out for Fischer and Stevens, the singer continued to be a good father and provider for their two daughters Joely and Tricia.
After Stevens' failed marriage, she began focusing on mending her crumbling financial capacities as a single parent. She ventured into entrepreneurship, selling make-up and beauty products to pay off what seemed to be a towering pile of money loans. Stevens has a net worth of $50 million, which she has earned from her acting salaries and sales from her own company Forever Spring. Meanwhile, Joely and Tricia have also entered the world of acting, along with their equally famous half-sister Carrie Fisher.
Connie Kline & Jamie Foxx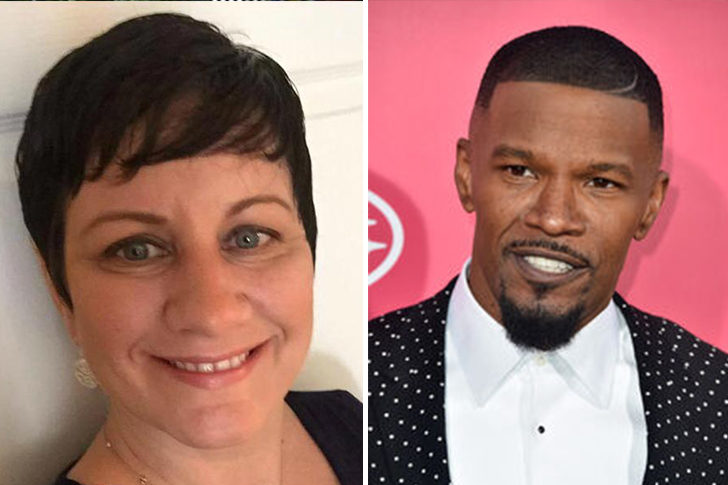 There is not much information about Jamie Foxx's former flame Connie Kline, who is also the mother of his daughter Corrine. It was not clear when and how long the couple were in a relationship, but they did have Corrine in 1994. They co-parented their daughter and supported her studies until she graduated with a degree in Public Relations from the University of Southern California.
Although there is no sufficient news about Kline and her relationship with Foxx, the two seemed like they remained good friends, even after separation, for the sake of their daughter. It is known that the actor has a deep relationship with his daughter and the two are often seen in red carpets together. Corrine is now working as a model and actress, having bagged roles for 47 Meters Down: Uncage and also appeared alongside her father in Beat Shazam.
Cindy Costner & Kevin Costner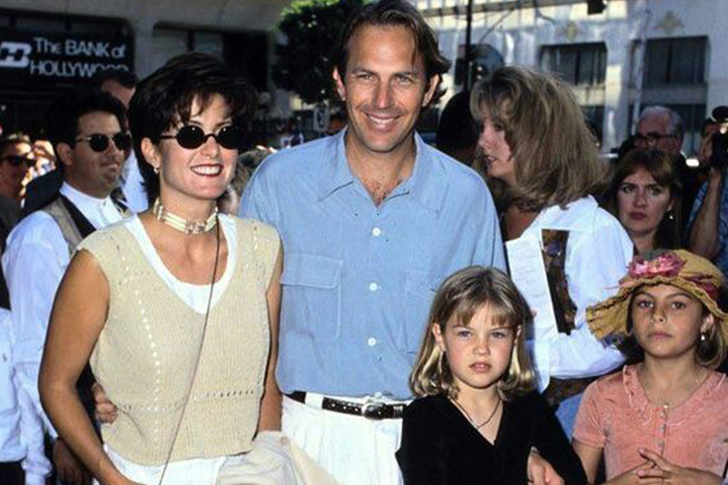 Cindy Costner and Kevin Costner were married for 16 years before they decided to end their relationship. The actor met Cindy while they were still in college and dated for three years before they wed. They were blessed with three children, Lily, Annie, and Joe. During the 80s, Kevin began landing more roles, which led to challenges in their marriage. At one point, Cindy accused the actor of infidelity.
Cindy's income and investments were not made public during the separation, but she reportedly walked away with a $50 million settlement. This is a big amount, but it didn't dent the actor's $250 million net worth. Costner would continue with his famous career, landing top roles for movies such as Man of Steel and Molly's Game. While Cindy did not remarry after Costner, the 66-year-old actor eventually tied the knot for the second time.
Christine Baumgartner & Kevin Costner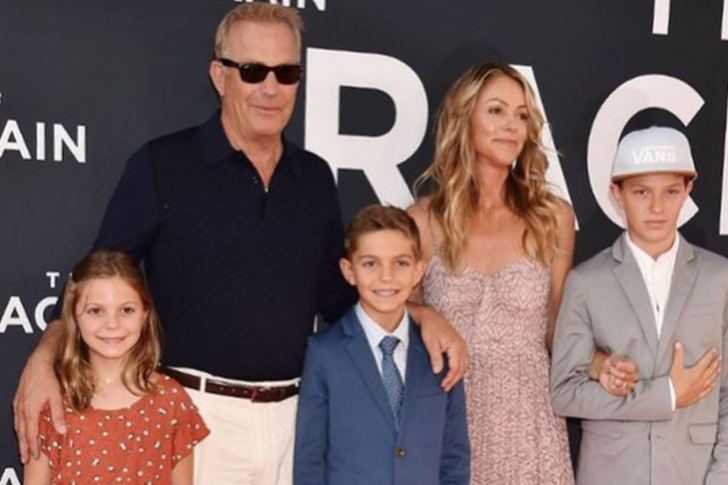 Kevin Costner's first marriage may not have lasted, but he did found love again later on. This time, he was able to maintain it. He met model Christine Baumgartner following his split with Bridget Rooney. They dated for a period of time and he eventually proposed marriage.
In 2004, the two tied the knot despite the degree of difference in their ages. Prior to this, Costner and Baumgartner split up briefly, due to the former's decision not to have children again. As someone who wanted to be a mother, Baumgartner has always been looking forward to having kids with the actor. For his part, Costner may have seen his advancing age as a deterrent toward having more kids. Though, he later realized that he valued their relationship more and that having children again wouldn't be so bad. Costner and Baumgartner have three kids namely Hayes Logan, Grace Avery and, Cayden Wyatt.
Christina Aguilera & Jordan Bratman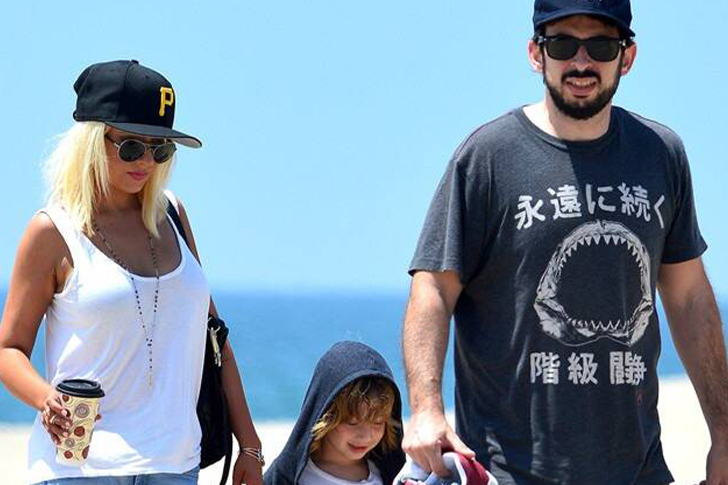 The Voice judge Christina Aguilera has a net worth of $150 million. This means she has all the investment money she needs to pursue other ventures, aside from music. Something that she has been doing throughout the years with her performances in movies. Unlike her peers, the singer has somehow managed to maintain a little privacy in her personal life. Many know that she has been married to producer Jordan Bratman, whom she dated for four years. Their quiet relationship eventually came to an end in 2011, when she called upon lawyers to finalize their separation.
The couple do have one child together, Max Liron, whom they co-parented to the best of their abilities. No reason was revealed to the public, but Christina did admit in interview that she was no longer happy. Most recently she welcomed her second child, Summer Rain, with Matt Rutler.
Christie Brinkley & Billy Joel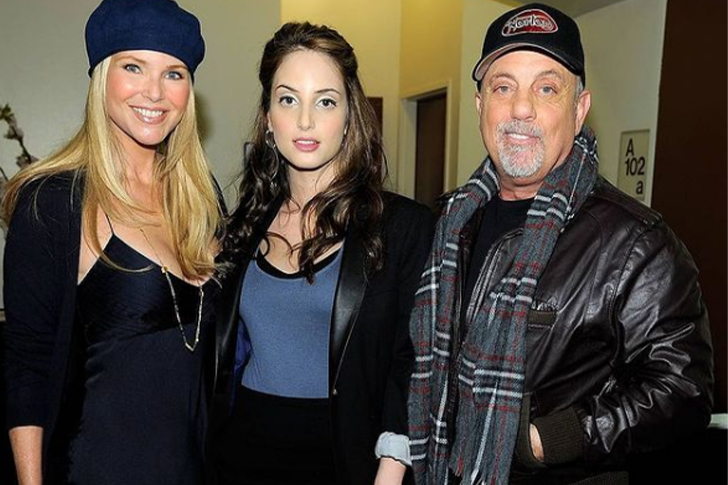 Billy Joel was at the peak of his popularity when he met Christie Brinkley in St. Bart's. He and the supermodel began dating privately, considering how high-profile they were in their respective fields. During this period, Joel often defended the model from naysayers who saw her as someone who sought rich men for insurance purposes. Perhaps this is why she fell for him and the two eventually tied the knot in New York Harbor.
That same year, Brinkley and Joel welcomed their daughter Alexa Ray. Their beautiful offspring is all grown up now and is also pursuing a career in music, just like her father. Alexa has released the EP Sketches, along with several other songs under independent record labels. Although their marriage was only brief, Brinkley and Joel remained friends. Brinkley and Joel eventually moved on to other relationships.
Kimora Lee Simmons & Russell Simmons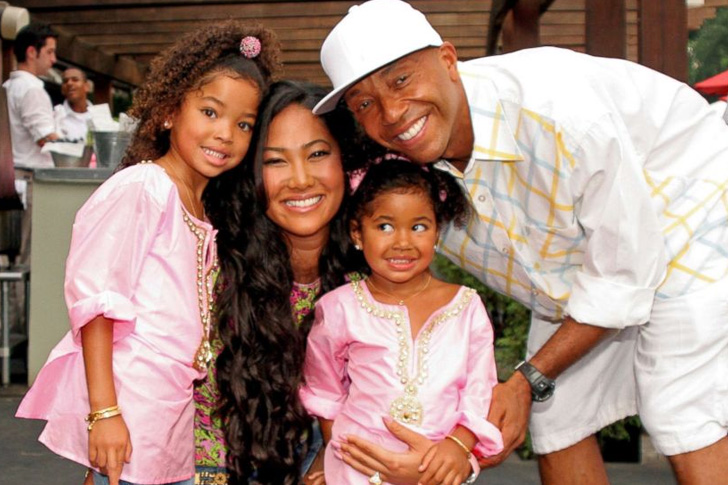 After several controversies and an uncomfortable level of scrutiny about their relationship, Kimora Lee Simmons and Russell Simmons decided to opt for a legal separation. The two met in 1992, got wedded in 1998, and separated in 2006.
As they have two kids together, Ming Lee and Aoki Lee Simmons, Kimora and Russell have maintained a strong friendship. She even gives him credit for being kind and having a huge heart. Kimora added that her ex-spouse is very supportive of her, and so they get along pretty easy. They have a balanced co-parenting relationship. Kimora went on to have two relationships since their separation, first with ex-partner Djimon Hounsou and then her current husband, Tim Leissner. She has a son with Hounsou named Kenzo, and another two kids with Leissner, Gary and Wolfe. Aside from being known as Russell's former wife, Kimora has also made a name as the founder of Baby Phat.
Channing Tatum & Jenna Dewan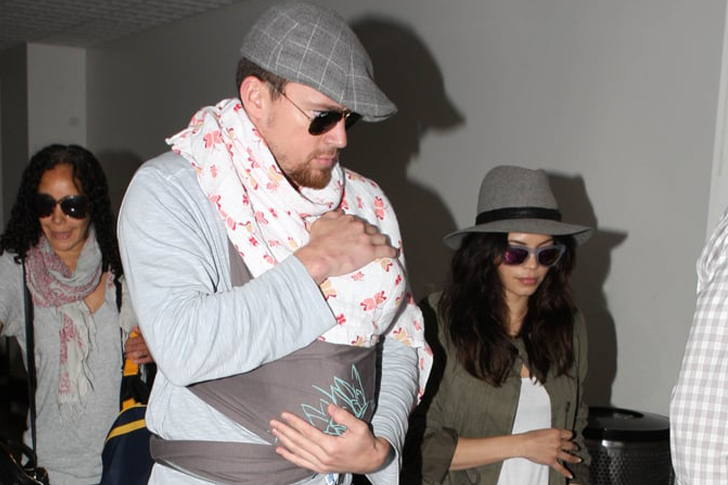 Channing Tatum and Jenna Dewan were one of Hollywood's favorite couples. Fresh from their hit movie Step Up, Tatum and Dewan began dating and ended up exchanging vows in 2009. They also welcomed their daughter Everly in 2013. There were no huge fights or cheating speculations surrounding their split; Tatum and Dewan reportedly cited that they were simply growing apart as a couple.
It was a time when Tatum was juggling fully-booked schedules for his movies such as Logan Lucky, 21 Jump Street, and Magic Mike. The stars finalized their legal separation in 2020 and had an equal agreement for Everly's custody. It was not confirmed if they reached a settlement for their properties and investments as a married couple. Both actors have since moved on from their marriage, but do remain friends and continue to be good providers for their daughter.
Celine Dion & René Angélil
Dion and Angelil met each other when the Canadian singer was only 12. Angelil was a music producer, who saw Dion's potential and believed in her so much that he put his own house on a mortgage to fund her tours. When Dion reached 18, the two began seeing each other, which eventually led to them tying the knot in 1994. Despite their 28-year age gap, Dion and Angelil enjoyed a harmonious marriage and spent over two decades together before Rene passed on.
In fact, she was so dedicated to being with him that Dion took a step back from her successful singing career to take care of her ailing husband. In 2016, Angelil succumbed to his sickness at age 73, leaving Dion devastated and heartbroken. Dion has not been married since. Instead, she's focusing on being a doting mother to their sons, René-Charles, Eddy, and Nelson.
Catherine Bell & Adam Beason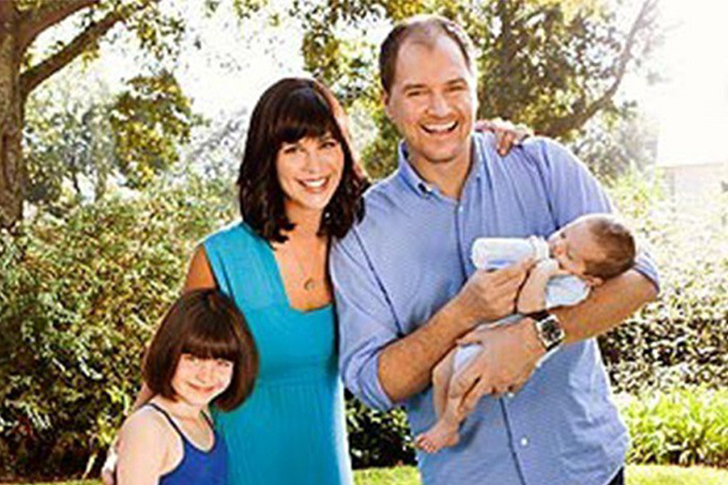 Adam Beason and Catherine Bell had a wonderful marriage. They were blessed with children and managed to stay together for nearly two decades before calling it quits. Seventeen years is no easy feat so we have to give them credit for sticking it out.
Beason and Bell met on the set of Death Becomes Her. Beason was a production assistant while Bell worked as a stunt double. Following a two-year courtship, the two tied the knot in 1994. The pair had two children—Gemma and Ronan. Before separating, the couple also invested in a real estate property that fit their family needs. They lived in a Tuscan-style mansion in Calabasas, California but sold the property at the time of their official separation. Even when they ended their marriage, the two remained friends for their children. Since then, both have moved on to new relationships.
Carly Waddell & Evan Bass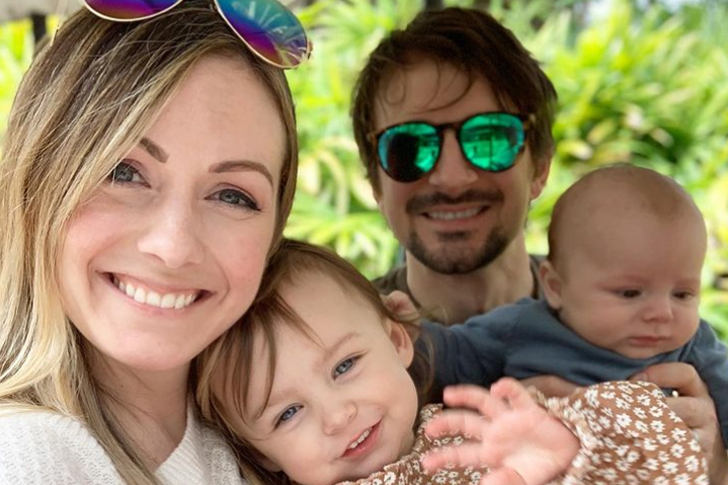 When Bachelor alumnus Evan Bass met Carly Waddell in the spin-off series Bachelor in Paradise, it seemed their stars had aligned. Their highly public relationship turned into marriage on June 17, 2017. Afterward, they moved to Nashville, Tennessee. On February of 2018, they welcomed their first child, a daughter named Isabella. Their second child, a son whom they named Charles, was born on November of 2020. Bass also had three children from a previous marriage, which makes them a family of seven. Much of their married life had been showcased on Bachelor in Paradise, which showed the degree of dedication they had toward their family.
However, a happy ending wasn't meant to be. Their relationship soon fell apart in 2020 and in December of the same year, they made their separation official. It wouldn't have been easy for either party, but they seem to be doing well with co-parenting.
Bruce Willis & Demi Moore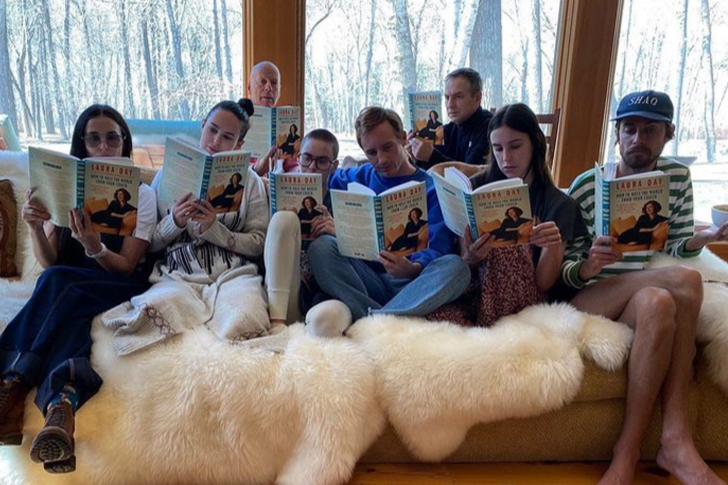 When Demi Moore married Bruce Willis in 1987, both were rising stars. They met each other at the premiere of the movie Stakeout. They married in the same year, after a few months of dating. Being powerhouses at that time, many were hopeful that their relationship would withstand the Hollywood curse. They share three children together: Rumer, Scout, and Tallulah. The couple enjoyed many happy years together and even weathered a number of challenges along the way. However, there are certain things that they could no longer tolerate and the couple eventually filed for separation.
In terms of finances, they certainly had to settle well before moving on. It was on October 18, 2000 that lawyers from both camps finally agreed on a settlement. The two have since gone on to new relationships, though it's no secret that they have also maintained their friendship over the years.
Britney Spears & Kevin Federline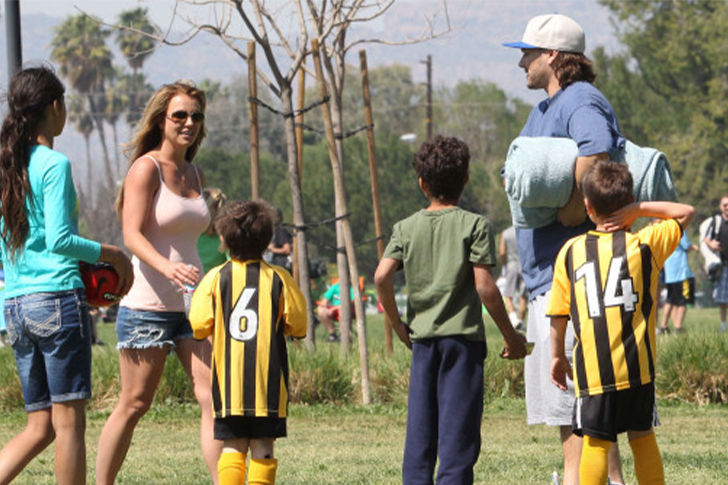 Britney Spears will always be remembered as a pop superstar. She has had numerous successful singles over the years, including Oops! I Did It Again, Toxic, and Baby One More Time. She had a meteoric rise to fame, but this also came with a number of challenges. Britney Spears was hounded by the media and became regular tabloid fodder. Her personal life wasn't an easy one to keep private either, which meant a lot of her relationships suffered.
In 2004, she began publicly dating dancer Kevin Federline. Shortly after, the couple were engaged and eventually tied the knot in September of the same year. The two were head-over-heels for each other at the time. They were blessed with two kids, Sean Preston and Jayden James. They separated soon after and moved on to new lives. At present, lawyers gave custody of the kids to Britney's family.
Bridget Rooney & Kevin Costner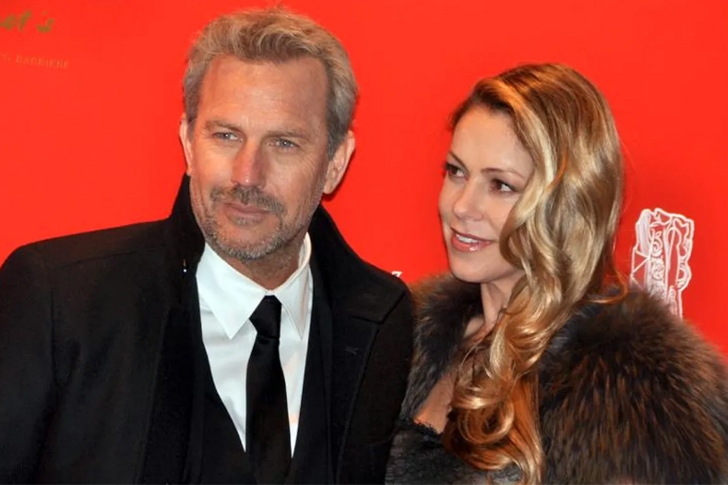 Kevin Costner is one of Hollywood's biggest stars. Costner is popularly known for his performance in the films Waterworld, Field of Dreams, and The Bodyguard. He also received credit for his band Kevin Costner & Modern West. He has been honored with an Emmy Award, two Oscars, and three Golden Globes. Aside from the degree of success he has achieved as an actor, his high-profile relationships also caused headlines. After his split with Cindy Silva, Costner found love in the arms of Bridget Rooney, whose family owns the NFL team Pittsburgh Steelers.
Costner and Rooney's relationship resulted in the birth of their only child. On November 1996, the couple welcomed their son Liam. However, the two have since decided to part ways. Costner tied the knot with Christine Baumgartner in 2004. Rooney, on the other hand, got married to businessman Bill Koch in 2005.
Brad Pitt & Angelina Jolie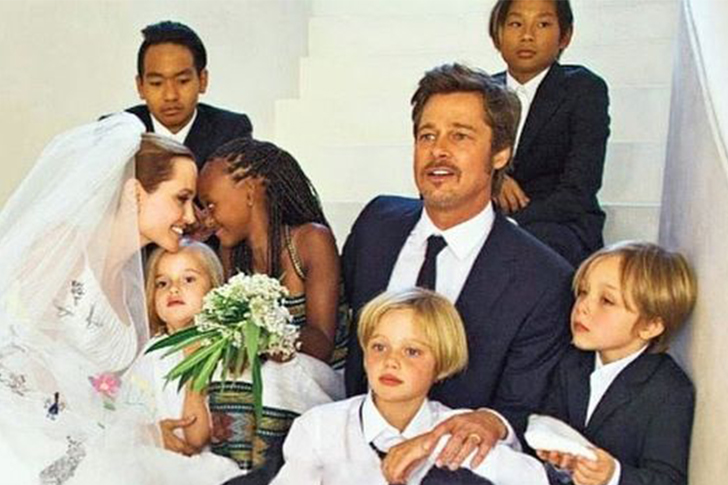 Hollywood superstars Brad Pitt and Angelina Jolie captivated fans with their chemistry in the film Mr. & Mrs. Smith. Following their successful pairing in the movie, the two decided to pursue a romantic relationship off-screen as well. The debut of the couple branded as Brangelina by the entertainment media became a global sensation. After seven years together, Pitt popped the question and the couple were engaged on April of 2012. They tied the knot two years later on August of 2014.
The A-List couple have six children together, Maddox, Pax, Zahara, Shiloh, and the twins Knox and Vivienne. However, in 2016 the two sought their lawyers after deciding that they were ready to part ways. No detailed reason was given for this, but their separation became official in 2019. During their fourteen-year relationship, Pitt and Jolie actively supported humanitarian causes, which they continue as individuals today.
Berry Gordy & Diana Ross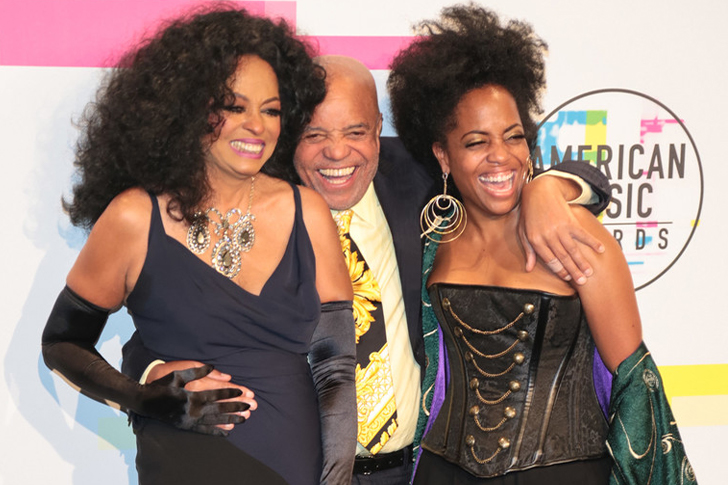 Music legend Diana Ross once had a relationship with her former boss, Motown CEO Berry Gordy. Their relationship started in 1965, and at that time Ross was considered to be among Motown's most successful talents. It was also Gordy who signed her group back in 1961 and renamed it The Supremes. Gordy was said to be 'madly in love' with Ross. The couple seemed to be a perfect match. Ross's music captivated millions, and Gordy's investment towards her talent made Motown a very successful record label. The Supremes also became a very well-known group.
However, the couple parted ways in 1970 while Ross was pregnant with their first child, Rhonda. She gave birth 1971, with Rhonda not knowing her true parentage until her teens. Beforehand, Rhonda referred to Gordy simply as Uncle B.B. and believed music executive Robert Ellis to be her real father.
Barbara Walters & Lee Guber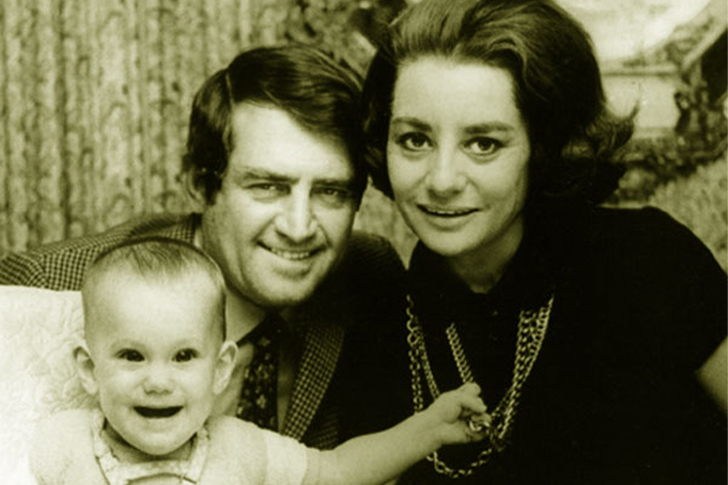 Barbara Walters is a legend in the field of journalism and hosting. Over the years, she has been at the helm of many successful shows. Despite living a very public life, her relationship with theatrical producer and theater owner Lee Guber wasn't public knowledge. The two met after Barbara's separation from her first husband and eventually wed on December 8, 1963. They have one daughter whom they named Jacqueline. Jacqueline was adopted by the couple in 1968, shortly after she was born. She also maintained her personal life private and rarely gives interviews about her family.
However, Walters parted ways with Guber in 1976, with Walters admitting that her exclusive investment in her career meant that her family life was jeopardized. Jacqueline went through troubles as a teen, but, this mother and daughter maintained a close relationship over the years.
Ashley Hebert & J.P. Rosenbaum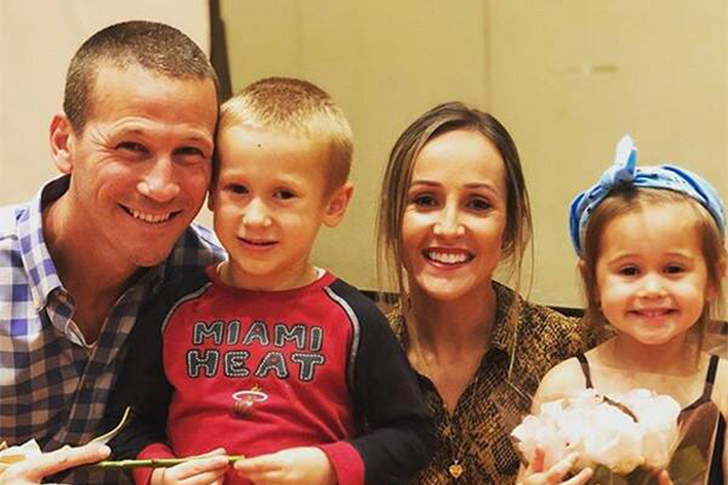 Ashley Hebert and J.P. Rosenbaum had palpable chemistry while they were filming the show The Bachelorette. Their on-screen romance eventually led them to greener pastures. Hebert was a pediatric dentist when she joined the reality show. Rosenbaum, on the other hand, was involved in construction management and had real estate investments. The couple eventually tied the knot on December of 2012. Two years later, they welcomed the first addition to their family, a son named Fordham. They were later blessed with their second child, a daughter named Essex who was born in 2016.
However, after nearly eight years of being together, the couple announced on their respective Instagram accounts their decision to part ways in 2020. Despite their separation, the former couple still maintains a friendly relationship with each other. They are working hard on co-parenting while raising their two children.
Ashlee Simpson & Pete Wentz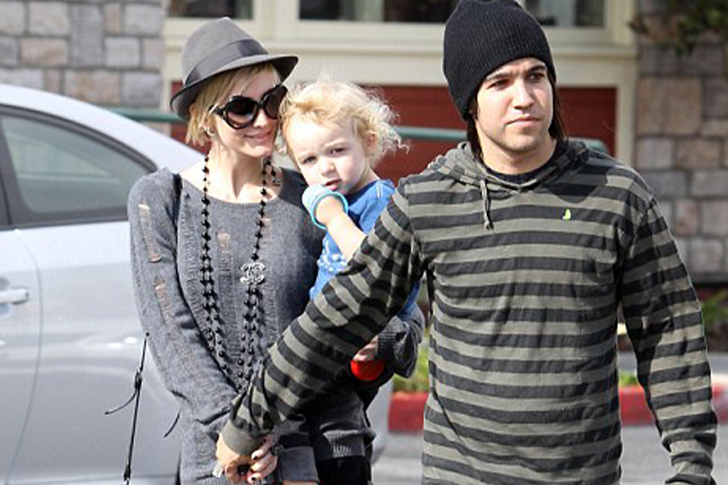 It was at the height of Fall Out Boy's popularity, in the early 2000s, when Pete Wentz started dating singer Ashlee Simpson. It did not take long for the Fall Out Boy bassist to put a ring on Ashlee's finger. The love between them was stronger than electricity and the two were wed by May 2008. They were considered to be one of the hottest couples of the era.
However, the year 2011 signified the end of Pete and Ashlee's happy-ever-after. The couple of four years began working on co-parenting their only son Bronx Mowgli, who was born in November of 2008. The two have decided to remain friends and have since moved on to their new love interests. Pete shares three children with his partner Meagan Camper. Ashlee, on the other hand, married Diana Ross's son Evan in 2013 and have two children with him.
Arne Naess Jr. & Diana Ross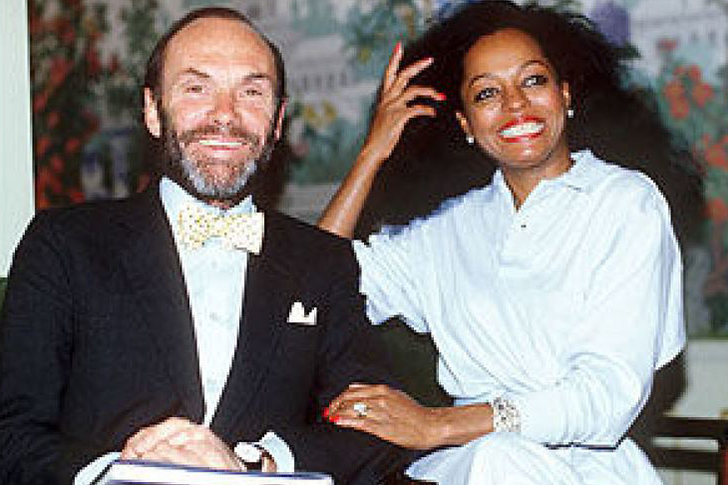 Diana Ross began her career as the lead singer of the 60s group The Supremes. She later went on to establish herself as a solo artist, releasing a number of sold-out albums and chart-topping singles during her career. This includes her solo debut album, Diana, which was released in 1970. Since then, she has gifted us with classics such as I'm Still Waiting, Love Hangover, Endless Love, and Touch Me in the Morning, to name a few.
While on a trip to the Bahamas, she met the Norwegian businessman Arne Næss Jr. in 1985. The following year, the two lovers tied the knot. Through her marriage, Ross gained three stepchildren, Leona, Katinka, and Christoffer. Diana and Arne welcomed their first son, Ross, in 1987, and their second son, Evan Olav, in 1988. In 1999, they asked their lawyers to finalize their separation. The reason for which is undisclosed.
Annie Bakes & Dennis Rodman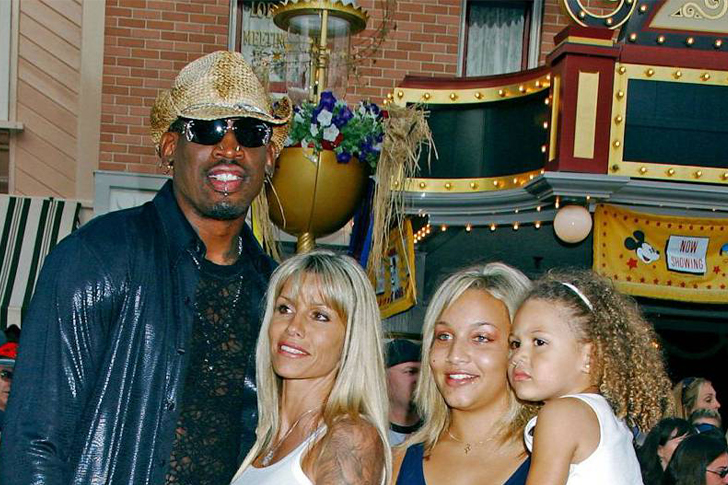 Dennis Rodman is one of basketball's foremost legends, with a career that continues to inspire young players today. Aside from his skills on the court, his big personality also lent itself to other career opportunities—including endorsement and even film appearances. Dubbed as The Worm, NBA star's personal life was closely followed by the media. In 1987, Rodman met club hostess Annie Bakes. The two immediately hit it off and started living together a year after.
They were blessed with their first child, a daughter named Alexis Caitlyn in 1988. After years of dating, Rodman popped the question and the couple tied the knot in September of 1992. However, after almost three months of marriage, the couple decided to lawyer up and go their separate ways. At present, their daughter Alexis is married and gave birth to her first child, Vincent, in 2017.
Anne Byrne & Dustin Hoffman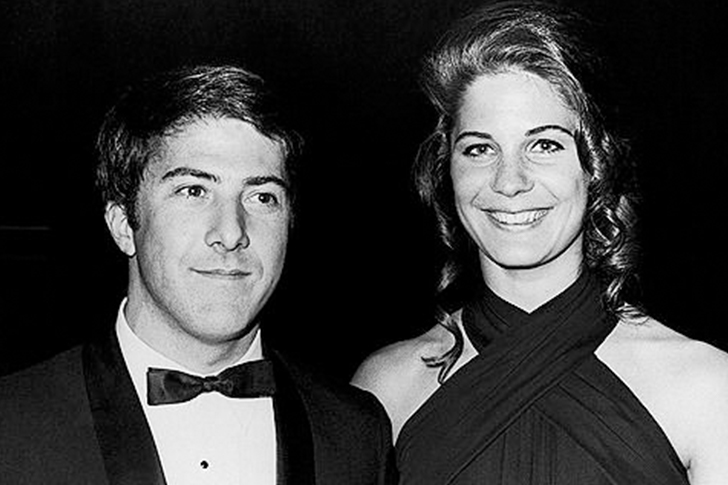 Veteran actor Dustin Hoffman met fellow actress Anne Byrne in 1963. After years of dating, he popped the question and the couple exchanged vows by May of 1969. Hoffman is among Hollywood's most treasured stars. He has several accolades to his name. Some of his most critically-acclaimed performances include roles in 1967's The Graduate, 1976's All the President's Men, 1988's Rain Man, and 2006's Stranger than Fiction, among others. Meanwhile, Byrne's share of acting credit comes from her roles in films like A Night Full of Rain, Papillon, and Manhattan.
Hoffman adopted Byrne's daughter, Karina, who the actress had from a previous marriage. The couple welcomed their first child together, Jenna, on October 1970. By the 1980s, after eleven years of being together, they decided to go their separate ways. Things eventually worked out for them and they found their happily-ever-after as individuals.
Anne Buydens & Kirk Douglas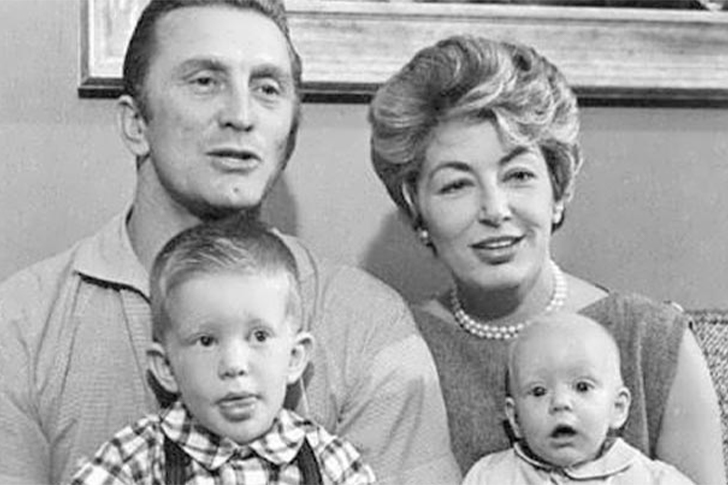 Kirk Douglas made his debut in the 1946 film The Strange Love of Martha Ivers opposite Barbara Stanwyck. Since the he has received accolades for his performances in the films Champion, Spartacus, and Town Without Pity. He fathered actors Michael and Joel Douglas during his marriage to Diana Dill, with whom he parted ways in 1951.
The Ace in the Hole actor met Anne Buydens while on the set of the film Act of Love set in the city of love, Paris. In May of 1954, they sealed the deal and exchanged their vows. The couple share two children together. Their first son Peter eventually became a television and film producer. Their second son Eric followed in his father's footsteps and worked as an actor until he passed away in 2004. Douglas and Buydens remained married until the former's passing in 2020.
Chris Pratt & Anna Faris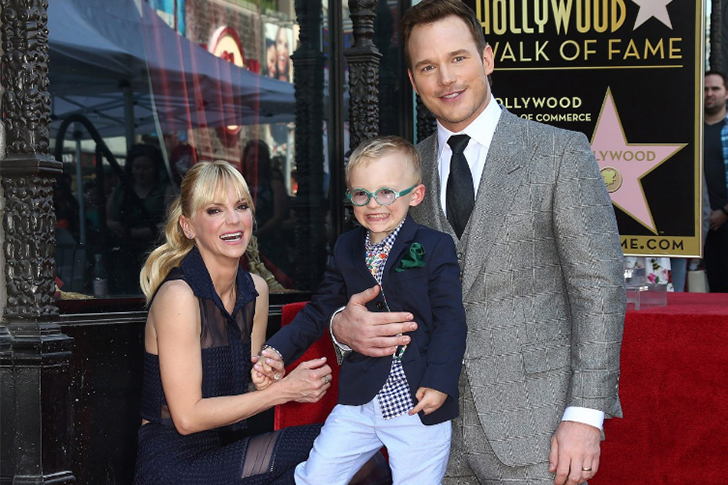 It was love at first sight for Chris Pratt when he first met Anna Faris. The two met in 2007 on the set of Take Me Home Tonight. They began dating soon after, which later led to a happy marriage. This is also why many were surprised to learn that the two were separating after years of marriage. They were seen as ideal by many and it seemed as if they were meant to last forever. In the end, it was their own careers that led to the dissolution of their union.
Each were highly successful, which also meant they weren't able to fully focus on their families. The separation didn't happen overnight, however, reports suggest that they tried to work on things. They even sought advice from an attorney before going through with it. Since finalizing things, Guardians of the Galaxy star Chris Pratt has remarried, but continues to co-parent with Anna Faris.
Anderson Cooper & Benjamin Maisani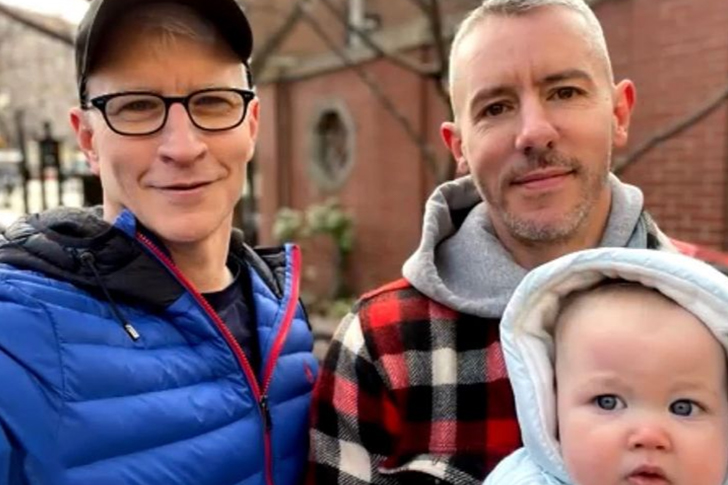 Anderson Cooper is among the most prominent television journalists in America. He is most popularly known as the anchor of CNN's show Anderson Cooper 360. Because of his integrity and sharp-eyed reportage, the esteemed journalist has received numerous accolades for his many contributions to the field. What most people don't know, however, is that Cooper comes from a long line of New York City socialites, the Vanderbilt Family, and is the son of fashion designer Gloria Vanderbilt with actor Wyatt Cooper.
The anchorman has been in a long-term relationship with Benjamin Maisani even prior to his coming out in 2012. In March of 2018, Cooper and Maisani have parted ways after three years of dating. Cooper welcomed his son, Wyatt Morgan, via surrogate in April of 2020 and announced it on live television. Just this 2021, it has been reported that the former flames have decided to live together and co-parent little Wyatt. The two have poured time, love, and investment into their little angel despite their separation.
Amber Rose & Wiz Khalifa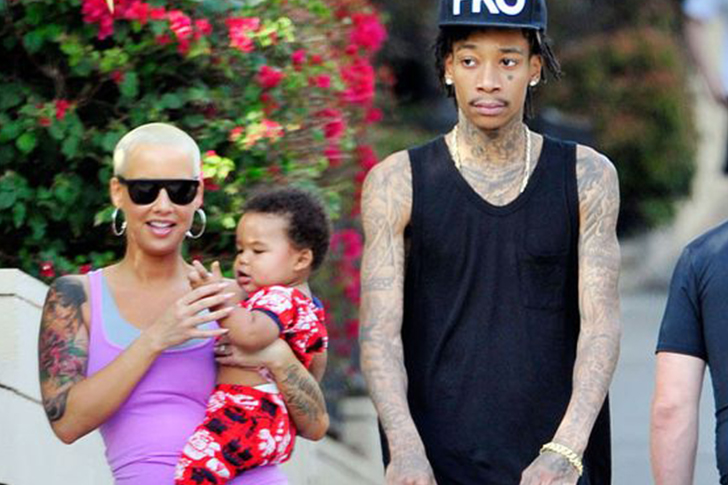 Amber Rose and Wiz Khalifa proudly shared their love in public when they started dating in 2011. Amid several relationship issues, their love began to go down the hill, leading to their separation.
Amber ultimately called in the help of her attorneys to make their split legal after she left him. This made the fans of the hottest romance in the hip-hop world the saddest. At the time, Amber was seeking the full custody of their son, Sebastian Taylor Thomaz. Their 2013 marriage officially canceled in 2016, but they were both dedicated to their child despite the split. When Sebastian celebrated his seventh birthday in 2020, he had both his parents by his side. The ex-couple had remained amicable, and Amber and Wiz were always there both for Sebastian.
Alicia Silverstone & Chris Jarecki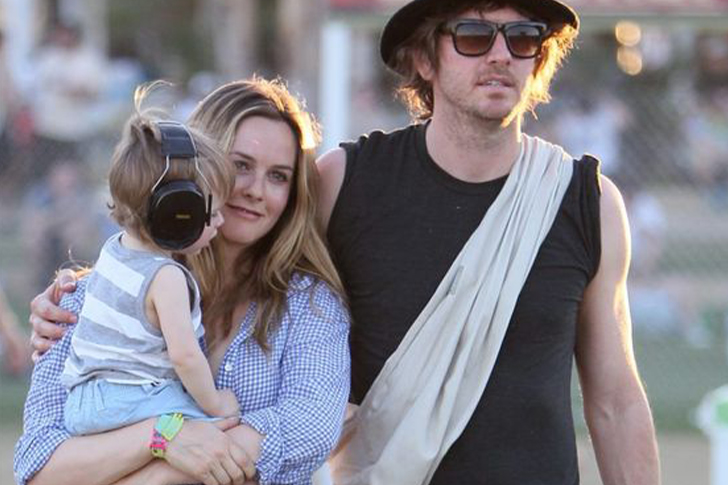 The beautiful Alicia Silverstone was once married to the S.T.U.N. frontman Christopher Jarecki. Just when everyone thought they would be together forever, with their 13 year-marriage and 20 years of togetherness, they still ended up parting ways. The now-44-year-old actress cited irreconcilable differences when she filed for legal separation with her lawyers' help in 2018.
Despite the split, they said they still deeply love and respect each other and have remained very close friends. Though they are cordial, Alice doesn't deny that she finds the transition difficult. In an interview, she admits it is heartbreaking but promises to continue co-parenting their nine-year-old son, Bear Blu Jarecki, together. Alicia is proud that their little family, although broken, is flowing really well. Did you know they still share a bed? Yep, she admitted the respect they have for each other is beyond palpable they can always do great things together.
Alex Rodriguez & Cynthia Scurtis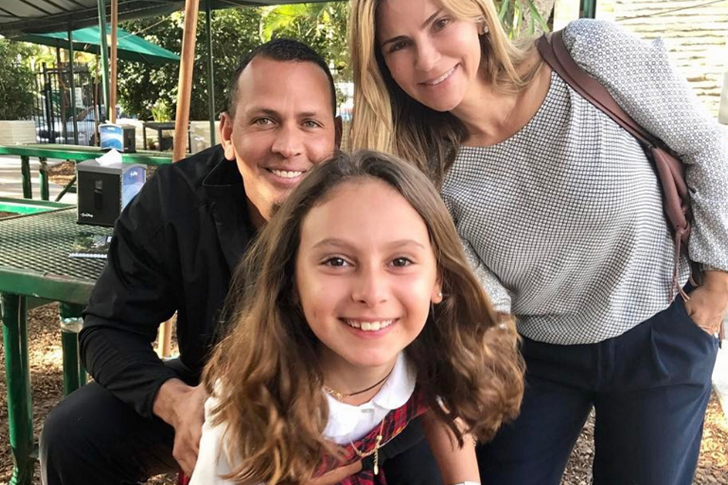 Alex Rodriguez and ex-wife Cynthia Scurtis' relationship is said to be "full of drama." They both made several nasty allegations against each other after they ended their romance. Who would have thought that a love story that started in a gym would end up this way?
Alex and Cynthia tied the knot in 2002, and after two years, they welcomed their first child, Natasha Alexander Rodriguez. After another four years, they had their second daughter, Ella Alexander Rodriguez. Just a few months after their youngest child's birth, however, Cynthia put off her ring due to several degrees of alleged unfaithfulness issues on Alex's part. Despite what happened, the ex-couple still co-parented their kids, putting a united front for their two teenagers. Alex and Cynthia do everything they can to turn their negative situation into a positive one for their children.
Alan Greisman & Sally Field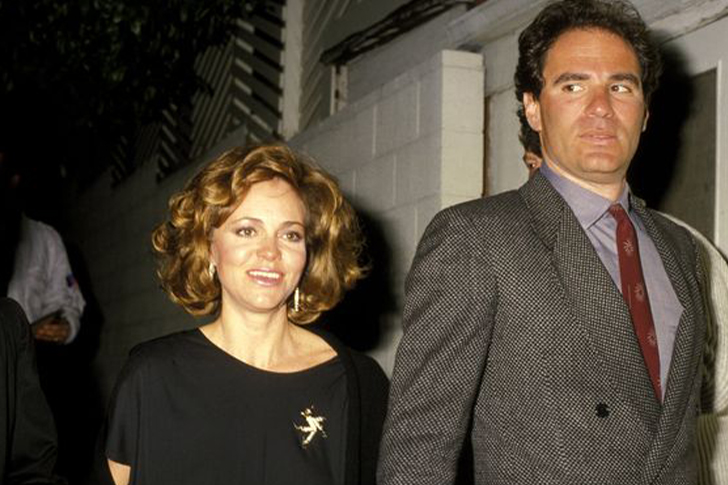 Sally Field has an incredible acting career, but it is a different story when it comes to her love life. The 74-year-old star has been married twice, and one of them is to Alan Greisman. After a broken marriage with Steven Craig and a failed relationship with Burt Reynolds, she tried another shot at love to the said film producer. The two tied the knot in 1984 and were blessed with a kid, Samuel Greisman, in 1987. After a decade of romance, they, too, sadly ended up splitting.
Despite experiencing heartaches several times, Sally is thankful that she finds solace in her kids. She gives her kids and grandchildren all the credits for saving her from loneliness. They are also all successful now. Her eldest, Peter, her son from her romance with Steven Craig, is now a screenwriter, while his brother, Eli, is also into acting and directing. Sally's youngest, Sam, is now a professional filmmaker, making her feeling more successful and the happiest.
Adele & Simon Konecki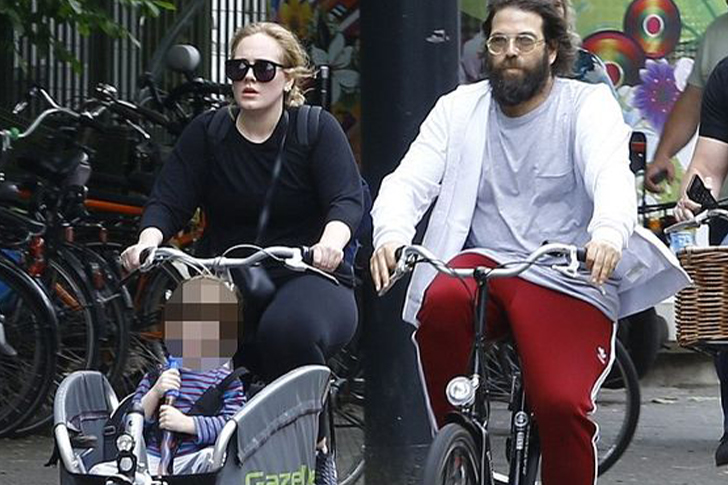 Despite the belief that they will last forever, Adele and her former husband, Simon Konecki, ended their three-year marriage in 2019. The famed singer's representative released a statement about their separation, assuring everyone that they would be both committed to raising their son, Angelo Adkins, together lovingly. They then said they would give no further comment about the issue and asked for privacy.
To look after their kid, the ex-couple had spent their investment money to buy properties that would make them neighbors. Though they were not living under one roof anymore, at least, they were just near each other so that they could be there for their son anytime. Adele and Simon both wanted to do the best for Angelo. For Adele, her son is her world, so there is no way that she will agree to be far away from him.