Chelsea Handler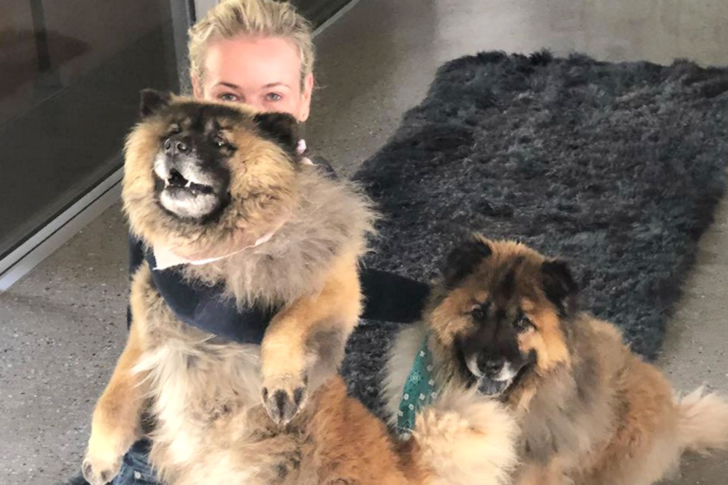 Comedian and Hollywood personality Chelsea Handler became a mommy of two adorable dogs recently. After the death of her two other dogs, Tammy and Chunk, Handler adopted another two dogs from a shelter. The comedian named them Bert and Bernice and announced their adoption on Instagram with the hashtag #chowrescues.
Chunk, a German shepherd-Chow mix, was put on the cover of Chelsea's book Chelsea Chelsea Bang Bang, which made him instantly popular among the comedian's followers. Before Chunk's passing, he was able to amass over 170,000 followers on Twitter and Facebook.
Interestingly enough, Bert and Bernice, who are both slowly gaining their own fan base on social media, bear an uncanny resemblance to Chelsea's two other dogs who've recently passed away.
Hailey Baldwin and Justin Bieber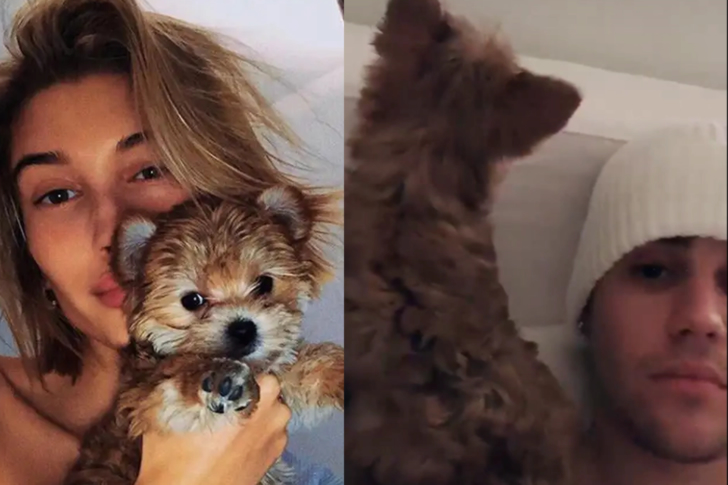 After the couple tied the knot (much to everyone's surprise) in September 2018, they grew their family immediately with a new fur baby, Oscar. Hailey calls him her "Christmas baby" and Justin refers to him as their "dogson".
While we're not sure about what breed of dog Oscar is, he does appear to be a Maltese Yorkie based on the photos. Needless to say, he's now a very behaved dog according to his new parents, despite that it reportedly took a while for him to stop peeing on the flooring.
Amusingly enough, Hailey shared on Instagram that she botched Oscar's haircut at one point after she shaved him to check for ticks. Oscar must have looked absolutely horrible after the incident seeing as Hailey herself refused to share a picture of the result.
Zac Efron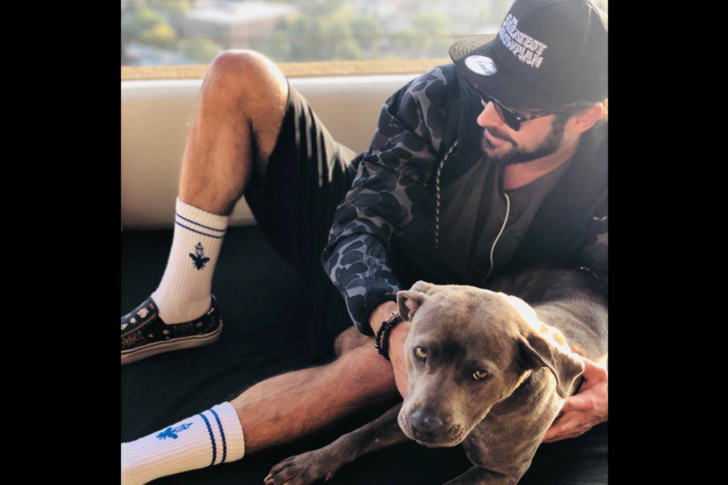 It turns out that Baywatch and The Greatest Showman star, Zac Efron, is another hero without a cape. He adopted a dog from the Bark n' Bitches Pet Boutique, saving it from being euthanized. The Los Angeles-based humane pet shop shared what went down during the adoption on their Instagram. Apparently, Efron was able to step in at the right time, too, because the dog was just about to be led to the kill room.
The young actor immediately introduced the dog to his followers on social media and said he'll be calling her Maca.
In any case, we think that it's very heartwarming for Efron to choose to adopt rather than shop – even if, based on his credit score alone, he could've easily done the latter.
Ellen DeGeneres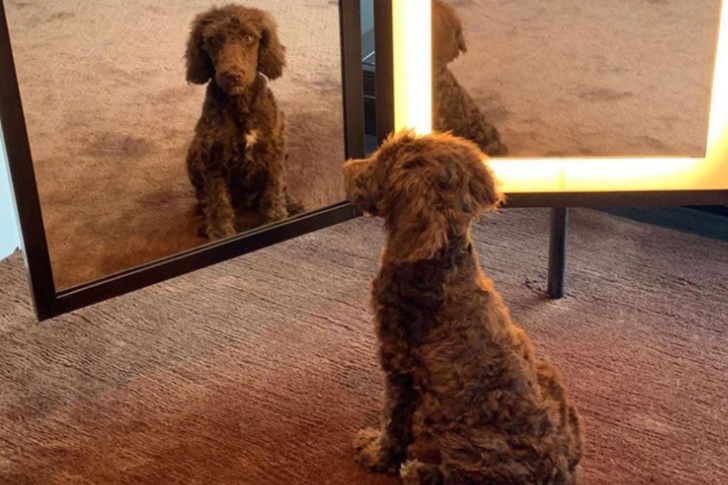 Ellen DeGeneres, who has supported various animal rights groups in the past – particularly ones that focus on pet adoption – became a mommy to a poodle recently. Ellen and her wife, Portia de Rossi, adopted an adorable rescue poodle in 2019, and they named her Mrs. Wallis Browning. The revered host was quick to share the story both on her show and on social media, and she couldn't stop gushing over it.
The couple got Mrs. Wallis from Wagmor Pets. Mrs. Wallis joined their family and became a new sibling to their other dog children, Wolf, Augie, and Kid. Ellen shared that as a child, she once wanted to get a degree in veterinary medicine.
Of course, this whole adoption story lies in stark contrast to the Hollywood couple's earlier pet adoption incident where they had to give back the dog because it failed to get along with their cats.
Hilary Duff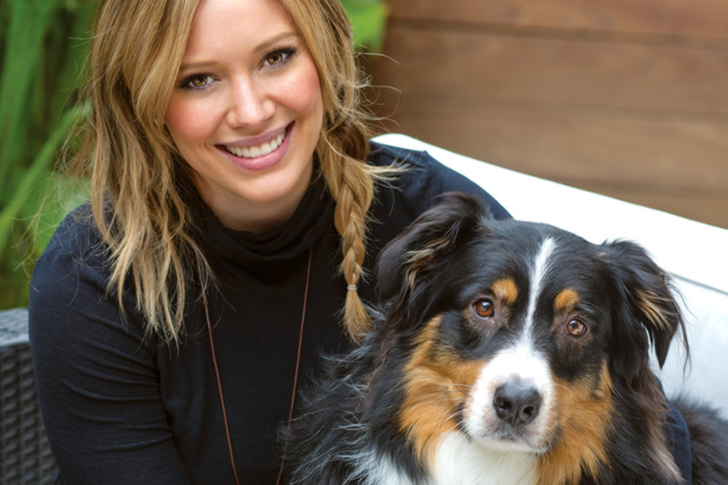 The former Disney child actress is a known animal lover. The tribute she made to her dog Dubois when he passed was nothing short of heartbreaking. Duff wrote Dubois a lengthy note that resulted in more than a few tears from her followers.
It was clear from Duff's post that she was unbelievably distraught about what happened, which is understandable considering she's had Dubois for so long.
The border collie, who didn't infrequently make cameos in the singer's Instagram stories, was ten years old when he passed, and Duff stated that they didn't have enough time. If only one could apply for a time loan to have more time to spend with their pets. A dog's love, after all, is hard to beat.
Simone Biles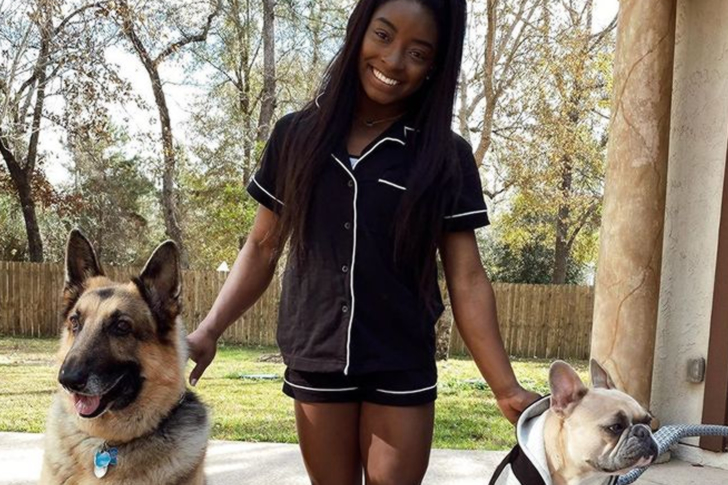 Even Olympic gold medalists are not immune to the charms of cute canines. Simone Biles, who had won an unbelievable amount of Olympic gold medals in recent years, has two dogs, a French Bulldog named Lilo and a Golden Retriever named Kea. Indeed, Biles shared that it's her dogs who can somewhat take credit for keeping her in shape. After all, they often need to be walked, and she's always more than happy to oblige.
Her family has four German Shepherds, and Biles grew up cooking for her dogs, treating them as part of the family, spoiling them rotten.
Biles said that she feels bad about the postponement of the 2020 Olympics but she's preparing nonetheless for 2021 – and that her dogs are there to help her.
Kim Kardashian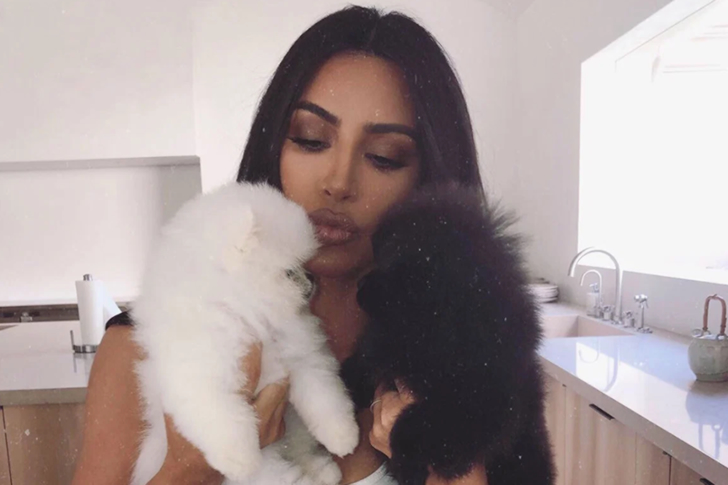 It doesn't take a finance degree to know that the Kardashian-West family can afford to take care of their furry friends. In fact, if Kim's lifestyle on camera is any indication, her pets are probably luxuriating 24/7, living like kings and queens, just like the rest of the Kardashian brood.
Back in 2019, Kim asked for help naming their two new puppies who are both Pomeranians, with one having white fur and the other, black. North, her daughter, named one of the dogs Sushi. Before taking in the puppies, the family reportedly didn't have the best luck with pets, seeing as North's hamster died within one season.
The three dogs are now practically staples in Kim's Instagram – they're either somewhere in the background or doing goofy cameos in her stories.
Kaley Cuoco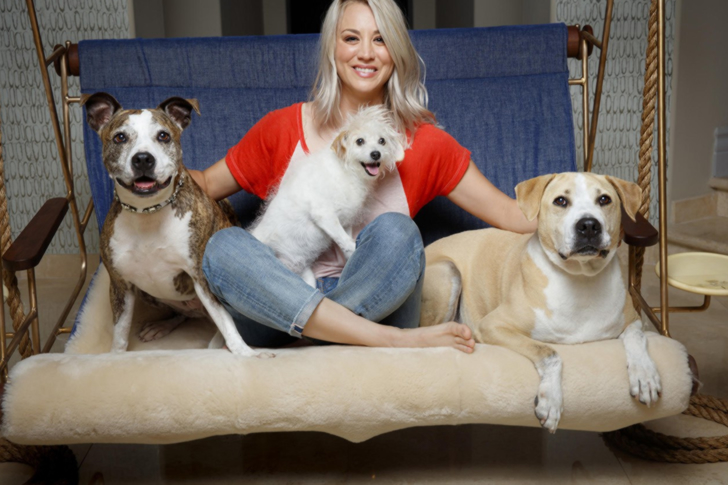 Kaley Cuoco rose to fame in the 2000s for playing Penny in the show The Big Bang Theory. However, she's also well-known for one other thing – her fondness for animals. Apparently, Cuoco takes care of dogs, horses, and rabbits. She even invited them to her wedding!
Cuoco and her husband, equestrian Karl Cook, have five dogs (Norman, Blueberry, Shirley, Ruby, and Tank), a stable of show horses, a mini horse named Shmooshy, and two pet rabbits adopted from the San Diego County shelter. What's more, Cuoco also welcomed two piglets recently, which she said was the "best surprise" during this quarantine period.
With all the trips to the vet, we wonder how much gas this adorable couple goes through in a month. But anything for the love of our furry friends, right?
Jessica Chastain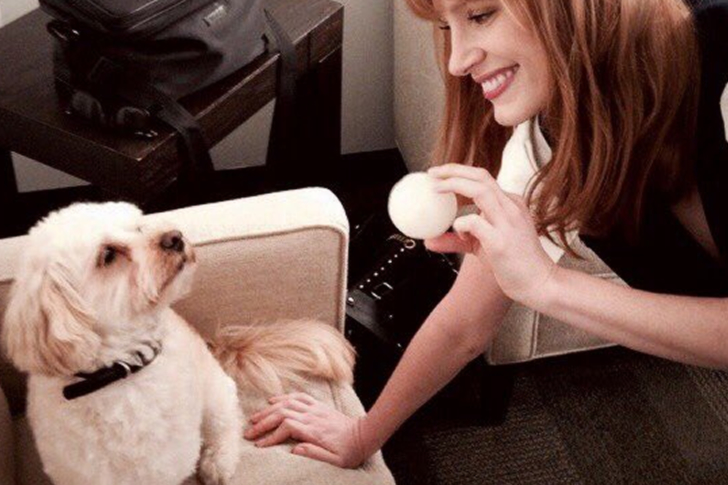 Multi-awarded actress and producer, Jessica Chastain, is also a staunch advocate of animal rights. She partnered with the American Humane Society to promote animal adoption and vegan diets back in 2017. There she revealed that every animal she ever had, she adopted, including her three-legged dog, Chaplin.
Chaplin goes everywhere with her and even made a surprise appearance while she was in the middle of a performance on stage. To the crowd's delight, Chaplin unexpectedly walked up the stage toward Chastain, who was surprised but didn't blink. The Juilliard-trained actress didn't waver and continued performing, flooring the audience in the process.
Amusingly enough, Chastain and Chaplin were together for the final bow. It looks like Chaplin wants to have a career in Hollywood, too, just like his mommy.
Lucy Hale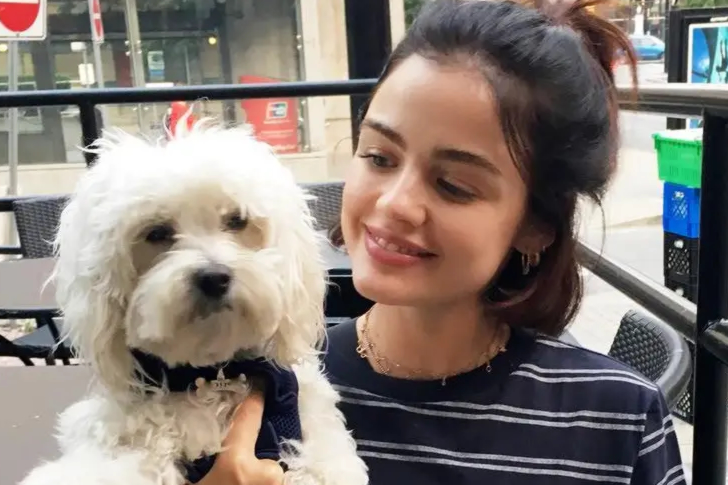 The Pretty Little Liars actress, Lucy Hale, believes that she and her dog, Elvis, knew each other in a previous life. That's how deep their connection is. Maybe she felt some kind of electricity when she first met her would-be dog. Whatever the case may be, what's certain is that the two are extremely close, as evidenced by the many cute pictures of them together on Instagram.
In one interview, Lucy revealed that she brings Elvis wherever she goes and that she's "obsessed" with him. Indeed, she said she loves Elvis so much that he's the reason she's driven to fight for animal rights and support organizations like the ASPCA.
Elvis seems to be on his way to becoming a social media darling himself, and Hale often uses the term "instafamous" to refer to him.
Steve-O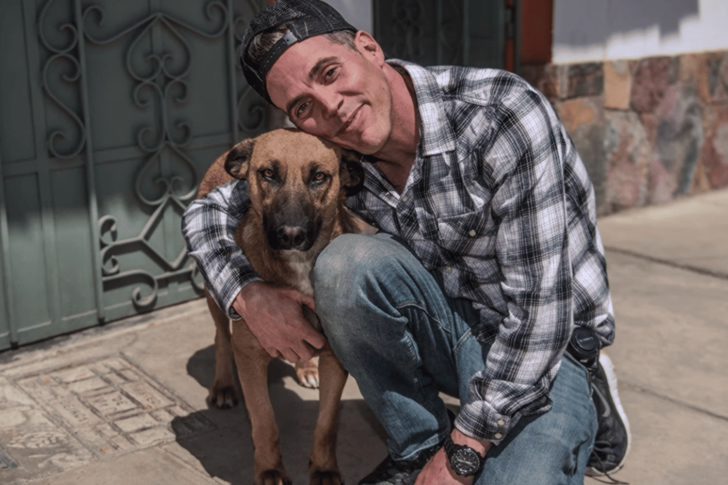 While Steve-O has a reputation for being a real clown in front of the camera, his dog adoption story is one for the books. In fact, it's a real heart-warmer. It's also a story that one wouldn't expect to happen to a man like Steve-O, who's been living on the edge for the better part of his career in Hollywood.
The comedian organized a climb up Peru's Mount Tocllaraju with several other celebrities when he met Wendy, a stray dog.
It's like electricity coursed through his veins when they met, and, according to Steve-O, he was instantly smitten. It was – or it felt like – love at first sight, and the feeling seemed mutual. After several challenges, Steve-O finally got Wendy a flight back to Los Angeles to permanently adopt her. Wendy joined Steve-O's other dogs, Walter and Bernie.
Kristen Bell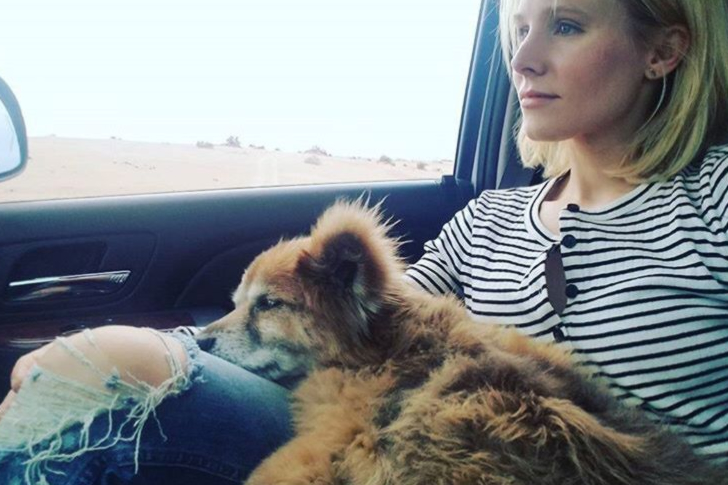 When The Good Place star had a fight with her husband, Dax Shephard, she didn't get an official apology – but she did get to foster a dog! Shephard's notoriously allergic to dogs and Bell knew that this was his way of apologizing. And, to Shepard's credit, the strategy worked.
Bell is a huge advocate for pet adoptions and all three of her dogs were taken from rescue organizations. She fostered an adorable mutt named Muppet and had, at one point, spent an inordinate amount of time with him while reading through her work scripts.
Sadly, one of Bell's adopted pets, Barbara, passed away recently. Barbara was adopted from The Dog Cafe in Los Angeles and was with the family for two years before succumbing to an intestinal infection.
Josh Gad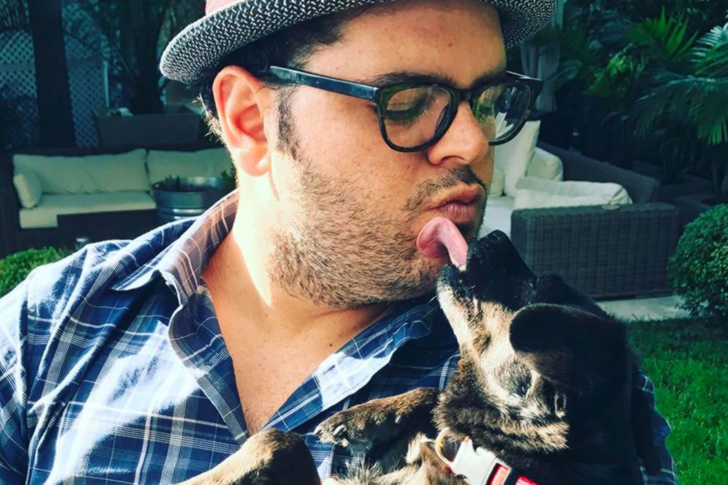 You might know Josh Gad as the voice of Olaf in Frozen, and for his hilarious adlibs in the animated film. But do you know that Josh Gad has a dog?
His dog's name is Didi, and she's very loved and cherished by Gad, who even gave her a kiss during the National Pet Day. Good thing they don't live in an ice castle, huh? The electricity expenses for the heater alone would've been through the roof.
In any case, another thing about Gad that people might not have known is that he also voiced the dog — or, actually, 'dogs,' since there was more than one — in the tear-jerker A Dog's Purpose. And, if you love dogs a little more than what can be considered normal, this is one of the movies you ought to watch.
Rachael Ray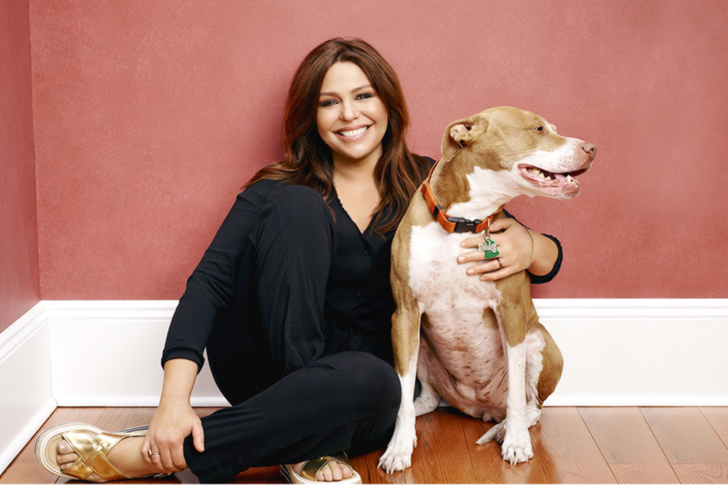 Celebrity chef and television personality, Rachael Ray, couldn't get enough of her red-nosed pit bull, Isaboo. The pup is known to run around the studio during her shoots and is a beloved part of their family. Sadly, Isaboo passed away last May 2020, much to the heartbreak of the Ray family. Ray thanked Isaboo for her energy and love and urged others to adopt if they could.
Ray, however, was able to adopt another dog, whom she named Bella Boo Blue, no doubt as a nod to the memory of Isaboo. Bella Boo Blue is still a puppy, but she is, to her credit, slowly getting used to the attention she's been getting lately. In fact, she's been gracing Ray's Instagram page for a while now, and Ray's followers simply can't get enough of her.
Chrissy Teigen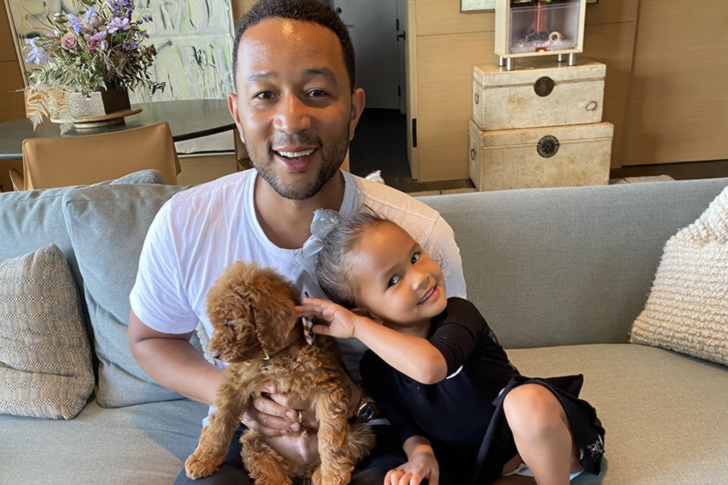 The Teigen-Legend family welcomed a new addition to their family last January 2020. Not a baby, but a new pup!
After hearing about the pup of their friend, Ellen DeGeneres, it didn't take much convincing for the family to adopt Petey, an adorable caramel-colored poodle. Because of how great they are as parents, they won't need online classes to teach them how to handle a new puppy. Indeed, Teigen and Legend, who are now parents of three adorable dogs, have been referred to as "crazy dog people" because of their obsession with the four-legged creatures.
Petey, who was named after the parakeet of Henry Dunne (played by Jeff Daniels) in the film Dumb and Dumber, literally took over Teigen's Instagram account following the announcement of his adoption.
Anne Hathaway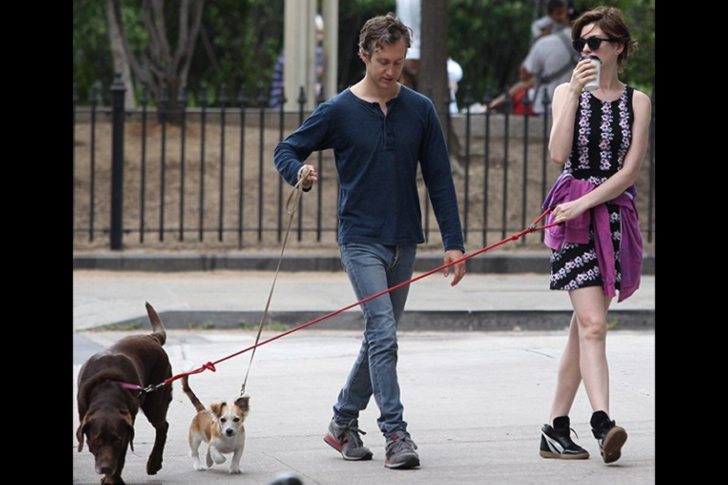 The Les Miserables and Devil Wears Prada star, Anne Hathaway, has a high enough credit score to get all the dogs she wants. However, she prefers to stick with her loyal dog, Esmeralda. Hathaway has had Esmeralda since 2004, and they are reportedly inseparable. In fact, there are more than a dozen photos of Hathaway and hubby Adam Shulman walking Esmeralda around the streets of New York City — and what an unbelievably cute family these three make.
The chocolate Labrador gained a brother in 2014 named Edward, a Spaniel/Terrier mix. Anne got him from an animal shelter in Beverly Hills. Edward might not have been the baby that Hathaway's fans have been waiting for her to have, but he's nonetheless a cutie.
Kesha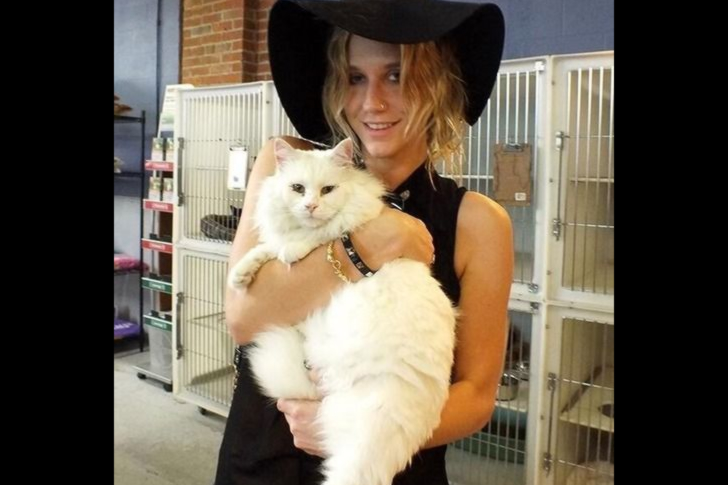 The multi-talented singer and songwriter, Kesha, just can't seem to pick one! She is both a dog and a cat lover, and she's reportedly owned more than a few dogs and cats in her life.
She only has one dog right now, however, and her name is Bacon. The dachshund was born in 2011 and was adopted by Kesha a few months after. Bacon joined the singer's family of cats, who are named Carl, Charlie, and Mr. Fluffy Pant$. Thankfully, Bacon seems to be getting along with the cats just fine. And, if Kesha's social media posts are any indication, Bacon seems to be, to some degree, hogging all the attention, both from Kesha and her followers on social media.
As a side note, people might be interested to know that Mr. Fluffy Pant$ has his own Instagram and Twitter account!
Serena Williams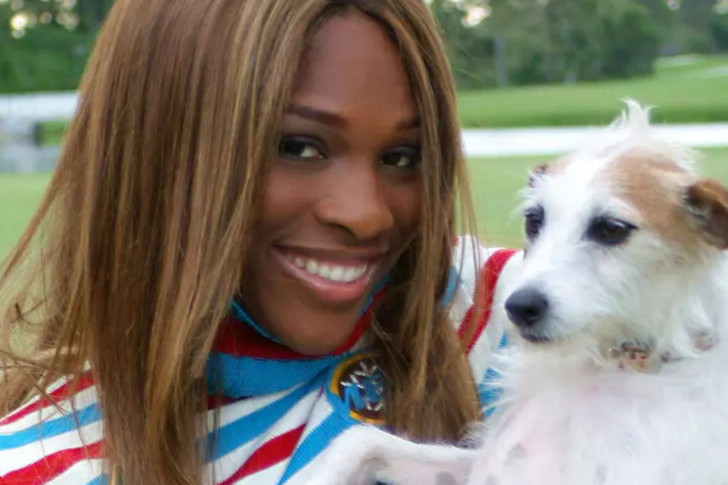 The Grand Slam winner and revered tennis athlete, Serena Williams, is not immune to the charms of the furry kind. In 2015, she mourned the loss of her loyal Jack Russell Terrier, Jackie. Jackie was with Williams for over 16 years.
Williams made a series of heart-wrenching posts about Jackie on Instagram, and it was revealed that she was with her dad when she said goodbye to her furry friend of 16 years. Apparently, despite Jackie's advanced age, she remained active until the last few days of her life. In one of William's video tributes for Jackie, the tennis star called Jackie the "love of her life."
In 2016, Williams found new love with Chip, her Yorkie. Apparently, Chip hardly runs out of gas, and one of his hobbies is to distract Williams while she's working out.
Emmy Rossum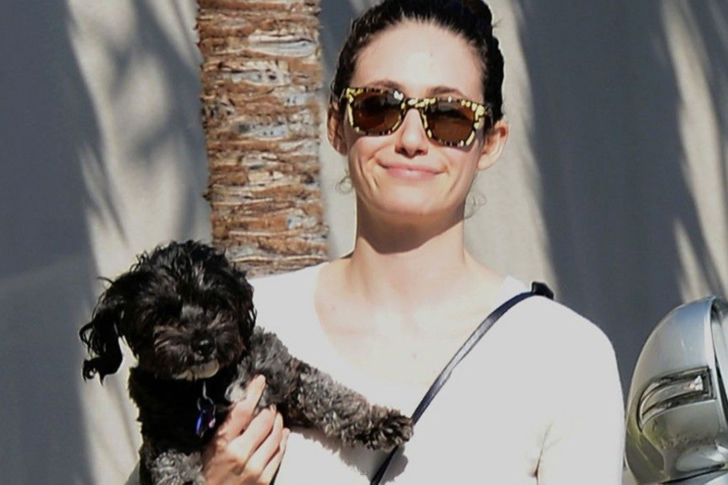 Emmy Rossum is an American actress with a heart for animals. She and her adopted dog, Pepper, joined the Best Friends Animal Society's Save Them All campaign, which is a campaign that promotes adoption over buying where pets are concerned. Rossum makes the case that adopting a pet won't just give it a home, it will also free up space in animal sanctuaries, giving these places the ability to take in more animals.
It makes perfect — as well as practical — sense, too. Because instead of shelling out large amounts of money for a pet, you can use that money to make investments instead, since there are literally thousands of pets out there that you can get for free through adoption.
Lauren Conrad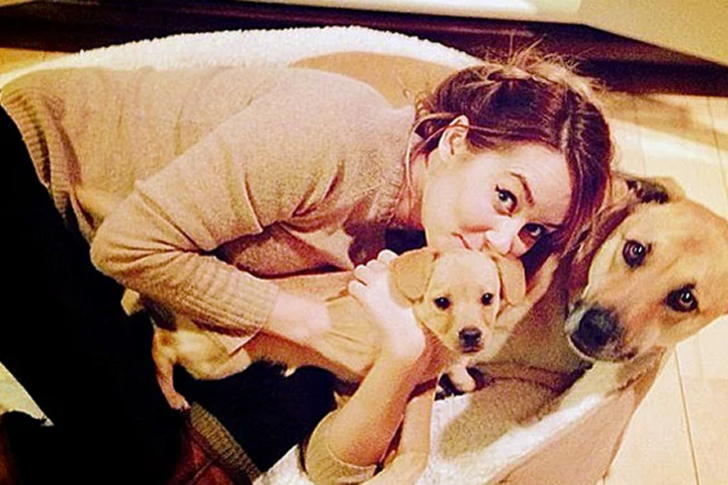 Literature degree majors, rejoice! Lauren Conrad adopted two dogs back in 2008 and 2012, naming one of them Fitz, short for the literary genius, F. Scott Fitzgerald. Her other dog, Chloe, passed away in 2019, after seven years of companionship and love.
She adopted Chloe when she was still working on the set of The Hills. The Lab-Shepherd mix was very well-loved by the cast and crew of the show. The heartbreak didn't prevent Conrad from extending more love out into the world by adopting Fitz with her husband, William Tell. They adopted Fitz, their new dog, from the Wags and Walks Rescue in Los Angeles, and the couple seems to have made a great choice.
Based on Conrad's social media pages, it looks like she and Fitz are inseparable.
Ryan Reynolds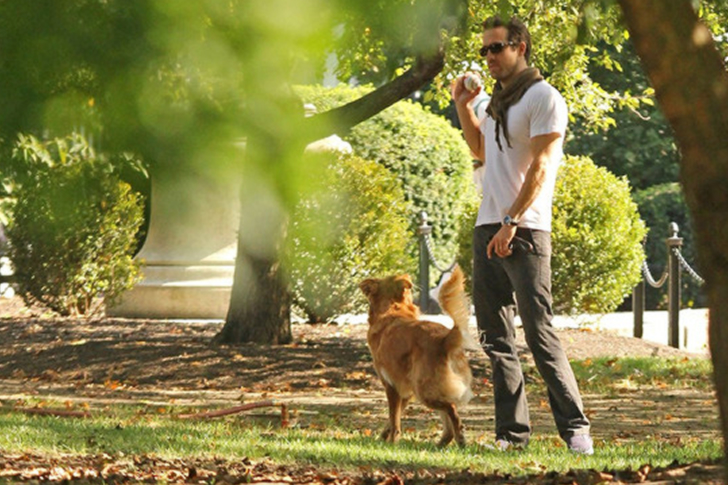 A-lister actor and star of Deadpool shared how he found his dog, Baxter, at the Houston Animal shelter. "I saw this big, dumb-looking retriever staring up at me. I whispered to him, 'Hey, let's get the hell out of here.' And he jumped up like he spoke English fluently," he said at ABC. They have, to some degree, been together ever since.
Recently, the master-troll (Reynolds) was trolled by his equally funny wife over a message he posted on social media for Baxter's birthday. Reynolds posted that he wants to bake a cake for Baxter for his birthday but won't because his baking skills are poison. Only for Blake Lively to comment back that what he said was "almost" as sweet as what he posted for her birthday last year.
Amanda Seyfried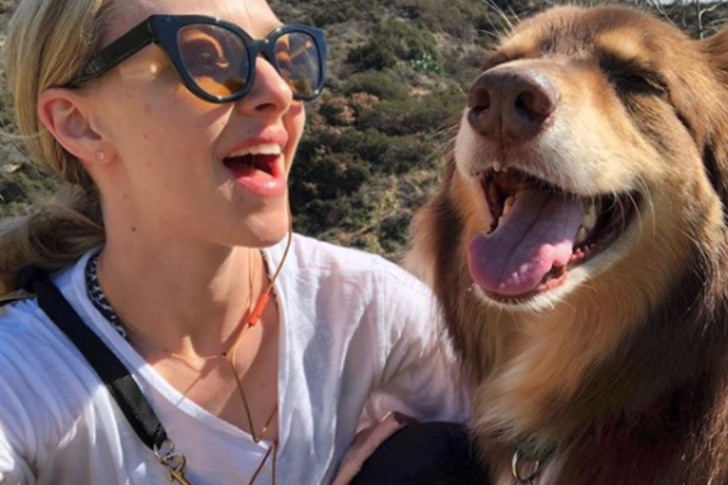 Mamma Mia star Amanda Seyfried met her dog, Finn, on the set of the show Big Love when she was just 18. She originally just wanted to foster the puppy but ended up falling in love. Since then, while she's been busy raising her credit score with different films, she's always included Finn in her contracts, thus allowing him with her on set. Indeed, Amanda opened up for an interview and said that Finn changed her life.
Apparently the actress suffers from anxiety, and Finn — as well as the proper medication — helped her get her anxiety under control. Seyfried says that she likes to take Finn wherever she goes whenever possible, including on plane rides, if they were short enough for Finn to be comfortable.
She partnered with Best Friend's Animal Society to raise awareness on pet adoptions and help people and animals find their perfect partners.
Eva Mendes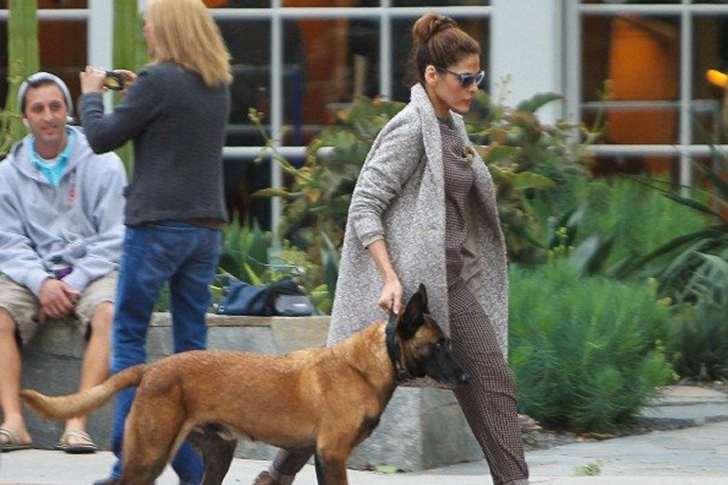 Eva Mendes and partner, Ryan Gosling, are known to be dog lovers. They've suffered some losses several years ago when Eva lost her Belgian Malinois, Hugo, and Ryan lost his dog, George, in 2016. Eva said that Hugo prepared her for motherhood. Hugo did the job much better than the online classes being peddled to new mothers ever could.
Sadly, Hugo passed away in 2019, and the couple was reportedly devastated by the loss.
The couple found someone new to love in Lucho, a Doberman puppy. Eva said for an interview that she treats Lucho like a person and that they have conversations — albeit one-sided ones. The couple advocates for adoption as well, and have partnered with the Friends for Life Rescue Network.
Miley Cyrus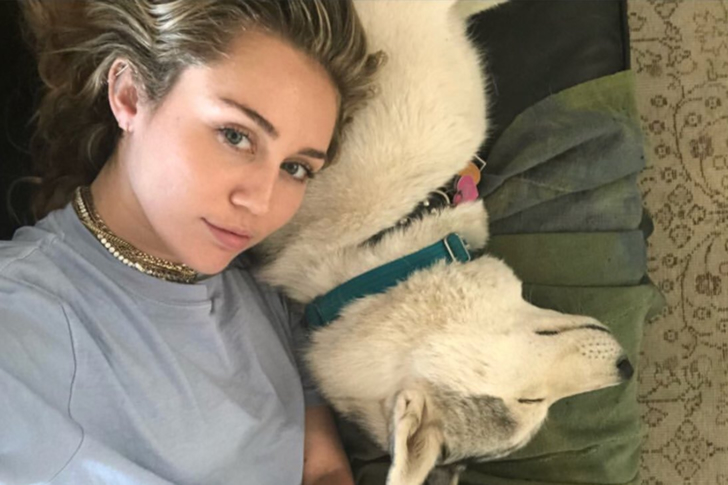 Former Disney star and now a chart-topping pop star, Miley Cyrus, has had many pets. From dogs to cats, to even pigs and pufferfish! In fact, one will need more than a few pages to talk about each of Cyrus's pets, given how numerous they are. They are so numerous that she probably doesn't even need a home security system installed. Even her Instagram is filled with pictures of her pets, who are often amusingly dressed-up as though they've arrived for a photoshoot.
However, among all the pets that Cyrus has had in her life, her self-declared favorite was Floyd, a husky who was rumored to have been killed by a coyote in 2014. Apparently, Cyrus was away for a tour when it happened, and she wasn't able to give her fur baby a proper goodbye.
Cyrus remembers him with a tattoo on her skin with a speech bubble that read: "With a little help from my friends."
Hugh Jackman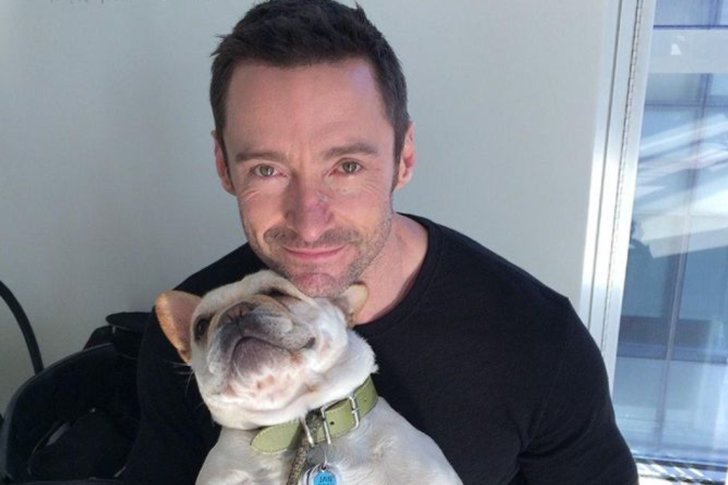 You'd think a large man-like Hugh Jackman (who played the titular tough guy, Wolverine) would get himself a large breed of dog, right?
Wrong.
Jackman brushed away the stereotypes with his beloved French bulldog, Dali, who was named in honor of the great artist, Salvador Dali, and poodle mix, Allegra.
These dogs are so loved, we wonder if they have their own insurance! Indeed, Jackman can often be spotted walking his dogs around Sydney, and his Instagram is chock-full of pictures of his four-legged companions. What's more, Jackman even admits that he sometimes Skypes with his dogs when he's on the road for a shoot and hasn't seen them in a while.
What's interesting is that, for all the tough-guy characters Jackman plays, he's really a sensitive furball at heart.
Lisa Vanderpump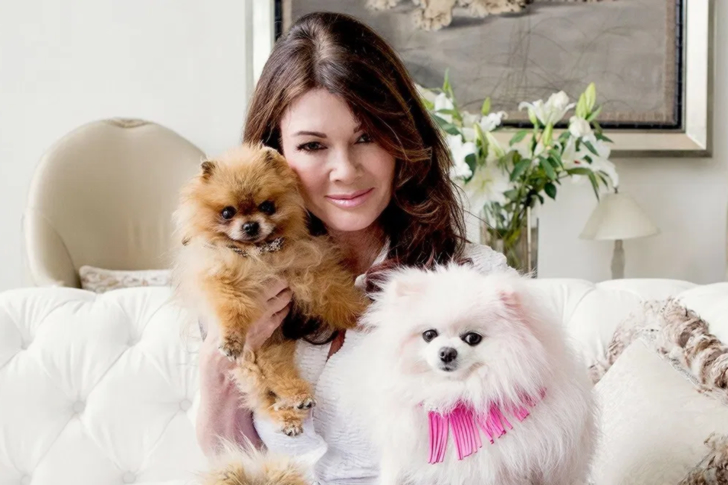 Lisa Vanderpump is a woman who does it all. While she'll be more popular to many as an actress and TV personality, she's also — brace yourselves — the executive producer of Vanderpump Rules, an owner of five restaurants in two states, an owner of a wine company, a lighting collection, a dog boutique, and an animal-rescue center.
And yet, she still happily takes care of her brood of five dogs – Puffy, Binky, Rumpy, Avery, and Snooky. Her closest dog, Giggy, recently passed away. The dogs and all the family's other animals are free to roam in Villa Rosa, Vanderpump's lavish mansion which is guarded by a state of the art home security system — not that she needs a security system considering all the dogs that live with her.
Sandra Bullock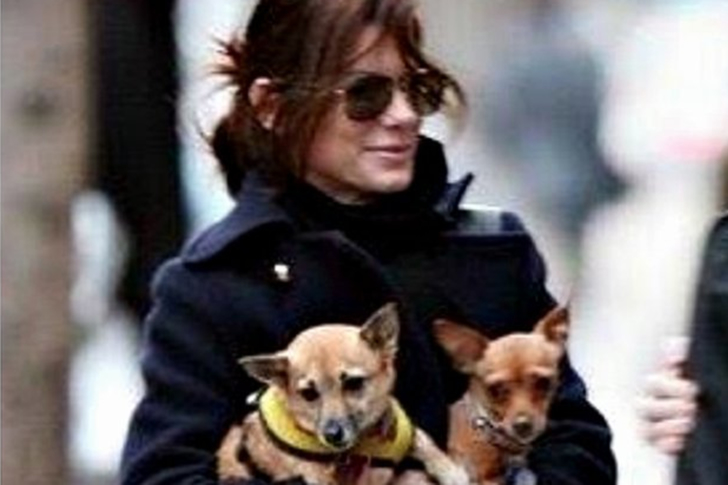 Hollywood actress, Sandra Bullock, had two rescued dogs, Ruby and Poppy. Ruby has only two legs, while Poppy has three. To her credit, Bullock treasured them, took care of their special needs, and even brought them to sets. Unfortunately, both pups passed away in 2018, just a few weeks after Bullock's father died. It was, as the Birdbox actress said, a very "rough time." During the 25th ELLE Women in Hollywood Celebration in Los Angeles where she was supposed to give a speech, the actress said she couldn't get herself to write a nice speech because it's been a "crappy few weeks."
Fortunately, her love has a new recipient, her newly adopted poodle whose name is yet unknown. In fact, Bullock and longtime boyfriend Bryan Randall can often be spotted walking their new fur baby in and around town.
Paris Hilton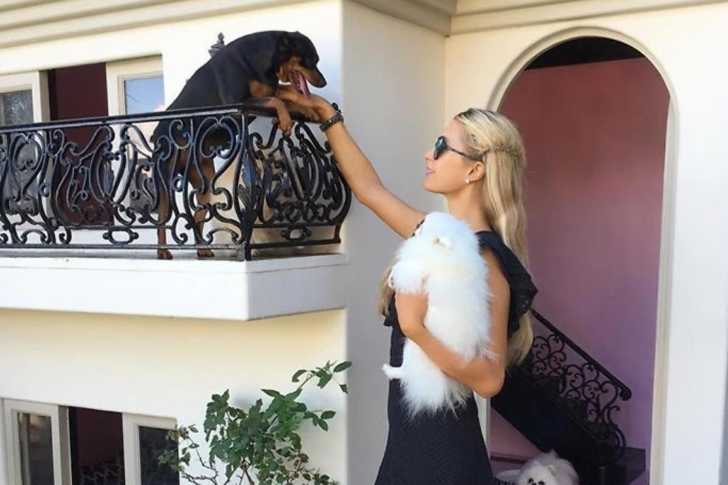 It's no secret that Paris Hilton spoils her fur babies. In their own Instagram account (@hiltonpets), people can take a sneak peek at their $325,000 mini-mansion. The members of the Hilton litter have a 300 square-foot "dog house," complete with electricity to power up their own air conditioning system.
Of course, we're not really surprised by all the luxury in which Hilton's dogs are living. We're talking about Paris Hilton, after all, who's the epitome of conspicuous spending, and who drives around in a gaudily pimped-out — and pinked-out — Porsche. If anyone can be expected to behave this extravagantly, it's Paris Hilton.
So, I guess we'll just have to live with the fact that Paris Hilton's dogs live better than most people.
Taylor Swift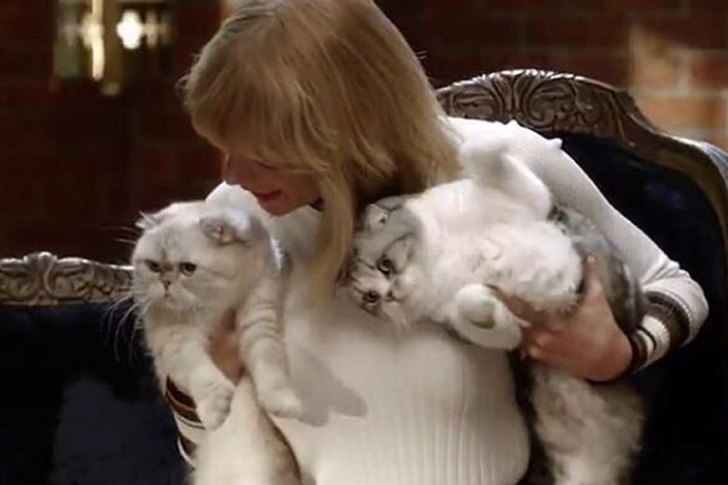 Grammy award-winning singer and songwriter Taylor Swift is a certified cat mom. She has three cats, Meredith Grey, Olivia Benson, and Benjamin Button. Yes, they're all named after famous characters! Needless to say, Taylor Swift's a dedicated fan. Meredith Grey is a character from Grey's Anatomy (like you didn't know already), Olivia Benson is another from Law & Order: Special Victims Unit, and Benjamin Button is from the film The Curious Case of Benjamin Button.
No wonder they're living the life! These kitties don't only get to enjoy Swift's lavish investment home and lifestyle, they also get to go to award shows with their mom and even meet Brendon Urie, as well as Swift's other famous friends.
These cats seem to be living life.
Jessica Biel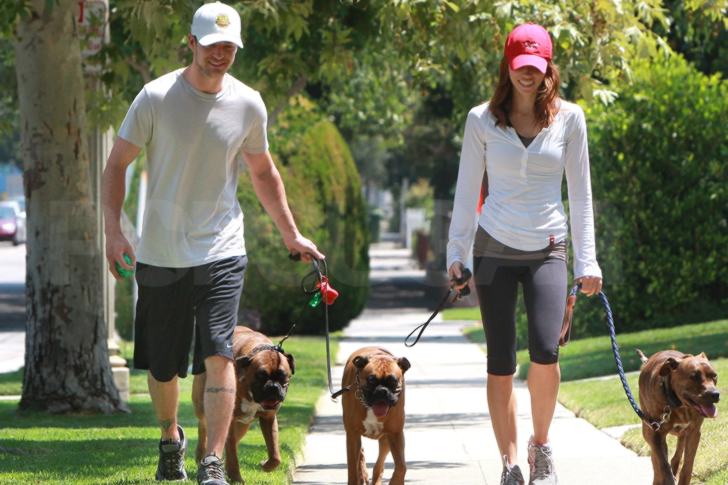 Jessica Biel and her husband, Justin Timberlake, were proud of the owners of three canines: Tina, Buckley, and Brennan. All of whom have passed away between 2018 and 2020.
Biel shared with Wonderwall that she's not ready to adopt again, given their lifestyle and busy schedules. But it's always a possibility because of their love for animals. In fact, it's more than just possible — it's likely — since the couple recently posted photos of themselves on Instagram holding pictures of dogs that they said are their doppelgängers. And, to some degree, they do have a point.
Apparently, Biel thinks she looks like an Irish Setter, while Timberlake, amusingly enough, believes he resembles a Rottweiler. Who knows, maybe the couple is subliminally signaling to everyone the kinds of dogs they'll soon be adopting. So, let's all cross our fingers.
Lea Michele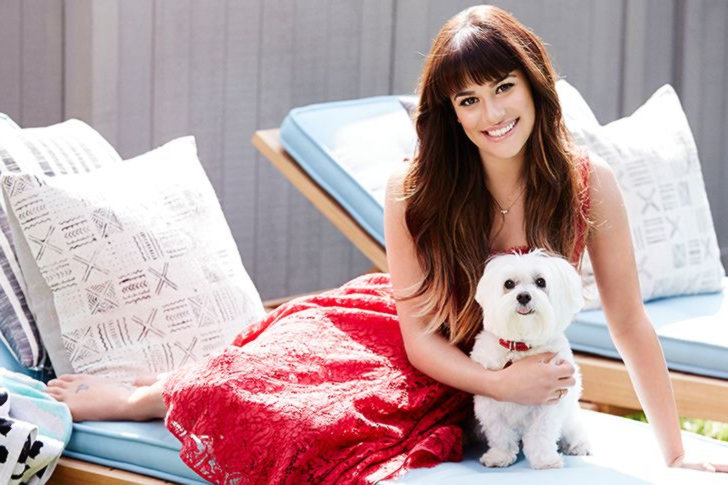 Glee star Lea Michele is absolutely obsessed with her adopted Pomeranian, Pearl. Michele adopted her in 2013, three months after the death of her longtime boyfriend and on-screen partner, Cory Monteith.
She also has two cats, Sheila and Claude, both of whom are rescues from the Paramount Studios lot. Heartbreak is not covered by insurance, but furry company and support always help!
Interestingly enough, many have referred to the young actress as a "dedicated cat mom," which seems unfair to her pomeranian Pearl, but it's completely obvious from Michele's social media posts that she likes to play favorites. Photos of her cats are all around her social media, and we wonder if Pearl is getting a tad jealous. Whatever the case may be, her pets are lucky because their mommy has more than enough money to spend for their needs.
Ashley Olsen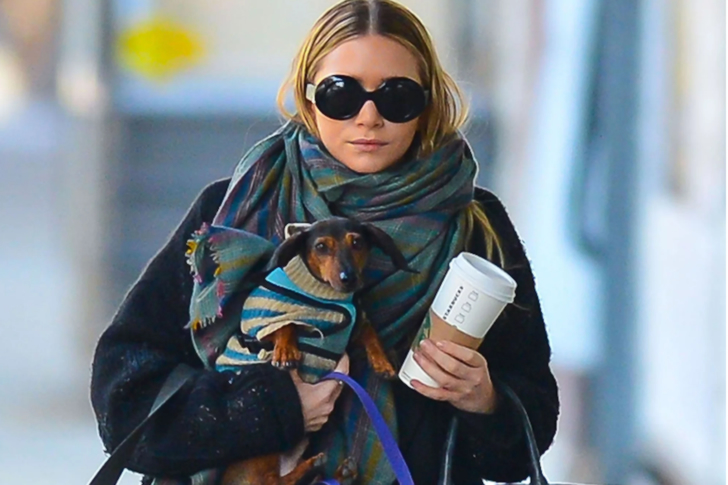 Ashley Olsen always looks stylish wherever she goes. The Olsen twins have always been known for their fashion style, and Ashley lives up to it easily. Her street fashion and twists on classics have landed her on the cover of different magazines, as well as in fashion sites like Elle and Harper's Bazaar. Owning the big brand The Row definitely helped her too. In fact, it more than helped; it gave her a boatload of investment money.
Adding a Dachshund pup to the mix added to her style points! She also has a French Bulldog that goes with her everywhere. While other celebrities prefer pooches that fit in their pouches, Ashley stays true to her non-conforming nature and bonds with her dogs as she goes about her day.
Kendall Jenner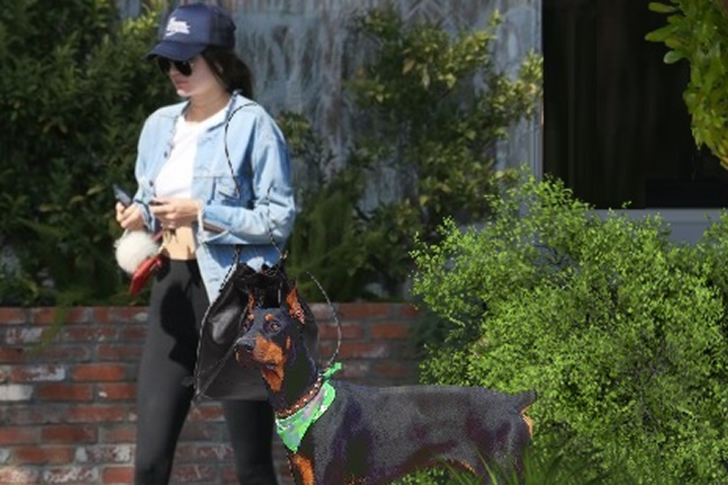 Keeping Up with the Kardashians star and fashion icon, Kendall Jenner, announced that she's raising a model pup on her Instagram. She aptly named her Doberman Pinscher, Stud!
Well, he definitely is a stud! And with a mom like Jenner, he's also definitely on his way to being a great model as well. In fact, all the tricks that he'll need to learn to make it in the business can be had from his mom, who is herself one of the most sought-after models.
The family recently celebrated Kendall's birthday and had a double celebration alongside the launch of Kylie's new makeup collection. This family is definitely cashing in on their investments, and all that moolah is happily trickling down on their pets.
Mischa Barton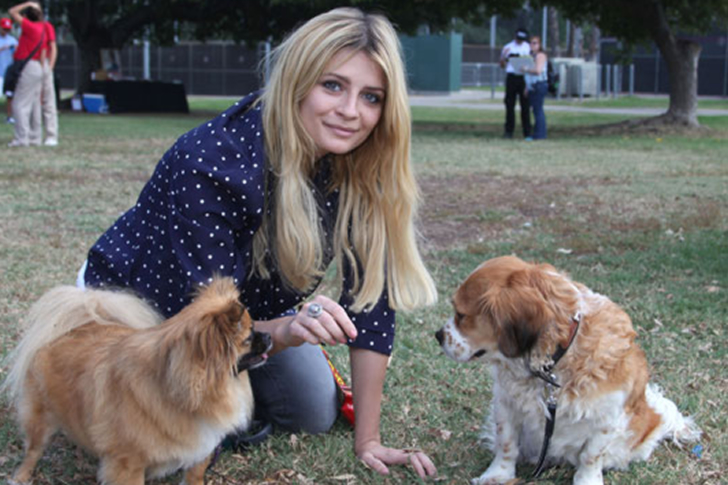 Mischa Barton's beloved dog Ziggy passed away in 2018, but new love came last 2019 in the form of a new boyfriend and a dog named Charles Dickens. They've been a great support for her, especially since she's recently been duking it out in court against two of her ex-boyfriends who she's accused of illegally filming her during her intimate encounters with them.
Her lawyer stands by her, and, so far, things are looking up for the actress, with new projects coming her way.
While she doesn't often go out to do interviews, she was spotted in LA recently walking her dog and looking as chic as ever. She said that one silver lining to the recent lockdown was that she was able to stay at home with her family and friends and that it somehow kept her grounded.
Adam Sandler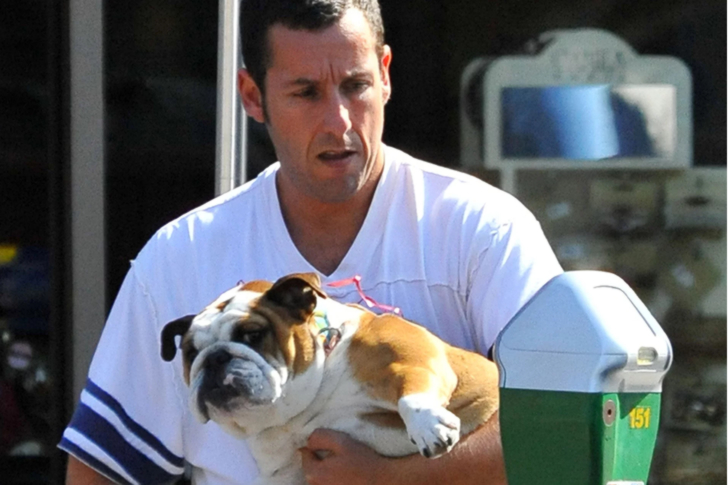 Adam Sandler's brand of comedy is always a hit. With all his movies, his credit score had grown steadily over the years. His life seems picture perfect and he even had his best dog be his best man at his wedding back in 2003. It's an odd thing to do, to be sure, but we're talking about Adam Sandler here, who is known to do odd things.
His dog, Meatball, stood as his best man. He also has other dogs, whose names are Matzoball and Babu. We're not sure if they played a role in Sandler's wedding, too, but suffice to say that we haven't heard any reports about any of them blowing a gasket over not being invited, so we suspect that they were.
Katy Perry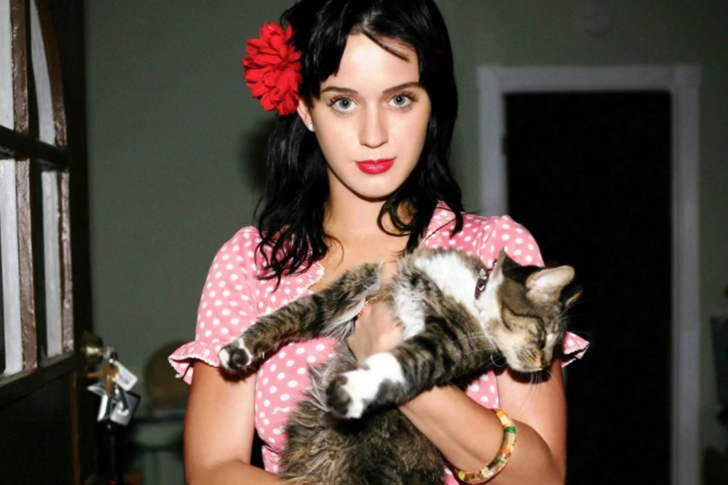 Katy Perry's song Roar takes on a different, cuter meaning with her cat and feline counterpart, Kitty Purry. She mourned the loss of Kitty Purry just last April 2020. The feline was with the artist for 15 years.
Katy Perry recounted for one interview how she met Kitty Purry years ago. Apparently, she didn't have to swipe her credit card to acquire it. Rather, the feline climbed into her then-boyfriend's window, fully pregnant and looking for shelter. She adopted the cat, and it's been with her ever since.
As an aside, just how awesome is the name Kitty Purry? The fact that Katy was even able to come up with such a cool name for her cat is proof positive that she has as much wit as she has talent.
Demi Lovato
Demi Lovato's got a tried and tested home security system in the form of her two dogs, Cinderella and Batman. The two tiny dogs prevented a burglary back in July 2017, when they spotted the thief and barked so loud that they were able to alert her live-in property manager. Amazing!
Batman certainly deserves his name because of what he did. As for Cinderella, well, we think she's better off being called Wonder Woman, or some such.
In any case, the story behind Cinderella and Batman's adoption is actually a sad one. As it turns out, they were adopted after Buddy, Lovato's Maltipoo, tragically died after being attacked by — of all things — coyotes. Lovato got a tattoo on the instep arch of her left foot in honor of Buddy, and it reads "Buddy Was Here."
Mark Ballas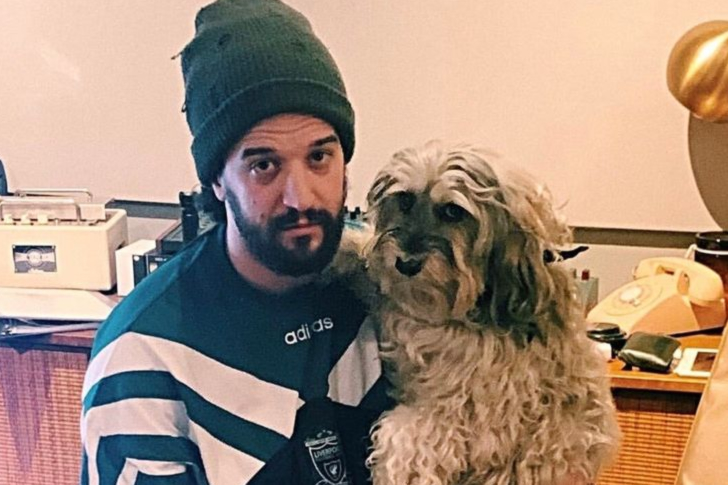 Dancer and musician Mark Ballas is known to be a great animal lover. He and partner BC Jean partnered with PETA for an ad campaign that promoted adoption from shelters. He argues in the ad that dogs are the best investment.
Ballas made a touching video for PETA where he says (in reference to his dog) "he knows we saved him." A few moments later in the same video, Ballas then goes on to say, "He saved us too."
They posed with their own rescued dog, Hendrix. Hendrix even acted as a ring bearer in their wedding back in 2016 and travels with them when they're on tour. In fact, Ballas reportedly brought his dog to the set of Dancing With the Stars on a number of occasions and has even snuggled with Hendrix between takes.
Channing Tatum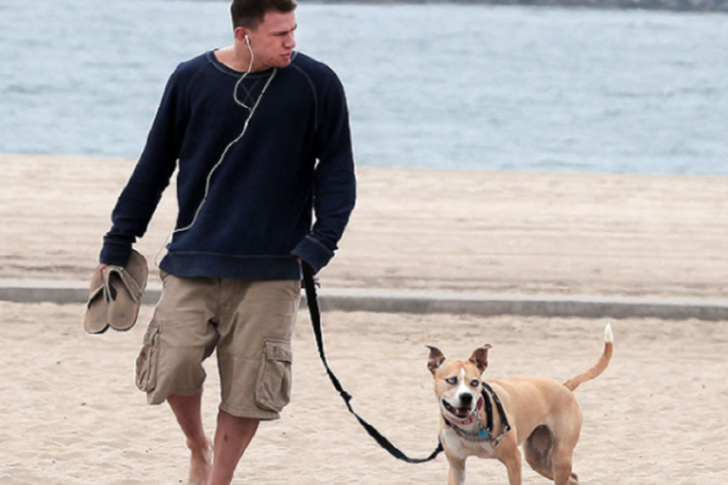 Enough about dogs, what about horses? They're just as cute — albeit harder to maintain.
21 Jump Street and Magic Mike star, Channing Tatum has a stallion that was gifted to him by his ex-wife for his birthday last April 2016. Tatum doesn't even need to pay for gas because of his pet, Cajun. He can just ride off to the sunset whenever he wants! In fact, it will look infinitely cooler to be seen riding a horse than a car. Cars can be had by anyone–anyone in Hollywood, that is. A horse, well, who rides a horse around the city these days?
In any case, we're hoping that, since Tatum split from his wife, he won't feel compelled to give back the horse, because that will be a drag — both for Tatum and the horse.
Jennifer Garner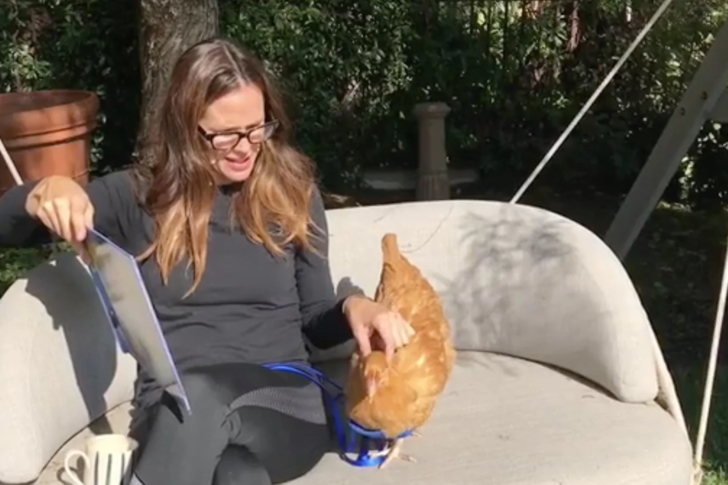 From horses to chicken, we go!
13 Going On 30 star Jennifer Garner named her chicken Regina George and was seen walking her around the neighborhood. Why the chicken was named after the titular mean girl, we'll never know.
Unfortunately, Regina passed away in March 2018. Many of Garner's fans extended their condolences. We're not sure what happened to the chicken's corpse, but we're certainly hoping that it wasn't, you know, eaten.
Needless to say, the star of Electra still has other chickens to shower with unrequited love — in fact, she's reportedly built herself a whole coop to house her chickens where they can cluck away to their heart's content. Sure, it's not as fancy as Paris Hilton's dog mansion, and we doubt it has its own electricity even, but it has gotten a good amount of social media attention.
Julianne Hough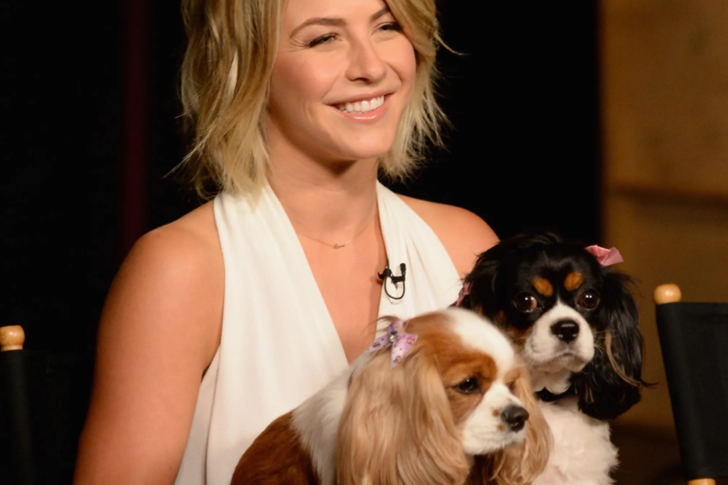 The two-time professional champion of Dancing With the Stars and star of Footloose, Julianne Hough's personality shines through everything she does. Even while caring for her two fur babies – Lexi and Harley.
Though both dogs have passed last 2019, she still remembers them fondly. She even posted a tribute to them on Instagram for Christmas. She said that the love she felt from her two dogs was special and that they've always been their family's guardians since the beginning.
We hope that she'll be able to adopt another set of dogs, not to replace Lexi and Harley but to bring joy back to their household. After all, bringing joy to the household is one of the reasons pets are such good investments.
Barack Obama & Michelle Obama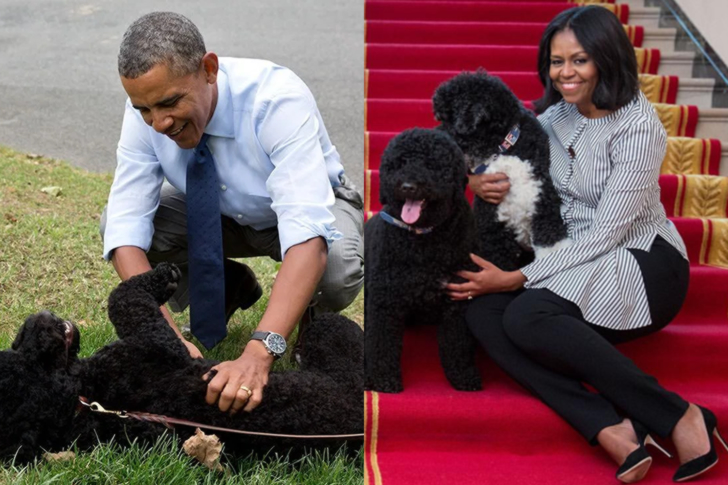 The former presidential couple, Barack and Michelle Obama have two Portuguese Water Dogs, Bo and Sunny. The dogs were part of their life in the Whitehouse and continue to spend their lives with their esteemed lawyer owners and their children.
When Bo and Sunny still lived in the Whitehouse, they pretty much lived better than most humans. In fact, there are many pictures floating around online of Bo and Sunny during their many exploits in and around 1600 Pennsylvania Avenue. And what's certain is that, for dogs — or even humans for that matter — Bo and Sunny really did have quite an enviable life.
I mean, how many dogs can say (assuming dogs can say anything, of course) that they were allowed in the Oval Office?
Tom Hardy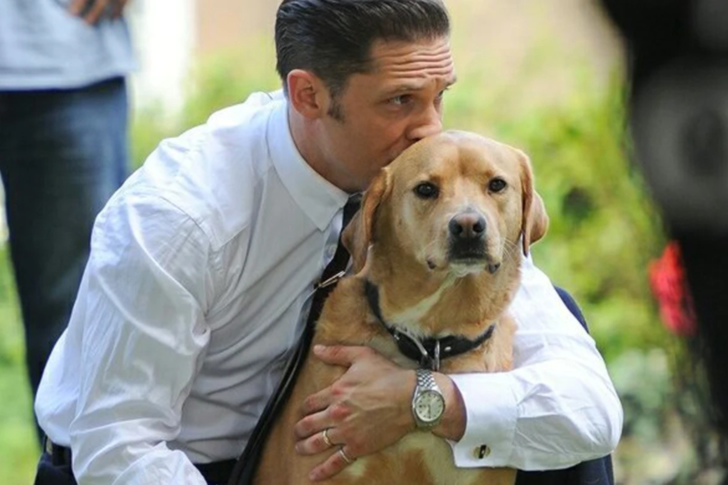 Tom Hardy has stolen many a lady's heart, and while he might play the toughest and saddest characters on screen, what many might not know is that he's clearly a big softie when it comes to his dogs. Indeed, his dog, Woodstock, was a big part of his life before he passed away in 2018.
According to Hardy, he met Woodstock under particularly strange circumstances. Apparently he almost ran over Woodstock with his car. Woodstock was a mere pup back then, so Hardy went down and took the pup off the street. They've been, to a huge degree, inseparable ever since, and Hardy recalls that he even brought Woodstock with him to attend movie premieres.
Sadly, after six years of investment in their friendship, Woodstock died of a rare and aggressive polymyositis. Hardy posted a tribute dedicated to his beloved dog.
Ian Somerhalder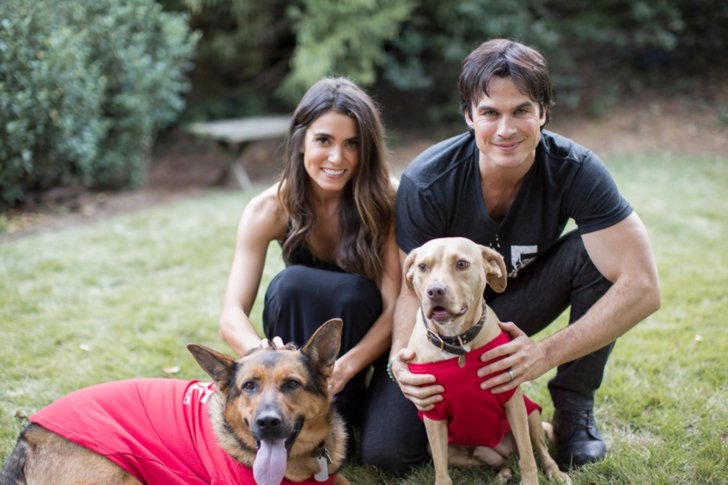 The Vampire Diaries star, Ian Somerhalder, is known to be a great animal rights activist. He and his wife, Nikki Reed, had nine animals at one point. Although the couple has a daughter now, they still spend time with their pets, believing that it will help shape their daughter's view of the world and teach her empathy.
Somerhalder revealed in an interview that he grew up surrounded by as many as nine pets as a kid. The animals he grew up around didn't simply include the usual cats and dogs, but horses, too. He said that his daughter loves kittens, and she's learned to be more compassionate while spending time with them.
Of course, we couldn't agree more. Animals can teach us a lot about compassion, and this is largely why they're such great investments.
Krysten Ritter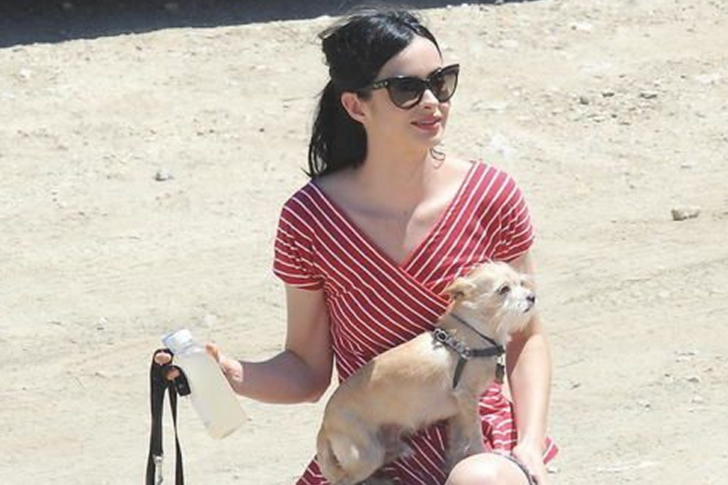 The star of Jessica Jones, Krysten Ritter, took her beloved dog, Mikey Mohawk, everywhere. The tiny dog was with Ritter until 2018, when he was mercifully put down at the Access Specialty Animal Hospital in Culver City, California. Ritter was seen understandably distraught.
Apparently, Ritter adopted Mikey after he was hit by a car in 2011 after someone slammed the gas pedal a little too much. She says Mikey changed her life for the better, made her laugh constantly, and kept her grounded. They had such a wonderful and loving human-canine relationship and were even featured in a PETA ad precisely because theirs was such a good example of how a human-pet relationship should be.
In any case, we hope Ritter is able to find another furry companion — that is if she hasn't already.
Sarah Hyland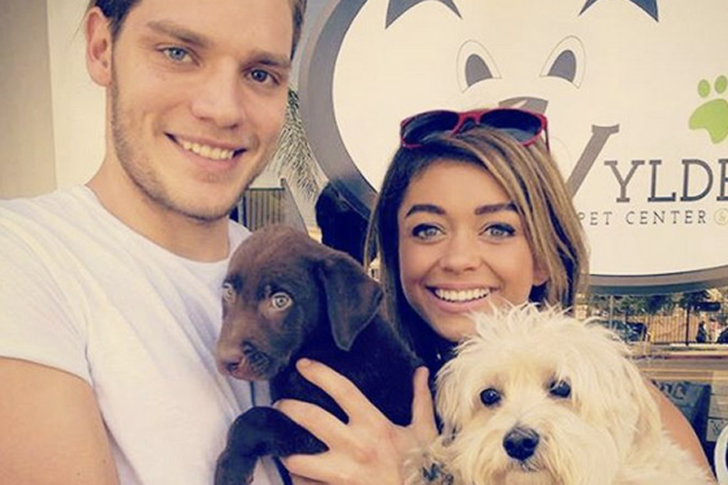 Sarah Hyland has had her ups and downs – from consulting a lawyer to file a restraining order against her ex-boyfriend in 2014 to struggling with health issues related to her kidney dysplasia, and everything in between.
Throughout everything, her dogs, Barkley and Boo, were there for her. She's now engaged to Wells Adams, although their wedding plans were put on hold.
In an interview for a magazine, Hyland shared that there's a power struggle going on between her dogs, and each wants to be lord of the house. She said that it's likely because the two of them are big, dominant dogs, and have unusual temperaments. Adams, meanwhile, shared that their dogs keep trying to sleep on the bed, which he said was annoying since they didn't have a big bed.
Tom Holland
Can Tom Holland be any more lovable? The Spider-Man: Homecoming and Avengers star has a very strong relationship with his dog, Tessa. The actor adopted her during the summer of 2016. Tessa is a Staffordshire Bull who is often featured in Holland's Instagram account.
With the actor's busy schedule, he often uses Facetime so that Tessa won't miss him – how cute is that? Tessa often prevents Holland from leaving by lying on his baggage when he's packing. To lessen their time apart, Holland has even brought his adorable pup to the red carpet. It got the audience and the media cooing at how adorable the two were.
Tessa has, to some degree, become a fan favorite, and people even ask Holland about her when he's at conventions. Interestingly enough, Holland lent his voice to the character Jip, a dog in the film The Voyage of Doctor Dolittle.
You've Reached The End