Unique and Creative Costume Ideas That You Can Do At Home
Do you want to stand out this coming Halloween but ran out of ideas? How about creating your own Halloween costume design! Here are some of the most creative costumes you can do this Halloween.
Halloween is a great season for kids who want to be different and costumes give that opportunity for them. They can become monsters for a day. Some opt for mythical creatures while other parents spend their credit card balance to get that pretty princess dress. They can be whoever (or whatever) they want to be and their limit is only their imagination.
With that in mind, some parents struggle to find the perfect fit for their kids that is budget-friendly and unique at the same time. If you are one of those parents that scuffle for ideas, this is the perfect guide for you.
If that's your main worry, well, fear not. We are here to help you and provide you with ingenious ideas to spice up your kids' Halloween party. Let's take a look at some of the best and creative Halloween costumes you all can do in the comfort of your own home.
Little Red Riding Hood and the Big Bad Wolf As Grandma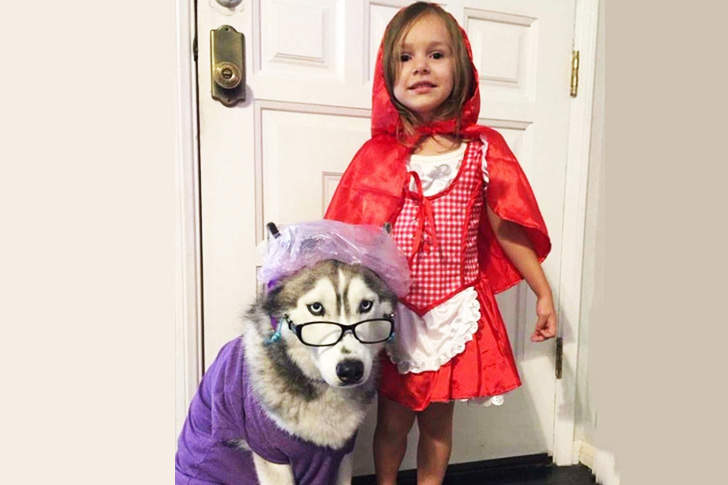 Every little kid back in the day loved the story of Little Red Riding Hood and the big, bad wolf. Of course, everyone loves a fairy tale and why not do it as a costume this coming Halloween. We are pretty sure this will also be a big hit at their upcoming Halloween party.
You guys don't need to buy a lot with your credit cards, just get a couple of used clothes and make sure it is red. For your furry friend, it is recommended to have a plain colored shirt and a good old shower cap to complete the granny look. Of course, who could forget those granny glasses for our big bad wolf? Now just get ready to get that trophy and that should do the trick.
Have A Halloween Blast With Rocket Raccoon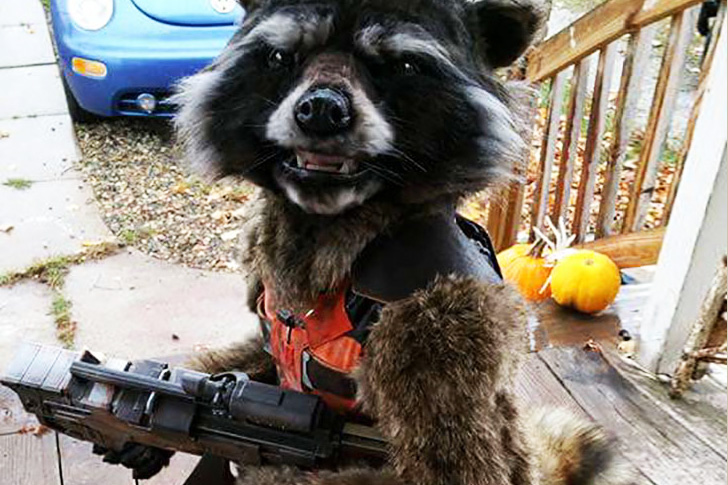 Marvel fans will surely enjoy the next item on this list. If your kid is familiar with Rocket Raccoon from the Guardians of the Galaxy, this costume might be great for them. It comes complete with accessories starting from the fur for the head all the way to the battle-hardened suit.
It is also best for those shy-type kids since it covers their face and allows them to freely portray the character without any issues. The only downside for this kind of costume is that the credit card expense will surely fall toward the higher end of the spectrum. However, with that kind of money spent on a Halloween costume, we are pretty sure he'll get the award of the night.
Father and Son Tandem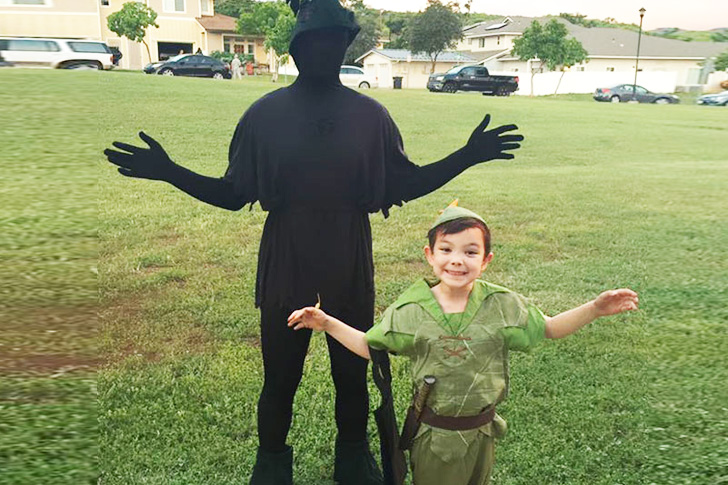 This father and son tandem showed the neighbors what it means for a father to follow his son through thick and thin. This guy got the memo and took it up a notch. Now, for their Halloween costume, it's like a two-in-one show.
The kid is dressed as Peter Pan while his father is dressed as Peter Pan's shadow. We have to give the father credit for beating the system with this kind of setup. First of all, they don't need extra food stubs for the party since one of them is just a shadow and one is real. Everything seems perfect aside from the fact that the father doesn't have a matching dagger. For some reason, they forgot this piece of detail.
The Apocalypse Is Coming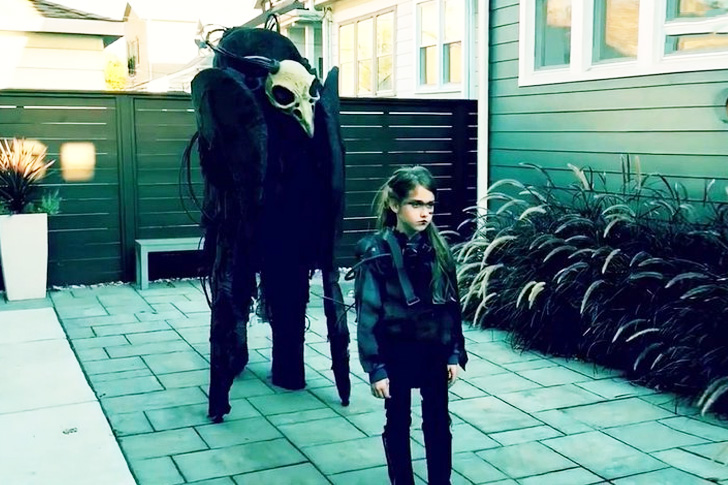 This Halloween, why not give your kids a treat and go all out. This was exactly what this parent-daughter combo did for the local Halloween party. Their imagination was top-notch and their looks can be said to be comparable to a certain famous movie clip. The two of them deserve a lot of credit for their effort and should get an A+ for their creativity.
If you are interested in recreating this one-of-a-kind parent-kid combo costume, all you need to have is a truck-load of black-colored clothes. If you can borrow a set of makeup from someone, you might be able to complete the look. Just get yourself a decent-looking mask that has a bony structure going on for it. You can then spice up the look with a wig here and there — this should complete your classic Halloween look.
Plastic Soldiers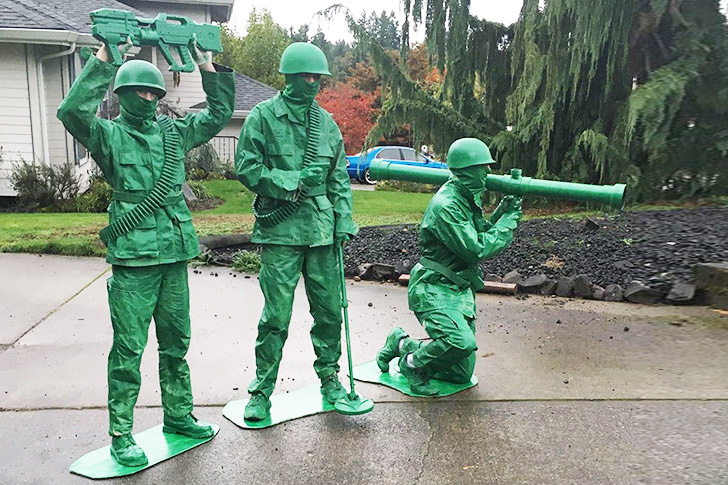 What's better than a realistic and cool looking Halloween costume? Our answer would be a more realistic and cool-looking costume for you and your friends! This is a good example of a group effort, where each is doing their job and is always in character. They will doubtless be taking home the top prize at their local Halloween party!
These guys must be fans of the famous animated film franchise The Toy Story, because it clearly was the source of inspiration for their costume. We are pretty sure these guys will have a great future when it comes to creating costumes and it might be best if they list it down as part of their investment portfolio. Just look at them, we are certain that they'll be getting a lot of clients, some of whom will be coming from Hollywood!
Son Disguised As Dad and Dad Dressed as Son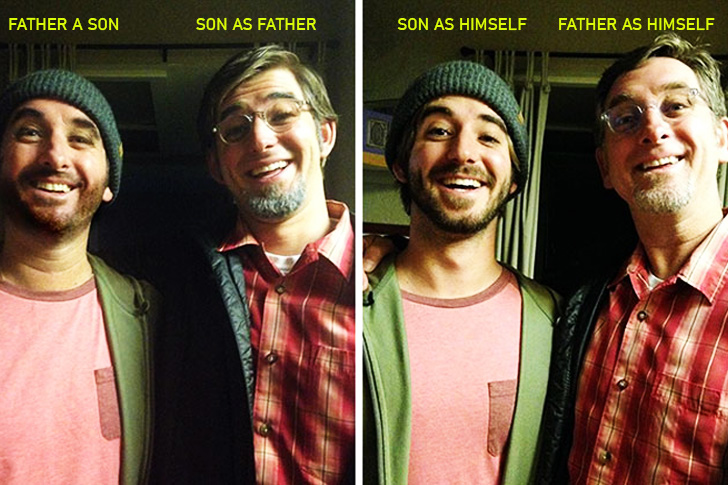 There's nothing more heart-warming than to see your kids all growing up fine.
It's every parents' dream and we are pretty sure they would do everything in their power to give them the best that the world can offer. Whether it's insurance, a savings account, or whatever else — they will utilize anything and everything they can get their hands on for their kids' future.
Just look at this father-son duo right here. His father did all the best he could to ensure a good future for his son. His son, on the other hand, tried to honor his father by playing him for the Halloween party. On the flip side, his father also did the same and played as his son.
Lovely Twins and Their Gorgeous Costumes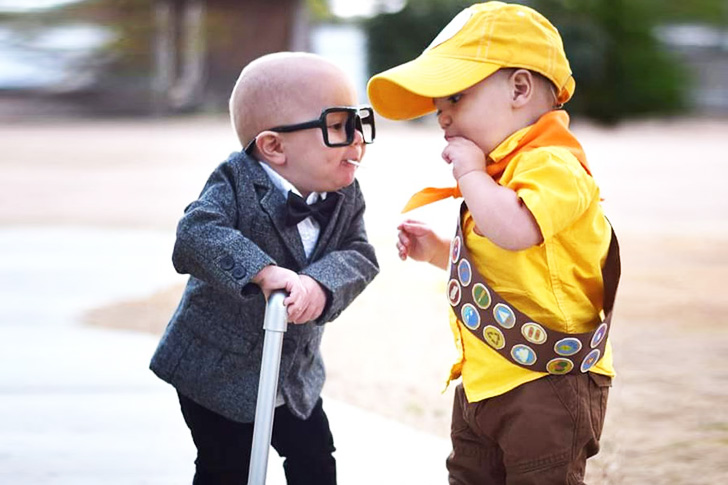 This might be the cutest costume you can get this coming Halloween if you have twins. Let's take a closer look at these twins and be amazed at what their parents were able to come up with. The first one on the right looks like a very capable boy scout while the other one is a competent but retired investment broker.
We bet these two will get their buckets full of all kinds of treats this Halloween. On top of that, they also have a high chance to win the grand prize at the party. Who wouldn't give them the grand prize? Just look at how gorgeous they are and this should be enough to hook them up as the winner of the night.
Weatherman's Diet Look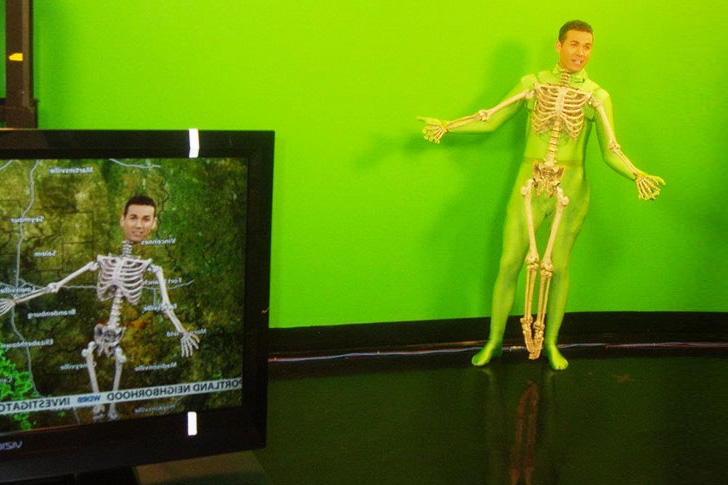 This weatherman right here deserves a lot of credit because of the ingenious delivery of his take for this Halloween. Just look at his bone costume on the television screen, you can tell how cool it is to be featured in a weather forecast in front of a green film!
Sure, this is probably one of the most common costumes in the history of Halloween but without a doubt, it is also one of the most classic. Just imagine yourself doing trick or treat with that on a green film while your friends carry a television set. If there are any parties going around your neighborhood, we are sure, you'll get the grand prize. Just make sure you have the right tools and equipment for the job and that should do the trick.
Creepy Mask for Halloween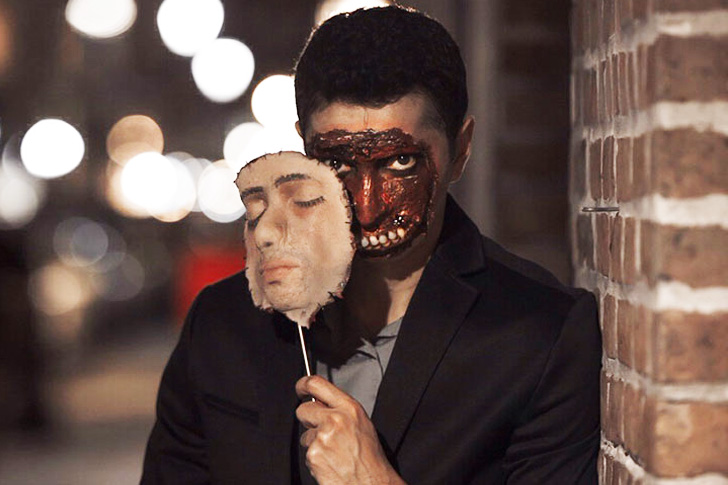 There is no denying that the creepier your costume is, the better your chances of winning the grand prize when it comes to the local Halloween parties. If this is your plan and you are willing to put a huge investment of time and effort into this, you're on the right track.
Just take a look at this man right here, he did an excellent job making prosthetics, as well as creating a realistic mask to go along for that added fear factor. If you don't want to get scared in the middle of the night, stay away from this guy in long, dark alleyways. Otherwise, be prepared to get shivers down your spine from how creepy his costume is.
Jon Snow White!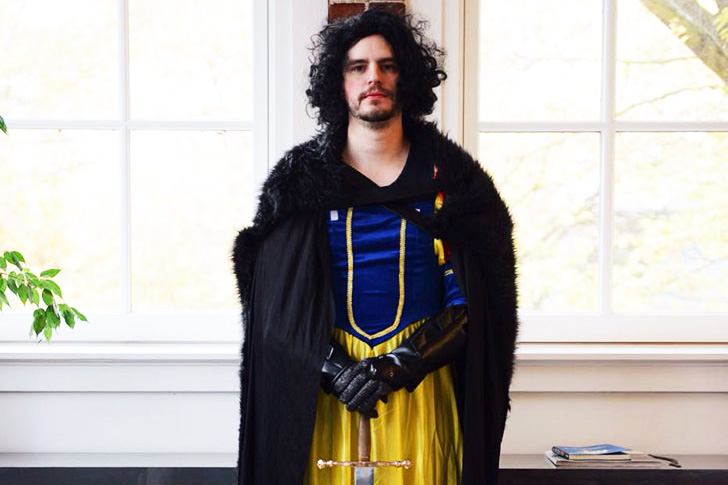 If you have a huge sense of humor and you're a fan of both Game of Thrones and Snow White, you will surely love this. Let's all meet Jon Snow White! He comes complete with all the accessories that a credit card can get, starting from Snow White's dress all the way to Jon Snow's cape. In fact, he even has a sword to boot!
We doubt that your kids will love to have a Halloween costume like this but for parents who want to spice up Halloween night, this setup will definitely fit the bill. Just make sure your hair is long enough so you wouldn't look weird or something — or you can wear a wig. Also, a beard will help a lot.
Wooden Doll Look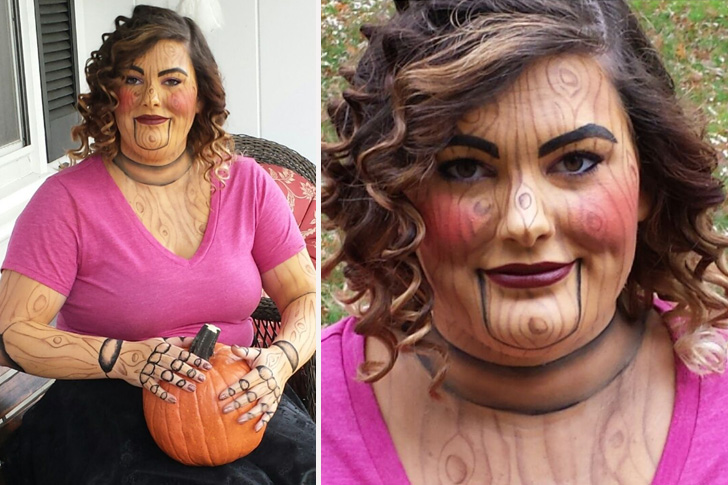 Many girls will confess to having dreamed of becoming a beautiful doll at some point in their childhood. Some like ceramic ones, while others love dolls made from wood — and a wooden doll might be the inspiration behind this Halloween look. Just look at the style this lady has for her Halloween costume. She clearly enjoys reliving her childhood dream of becoming a real-life doll.
If you happen to meet her down the street while she's on her Halloween look, don't be too surprised to see that she's a real-life person and not a doll that was brought to life by voodoo magic. On top of the realistic wooden look, we also have to give her a lot of credit for polishing her nails with a wooden tone to complete her Halloween costume.
Snake Kid Costume
If you want your kids to be on the top of the Halloween food chain, they should be fierce and scary. That is exactly what the parents of this kid had in mind when they created this snake costume for their child. It comes with all the bits and pieces of the Slytherin hunter starting from its prominent scaly figures all the way to the freaky snake eyes.
If you don't want to use your medical insurance coverage yet (which is the best thing), it is recommended to stay away from this gal during Halloween. If you have the guts to face this kid, make sure you bring them a bucket-load of candies so they won't haunt you at night!
Beauty and the Little Beast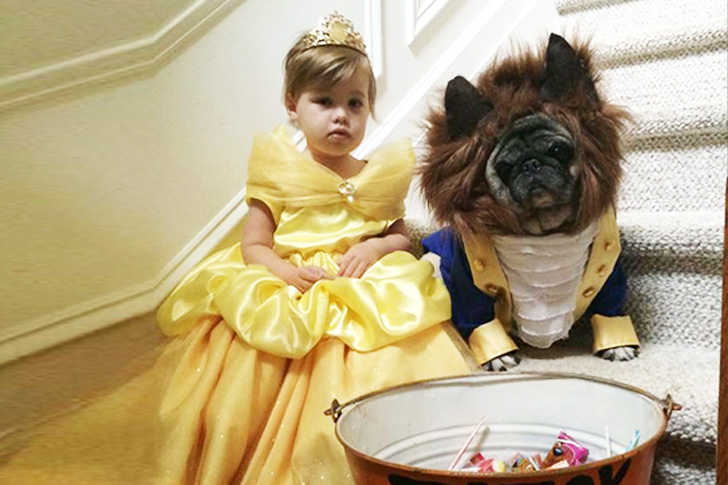 Belle from Beauty and the Beast has tremendous appeal to kids, especially the young ones who love Disney Princesses. If that's your goal and you want your precious daughter to look like a real-life princess, why not add your little pup to the equation to complete the Beauty and the Beast look?
Just take a quick look at this adorable princess along with her lovely furry friend, they complement each other's outfit and they will surely be the talk of the town at your local Halloween party. Just get your credit cards ready and purchase a stunning gown and you should be all set for the night. Before we forget, make sure they have a big bucket for their treats because a lot of people will find your little princess adorable.
Dark Angel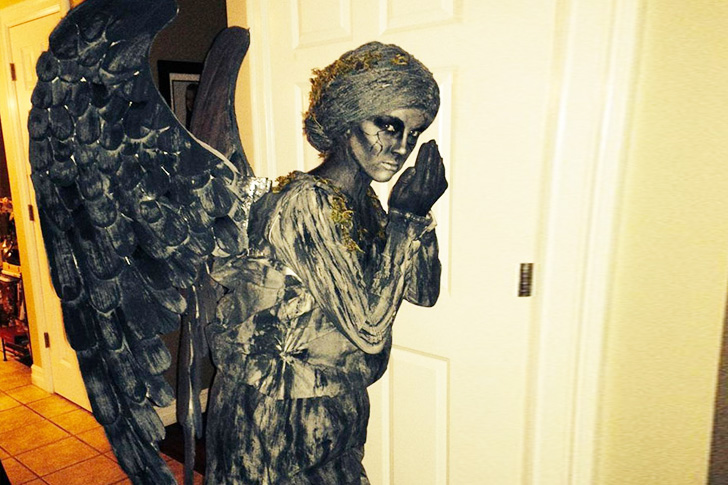 This lovely lady right here seems to be a perfect example of a gorgeous dark angel that creeps around the neighborhood during Halloween time. She has that fierce and mysterious look going for her which is perfect for her personality. We are sure she'll bring home the best costume credit with the way she portrays her character.
If you guys want to mirror what she has for Halloween, just look for a dark-colored dress and construct a wing contraption that completes the dark angel look. If you don't have the right cosmetics, just order online or go to your nearest cosmetics shop and use your credit card. Look for dark-colored makeup and complete the look with a couple of natural-looking weed and leaf accents.
Dad Caught Doing Great Stuff for His Halloween Costume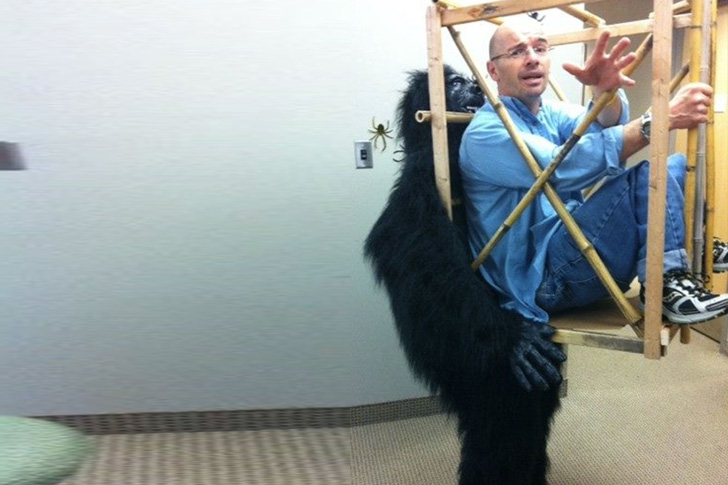 This father has shown exceptional skill and imagination by creating a very unique Halloween costume for the ages. Just look at how ingenious and intricate the cage is and how he managed to look like he's been caught by a big, bad gorilla. Though he looks like he's about to meet his demise, in his head, he's actually smiling because of the amazing responses he gets from the folks that see his Halloween costume.
You won't need to break your credit card for this setup. Just borrow a cheap gorilla costume from your friends if they have one sitting in their attic. You can also visit your local thrift shop and look for something similar. Also, create a wooden box that would act as a cage and you should be all set.
Neil Patrick Harris and His Epic Family Adventure During Halloween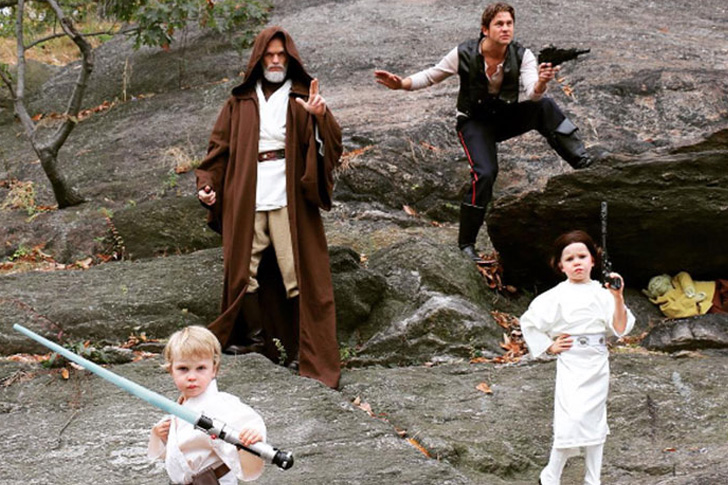 Neil Patrick Harris knows how to spice up every Halloween. He not only got a stunning Halloween costume for himself but he managed to get great costumes for his family as well. Just take a look at how creative he and his family get during Halloween.
For this particular Halloween, they opted to go for a Star Wars theme. If you look closely at the left, you'll also see the legendary Jedi Master Yoda hanging around, lying on his side, and pretty relaxed. From the look of things, it seems like Yoda's loan problems have been resolved and he's pretty much enjoying every bit of it. If gearing up this coming Halloween season is your family's goal, make sure to follow the footsteps of Neil Partick Harris' family.
Every Plane Passengers' Worst Nightmare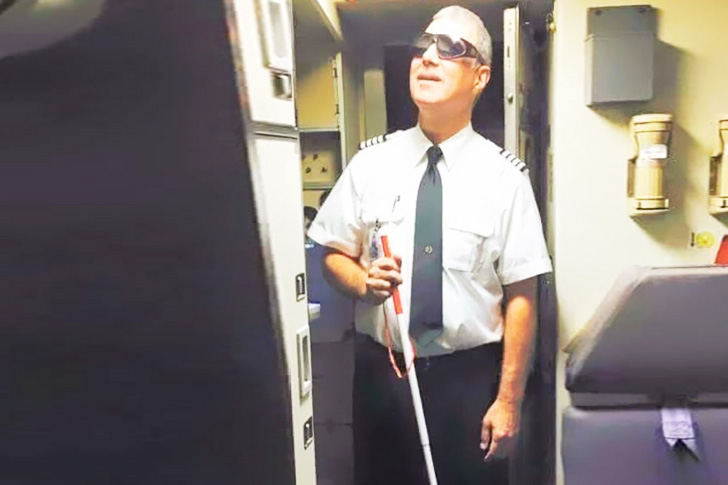 If your credit cards earn mile points, you should be accustomed to flying to other places on a plane. With that in mind, the main person responsible for our safety would be the pilot of the aircraft. Now picture this in your head, what if your pilot has no peripheral vision, what would you do?
That's exactly what this genius pilot did with his Halloween costume – a blind pilot complete with sunglasses and a cane. Good thing the passengers' and the pilot's cabin is in separate compartments. If they saw that their pilot is blind, we bet they would freak out big time. As an aside, this was reportedly a Halloween costume that was created on a whim and no passengers were harmed as a result.
Hyper-Realistic Painting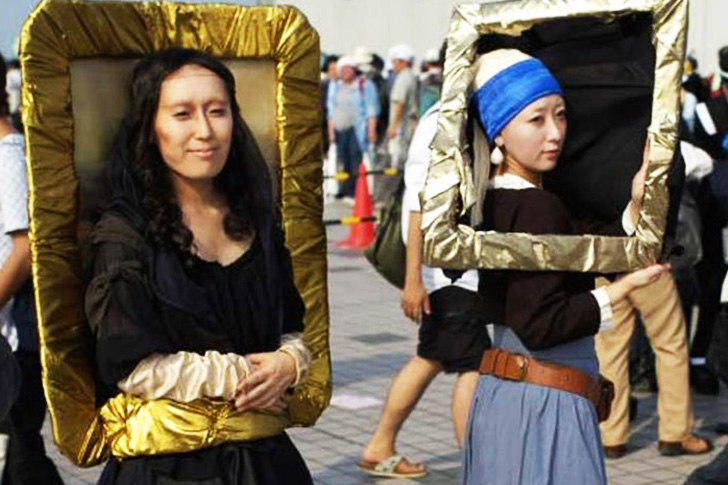 If you are planning to make a statement this coming Halloween, you should consider creating a costume that's as beautiful as a painting. These two got the memo and put a lot of investment into their craft. Just look at how gorgeous and fitting these costumes are to their personalities.
The one on the left is from the famous painter Johannes Vermeer called Girl with a Pearl Earring, while the other is the classic Mona Lisa by the one and only Leonardo da Vinci. We are pretty sure these two would get stunning and memorable souvenirs for the years to come. Just like what other people say, these gals are the exact definition of picture-perfect. This portrait costs little to none, so if you're on a tight budget, you should consider creating something like this for your Halloween party.
Star Wars' Death Star Baby Bump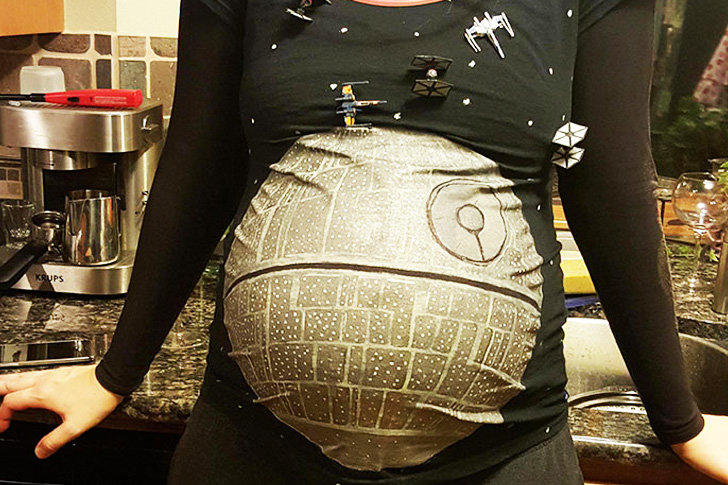 This preggy mom seems to be a fan of the epic intergalactic space adventure franchise, Star Wars. Just take a good look at her baby bump, the famous Death Star fits perfectly with the shape of her belly. On top of that, it comes complete with all the spaceships flying around in space. We can all agree that her belly looks like the perfect setting for the epic space battle. In our opinion, this lady right here could also add a stormtrooper helmet to complete the whole look.
We are pretty sure she's an avid fan of the show and that she spent a good chunk of her credit card balance just to be able to watch the film franchise on-demand.
The Portal Costume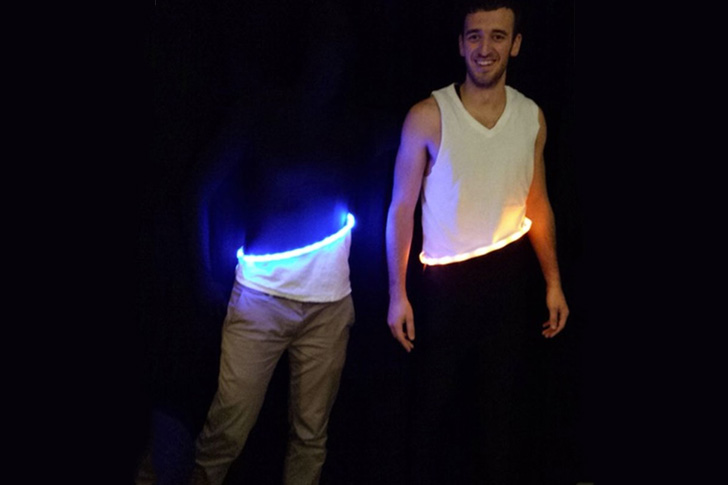 This dude right here created a pretty unique Halloween costume, and for those who want to follow in his footsteps, here are all the things you need.
Just get another dude that would help you complete the act. The second thing you'll have to keep in mind are the LED strips that act as the cutting point of the portal. Lastly, you need to use your credit card to get a black shirt, black pants, and a black background to pull off the illusion of your body being cut in half. We are pretty sure people would freak out when they see your body suspended in the air while your other half walks carelessly right beside you. This costume will get you a decent place on the podium from your local Halloween costume competition.
Ruby Rhod in the House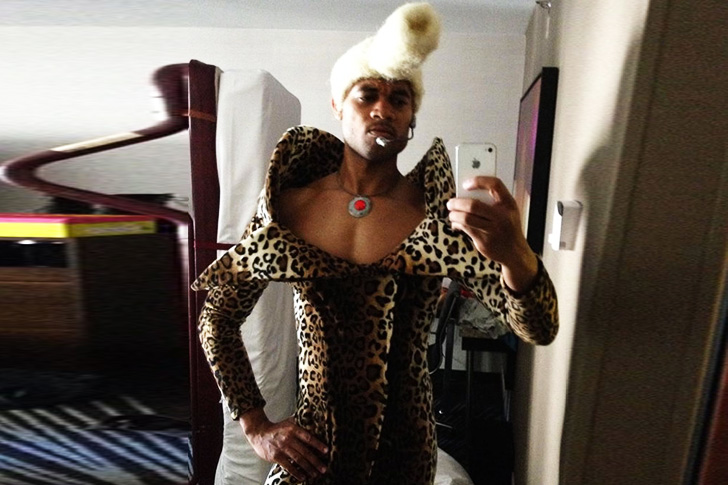 This guy right here seems to be a fan of the classic movie of Milla Jovovich and Bruce Willis' The Fifth Element, and it was his inspiration behind this Halloween costume choice. Also, his family found out that he's also a fan of the character named Ruby Rhod, who was played by the one and only Chris Tucker. Just look at how he fits with Ruby Rhod's costume, it is such a perfect match.
We are pretty sure he'll get an award from his local Halloween party since his portrayal is spot on. Unfortunately, we are not sure if the cash prize he'll get will be enough to pay off his mortgage, but we have no doubt that he'll get an award for his effort.
That Crazy Cat Lady Next Door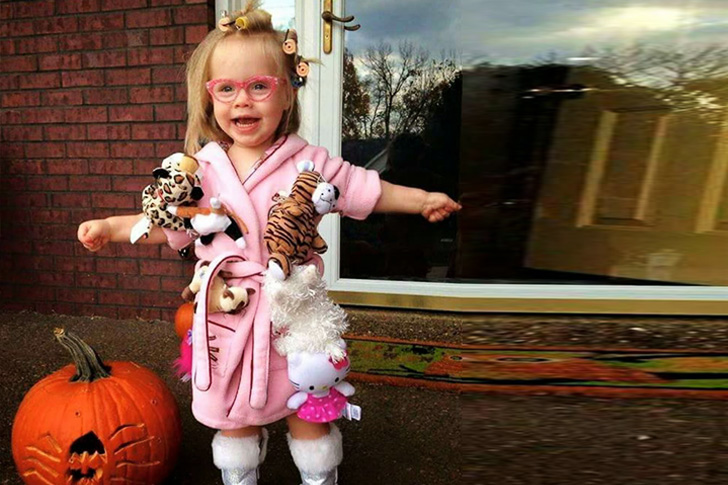 Every neighborhood has its own cat lady, and this was the inspiration for this kid's Halloween costume. She has that good old pink bathrobe around her body filled with cute, little felines. On top of that, her look comes complete with hair rollers, pink glasses, and pretty pink boots. We just hope her parents' credit card didn't end up with a huge hole after purchasing all the stuff.
Whatever the case may be, this lovely little cat lady looks adorable and would not only catch all the cats in the neighborhood but the hearts and minds of the people around her, too. Just look at how charming she is — and her costume will pretty much be enough to ensure that her bucket will be filled with chocolates and candies.
Daenerys Targaryen Costume for Halloween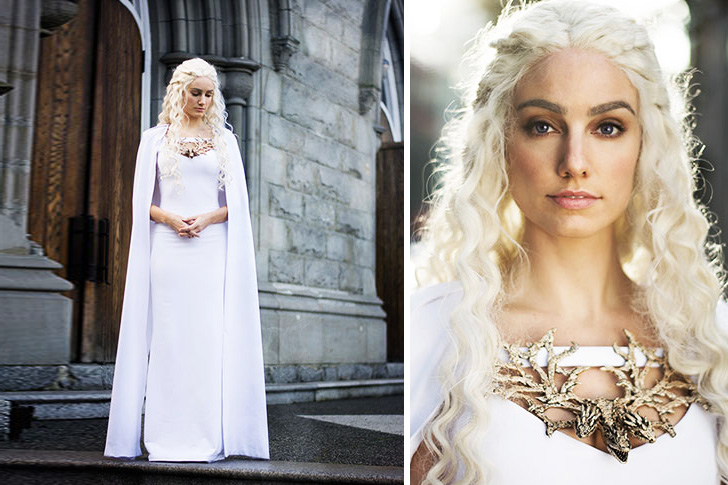 Game of Thrones was a worldwide hit and we have to give the actors huge credit for the effort they put into the show. With that said, it is also inevitable that people will be portraying some of the main characters of the show for Halloween.
That's the case for this lovely lady right here. She showcased her inner Daenerys Targaryen for Halloween. She clearly hit the spot and her portrayal is spotless. She can even fill in for Emilia Clarke if the actress finds herself too busy to go in front of the camera. The bottom line is that she looks good in her costume and she might even win the Best Costume award because of how good she is able to portray Daenerys Targaryen.
Jack and Sally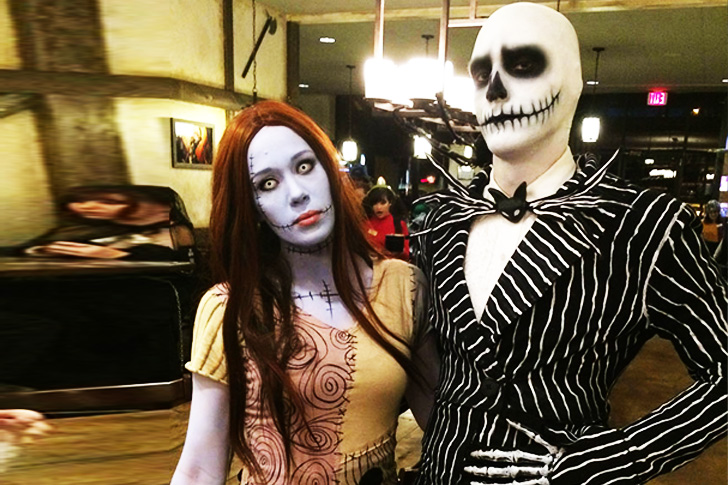 The animated film The Nightmare Before Christmas was a huge hit back in the '90s. It was an animated film that was too dark for children's sensibilities. Aside from that, the movie also has a huge number of followers because of its iconic characters, including Jack Skellington (who is known as the "Pumpkin King") and his love interest, Sally. With that in mind, a few fans wanted to feel like Jack and Sally this Halloween, and from the looks of it, they succeeded big time.
Better get your home security system ready since you don't want Jack to visit you this coming Christmas. However, we are certain that it will be a huge bundle of both joy and terror seeing Jack and Sally at your local Halloween party.
South Park: Halloween Edition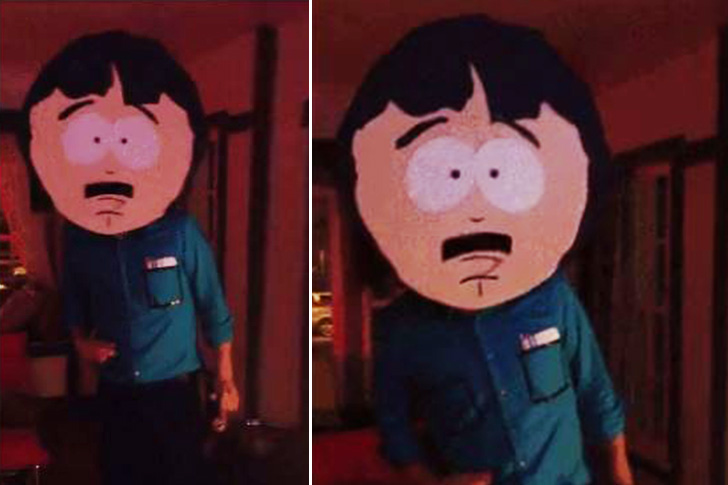 The animated series South Park sparked a lot of controversy because of its many controversial episodes. People spent a lot of their credit card balance to get merchandise that came from the show. However, there are groups of people out there who took their fandom to a whole new level!
Look at this guy right here, he's clearly a fan of the series who created a costume inspired by the show. This time, it comes complete with a moving lip, an oversized head and the iconic South Park eyes. This kind of costume is a clear cut above the rest and can be considered as the best South Park Halloween costume ever made – hands down the clear winner in every category in our book.
Tall Guy Plays Short Guy in a Halloween Party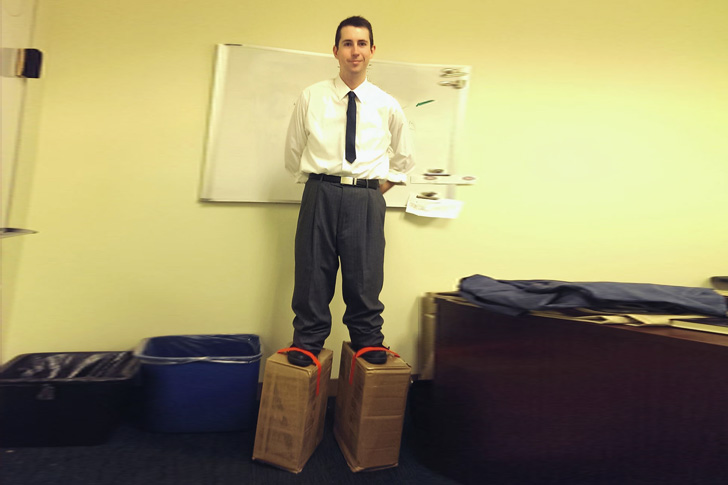 If you're a tall guy just like the guy shown in the picture, this might be the Halloween costume for you. You don't need to file a loan for expensive, scary, and unique costumes. All you need is just a little bit of creativity, a pair of boxes, and you should be all set.
Just take this guy as an example. He went out of his way and let his imagination grow. Since he's a tall dude, he wanted to be a small guy for the Halloween party and did exactly that by strapping each box on a makeshift shoe. Then he punched a hole through the boxes to make room for his feet. If we look at the outcome, it is actually perfect and there's nothing he could have done better.
Wednesday Addams is Back This Halloween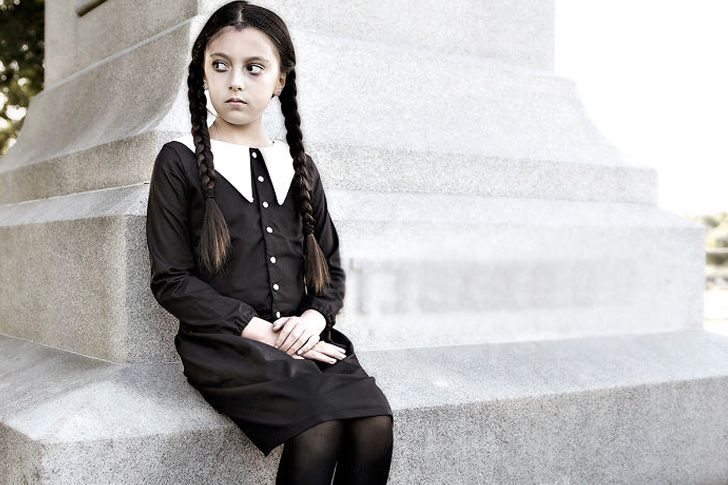 The Addams Family is another timeless classic when it comes to Halloween costumes, and young girls would typically pick Wednesday Addams as their favorite Addams Family character to impersonate. Just take a look at this beautiful, mysterious-looking girl with a dark but gentle demeanor. She is the perfect person to play the famous young lady of the Addams family. Not to mention, she also has the character to go along with it.
If you are interested to get this look for your kid, just get your credit card ready and order a long-classic black dress. Do a pair of braids for the hair and sum it all up with dark, old-looking leather shoes. This is definitely one of the budget-friendly but cool-looking Halloween choices out there for budget-conscious moms.
Super Turban Brothers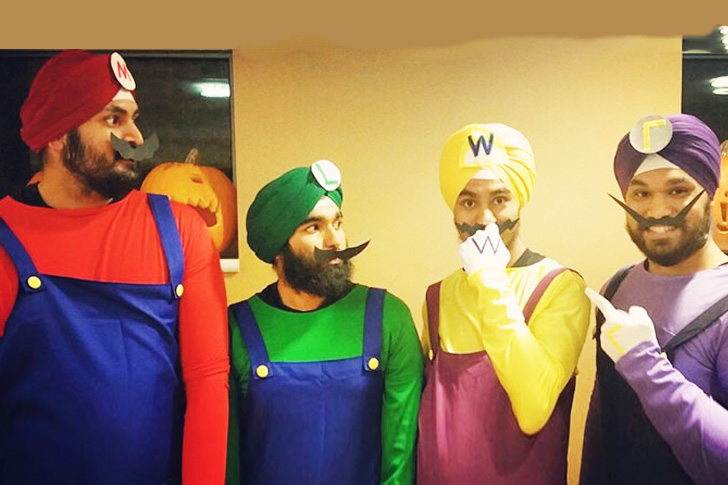 Gaming fans out there are familiar with the Super Mario Brothers franchise. After all, it is one of the most popular games in history and it is only a matter of time before we see a Halloween costume that features Mario, Luigi, Wario, and Waluigi.
However, this group of people added an extra twist to the equation — no we are not talking about Wario and Waluigi. Instead of their famous plumbing services cap, they changed it with their very own turban. Seems a legit contender for the best personalized Halloween costume out there. They not only portrayed four of the famous characters in the Mario Bros. universe, but they also added their own element which made it personalized and unique.
Overwatch's Plague Doctor Reaper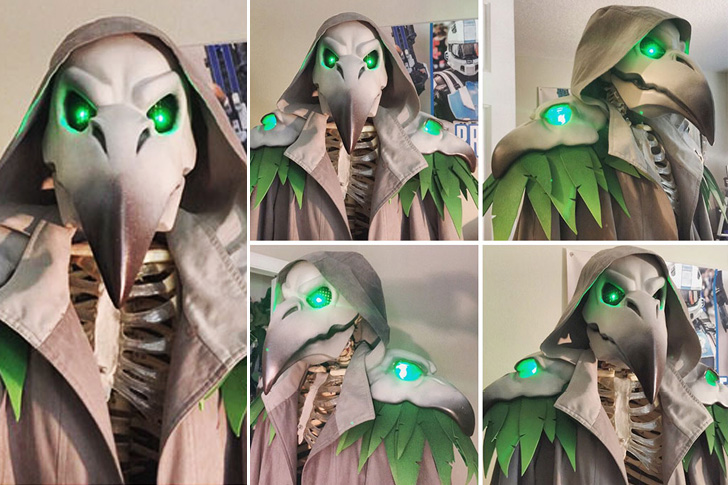 The gaming community will be very proud to see that the Overwatch character can shine in Halloween parties as well. Just take a look at this guy's take of the Reaper with a Plague Doctor theme going on. It is absolutely lovely and the gaming community will surely do whatever it takes, or shed any amount from their credit cards, to get one costume like this for Halloween.
Sure enough, it might be pricier than other costumes, but you'll get a chance to own your very own Plague Doctor Reaper costume which you can use in every Halloween and costume party you'll be attending. Oh, we forgot to mention that his eyes glow with flashes of light for that added dreadful look.
King Jaffe Joffer in Real Life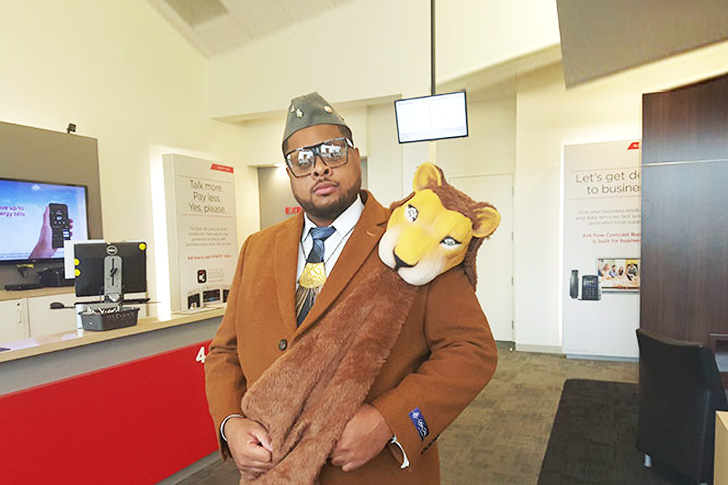 Many fans will agree that Coming to America is one of the funniest films ever made. It is truly an Eddie Murphy classic. Some even use their credit cards just to stream the movie and relive every hilarious scene in the comfort of their homes.
With that in mind, this fan right here takes his love for the movie to a whole new level by dressing up as one of the main characters of the film for Halloween. This guy right here portrays King Jaffe Joffer, complete with all the accessories, from the big glasses all the way to the skinned lion on his shoulder. Rest assured, there was no animal hurt in the photo and it seems like King Jaffe Joffer is happy with the way he runs things.
Wizard of Oz this Halloween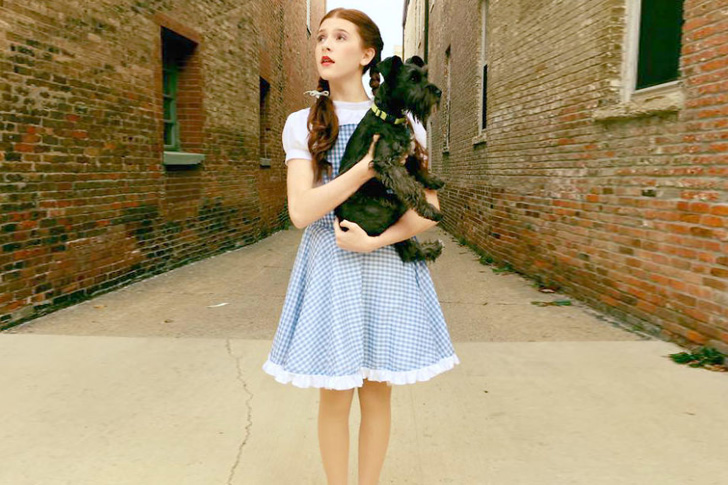 Dorothy and Toto might be the most adorable characters in the hit classic movie, The Wizard of Oz, and it comes as no surprise that a lot of people use this as their favorite character costume when it comes to Halloween. This is exactly what this kid had in mind after she posed as Dorothy along with her cute little "Toto." The two look exactly like the iconic characters in the movie and she even had her own red shoe to go along with it.
She also didn't need to put out a huge investment for this look since any dress with a checkered print can be used to pull it off. If you intend to copy this look, then you'll also need a red doll shoe to complete the lovely Halloween look.
Real-Life Ariel With Legs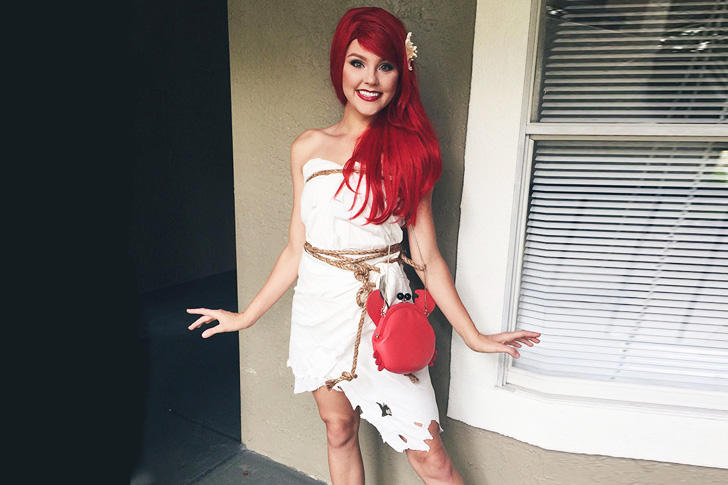 The Disney Princess of the Sea, Ariel, is also, to some degree, one of the most famous characters when it comes to Halloween costumes. However, this lady right here took it up a notch and portrayed Ariel to perfection. If you are interested in creating this beautiful get-up this Halloween, it is best to look for a rugged dress, punch a hole here and there and dye your hair red.
Also, make sure you come to the party barefoot so you can complete the Ariel look. Look for a crab-like back so it could act as Sebastian, her trusted companion. Don't forget a couple of shells to match the aquatic theme and you should be all set. While you'll probably find yourself among a sea of other Ariels at the party, you will at least be one of the more realistic-looking ones.
The Weather Reporter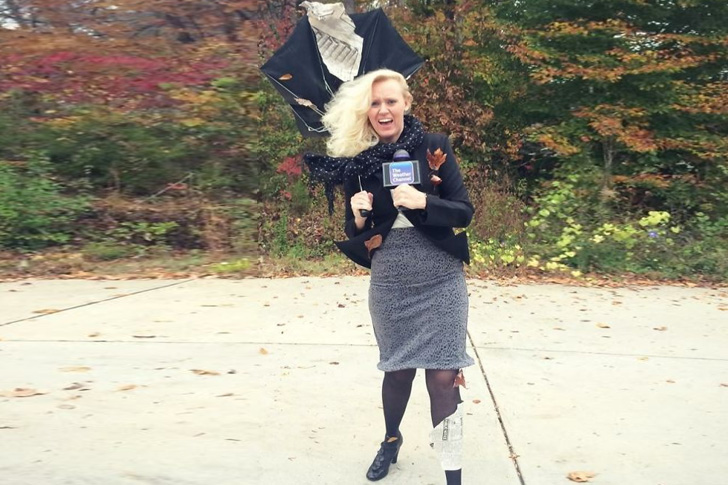 We all saw the clip circulating around social media where a reporter got violently caught in the middle of a vicious hurricane. And it is, without a doubt, an epic sight to see. Because of the impact this reporter got from her audience, some people thought it would be good to be her for Halloween. That's what the lady here did.
She came complete with all the things needed to complete the look, including a broken umbrella, a couple of fallen leaves blown away by the wind, some pieces of newspaper, and a terrified look on her face. With all of that in the equation, she'll surely become a hit. Just keep in mind, if you want to be a reporter just like her, you need to have very good insurance coverage.
Kylo Ren For the Win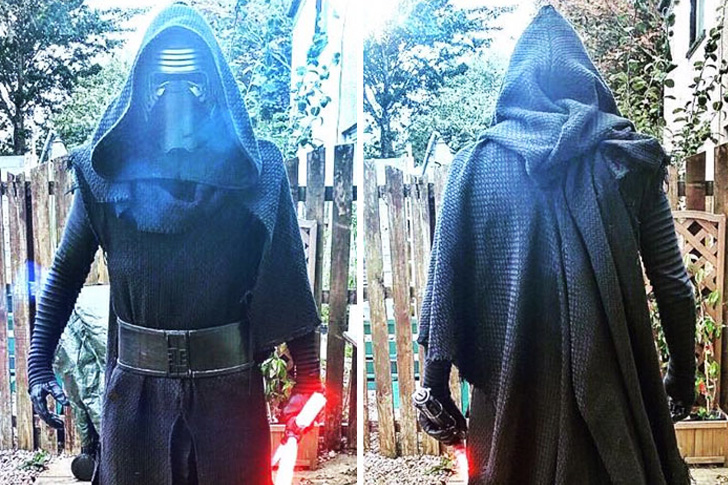 This guy right here is a huge fan of the Star Wars film series and presumably, Kylo Ren had a huge impact on him so he chose to create a costume for his Halloween celebration inspired by the famous sith lord.
He expended a huge amount of time, money, and effort into the creation of this costume just to pull off a perfect Kylo Ren. And it was all an investment well-made — he did a great job on it. Just look at his hood and his lightsaber, it is pretty sleek and realistic. We know for sure that he'll have a good chance to grab the best costume award at the local Halloween party. After all, considering the amount he spent on the creation of this setup, it's clear that he deserves something in return.
Mad Max Costume Halloween Style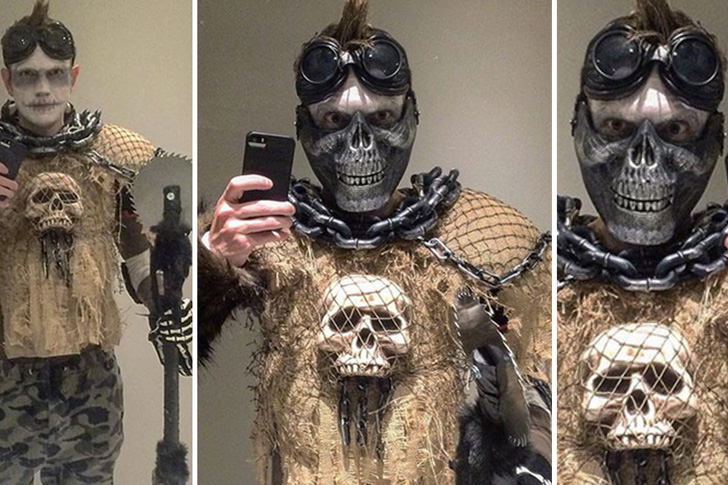 The post-apocalyptic-themed movie Mad Max received a lot of positive reviews from critics and garnered huge success at the box office. The popularity of the franchise reached a lot of people and some of them have used the film as inspiration for their Halloween costume.
Take this guy, for example. He's a huge fan of the film and he put his heart into making a good and quality costume that he'll use this Halloween. His credit card didn't take any huge blow as well since most of the components of his costume came from old stuff from his closet. All you need to consider if you want this as your Halloween costume is a little bit of creativity and a truck-load of imagination.
Have a Rugrats Halloween Celebration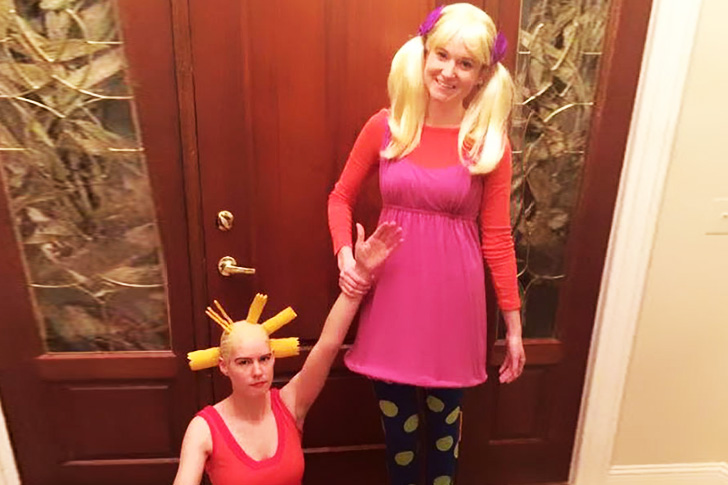 Kids and people who are young at heart love cartoons, but if you are going to use characters coming from an animated show, that means you're a true cartoon-lover to a certain degree. With that in mind, this lady right here is a true fan of animated shows. In fact, just take a look at the level of detail she put into her appearance just to look like Angelica from Rugrats. She even teamed up with her friend, who is dressed as Cynthia (Angelica's trusted doll), to complete the look.
Now, we are not sure if this will be enough for her to get the Best Costume award, but we are certain she'll make a lasting impression for all the effort.
Footstool Costume for your Pup
Halloween is not just for humans but for our furry friends as well. Just take a look at this little pooch and his take for this Halloween. His owners dressed him up as the footstool from the classic children's story Beauty And The Beast.
The owners of the lovely pooch probably didn't spend a lot in terms of their credit card balance since it's totally possible they got these epic pieces of clothing from the local thrift store. On top of that, they don't need any additional things for him since he's already cute and lovely on his own. Now all he needs is a good party to showcase his look, and, without a doubt, he'll get the star of the night award hands down.
Mary Poppins Lands Successfully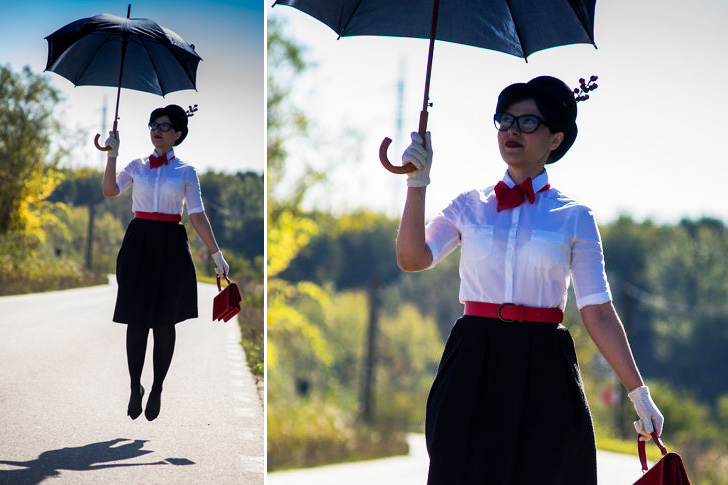 Mary Poppins is one of the classic characters in the history of cinema. She's beautiful, cheerful, lovely, and adventurous — it seems like everything one wants is already with her. That's also the reason why many people opt for a Mary Poppins get-up for Halloween. After all, you can finish the look without breaking the bank. You also don't need to get a personal loan just to look exactly like her.
All you need is a quality white blouse and a pair of white satin gloves. It might help if you can grab a lovely classic cap and a Poppins signature umbrella. Paint your lips red and put a gorgeous smile on your face and that should complete the Mary Poppins look for this Halloween.
Scary Stuff this Halloween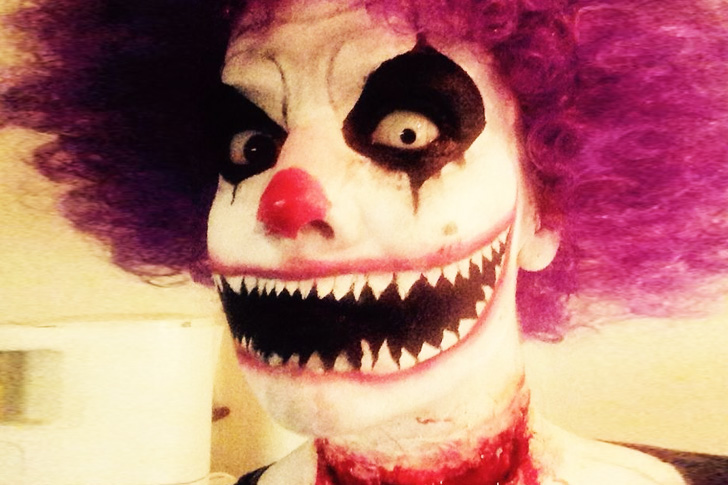 If you want to live the real spirit of Halloween and fill the air with terror and screaming, this should be the costume for you to wear. This lady right here created what it seems to be a terror clown whose head is about to fall off. She also created a pair of mischievous eyes and a scary set of teeth that will make even the most inveterate Halloweener wet their pants.
We have to give her credit for creating something that encompasses the real essence of Halloween. If you are interested in following her footsteps, just make sure to stay really far away from kids and infants because we are pretty sure they'd get nightmares if they saw you.
The Corpse Bride, Daughter Edition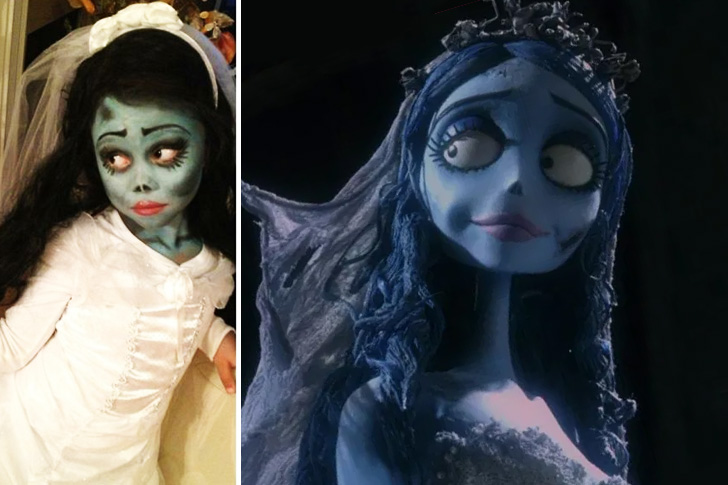 This kid right here knows how to project herself as the Corpse Bride this Halloween. She looks creepy but lovely at the same time in her costume and we are pretty sure she'll be the star of the night at her local Halloween party. She has everything set for her and we have to give her parents credit for making her look possible. She even has a matching hairdo that makes her look like the carbon copy of her favorite animated character.
She might grow up as a cosplayer one day so people should look out for her in the future. We bet this little girl has a bright future ahead of her judging from how good she is at recreating characters for Halloween.
Lil' Jon Snow in the House!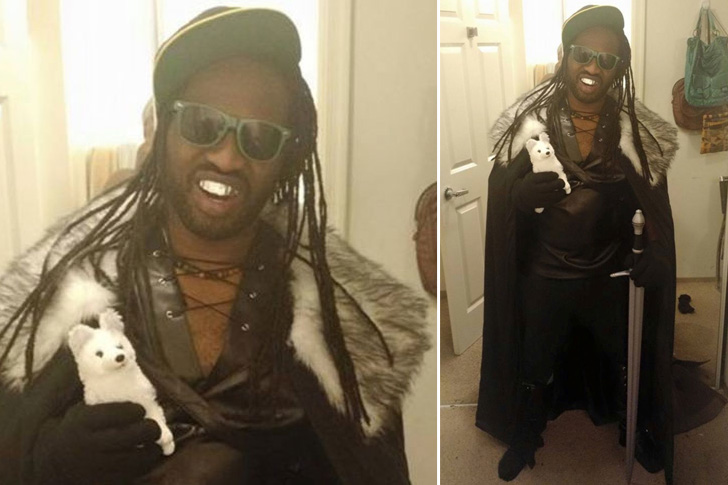 This dude right here decided to create a Halloween costume with his own hands, adding a little twist that would put him in the spotlight. His investment paid off big time as he became a bona fide internet sensation. We can obviously see he's an avid fan of the hit television series Game of Thrones and a huge supporter of Jon Snow. He used the character as inspiration and did a good job copying the character's get-up.
However, no one knew this is what he'll be doing for Halloween. To give you the gist of the situation, he gave the character of Jon Snow a modern jive complete with party glasses and braids making him the Lil' Jon Snow of Halloween.
DIY Mystique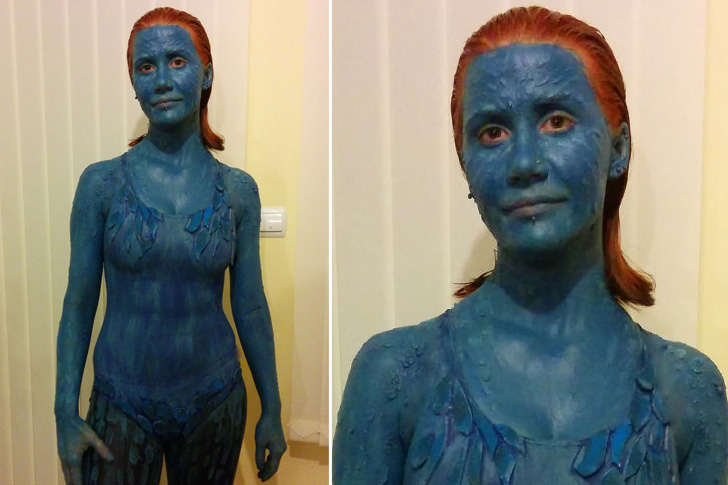 Another famous character in Marvel comics that people dress as for Halloween is Mystique from X-Men — she is, in case you didn't know, the blue shape-shifting mutant. In her base form, her body is covered with blue skin, and if you are interested in dressing as Mystique for Halloween, you should do these steps.
Just simply look for body paint and color yourself blue. The same goes for your shirt — you can buy a skin-toned shirt online with your credit card and dye it blue. The next step you need to do is dye your hair red. Another optional thing you'll have to consider are contact lenses. If you can get bright-colored contact lenses, it would definitely help complete your look.
Face Paint for the Win!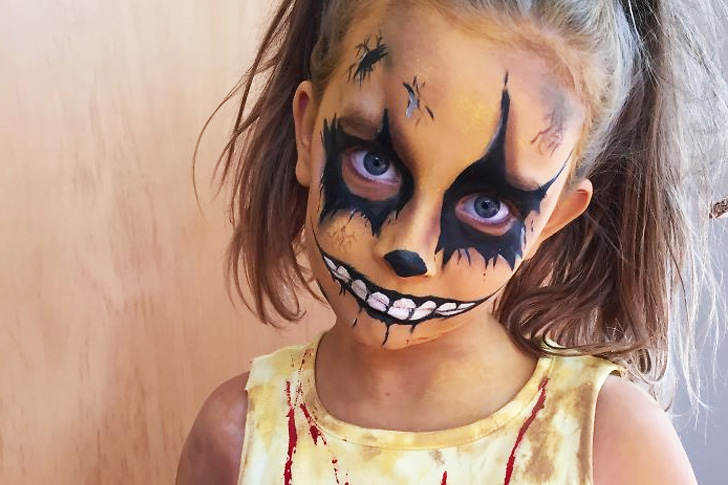 If you have face paint sitting around the corner and you still don't have costume ideas for Halloween, why not use what you already have. Yes, you can use the face paint freely — you just need a ton of imagination to make it work as part of your Halloween costume.
Take this kid, for example. Old and worn-out clothes coupled with some scary face paint is all that is needed to complete a Halloween look. She's not only super creepy with her get up, she's also sure to get a bucket full of candies without breaking a sweat. Just like what we said, all you need is a good theme for your face paint. This, to some degree, should be enough for a unique and cool-looking Halloween setup.
Have Some Jelly Halloween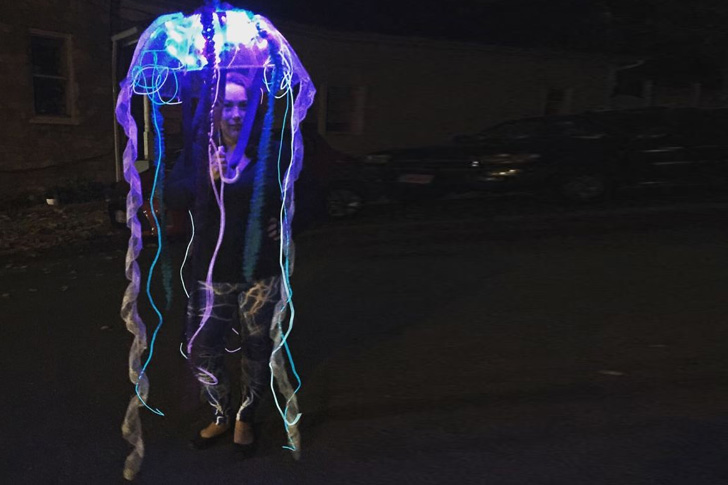 This lady conquered Halloween in a flash! Yes, we mean it. She used lights and created one of the most ingenious Halloween costumes one can make in a jiffy. If you have a clear umbrella hanging around in your storage room and have a bunch of LED strips, you can probably create this one of a kind get up for your next Halloween party. Just make sure you have enough electricity to power the LED lights.
Now to do a jellyfish costume out of an umbrella and a bunch of LED strips, just follow these simple steps. First, get a good amount of LED lights and mount it on your umbrella. Then, get a couple of ribbons to hang from your umbrella, along with a couple of LED strips to act like tentacles. This creates the illusion that your umbrella is the main body of a jellyfish.
The Number One Ceiling Fan!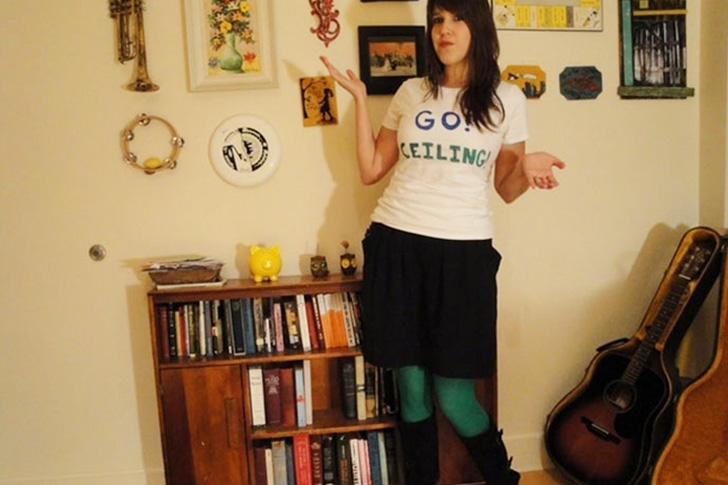 This might be the simplest and most cost-effective costume that you can use for any Halloween party. Just get your credit cards ready and start looking for a shirt that has a hilarious message to confidently showcase at the party.
Let's cite this lady right here as an example. She clearly portrays confidence and believes in the uniqueness of her Halloween look, which pretty much sets the stage for a hilarious moment. Just look at her shirt and you'll instantly realize the funny meaning behind the message in her printed shirt. However, for those who don't have enough sense of humor, we are here to break it down for you. She is simply showing that she's a huge supporter of the ceiling, and most likely the roofing as well!
Up In the Sky!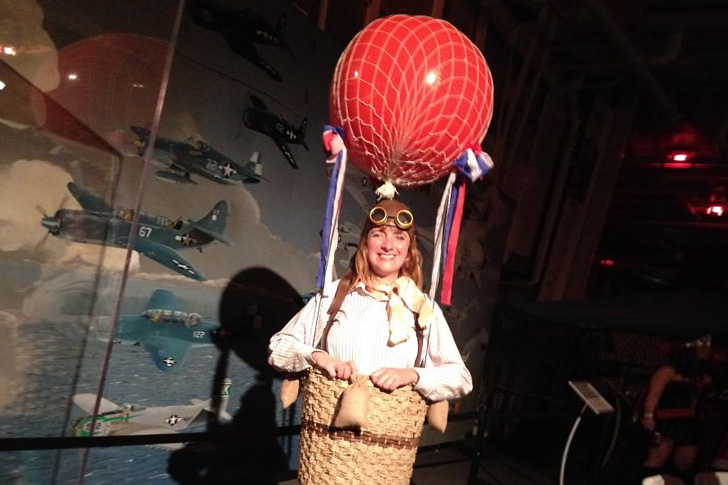 Without a doubt, we all feel a certain degree of joy and excitement when we get something from all the effort we pour into our craft, and this lady right here definitely feels the same way. In fact, we can say that she is actually on cloud nine – literally!
With that said, the main reason for that would be her Halloween costume, where she decided to become part of a hot air balloon. She tied a big red balloon on her head and used a makeshift basket to act as a platform. She even put a couple of cloud-like substances down her jeans to make sure the whole costume looks complete. It is a simple yet effective costume in our opinion.
Comic-Look this Halloween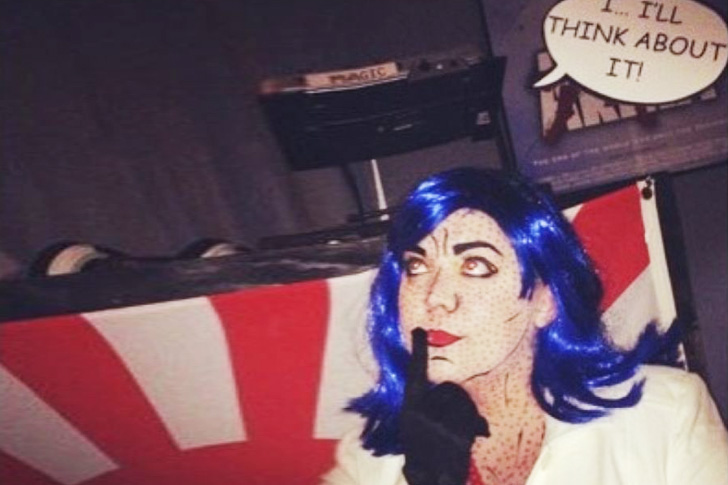 In the past couple of years, we have seen a surge in films and movie pieces that center around the universe of our favorite comic characters. With that said, some people use this as an inspiration for their Halloween party look. One prime example of this would be this lovely girl that became a real-life comic book character.
Just take a look at this gal right here, she looks like a character pulled out of a comic book. She even has a cartoonish look and we have to give a lot of credit to her friend who transformed her from a regular woman to a cool-looking art piece. The costume is perfect for Halloween parties. Look, she even got a thought bubble just to complete her look.
Sadness from Inside Out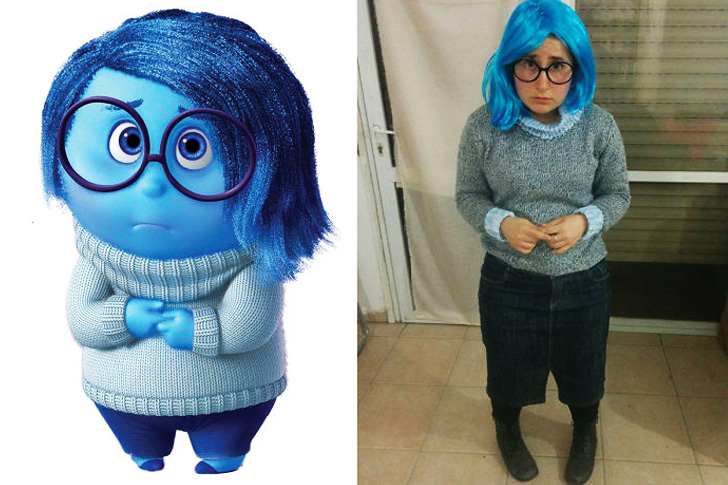 The 2015 animated movie Inside Out was a huge box office hit and a lot of people spent a good amount of their credit card balance just to book tickets for their family to catch the film. Because of the popularity and simplicity of the character designs, a lot of people became inclined to use some of the characters from the film as the inspiration for Halloween costumes.
This lovely lady right here is a prime example of that. She didn't burn a lot of money just to look like Sadness. All she needed was a knitted long-sleeve top, big eyeglasses, and a sad look on her face. That's pretty much it! We think it would have been better if she painted her face blue, though.
Frida Kahlo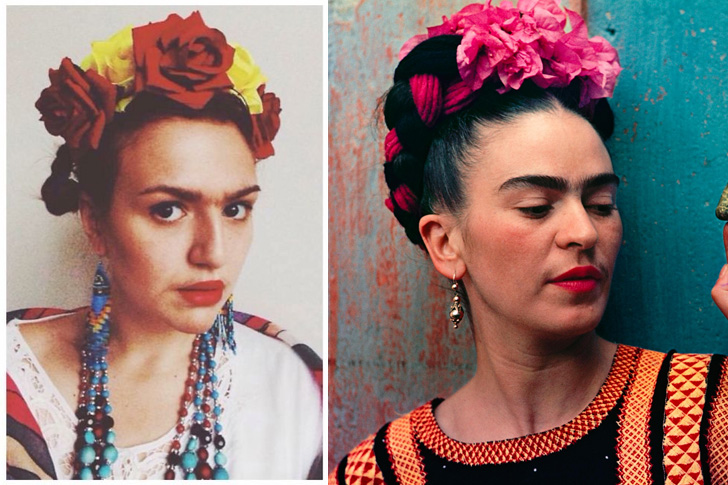 The painter Frida Kahlo is one of the most iconic people from Mexico. She was a huge cultural icon for women and politics, and she also made a huge contribution to the art world with her works. Without a doubt, a lot of people still cherish her impact in the arts, in society as a whole, and in human rights. Indeed, she deserves credit for all that she's been able to accomplish.
That might also be the reason why this lady right here decided to use Frida Kahlo's image as the inspiration for her Halloween attire. In fact, she even managed to copy the painter's iconic eyebrow! On top of her classic facial features, she also did a great job mimicking the look of the legendary artist. Just take a look at her accessories and that will tell you the whole story.
Bruce Lee!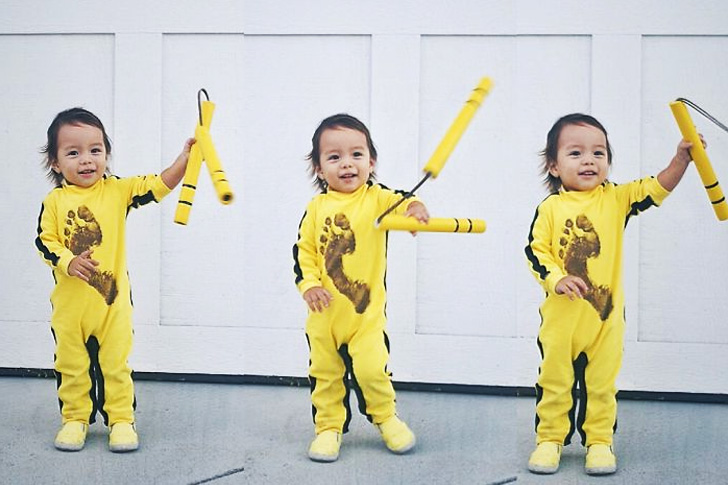 Bruce Lee is considered to be one of the best martial artists in the history of martial arts. He was also one of the top actors of his time. However, most of you guys will agree that his movie Game of Death is one of his most iconic movies of all time, and part of the reason for this is because his fight scenes included a lot of world-class martial artists.
One of the most memorable fights from the movie was his scene with the towering giant, Kareem Abdul-Jabbar. Their fight was so epic that it still echoes today. As proof of this, just take a look at this kid's Halloween costume. This cute little angel seems to be a Bruce Lee in the making. We just hope this kid's parents were approved for a renovation loan application since this cute little angel may very well be breaking stuff.
Zombie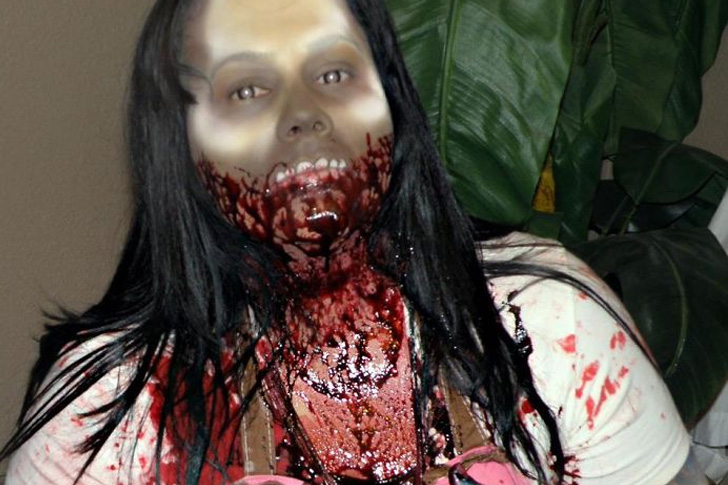 If you want an extreme degree of scariness, this should be one of your best bets and it involves blood — lots of it. This mom right here decided to get serious for Halloween and use all available resources to get things in proper order. Now for those who are wondering what her Halloween costume choice is, well, it is a zombie with a lot of blood.
We hope this lady right here has the right insurance policy to cover for the fake blood but in case it's out of the policy coverage, she can grab someone and eat their flesh and replenish her blood supply. If you are interested in this setup, just make sure you have good makeup on — or you can always hire a makeup artist. For sure, they can transform your look.
Michael Jackson is Back This Halloween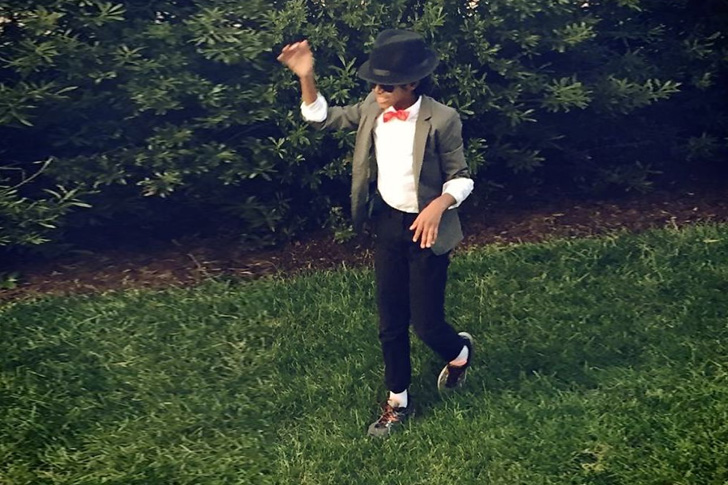 Halloween is the time when we usually see some monsters, ghouls, and zombies. However, we also have to pay homage to some of the iconic figures in society just like this kid right here who dressed up as the "King of Pop" Michael Jackson.
It is a cool and easy look to achieve. All you need to do if you're interested in going this route is to get a fedora hat, a clean and shiny bow, sleek pants, and a fancy looking jacket. Once you hit the checkmark for all of this, you should be great. Again, there's no need to break your credit card balance just to achieve this look and you can get away with it by using a couple of old and used items from your local thrift shop.
Samara from the Ring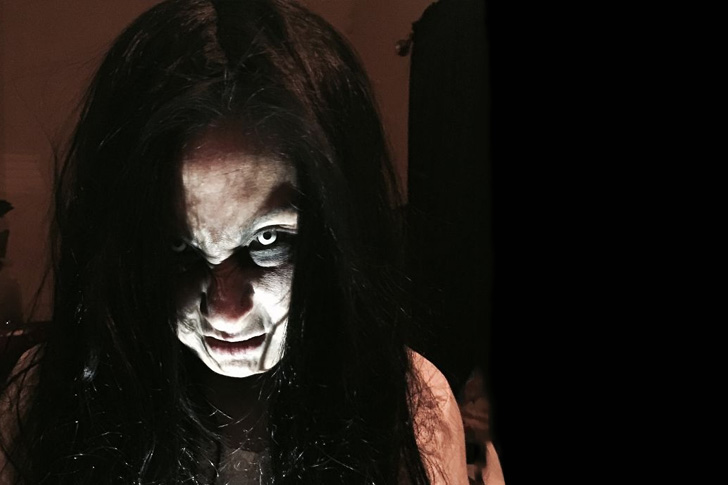 Now, this one is scary stuff and your kids will surely ask you to install a home security system once they see this kind of getup at their local Halloween party. If you're familiar with Samara from the hit horror movie The Ring, it would make the job of explaining to others what they need to do a lot easier.
You don't need to make huge investments to pull this one off. All you need is good white makeup for your face, as well as randomly loose and hanging hair. If you can also get good and scary-looking contact lenses, this should also do the trick. It would also help you big time if you can wear a long, white sleeping gown for that added eerie feel.
Loofah for Halloween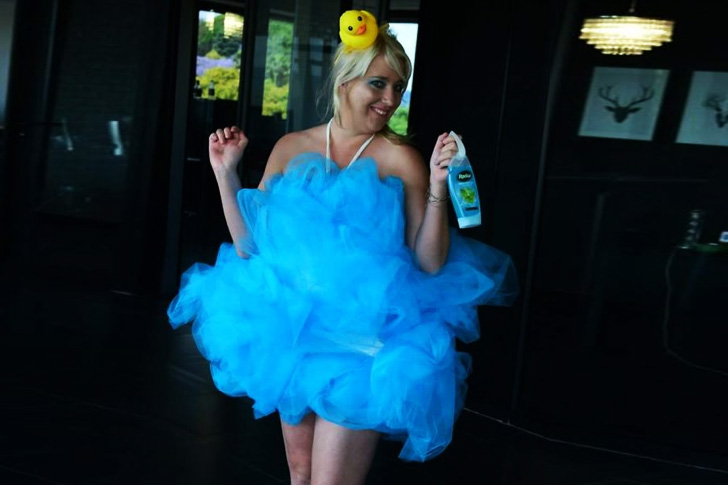 Say you know someone who doesn't like going to the shower every day, they might need to steer away from this lady with a loofah for a costume for Halloween. She comes complete with everything you need and this includes the rubber ducky right on her head.
Seems like when you're with this lady right here, you actually don't need to hire anyone to do plumbing services since you can simply go to wherever you want to shower. On top of that, she already has the bubble soap ready! We know this might not be the scariest outfit in the wild but this is certainly one of the most clever ones on the field. It is one of the most unique Halloween costumes of all time.
The Bat Family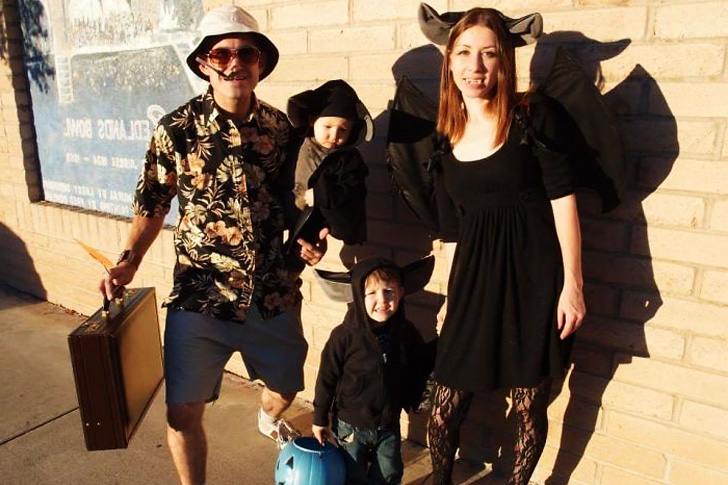 A lot of people will say that family should stick together, and that's exactly what this family did. They stuck together and did their thing as a family for Halloween. Let's take a look at what they did this Halloween because we assure you it's interesting.
From the looks of things, they are having a blast in their bat costumes this Halloween. It is a good idea since they are all having fun and spending quality time together with the rest of the kids. After all, the best investment you can get is spending precious time with your family. What's great about their costumes is that it looks well-thought of. And, at least they were able to spend quality time with each other.
The Scary Minion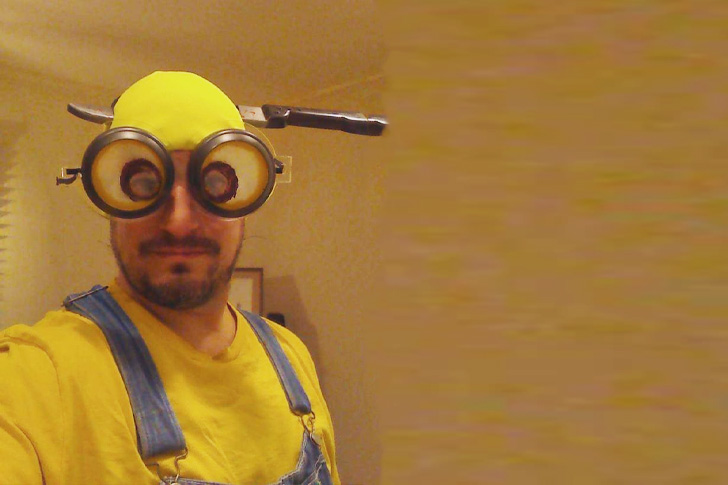 The loveable and adorable Minions from the hit animated film Despicable Me franchise became huge icons thanks to their cute endeavors and their one of a kind personalities. Fun fact, they are also indestructible so they don't need to go out their way just to get insurance policies.
With that in mind, this guy right here had the perfect plan for Halloween, and it involved suiting up as a cute and loveable Minion. He wore yellow and added a knife that went through his costume's head and that's about it. It still has the cute element of his character but exhibits the scary nature of Halloween. It is perfect for those Halloween parties at work or the one held in your local neighborhood.
Adorable Cat Lady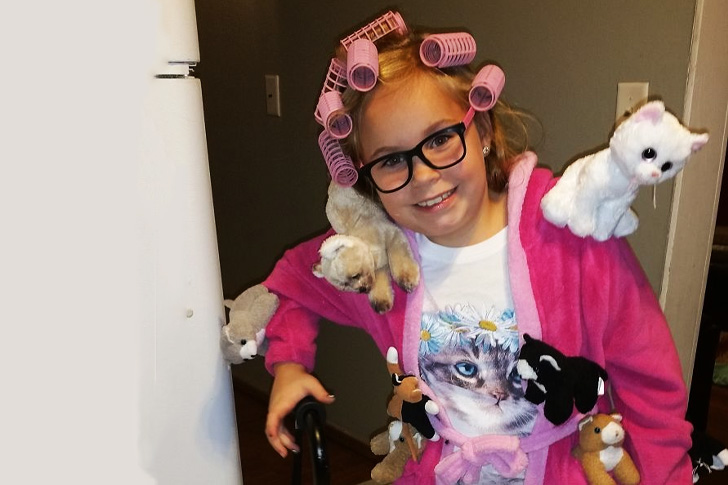 Cat lady is one of the all-time favorites when it comes to Halloween costumes. After all, it is easy to do and all you need is a good personality and you should be all set. You also don't need to spend so much if you want to go with this costume. Just get yourselves a good number of hair rollers, a bathrobe, a pair of big, old glasses, and a whole bunch of cats. To make the look complete, it is recommended to get a decent cane — that should do the trick.
It is one of the easiest Halloween costumes you can do every season and what's good about this choice is that it wouldn't hurt your overall credit score in the long run. Also, it is important to take note that there was no cat hurt in this image.
Baymax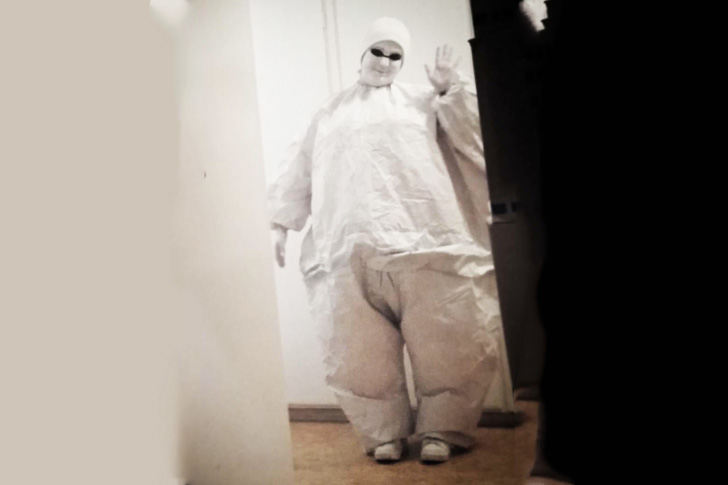 This clever Halloween enthusiast right here got her Halloween costume covered with the help of her sumo suit. The lady used her resourcefulness and a truck-load of imagination just to pull this one out. She utilized all that to portray one of the cutest animated characters of all-time, Baymax, of the Big Hero 6.
She already knew ahead of time what she wanted to do for Halloween, and she opted for this cute and lovable character. We are not certain if she's connected with any insurance company but we can clearly hear that faint question that Baymax always throws out in the show: "I'm your personal healthcare provider" and "are you satisfied with your care?" She clearly knows how to use everything in her possession and make the most out of it.
Zombie Surgeon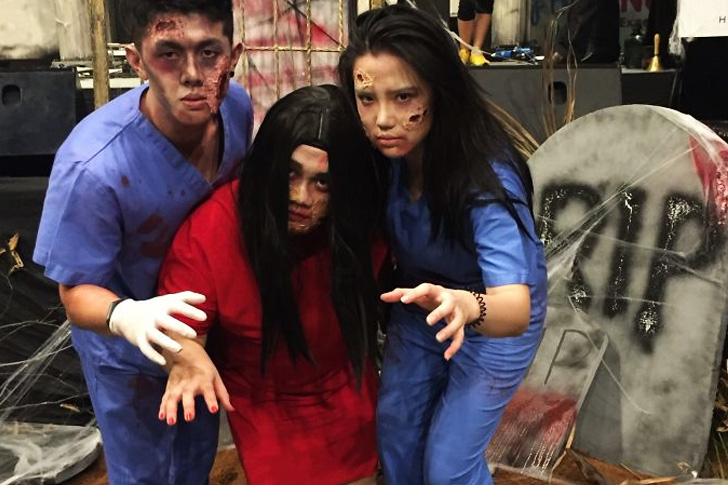 This group of friends right here opted to become health workers for the undead this Halloween and they clearly delivered it in a stunning fashion. From the looks of things, they fully utilized their college degrees to some extent. After all, they still serve other people even after their portrayed deaths.
If you are interested in this kind of costume this Halloween, you just need to get a couple of things ready. You just need makeup to complete the look. It is also best to practice and add a couple of scary gestures to your repertoire and you should be good to go. Just make sure you wash the makeup on your face after the occasion and it should be alright.
Cool Spot and Fido Dido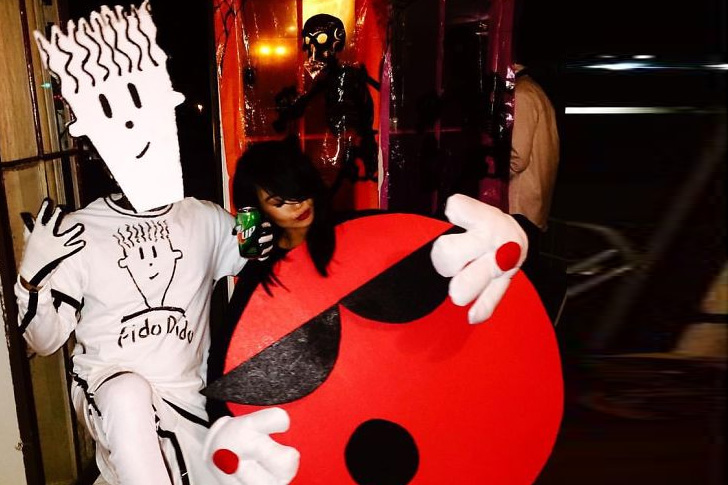 If you are looking for iconic characters that can go down in everyone's book, you should probably consider the 7-Up mascots, Fido Dido, and Cool Spot. Just take a look at these two right here, they used these iconic figures as their Halloween costume and it looks pretty good on them.
They might have got a lot of childhood memories with this drink and give the company huge credit for it. They even honored them by reviving the classic mascot of the soft drink company. The costume also works well with their budget since it only costs a fraction of the original price of other costumes in the market. This move shows both ingenuity and frugalness at the same time.
Scary Clown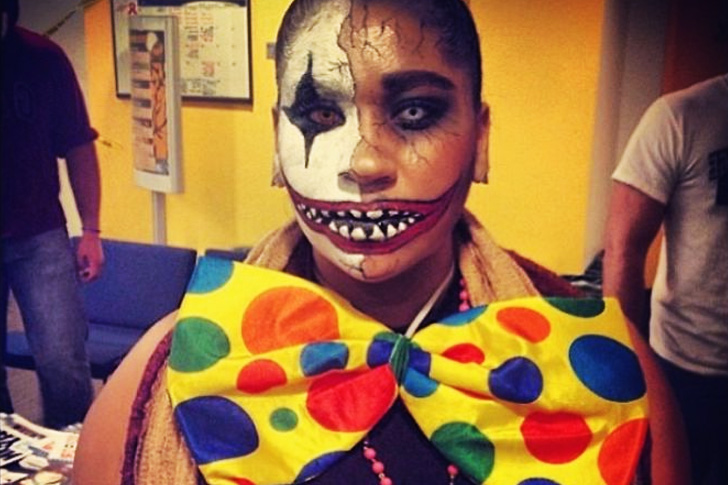 A lot of people are scared of clowns for some reason. In worst cases, they even freak out when they see one, and panic attacks kick in. With that said, scary clowns will make a good and catchy costume for Halloween. If that piqued your interest and you want to be a scary clown for Halloween, you should follow these simple steps.
First, get yourselves good face paint — and you need to make an investment for a decent one. Then, fill yourselves with clown ideas, except this time, instead of clowns that bring happiness and joy, get a creepy clown design just like this lady right here. We are pretty sure a lot of people will get the message you bring to the table.
Little Wonder Woman's First Halloween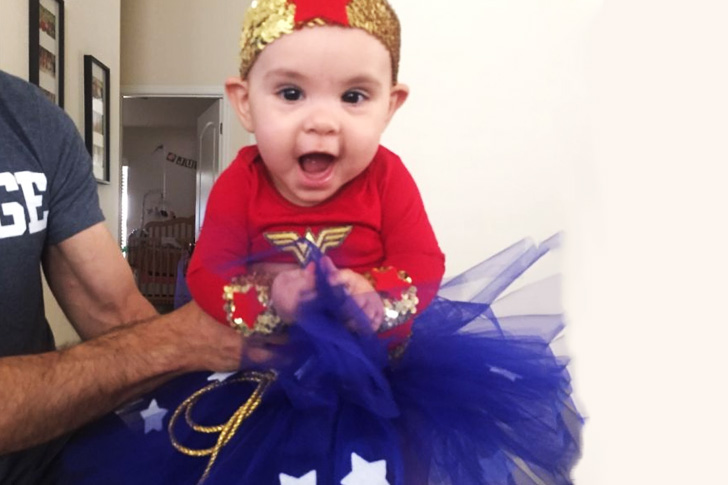 This cute little baby right here is about to experience her first Halloween party and she's doing it in style — with the help of her Wonder Woman costume. Sure, she's pretty young to fit the role of Wonder Woman but this child is determined to make an impact early on. In fact, she's establishing her stronghold in her local neighborhood and she'll start with their Halloween party and slowly make her way towards the top.
From the look of things, her parents support this kid's endeavor and this kid right here is pretty stoked with the idea. The amount her parents paid for in their credit card was worth it considering the outcome and how cute their little angel turned out in her new costume.
Dress Up Like Boy George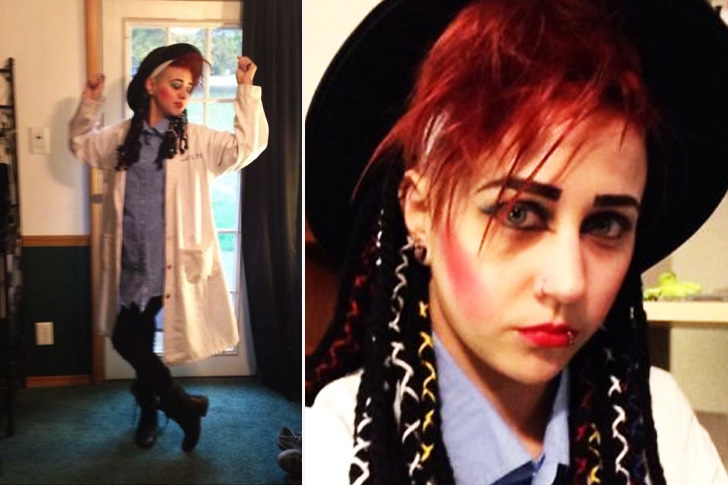 To most people, Halloween means scary costumes, trick or treats, and horror stories. On the other side of the coin, there are other people who use the occasion to portray some of their favorite celebrities, and that's exactly what this lady did for her Halloween costume.
While others scramble with their credit cards and make a bunch of online purchases for their costumes, this lady right here had a specific look in mind. She opted to dress as singer, songwriter Boy George. From the hair all the way down to the attitude, she's spot-on. She truly looks like the celebrity all the way down to the smallest details. We can't wait to see if she had other tricks up her sleeve.
Heads or Tails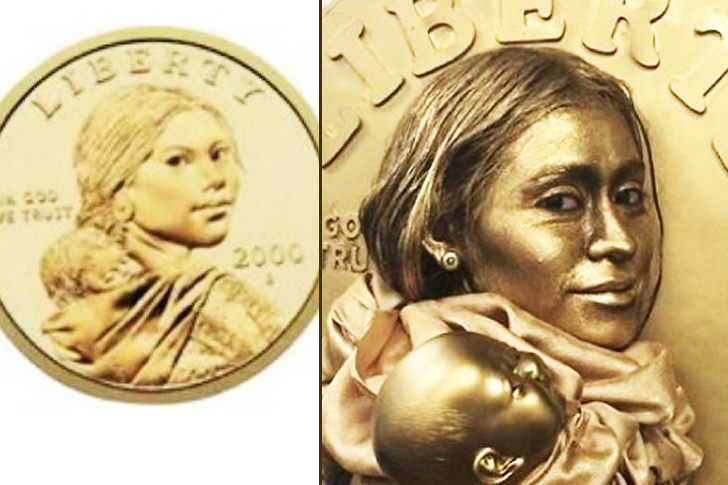 This lady right here has some serious money management skills that she decided to put it into good use. What's on her mind you ask? Well, she used that as inspiration for her Halloween costume. This awesome idea became a huge hit right away and she became the center of attention at her local Halloween party.
Just take a good look at her costume and it should tell you everything that you need. Now if you are interested in making a costume like this, just make sure you have face paint, a decent amount of rubber foam, and a toy baby to complete the look. Once you have all of these ready, you should be able to pull off the same vibe.
Family Bonding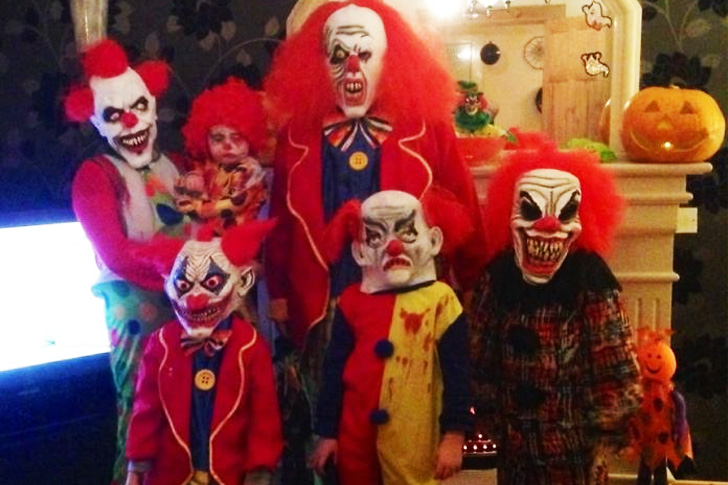 If you think that one creepy clown is scary enough, well, you haven't seen this family right here. From the look of things, they seem like they are having a blast this Halloween and they are ready to visit your doorstep for their trick or treat.
They are not the real thing so you don't have to worry about them. However, if you don't want this family of clowns to visit you this Halloween, make sure your home security system is in mint and working condition. If your home security system fails, or if you don't have enough candies in your stash, you might be in for a dreadful night along with a family of clowns. We bet you don't want to experience that so make sure you have everything in check.
Michonne and her Zombie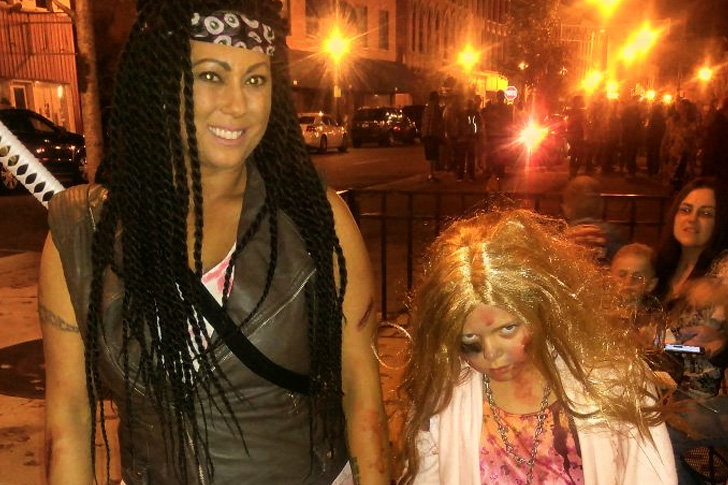 If you are looking for inspiration for your next bigtime costume for Halloween, you should consider the hit television series The Walking Dead and some of their biggest players. However, if you are looking for a hardcore costume coming from a hardcore character, Michonne should be at the top of your list.
Just take a look at this duo right here. To their credit, they are all properly dressed and are ready for a zombie apocalypse. The lady that played Michonne came in ready with her gear, which includes her trusty steed — her katana. Aside from that, she even had her niece dress up as one of the iconic zombies from the show, the Bunny Slipper Zombie. With these two roaming around the neighborhood, you can expect them to fill their buckets with all kinds of treats.
Mini-John Lennon and Yoko Ono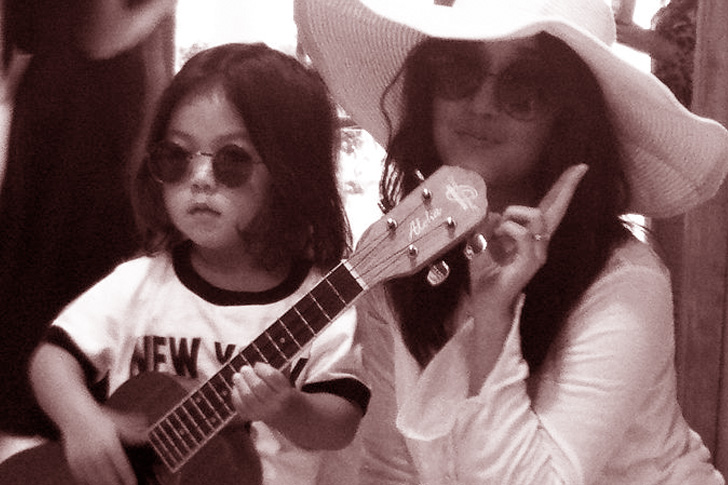 If you are wondering what John Lennon would look like if he was shrunk down to size, just look at this kid right here and you should get a clear picture of the legend himself. Now, if you want your kid to dress up like John Lennon this coming Halloween, just make sure you purchase a pair of round glasses and a small-sized guitar using your credit card.
Once you arrive at the party, be ready to face a huge wave of attention because of your kid. Now, if you want to receive the same amount of attention, then dress up like Yoko Ono (John Lennon's wife). If you are wondering how to achieve the look, just go for a long white dress and a dark shade and you should be all set.
Her Take as Joker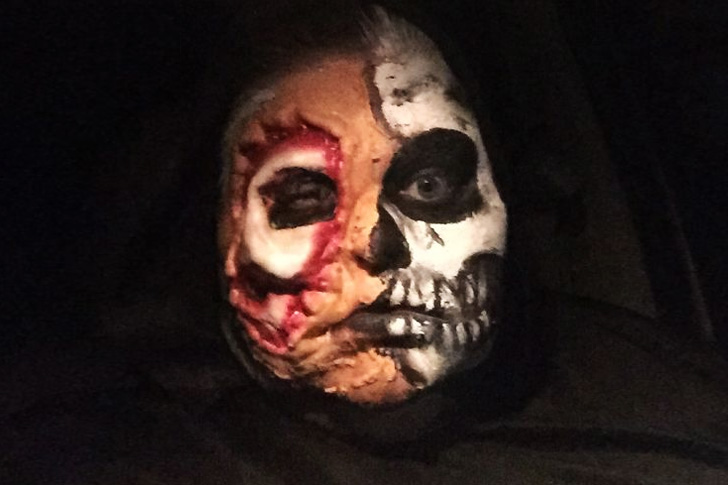 The Joker is one of the most famous villains in comic book history and he might be the best Halloween costume you can get. Just take a look at this lady right here who dressed up as The Joker for Halloween.
If you are interested in creating your own version of Joker, you'll have to prepare a couple of things. First, you'll need to get decent makeup or face paint. Cover your face with a generous amount and make sure the Joker's character stands out. Get good lipstick and that's pretty much the gist of how you can transform yourselves as The Joker for this Halloween. This would be a pretty cheap option for you and you don't actually need to spend a lot on your credit card.
The Breadwinner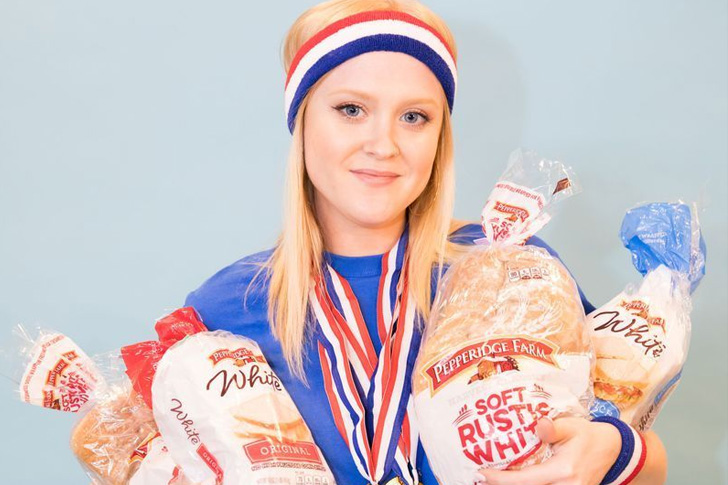 This lady right here has a tremendous sense of humor, and she fully utilized it to her advantage. We have to give her props for making one of the most unique and light-hearted Halloween costumes that go outside the norm. If you are wondering what we are talking about, just take a look at her take on the word "breadwinner." She literally grabbed the idea and took pun costumes to the next degree!
She also didn't waste a ton of bucks just to pull off this kind of stunt for the costume party. Just grab a couple of wheat bread, shop around for a couple of medals, buy yourselves a suitable sporty headband, and you should be all set. 1000 IQ play for this lady right here!
Rainbow After the Rain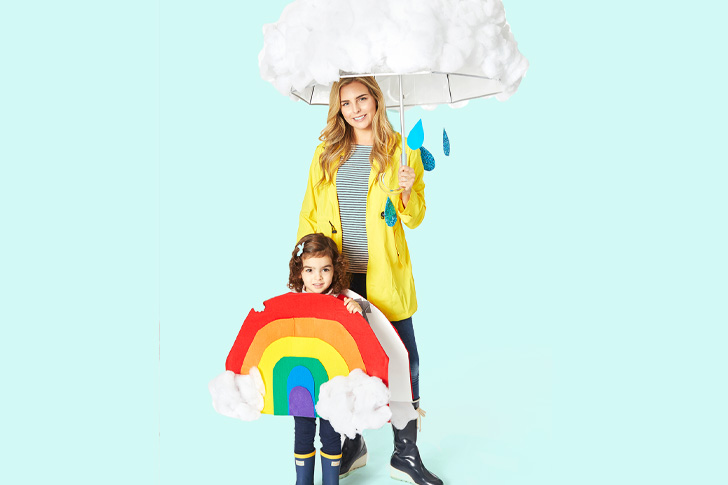 If you are looking for a wholesome costume for your kid and don't want something scary, this one should be right within your alley. It also sorts out both you and your kid's costume! Just like people say, "there could never be a rainbow without rain," and in this case, they are undoubtedly right.
This parent-kid project right here resulted in an excellent DIY project as well as a memorable bonding time for them. Just get yourselves an old umbrella and fill the top with lots of cotton from old pillows. You can also cut out a couple of paper pieces shaped as raindrops and hang them over your umbrella. It would be healthy for your credit card and your relationship with your kids since you'll get to spend time together.
Pennywise Costume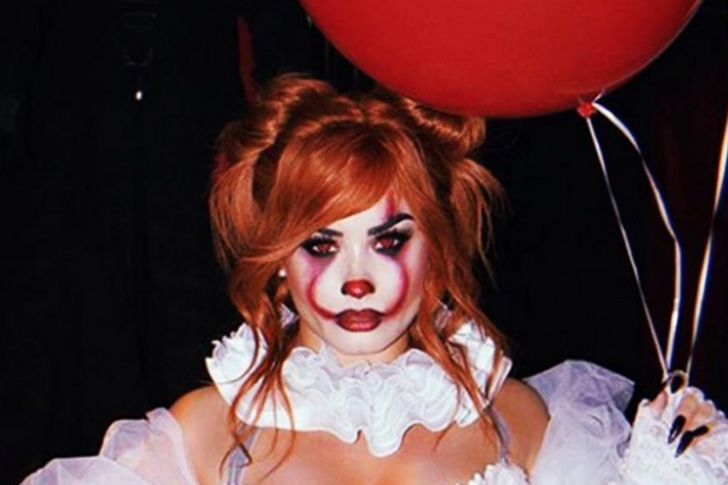 Of course, celebrities also like fabulous Halloween get-ups, and speaking of stars, just take a look at Demi Lovato and her cute but scary Pennywise costume. She came in with a stunning white dress and a couple of oversized balloons to give the strong impression of a creepy but lovely Halloween costume.
If you guys are interested in mirroring Lovato's Halloween attire, just go for a colorful yet straightforward gown. It will also help if you can put down a couple of dollars as investments for decent makeup or face paint since you'll need it. Just paint your face white and add an element of creepy here and there, and you should be all set. It won't cost you a lot, and you can reuse the makeup or face paint in the future as well.
Men in Black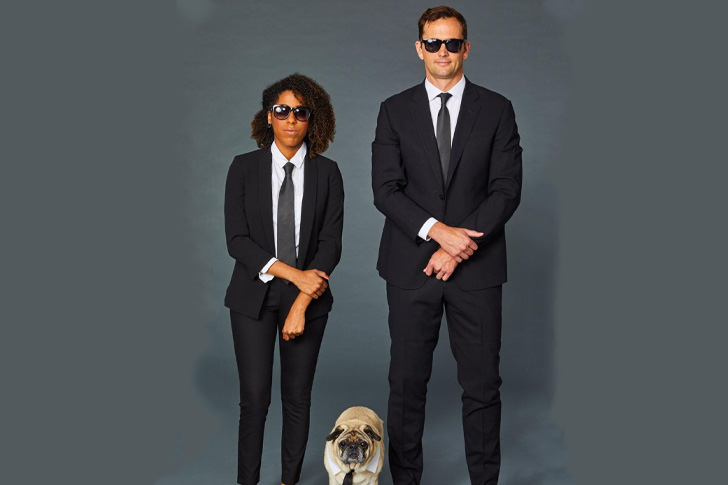 This might be the most comfortable and user-friendly Halloween costume you'll find out there. All you need is to jump into a suit, grab a pair of dark sunglasses, and your Halloween should be all set. You just completed a classic Men in Black look. If you have a pet dog (preferably a pug), you should get additional points for your outfit. Just make sure the venue of the party can accommodate pets.
We know you might look like an insurance broker or something, but just keep a straight expression on your face at all times, and that should carry your look through the rest of the night. If you get it right, people will acknowledge you as a bonafide member of the space agency Men in Black.
The Queen of Hearts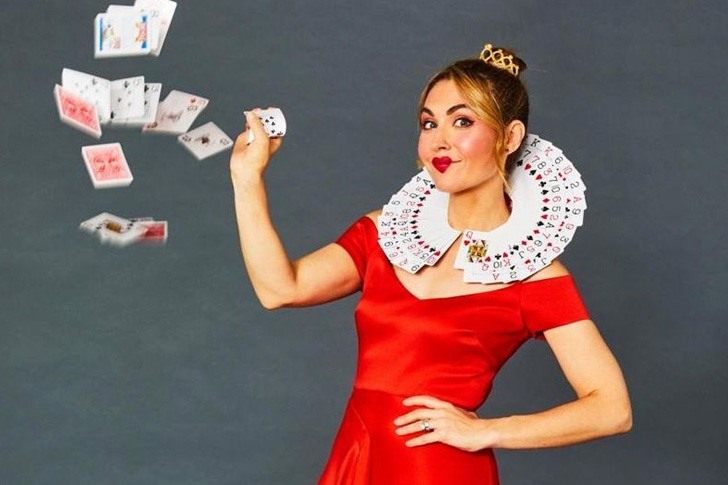 If you are looking for something unique but classic at the same time, you should consider this. Yes, we are talking about the iconic Queen of Hearts. Now, to make this look more personalized, we recommend creating a makeshift collar made out of playing cards and stick it on your dress. This will give your outfit personality and make you stand out from the rest of the crowd.
It is also essential to shop around for a decent-looking red dress with your credit card. If you happen to see one in your closet, well, that pretty much solves the problem! Also, grab a bunch of playing cards, take them with you and turn them into confetti to throw around at the right moment for that stunning effect.
American Psycho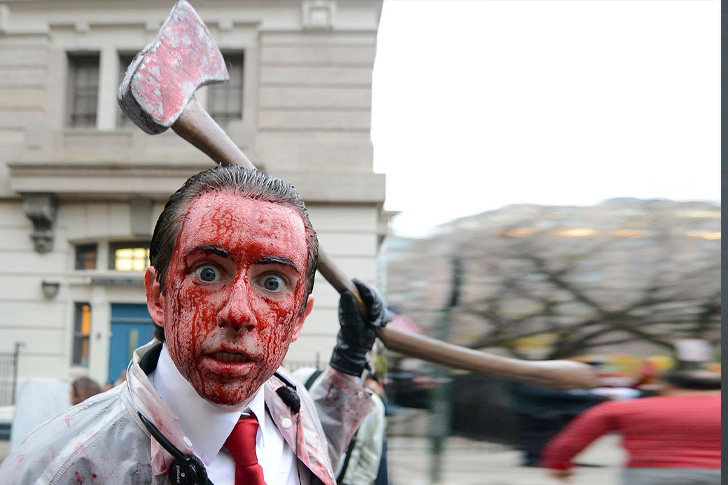 The classic film American Psycho was a massive worldwide hit and still considered one of the greatest horror films of all-time. With that in mind, it's almost automatic to see someone who dresses up as Patrick Bateman, and if you are jumping on the bandwagon, here are the things you need to consider.
Make sure you put a lot of time tidying your hair up. It would make or break this look, and it is best to aim for a sleek look for that added mysterious personality – also, don't forget your trusted ax! Once you settle that, spray a few drops of red dye in your sharp-looking suit. You don't want to look like an insurance broker with that clean and sleek suit, so a couple of blood-like accents here and there should be enough.
Little Witch in the Woods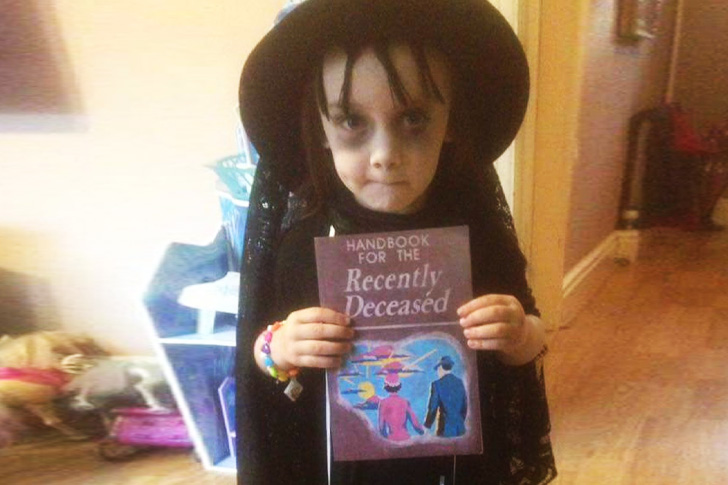 This little lady right here dressed up as a forgotten little witch. All we can say is that she looks lovely and adorable with her outfit. We are confident she'll have her trick or treat bucket full in no time. Just look at her priceless expression. She can undoubtedly become an actress soon who'll get a lot of movie credits to her name.
Now, if you are looking to copy this little girl's outfit, just look for any dark-colored dress from your attic, or get your kid some new ones from your local store. Apply gentle makeup to complete that Halloween look, and you guys should be all good to go. Just make sure your daughter has a decent-sized bucket since she'll have it full in no time.
Edward Scissorhands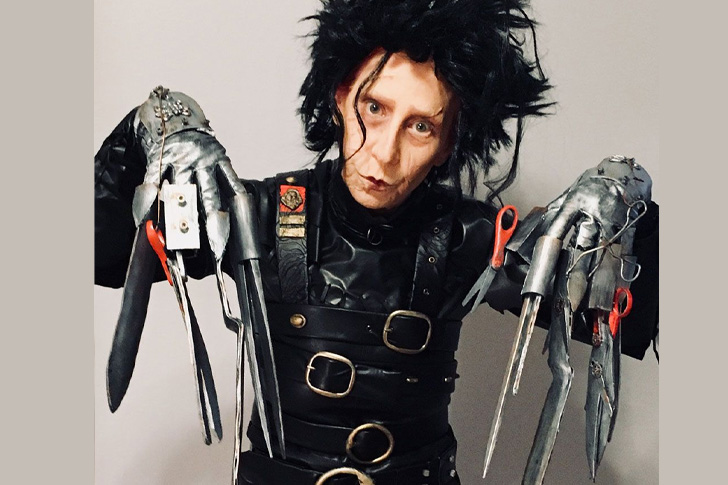 This lady right here did an exceptional job of recreating one of Johnny Depp's iconic characters, Edward Scissorhands. Just look at the sheer detail of her artwork, and you'll instantly recognize the degree of excellence she put in her craft. Our opinion is that she can go head to head with the best in Hollywood with the level of detail she put into her costume.
If there's an award for best Halloween costume in her neighborhood, she'll definitely win it hands down, and there wouldn't be any contest for sure. It would take a freaking good Halloween costume to beat her in this regard, and it will probably be a very tight race for the gold when you think about it.
Diva Plavalaguna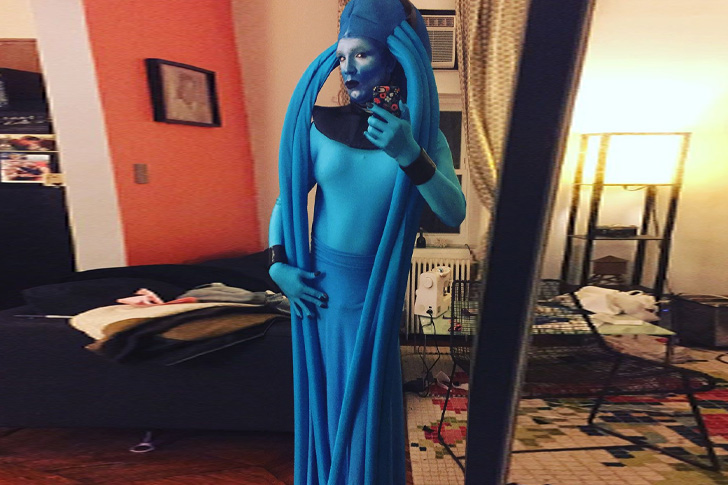 The fictional character Diva Plavalaguna from the hit science fiction movie Fifth Element is also a fan favorite when it comes to Halloween costumes. Still, if you want to be unique in portraying the famous diva, you should consider a couple of pointers.
First of all, you need to carry her character's attitude right from the get-go, and if you're wondering how to do that, just take a good look at this image, and it should help you a lot. The second thing we need to consider is the cost. We know opting for this kind of costume for Halloween will leave a good, deep dent in our credit card balance, but if you are willing to take the risk, we say you should go for it.
Frida Kahlo Baby Edition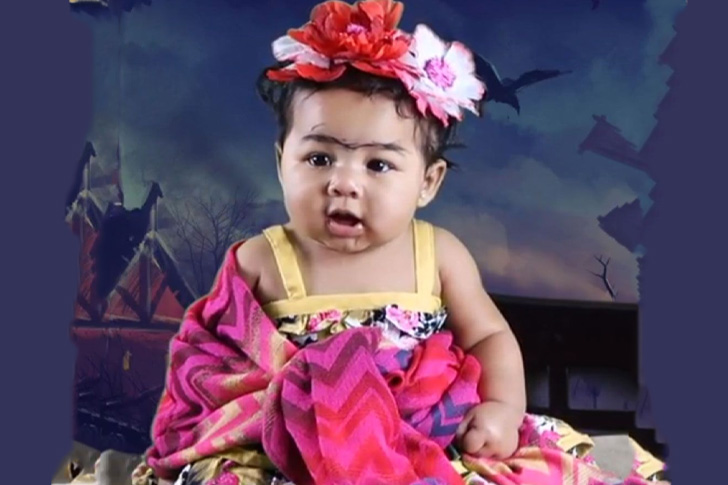 This baby right here bears a strong resemblance to legendary artist Frida Kahlo and her parents chose the right move by dressing the baby as the artist for Halloween. The biggest takeaway for her Frida Kahlo transformation is definitely the unibrow, and we have to give credit to the people who worked on the costume to get the look right.
With that said, this baby right here might come down in history as one of the world's most adorable young artists of all-time. If you're interested in creating your own version of mini-Frida Kahlo, just get a sharpie and link your kid's eyebrows together. You can also go extra creative and do a floral headdress paired with a colorful scarf to give off that exclusive Frida look.
Heidi Klum Goes Thriller!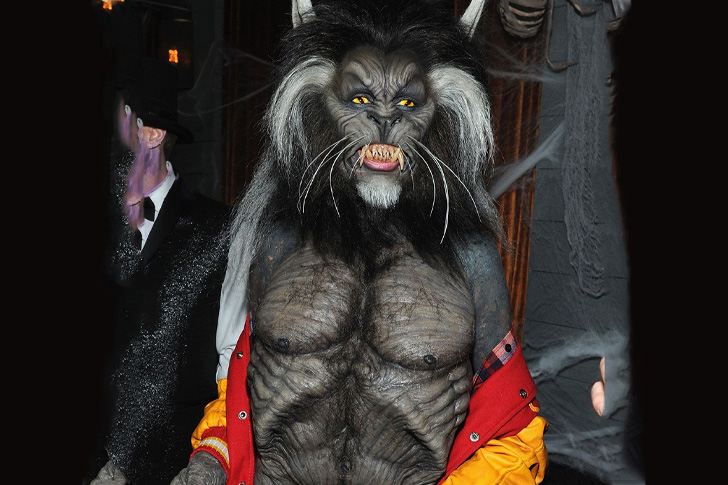 The German supermodel Heidi Klum knows how to make a significant impact in the fashion scene, and this also applies to her choice of Halloween costumes. Just take a look at her underneath the werewolf mask, which was her way to honor the late Michael Jackson.
We know that ordinary folks can't afford an expensive costume like this, but we can do a makeshift werewolf costume using cheap and everyday objects. If you are interested in this, cut out a couple of paper masks and paste a fur cloth on top of it. There, you now have a DIY werewolf mask. It won't affect your credit card balance, and you'll end up leveling up your creative skills to another notch. Who knows, maybe the time will come when you'll be making a living out of it.
Rorschach in the House!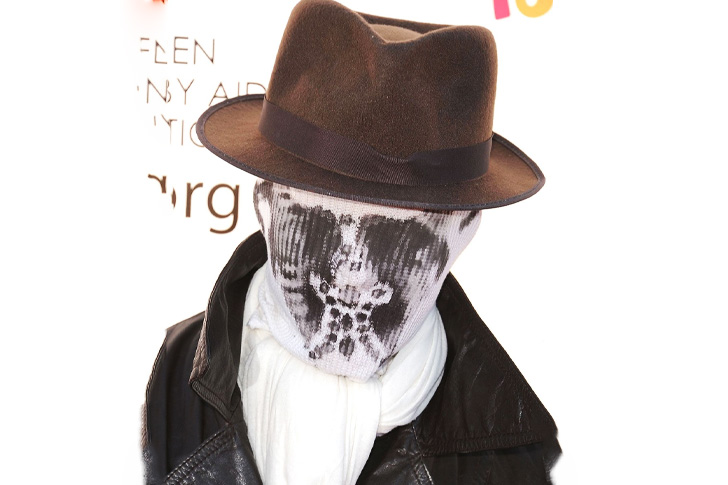 The fictional character from the DC comics, Rorschach, is famous for his hardcore attitude, and we can all agree that he's one of the top choices when it comes to Halloween costumes. Even Hollywood stars opt to become Rorschach for a day. Just take Booboo Stewart, for example, and his take of Rorschach at this Halloween event.
His costume was spot on, and the only thing lacking in his get-up was the shifting ink on his mask. If he can pull off that one, he should take the next movie credit for any upcoming films that showcase Rorschach. We can also do this costume at home with the help of a leather trench coat, a matching fedora hat, and a stained cloth that will act as your mask.